Weddings are billed as one of the biggest days in anyone's life.
Yet under considerable pressure, there is something about getting married that can drive brides and grooms a little crazy—with bridesmaids often at the receiving end.
Here are a just a selection of the most bizarre and absurd wedding requests given to bridesmaids.
1. "New outfits" for Every Night of Bachelorette Party
A "replacement" bridesmaid took to Reddit to announce how a friend about to get married made several insulting remarks about her child, leading to her quitting the bridal party.
And she added she was not the only bridesmaid to drop out of the commitment, writing: "Since I have joined[,] five people have dropped out due to her attitude and high expectations."
The bride, dubbed an "exhausting bridezilla," also stipulated costly requirements for the bridesmaids, including they receive professional manicures before each event and they "buy new outfits" for every night of the bachelorette party.
2. Dye Hair Natural Color for Wedding
A woman has revealed she was ordered by a bride to revert her pink hair to its natural color as part of her bridesmaid plan.
In the post shared on Mumsnet, she wrote she had "been given the ultimatum that if I don't dye my hair a natural color then I can only be a guest."
3. Bridesmaid Uninvited For Wearing Black
The Internet discovered in December 2021 that a bridesmaid was uninvited from a wedding after the bride found out she would be wearing black.
The diplomatic incident was due to the woman respecting the recent loss of her grandfather, meaning she was observing a 40-day mourning period.
4. Bride Refuses Fiancé's 'Close' Friend As Bridesmaid
In November 2021, Redditors backed a woman who made a stand in refusing to allow the groom's "close" friend to be a bridesmaid.
The woman explained in a post to the "Am I the A**hole" Subreddit: "They're fairly close, but she doesn't like me much.
"It's usually not an issue, some people just don't mesh. We don't mesh."
5. 'Cold Shoulders' For Not Giving up Necklace
Something about getting married can drive brides and grooms a little crazy—with bridesmaids often at the receiving end
Getty Images
A bridesmaid recently announced she received "cold shoulders" at a wedding ceremony for not allowing the bride to wear her necklace.
Despite members of the bridal party approving of the idea, claiming the bridesmaid's necklace could serve as Mary's "something borrowed," the bridesmaid refused to hand over the jewelry, leading to an unpleasant atmosphere.
6. Bride's Expensive 'Requests'
A bride-to-be last year experienced friction with her bridesmaids after requesting they pay significant expenses towards their role.
Requests included bridesmaids paying for their own hotel rooms, as well as finding "their own hairstylists and makeup artists" for the big day—despite the bride wanting all hair and makeup to "be the same on all of them."
7. Sit With 'Randoms' at Sister's Wedding
A woman took to social media to describe her feelings of being ostracized from organizing her sister's wedding.
Despite being one of four bridesmaids, she wrote on Mumsnet that the others "controlled everything, from details of the hen party to finer details on the day."
8. Accused of Trying to 'Upstage' Bride
A bridesmaid sparked controversy after making significant alterations to the dress worn at a wedding.
Some viewers suggested the alterations were too drastic and accused the bridesmaid of trying to "upstage" the bride; though the bridesmaid describing the outfit as "frumpy."
9. 'Spiraling Cost' of Wedding
A woman took to Mumsnet to share her concerns at the significant costs involved with being a bridesmaid at a friend's wedding.
In addition to the brides demand for "specific shoes and told us to buy them ourselves", the "huge spiraling cost" included paying for lunch, travelling and accommodation costs.
10. 'Bridezilla' Sends List of Demands
A self-confessed "bridezilla" triggered a debate about wedding costs after requesting bridesmaids pay for their dress, shoes, hair and makeup.
The post on Reddit quotes the bride writing: "All bridesmaids have to pay for their own dress, shoes, hair and makeup (makeup and hair inspiration pics attached as well as dress and bouquet inspiration.)"
She allegedly added: "Everyone in my bridal party MUST have natural colored hair."
11. Bridesmaid Ejected From Ceremony
A woman took to Reddit to ask whether she had overstepped the mark for kicking out a bridesmaid on her big day.
Reasons for the drastic action included "Julie" making "several negative comments about my husband," and being late for the official photos.
Judging from the comments made in response to her post, the bride-to-be's decision was vindicated, with one person writing: "Turning up for hair and makeup on time and being ready to leave for photos on time is a pretty basic requirement and a super low bar to have."
12. Bridesmaid Suffers Mean Comments
A bridesmaid bravely quit her wedding commitments after her future sister-in-law made mean comments toward her at a family lunch prior to the big day.
Her Reddit post described the "nail in the coffin" occurred when the bride-to-be told the bridesmaid it was a "shame" her brother—the woman's fiancé—never got to date his ex-female friend and be a bridesmaid.
13. Bridesmaid Sues Bride Over Haircut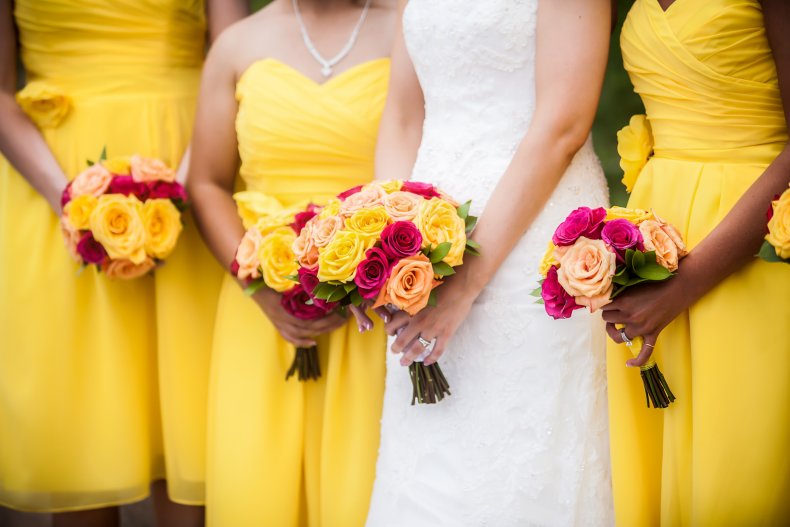 Bridesmaids can sometimes receive absurd and inappropriate wedding requests
Getty Images/Steve Alejandro
A bridesmaid triggered debate online after posting on social media she was not allowed to attend a wedding party after cutting her hair.
The bride is quoted in the Reddit post as saying: "Your inconsistencies have concerned me and while I sympathise with your health concerns, I'm not willing to compromise my vision to accommodate you (or anyone else)…we could have found a better solution."
She concluded by asking the bridesmaid to excuse herself from the big day.
14. 'Don't Get Pregnant, 'Lose Weight' Before Wedding
A bride-to-be's arguably excessive demands for her bridesmaids went viral on Reddit in the summer of 2021.
An anonymous bridesmaid wrote how orders included stipulations such as cutting their hair, losing weight and doing absolutely nothing to distract from the bride on the wedding day.
15. Letter to Bridesmaids Explaining Expectations
A bride's TikTok video explaining why she issued a "transparency letter" to her bridesmaids explaining the costs involved received a mixed response online.
Despite receiving a positive reception from many viewers, others were concerned the bride refused to cover all the costs for her party.
16. Maid of Honor's Husband 'Uninvited' As 'Too Short'
A woman claimed on social media a bride requested that she leave her husband at home, because he was "too short" to attend the nuptials.
The maid of honor took to Reddit's r/AmITheA*****e page to state while the bride was initially coy, she eventually revealed her concerns over her husband's height
17. Bridesmaids Told: 'Hit the Gym' Until Size 8
Last year, a woman was accused on social media of inappropriately demanding her bridesmaids drop several dress sizes to make the bridal party.
The bride is said to have written in a message shared on Reddit: "I hand-picked all the dresses for bridesmaids that will be there and they will all be a size eight.
"So if you're not a size eight, I recommend hitting the gym."
18. Bride Asks: Tell My Daughter She Is Not Bridesmaid
A woman took to Reddit to reveal her father's wife had got her daughter's "hopes up" after claiming she would be her bridesmaid.
She wrote: "She and my dad think it's unfair for me to essentially ignore her daughter and not admit to her. I do not believe this should be on me. They disagree."
19. Branded 'Selfish' for Refusing Dress
A woman posted on the Reddit AITA forum how she had been described as "selfish" and a "disappointment" for refusing to wear a dress at her brother's wedding ceremony.
She wrote: "I'd rather not be a bridesmaid because I've spent a long time trying to be comfortable in my skin and who I am and what I like to wear."
The poster received overwhelming support in the comments section, with some criticizing her brother's "childish behavior," while another deemed her mother a "total narcissist."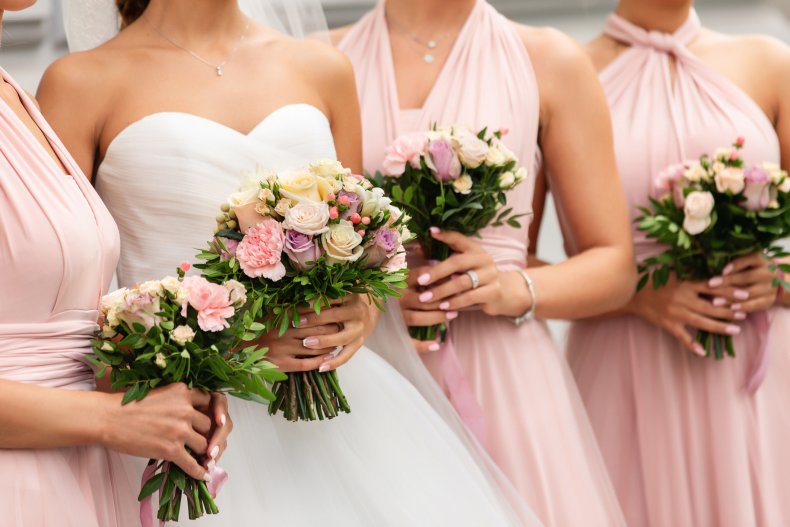 Brides and grooms sometimes request bridesmaids to do the weirdest things at their weddings
kkshepel/Getty Images