Now that we're all pretending Covid in the rear-view mirror, wedding season is back with a vengeance. With all the nuptial postponements finally finding their way on your social calendar, shopping for wedding guest dresses can feel like a part-time job. Luckily, we've done your homework for you. Whether you're looking to impress the ex at your college roommate's wedding, upstage that frenemy bride, or simply get drunk and dance your heart out in that cheugy wedding barn—we've got you covered. From ruffles to silk to slips, here are 28 wedding guests dresses that will get you through this marathon of rehearsal dinners, ceremonies, and bachelorette parties.
This isn't our first rodeo when it comes to wedding season. Our wedding expertise runs the gamut of old, new, borrowed, and blue, with everything from the epic $82 vintage wedding dress to the $29-$1,700 wedding guest dresses below.
While we receive affiliate commissions on select product links the recommendations below are entirely editorial.
Black Dresses
The best black dresses flatter everyone–but that doesn't mean that they have to blend in. These are the "little black dresses" that have presence.
Alyssa Embellished Gown
This strapless black dress is decked out with tulle and crystals. It's chic, subtly sexy, and classic.
Rebecca Vallance
Marian Draped Gown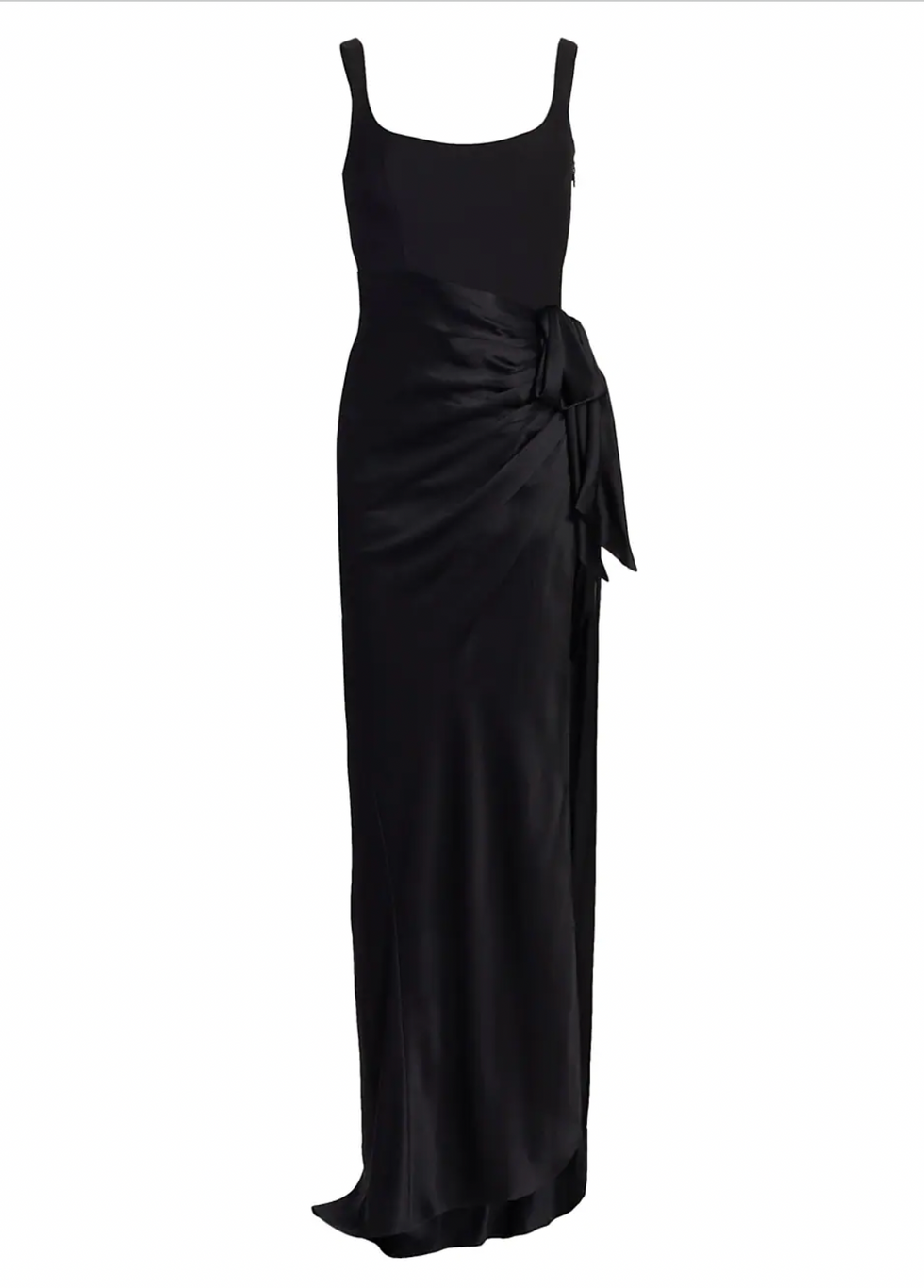 The drapery on this gown will flatter any waist line. While it's black-tie appropriate, it also shows off a little skin with a thigh-high slit.
Cinq á Sept
Ieena Sleeveless Tiered Ruffle Gown
While the tiered ruffles on this dress might seem playful, they're purposeful too. They'll glide around the dancefloor and flow down the aisle.
Mac Dougal
Fringed Cowl-neck Dress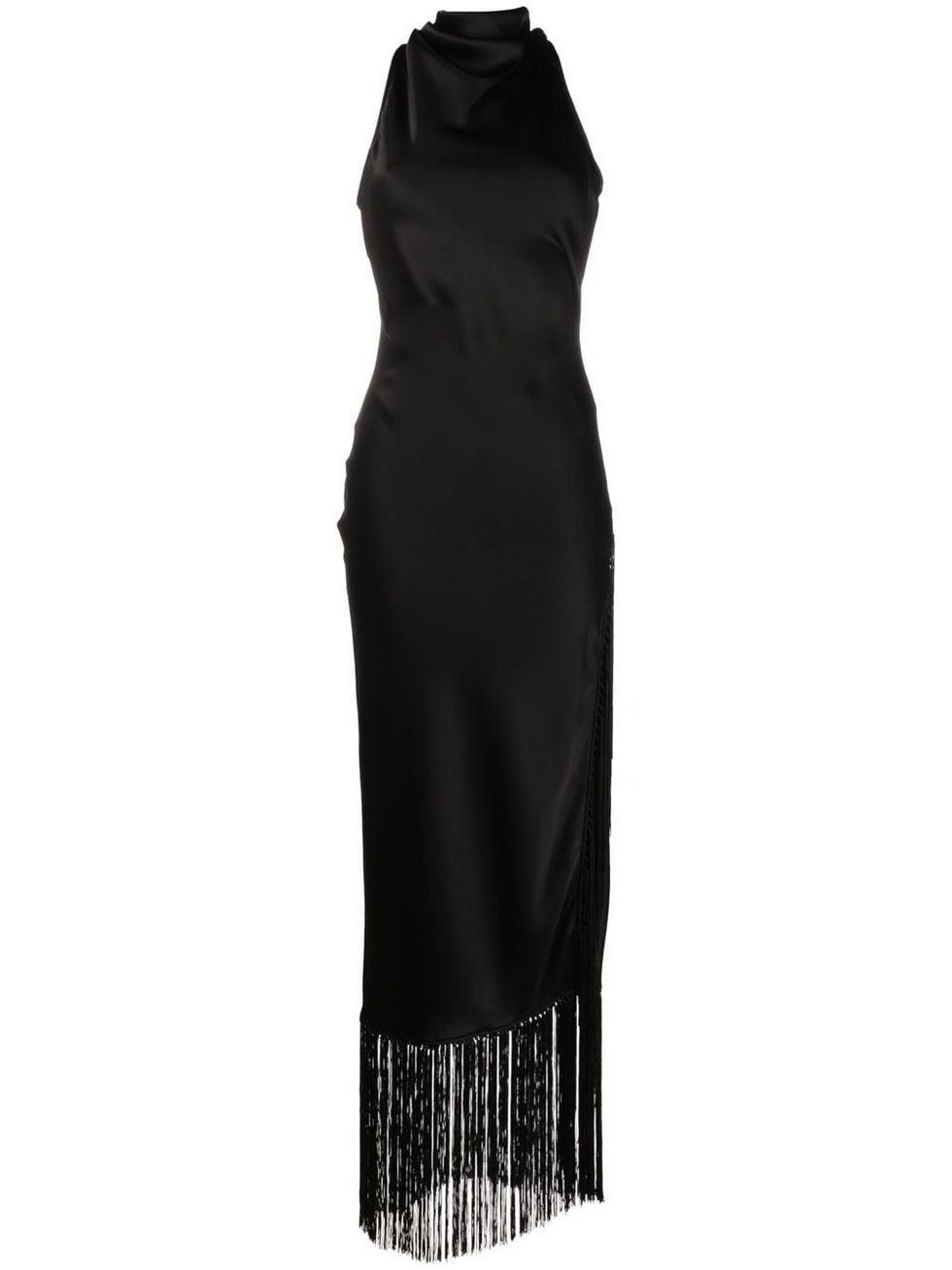 With a high-neck and a fringed hemline, this dress dials it up on the dance floor and in the photo booth.
Nanushka
Cut Out Dresses
While a wedding might not seem like the ideal venue for a skin show, we're all about abs on the dance floor. Here we've rounded up the cut out dresses that even the most buttoned up bride would approve of.
Disa Dress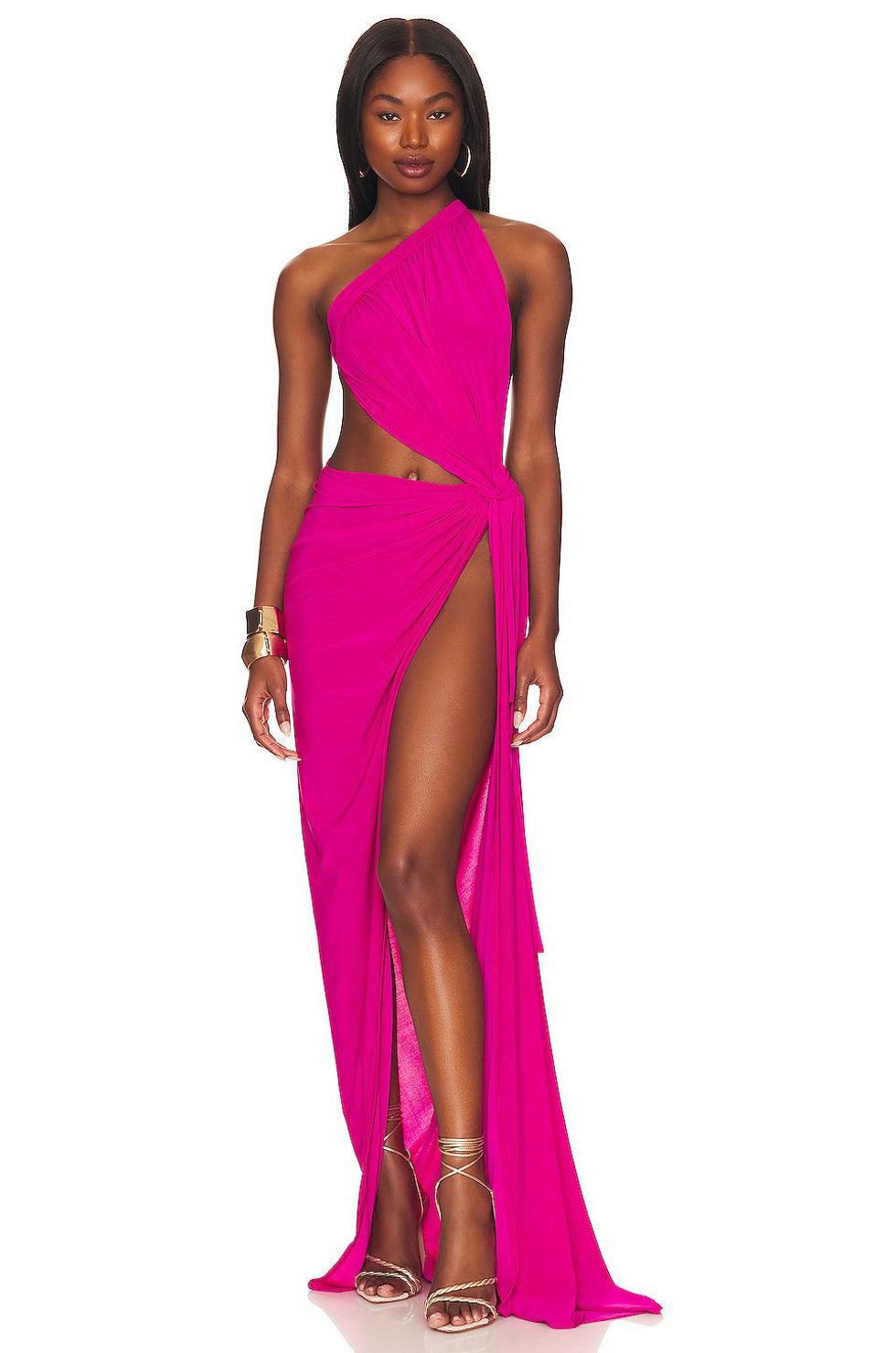 We love the cutout side, high slit, and fuschia color on this J.Angelique Disa Dress. It's colorful and confident.
J.Angelique
Cutout Maxi Dress
Christopher Esber manages to make even the sexiest silhouettes elegant. This cutout, maxi wedding guest dress with yellow-gold hardware is worth RSVP-ing "yes" for.
Christopher Esber
Marta Cutout Maxi Dress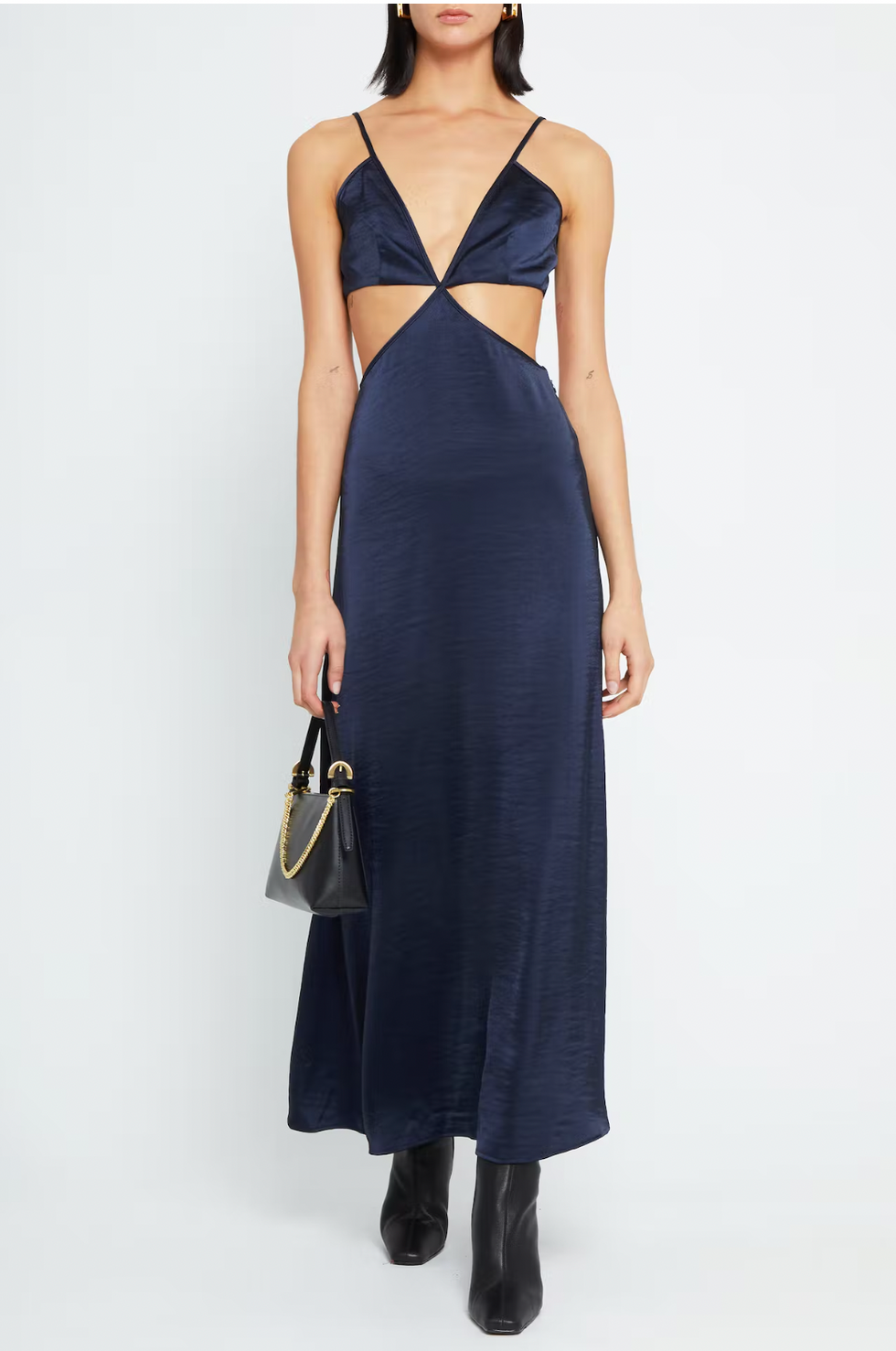 Whether you're in search of a navy bridesmaids dress or solely a wedding guest, this O.P.T. dress is confident and classic. It's worth buying just in case an event creeps up on your calendar–it also works for a rehearsal dinner!
O.P.T.
Poppies Silk Dress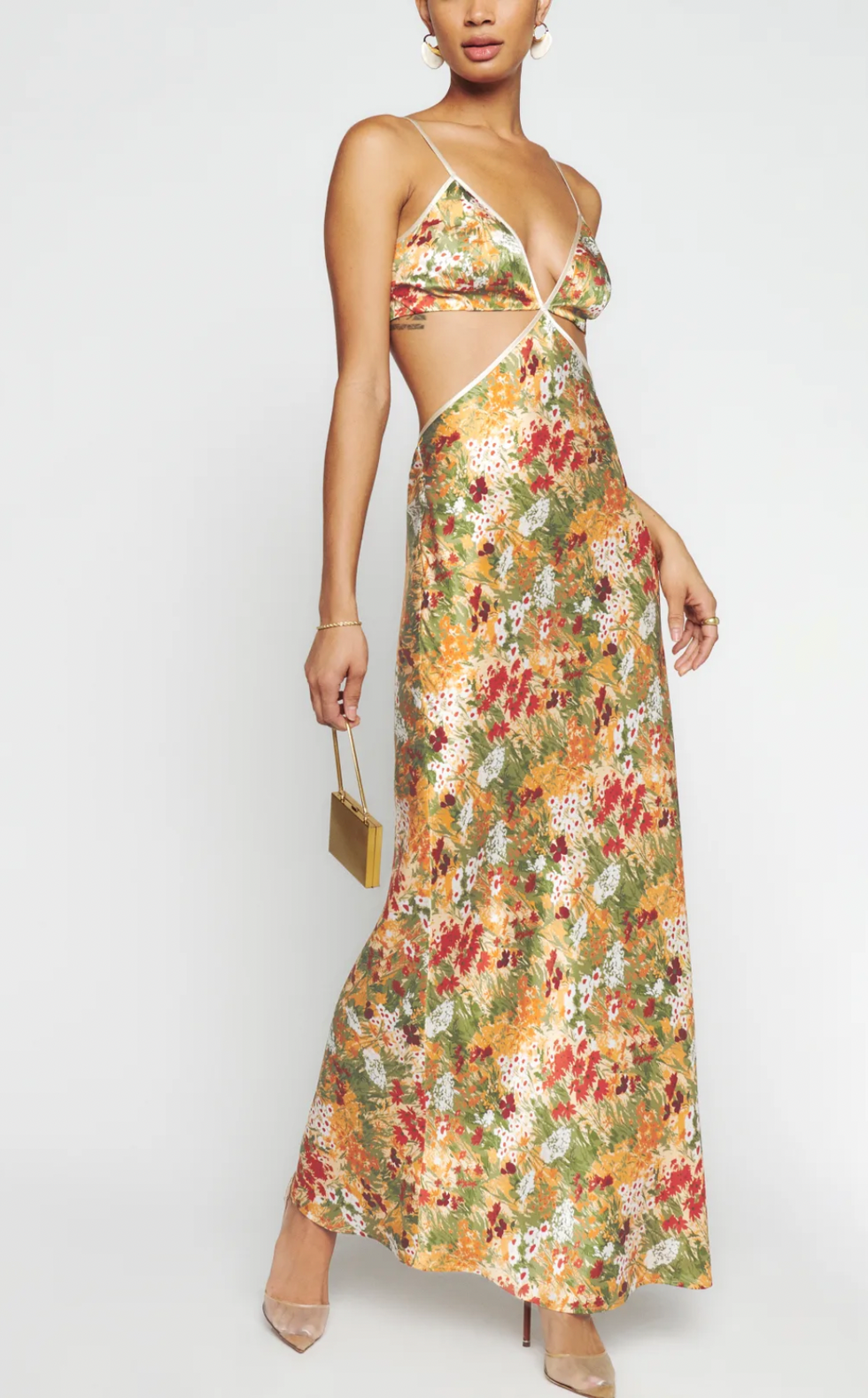 This dress proves that prints and cutouts can coexist. We love it for a daytime wedding.
Reformation
Slip Dresses
The key to the perfect slip dress? Cinched tailoring. There's a fine line between silk pajamas and sophisticated slips. Here, we've found the silhouettes that set the standard for silk. They are all black-tie worthy too.
Chain Halter Gown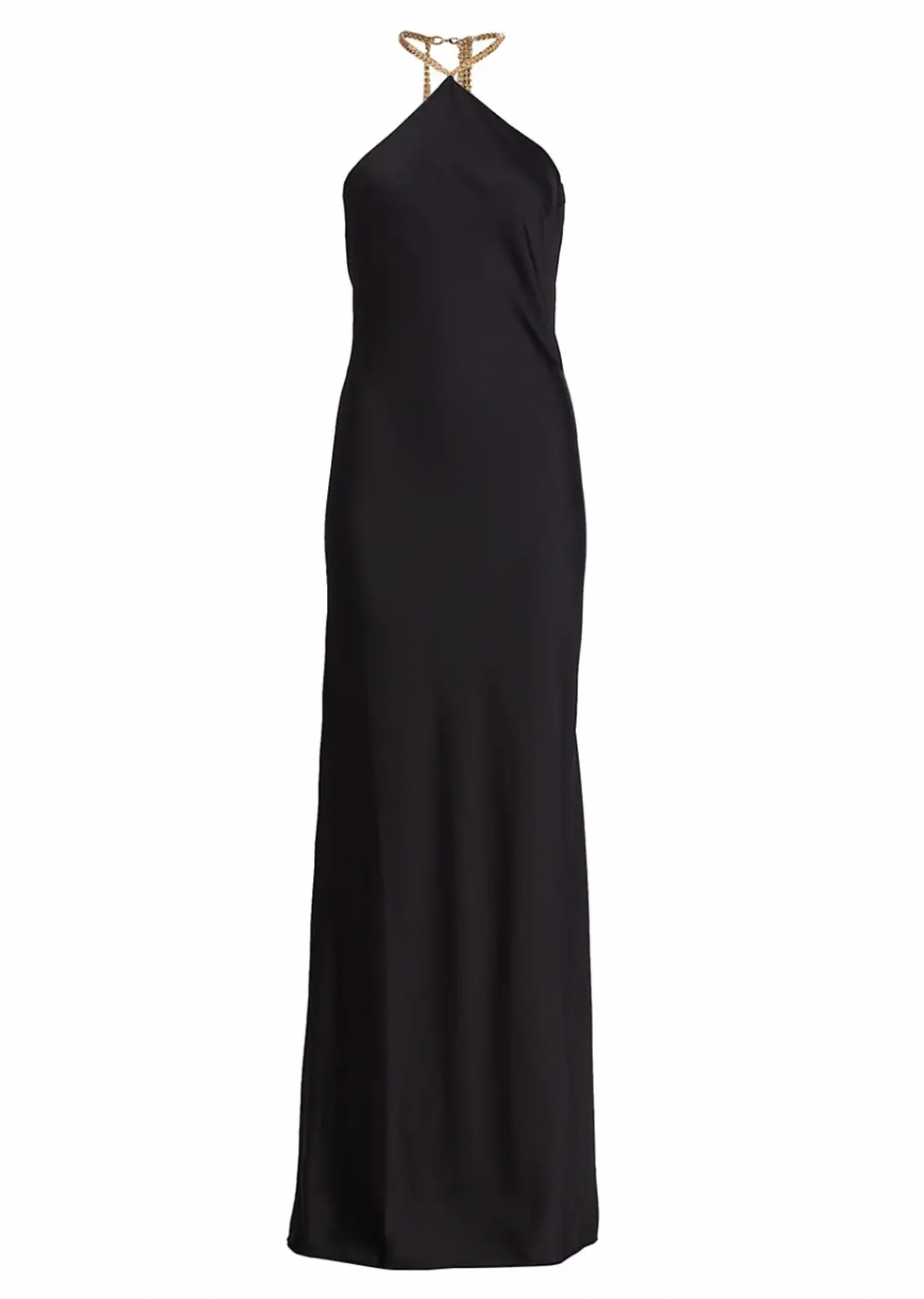 Between the cinched waist and chain halter, this might be the ultimate slip. It's the details that set this Dannijo dress apart.
Dannijo
Jacy Dress
Significant Other's dresses simply fit. They always run true-to-size, which is a serious consideration for any slip dress.
Significant Other
Satin Slip Dress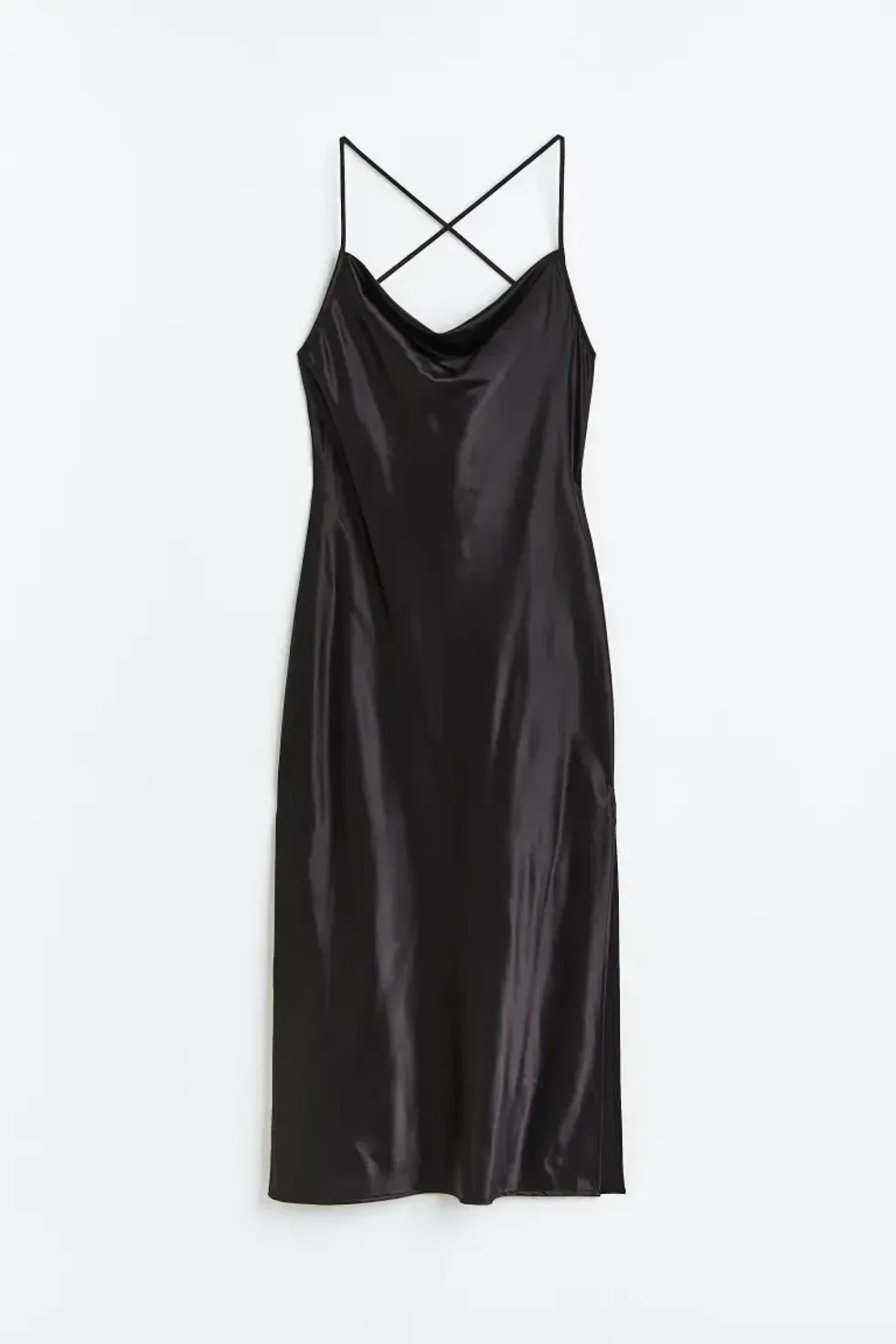 This is the little black dress we'd always suggest. It might only be $29, but with the right accessories, it will always be a hit.
H&M
Metallic Dresses
Whether the bride requested silvery sequins or you're just eager to shine, we have you covered. Spanning from form-fitting to empire-waisted, these dresses prove that metallic works for everyone.
Marie Sequin Crochet Dress
No one does sequins quite like Retrofete. This is the type of look that would get a wedding guest nominated for best dressed.
Retrofete
Ieena Sequined Sheath Gown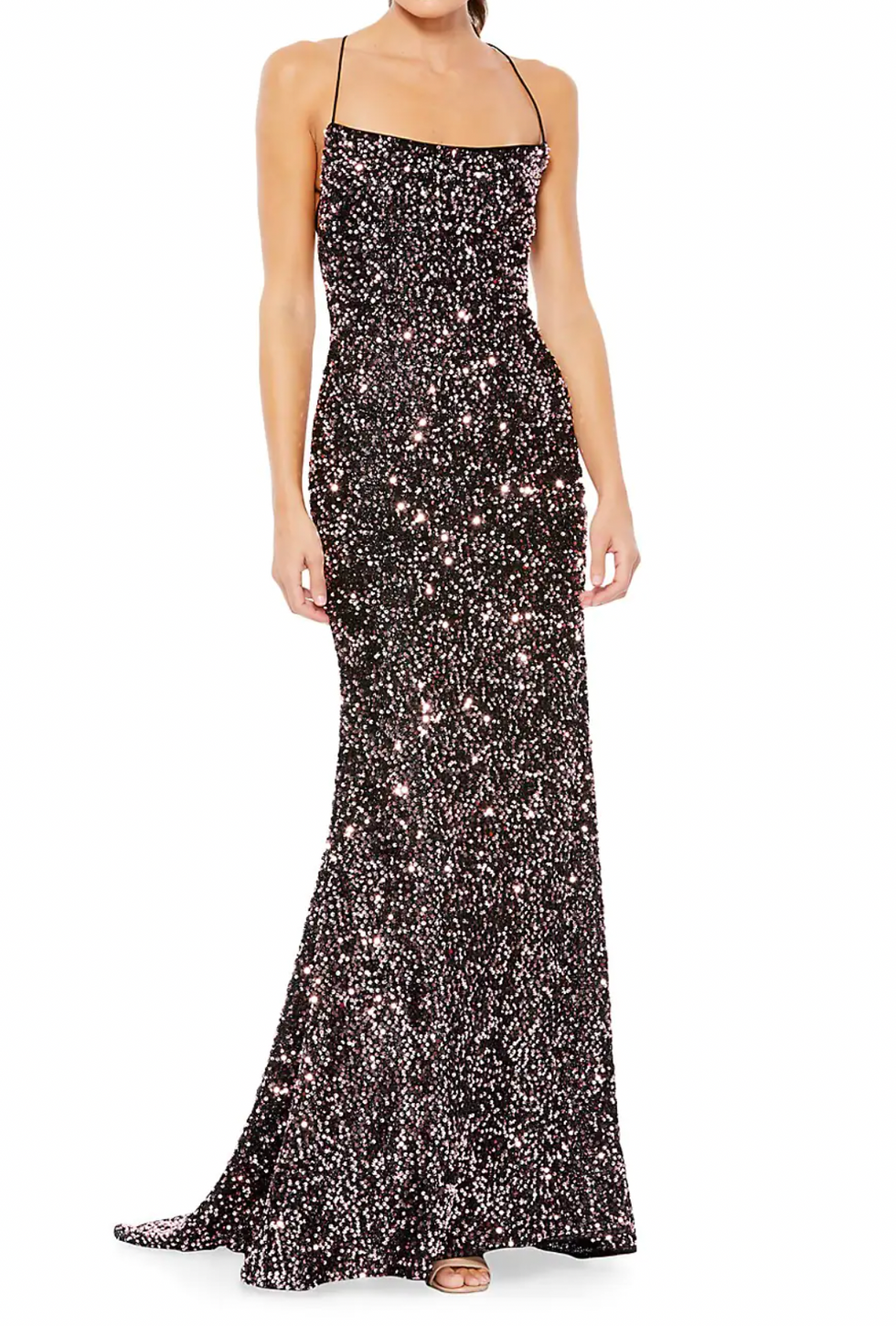 If silver seems too striking, we'd recommend gunmetal. While the sequins in this dress would never give it the accolade "understated," we'd argue that it's really just enough sparkle too.
Mac Duggal
Florence Strapless Gown
Non-sequined gold wedding guest dresses are more difficult to find. Luckily, Bronx & Banco designed this one.
Bronx & Banco
Colorful Dresses
Occasionally, the dress code calls for color. So, that's when we turn to wedding guest dresses in emerald green, bright pink, or jewel tones.
Knot-detail One-shoulder Gown
Sometimes, emerald green is everything. With its asymmetric hemline, this gown also works for cocktail, black-tie, and everything in between.
Michelle Mason
Luna Embellished Draped Stretch-jersey Gown
This bright wedding guest dress offers floor length presence without the nuisance of a train. We love the gold ring that brings the fabric back against the wrist.
Cult Gaia
Strapless Fishtail Checked Gown
This Norma Kamali plaid gown proves that muted jewel tones don't have to be boring. As a bonus, it also looks like something that Charlotte York would have worn when she was married to Trey MacDougal.
Norma Kamali
Rylie Ruffled Maxi Dress
Ruffles always look great on the dancefloor and in this color, they'll own it. Staud stepped it up with this neon pink number.
Staud
Statement Dresses
These dresses are fit for everyone from the maid-of-honor to the ex-girlfriend of the groom. Sometimes the situation just calls for a statement.
Tiered Asymmetrical Dress
The tulle trend will never die. A wedding guest dress like this risks taking attention away from the bride but she might want to show her best friends off. So, ask her first!
Morphine Fashion
Adore 2Way Dress
This dress is a shapeshifter. It can shift from statement to subtle or cocktail to black tie with the power of a back bow. It's amazing.
Nookie
Long Sleeve Dresses
Whether it's winter, air conditioning, or a religious affair, we always come back to long-sleeve dresses. Luckily, these options here are modest but modern. We love them all.
Lea Printed Mesh Dress
This is a mature take on mesh. We'd argue that the gathered fabric adds more dimension than the bodycon dresses that typically tackle the trend. Since it's not entirely see-through, it's black-tie appropriate too.
Bardot
Signature Sequin-embroidered Illume Gown
While this would look perfectly in place on the red carpet, it works for a wedding guest dress too. With its long-sleeves, it might look fully covered but the open back makes it breathable (and hot)!
Zhivago
Embellished Molded Midi Dress
This Self Portrait Embellished Midi Dress dress is winter wedding ready. The bare shoulder against the long-sleeve strikes the ideal balance in this one.
Self Portrait
Floral Lace & Open Back Gown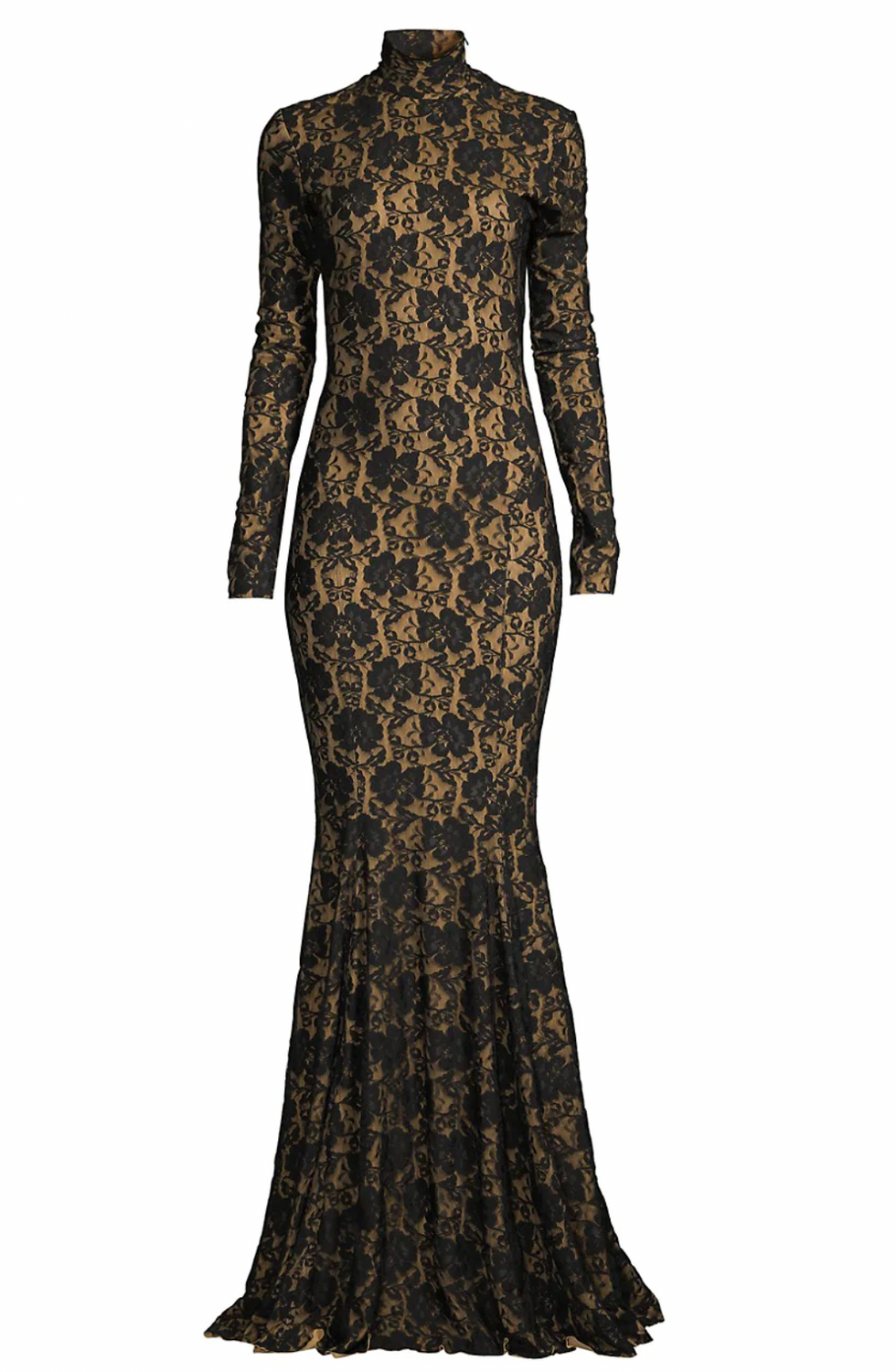 This dress looks incredible on everybody. While an expert tailor might have to help you achieve the ideal hem length on this one, it's bound to hug every curve.
Norma Kamali
Next, plan your own bridal looks too. Check out this round up of outfit ideas that will take you from your engagement party through to your honeymoon.