Post Views: 112
As the weather warms up and the days get longer, it's time to put away your heavy coats, bulky sweaters, and fleece-lined leggings to swap out for lighter, brighter spring clothes. One of the keys to having stress-free and versatile clothes in your closet is to create your capsule wardrobe first and then build your spring outfits around your basic pieces. Whether you're looking for tips on what to wear to a spring wedding or to a casual garden party, explore these four outfit ideas to help you pull the right pieces together.
Embellished Maxi Skirt With Platform Sandals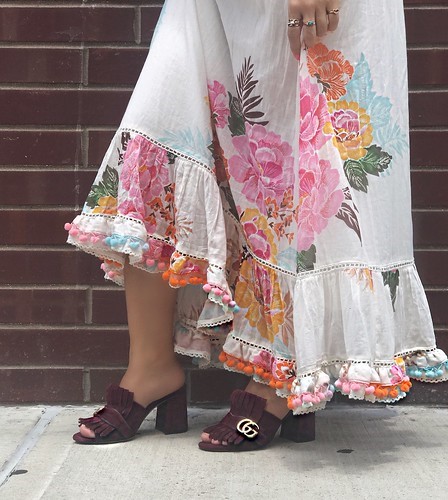 Image via Flickr by Betül Yıldız
You can still wear long skirts in the spring. Instead of heavy wool skirts paired with knee-high boots, slip on a pretty maxi dress with embroidered designs, beaded embellishments, or fun pops of colored pom-poms. Pair this charming style of skirt with platform sandals, open-toe wedge shoes, or espadrilles with colorful straps.
Floral Print Dresses and Sandals
Many couples choose to get married in the spring. The weather is nice, flowers are blooming, and there's a sense of renewal in the air. Instead of having to wear a floor-length gown with high heels to a wedding, you can lighten up your spring wedding guest dress for a more casual approach. Types of wedding attires for women can incorporate floral dresses and pretty sandals.
For a beach wedding, wear a strapless midi dress with a bold flower print and slip-on sandals. A cap-sleeve floral dress with ruching around the waist is perfect for a garden wedding and looks charming with a pair of high-heel sandals.
Cut-Out Dresses Paired With a Shrug
After a winter of wearing clothes that cover all of your skin, cut-out dresses can give you a sense of freedom. You can opt for peek-a-boo cut-out styles that hint at a bit of skin or go bold with wide cut-out styles for a racy look. Ditch the puffer jacket and choose a light shrug to barely cover your shoulders. A shrug is ideal when you want to keep the spring breeze off your shoulders while still showcasing your exquisite cut-out dress.
Tailored Shorts and High Heels
Feel the sun on your legs after wearing long pants all winter by wearing stylish tailored shorts. While cut-off denim shorts are appropriate for casual occasions, tailored shorts with heels and a light blazer or cardigan sweater can be worn for more business or semi-formal occasions or events. Bold colors are trendy for spring 2022, and burnt orange tailored shorts look fabulous with a purple tank top and high-heel sandals that have a bit of sparkling embellishment.
Having a spring capsule wardrobe creates the base for all of your warmer weather outfits. Trade out winter capsule wardrobe pieces such as black turtleneck sweaters with cream-colored short-sleeve crop tops, gray tweed skirts for bright blue cotton maxi skirts, and chunky boots for sandals and flats and you're on your way to having the perfect basic spring wardrobe.