A wedding is the most awaited event in a woman's life. She has dreamt about the day where she'll be walking down the aisle, all dressed in white. And who's the star in these dreams you may ask? The wedding dress, of course! That's exactly why most women put a large sum of their savings towards funding their dream look!
For a bride-to-be, this is a once in a lifetime event during which she'll be wearing a white gown. She may scrimp on anything, but definitely not on the dress. Some ladies even go as far as booking bridal appointments without fixing a budget. Though this is not recommended, but it's a recurring phenomenon that we encounter at our Esposa Group bridal boutiques.
Now, a high-end wedding dress may be an expensive splurge, but one that's worth it for sure:
A guaranteed unique look
A dress that matches the grandeur of the occasion
An heirloom opportunity
A dress to impress moment
A flawless look for the books!
1. You get a guaranteed unique look!
What are the odds that you'll accidentally match with some other bride you know if you're choosing a unique piece by a known designer? Close to none! One of the best things about luxury bridal gowns is that they are designed in an exceptional and impressive way. So you're guaranteed a one-of-a-kind look for sure!
Because we know that every brides dreams of wearing a never seen before wedding dress, the following gown by Esposacouture by Kristie Romanos is a pure representation of uniqueness and class.
2. A dress that matches the grandeur of the occasion
If you're looking into buying a high-end wedding dress, chances are you're planning an elegant, royal wedding. What better than a glamorous royal gown to complete the visual beauty of your wedding? When we say luxurious dresses, one of the top names that comes to mind is none other than the Lebanese designer, Zuhair Murad. A top-notch designer with a remarkable collection that flatters your most romantic looks.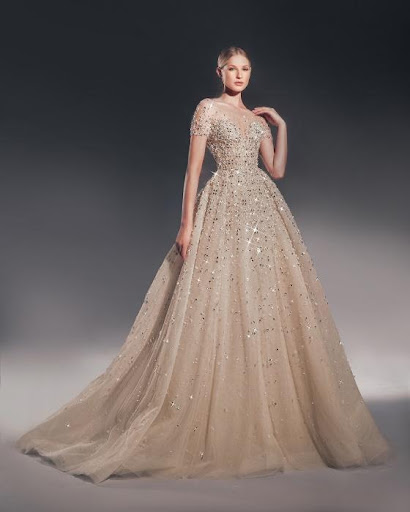 A stunning gold gown with an illusion bodice bedazzled in shinning crystals all over for a glamorous royal look.
3. An heirloom opportunity
Since passing down a wedding dress has become a common practice, a well-constructed and craftily designed gown will definitely be a romantic family tradition. If in the future you'll have a daughter, she can wear your precious gown to say 'I Do', and pass it down to her daughter to do the same! However, should you have only boys, a future daughter-in-law might be keen on the idea, especially if it's a masterpiece by a renowned designer.
This romantic gown is a timeless piece that will preserve its presence in the bridal realm for years to come as it's a simple yet very elegant floral lace that falls gently to the floor. One of the most important parts about getting a luxury dress is the fact that you don't have to worry about its quality diminishing over the years.
4. A show-stopping dress to impress moment!
More often than not, the designer's name alone is enough to give you that "wow factor"! Saying that your dress is an exclusive "Monique Lhuillier" for example, has a certain glamorous ring to it! Everyone will express their admiration and shower you with compliments immediately!
Aside from the brand, all designer wedding gowns are incrusted with only the finest materials and delicate details which will give you a boost of confidence in your gown.
5. A flawless look for the books!
One of the most distinguished features of an expensive high-end designer gown is the flawless and sturdy construction. In addition, the gown can be tailored to perfection to fit you the way you want to look your best!  More importantly, you don't have to worry about the dress coming apart throughout the day's festivities as it's well-made and perfect!
The most important thing to take into consideration is your comfort. You want to look great and feel great as well, as a wedding celebration usually takes several hours. Therefore, you want to make sure that your dress is comfortable enough to be able to dance the night away! This is a luxury wedding dress guarantee, which is not the case in budget wedding dresses, that's for sure.
While shopping for a dress to wear on one of the most important days of your life, be sure to focus on all the possibilities instead of the limitations. Pick a dress that can genuinely make you happy, makes you feel your best and gives you the boost of confidence you need.
About Esposa Group:
 Born out of a couple's passion for the bridal industry, Esposa Group has been weaving love stories through stunning bridal and evening creations since 1987 on the hands of the Romanos family. Collaborating with the best local and international brands, Esposa Group includes Esposa Privé luxury stores showcasing the works of the best fashion designers worldwide including Monique Lhuillier, Vera Wang, Viktor and Rolf, Marchesa and Esposa Privé own couture brand, Esposacouture by Kristie Romanos, and Esposa stores offering an accessible multi-brands wedding and soirée collection in addition to its own couture brand, Plume by Esposa. The stores are located in Lebanon, Dubai United Arab Emirates and Riyadh Saudi Arabia offering every bride-to-be a one-stop shop to find her perfect wedding look, from her dream gown to her wedding shoes, accessories and bridesmaids dresses.
About the author:
Cybelle Ferzane:
A book-lover, nature's person and a career-driven Copywriter who is passionate about fashion and weddings! Blogger by choice, Translator by profession, she creates the ultimate guides for everything and anything related to the bridal realm and fashion industry.