Chris Bethel and Liz Chiarello are a little more than halfway through their wedding that kicked off in May. They plan to wrap up the celebration next spring.
The St. Louis couple, who got engaged on New Year's Day in 2020, postponed their May 2021 wedding like so many others during the pandemic. When they realized that COVID-19 would derail their 200-person ceremony, they decided to rethink the entire thing. Did they really want the big, traditional wedding, or did they want some other way to bring people together?
What they came up with is a deconstructed wedding — a series of five different events targeting different groups of guests, spanning nearly a year.
"We've been engaged for a long time, and we're getting married for a long time," Bethel said.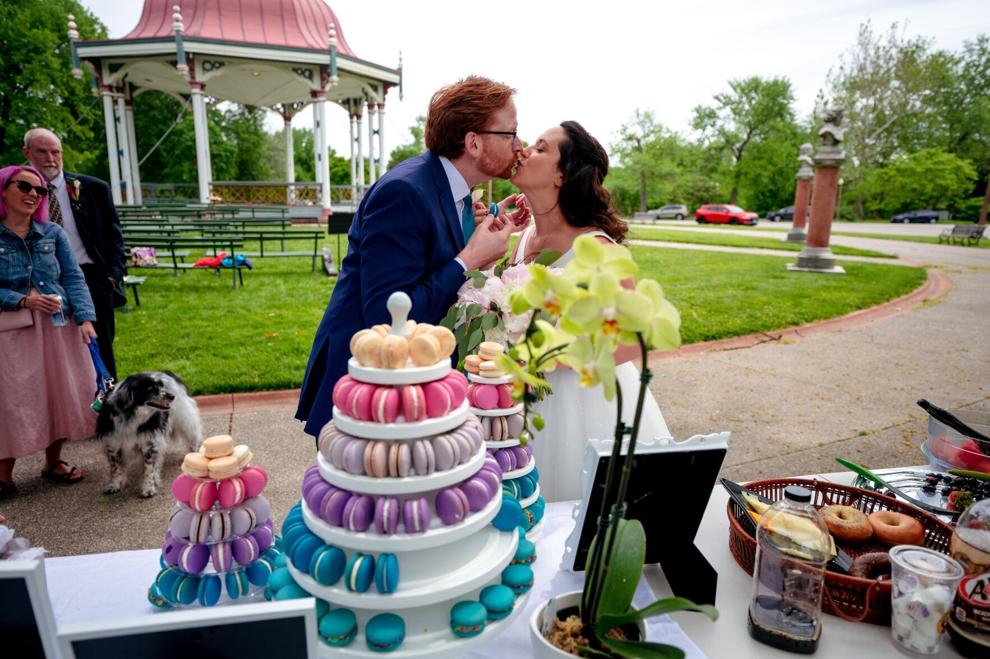 Liz Chiarello and her husband, Chris Bethel, invited their immediate families and a few close friends to their wedding ceremony and followed up with a series of celebrations. 
Photo courtesy of Raquita Henderson, Pinxit Photography
The pandemic has left lasting changes on the wedding industry — long after the end of restrictions on gatherings. Kat Van Apeldoorn, owner of Kat Gaines Events in Ballwin, said she's still seeing smaller weddings and not as many 300- to 400-person, large-scale events. In some cases, couples are opting to have intimate ceremonies, with a larger number of guests invited to the reception.
People are also reading…
Bethel and Chiarello had 33 guests — their immediate families and a few close friends — attend their ceremony in May in Tower Grove Park. Their dog, Doc, was the designated ring bearer. Seven guests had to cancel because of COVID, including a groomswoman. Doc got prompted and walked down the aisle with a bridesmaid.
"I think in some way, COVID has broken the frame," Chiarello said. There used to be a standard idea of what a wedding entailed and the rules that went along with it. The pandemic disrupted all of that.
"It opens the door to creativity," she said. Chiarello, an associate professor of sociology and anthropology at St. Louis University, said their wedding events include:
• The ceremony, which took place in May.
• The week of fun for the young: four days of activities in St. Louis, such as visiting the zoo and City Museum, for friends with children. This took place in early June.
• The week of fun for the young at heart: four days later in June, exploring their favorite city haunts with adult friends from different phases of their lives.
• The Missouri Barbecue: a reunion for Bethel's extended family to be held in his family's backyard, which will take place in the fall.
• The Texas Tea: a reunion for Chiarello's extended family, hosted in her parents' backyard, which is scheduled for April.
Their innovative approach to celebrating their marriage incorporated several post-pandemic wedding trends, according to experts in the industry. More couples want outdoor venues or ones that have outdoor and indoor options, Van Apeldoorn said. They want their guests to feel comfortable and lessen the risk in case a new variant is spiking.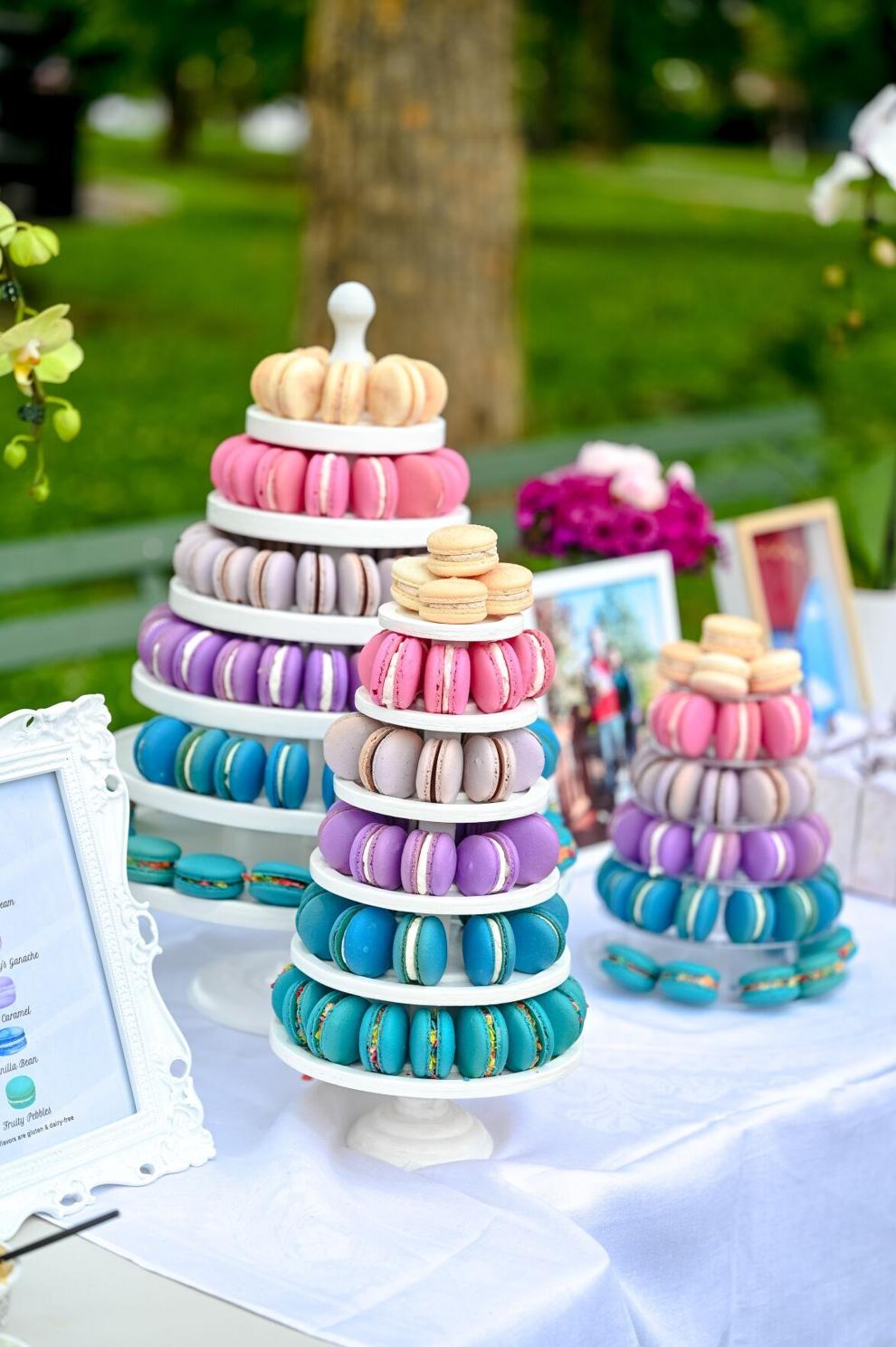 Macs by Belle created these macaron towers for the wedding. 
Photo courtesy of Raquita Henderson, Pinxit Photography
Several couples who had small ceremonies in 2020 or 2021 are following up with larger receptions. Some choose to renew their vows at this post-wedding reception or share video footage from the original ceremony.
Fatima Dalal, owner of Fatima Designs in St. Louis, said she has planned a reception for a bride who had since gotten pregnant after the ceremony, held a year prior.
"They want to invite all their friends," Dalal said.
At the same time, many couples are also looking for ways to contain rising costs. Inflation has significantly driven up the price of flowers and catering, so couples are becoming craftier in their DIY décor.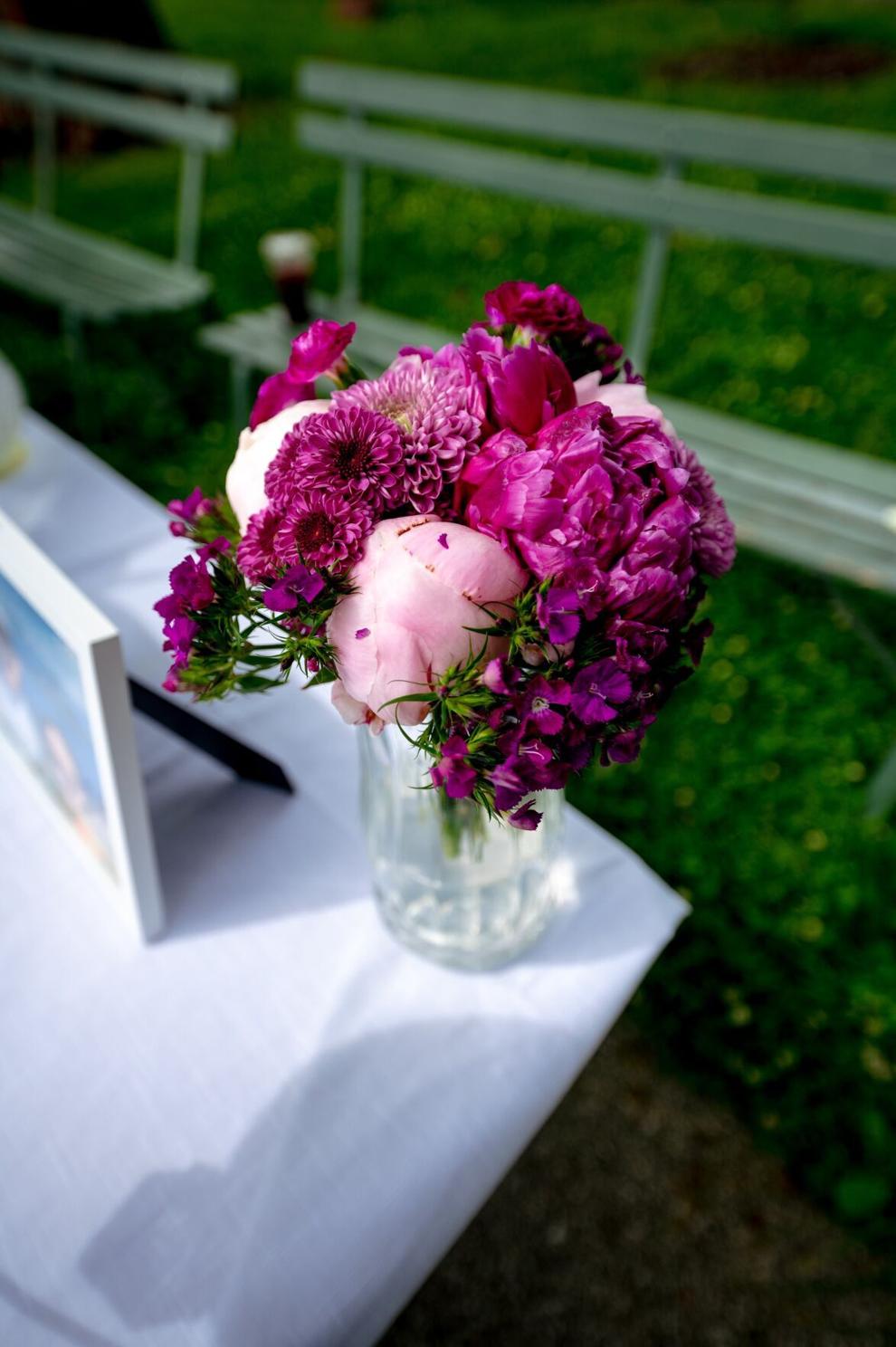 The bridesmaids' bouquets were created by the groom's sister, who watched YouTube videos to learn how to make them. 
Photo courtesy of Raquita Henderson, Pinxit Photography
Bethel's sister offered to make the floral arrangements for their wedding. She watched YouTube videos and practiced making the bridal bouquet. They ended up buying flowers from Trader Joe's instead of a wedding florist.
Their five wedding-related events will end up costing them about $4,000 less than their original wedding.
The average cost of a wedding in St. Louis is around $25,000, Van Apeldoorn said. The brides who use her services typically plan to spend between $40,000 and $50,000 for their weddings. COVID is still very much part of the equation while planning, she said.
Couples are not worried about their wedding becoming a superspreader event, but RSVPs are less certain, with higher numbers of last-minute cancellations, she said. Some guests are still uneasy traveling by plane to attend a large event. Part of the calculation is considering whether attending a wedding is worth possibly missing five days of work due to an infection.
The biggest ongoing fallout from the pandemic involves the shortage of staffing across wedding industries. Several venues and vendors have spent the past couple of years scrambling to meet pent-up demand. Fewer workers in businesses from catering to transportation means planning ahead and searching for backups if a vendor falls through. Van Apeldoorn recalled a transportation company canceling on one of her clients the week of the wedding due to a shortage of drivers. She ended up calling 70 different companies until she found a replacement.
There are now industry-specific websites where vendors try to find help for last-minute staffing for workers who call in sick. Van Apeldoorn said she has seen posts from hairstylists and makeup artists needing help after an employee catches COVID.
Another pandemic wedding strategy that has endured is a heavier reliance on a couple's wedding website to keep guests informed and up-to-date, especially if something changes. It's also a way to collect RSVPs.
Chiarello and Bethel created a site with all the necessary information, but they followed up with detailed emails to the various groups depending on which events they were planning to attend.
Chiarello said one of the many advantages of their deconstructed wedding is that she gets to wear her wedding dress multiple times. Additionally, she and Bethel don't feel like they are "on display" for a large crowd. They are able to be part of the activities with their family and friends.
"We get to show people around St. Louis, our favorite city, and most importantly, we get to spend a lot of time with people we love that COVID has prevented us from seeing — far more than a traditional wedding would allow," she said.
Get local news delivered to your inbox!