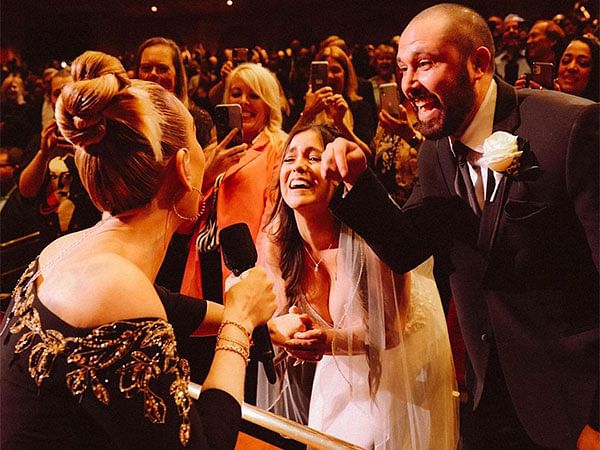 Adele with the married couple. (Image Source/ Instagram)
Washington [US], March 6 (ANI): Adele gave two lucky fans a wedding gift to remember during her Las Vegas Residency when she autographed a bride's gown mid-show.
During the Weekends with Adele gig, newly married couple Gaby and Evan showed up dressed in their wedding attire on Saturday, which Adele quickly took notice of while walking by. "Did you just get married," Adele asked the couple in the video shared online by the bride. "You got married today? Congratulations!"
Adele approached the pair while performing "When We Were Young," which is when the groom pulled out a marker for her to autograph his new bride's dress, reported People, a US-based media company.
"Weekends with Adele," Gaby captioned a clip of the moment on Instagram. "My world is made- found the love of my life and this man was determined to have Adele sing at our wedding… 7 years later all our dreams came true. Thank you Adele for creating the memory of a lifetime for us."
https://www.instagram.com/p/CpZZVh8uVe9/
The groom also shared his excitement on his own Instagram, asking the singer to "please excuse my clammy hands" in a caption of the clip, reported People.
"This was my most major fan girl moment lol," Evan wrote, before sharing another image of Adele's surprised face and a big smile when she met the couple.
Adele later posted a picture of herself holding the bride's hand, as the couple looked at her with joy during the show, reported People.
Weekends with Adele have been full of similarly touching moments since the singer first began the residency in November — including an interaction where she sent her love to an audience member who experienced a loss. (ANI)