Check out what's clicking on FoxBusiness.com
Betty White fans will soon get the chance to bid for a piece of Hollywood history.
Julien's Auctions will be offering more than 1,500 lots from the TV star's life and career during a three-day event in Beverly Hills, California, and online beginning Sept. 23. Some items hitting the auction block include signed scripts, costumes, furniture, awards, artwork, personal items from the late star's California home, as well as her wedding ring.
White, who was a TV mainstay for more than 60 years with "The Mary Tyler Moore Show," "The Golden Girls" and "Hot in Cleveland," passed away on New Year's Eve 2021 at age 99. She would have turned 100 on Jan. 17.
Betty White famously played Rose Nylund in 'The Golden Girls'. (Herb Ball/NBCU Photo Bank / Getty Images)
The auction house previously made history in 2016 when it sold Marilyn Monroe's "Happy Birthday, Mr. President" dress for $4.8 million.
ELVIS PRESLEY COLLECTOR REVEALS WHY THE KING IS MORE VALUABLE 45 YEARS AFTER HIS DEATH: 'TRULY AN INVESTMENT'
Martin J. Nolan, the executive director and chief financial officer of Julien's Auctions, told FOX Business that they worked closely with White's estate to ensure the event celebrated her life and legacy.
"Betty White is an American icon, but she's also loved all over the world," Nolan explained. "She stayed working right up to the end. The younger generations love Betty White as much as the older ones do. So this is an auction for everyone. So many of the items revolve around animals because she loved animals. We have items starting at $200 and ranging up to $2,000. It's not an elitist auction. This is an auction for the fans."
A lavender dress Betty White wore as Rose Nylund in 'The Golden Girls' has an estimated starting bid of $600-$800. (Julien's Auctions/Getty Images / Getty Images)
"It was wonderful to work with Betty White's estate," he continued. "Betty received our catalogs for years before she passed away. So the estate was already familiar with the process. But the most important message the estate wanted to emphasize is that it's for her fans. … I had the opportunity to work in her home in Brentwood, California, for many weeks in February and March of this year bringing this auction together. Every item has a story. Every item has a memory."
Nolan suspected that memorabilia from "The Golden Girls" will get the highest bids. Her director's chair from the set has an estimated starting bid of $3,000, while a lavender dress she wore as her character Rose Nylund is available for an estimated starting bid of $600. The first-draft script of the 1985 pilot, as well as two cast-signed scripts of the 1992 finale, will also be available for an estimated starting bid of $3,000.
CLICK HERE TO READ MORE ON FOX BUSINESS
"'The Golden Girls' is incredibly collectible," Nolan explained. "So I think that's what people are going to gravitate towards. Anything from her 'Golden Girls' era is usually very sought-after. We also have a ring and a pair of earrings she wore many times during filming that is estimated to get between $800-$1,200. A turquoise gown she paired them with will get $1,000-$2,000, as well as a black two-piece outfit. And they're all in excellent condition."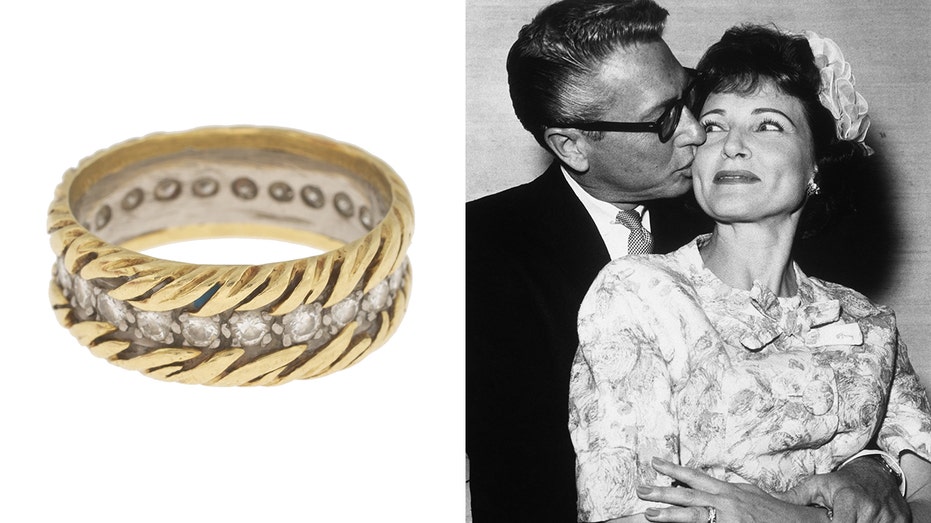 Betty White's wedding ring has an estimated starting bid of $600-$800. (Julien's Auctions/Getty Images / Getty Images)
Nolan said his favorite items from the auction were the personal mementos White treasured over the years.
"One particular item that I love is a watch that Betty's mom gifted her on December 25, 1940," he said. "It's engraved in the back with her mom's initials. Betty kept that watch right up until she passed, and she wore it many times. We have many photographs of Betty wearing it for her TV shows, as well as engagements and red carpet events. She was nostalgic, and her home represented that. The watch is estimated between $1,000-$2,000."
"She also did needlepoint during her travels and many of those pieces are included in the auction," he added.
GET FOX BUSINESS ON THE GO BY CLICKING HERE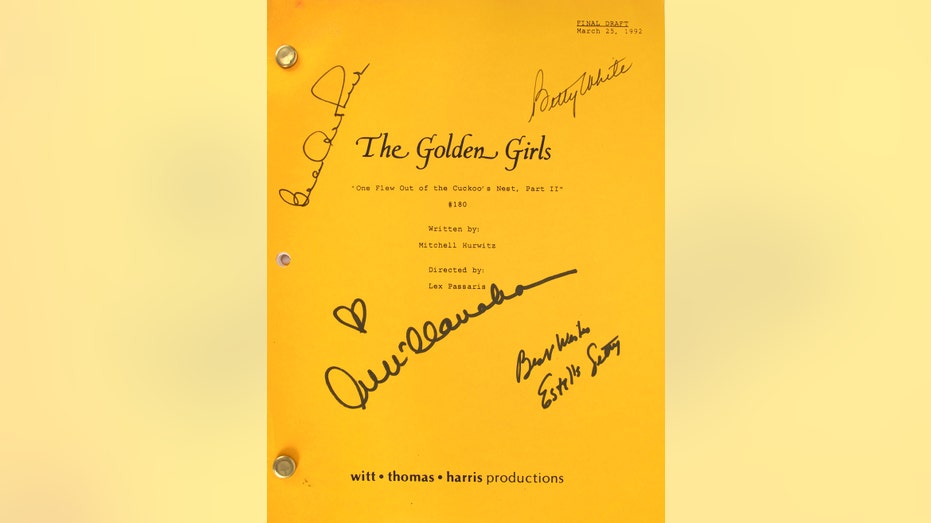 Betty White's signed 'Golden Girls' scripts have an estimated starting bid of $3,000-$5,000 each. (Julien's Auctions / Fox News)
As for her wedding ring, the estimated starting bid is between $600-$800. White married game show host Allen Ludden in 1963, and they remained together until his death in 1981.
Nolan had some advice for first-time bidders.
"Anybody collecting anything should only buy it if they truly love it," he explained. "You shouldn't come to an auction just because you think an item will increase in value with time. You bid on an item because you want to keep the memory alive, and you want to own something that truly represents the star's life and career. … The value will increase in time, but bidders will participate because they love her."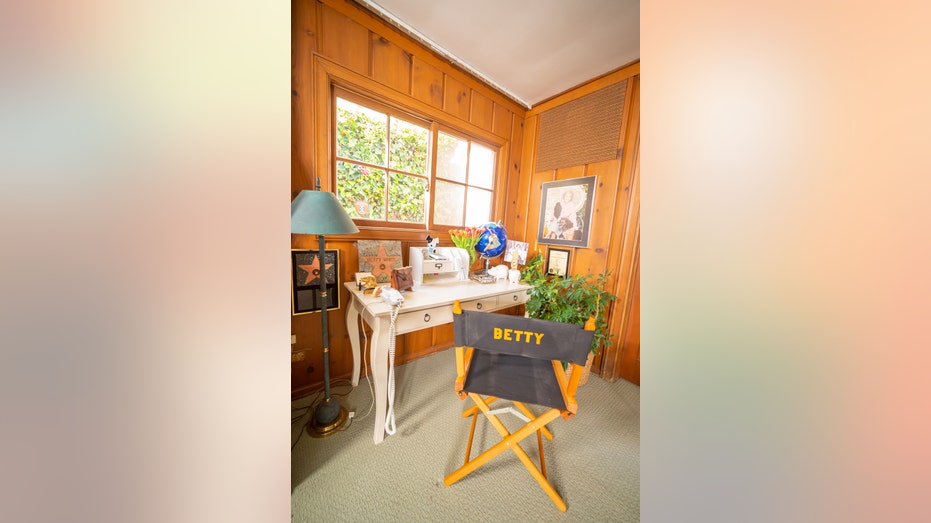 Betty White's director chair has an estimated starting bid of $3,000-$5,000. (Julien's Auctions / Fox News)
"I think people participating in this auction will be surprised to learn that Betty, like everybody else, had stuff," he shared. "She had a modest lifestyle and surrounded her home with things she loved and appreciated. Her items were attached to heartfelt memories. These items tell a story about a life well lived."
The Associated Press contributed to this report.