Just outside the Las Vegas Strip, near the Red Rock Canyon National Conservation Area, Genesis and Aaron Jones shared their first joint as a married couple.
"We knew from the beginning that we were going to have a cannabis-oriented wedding," Genesis Jones said. The couple doesn't drink alcohol, but they consume cannabis daily. "Just having a moment and smoking together is something we like to do at the end of the night."
A pair of black velvet loafers with small cannabis leaves became the centerpiece of their wedding. A collaboration between Snoop Dogg and British footwear brand Duke and Dexter, the shoes were perhaps the most obvious nod to weed in the small elopement ceremony. Despite the party-favor joints and a couple of bongs, the #JonesJointUnion was just like any other wedding.
The presence of weed at weddings is nothing new, but it used to be more secretive, like sneaking off with your cousin at Thanksgiving to take a hit. "People have been smoking at weddings as long as weddings have been a thing," said Andrew Mieure, CEO of cannabis-experiences company Top Shelf Budtending. "I think we're just now able to expose it for what it is."
The Cannabis Wedding Boom
Eight years ago, Mieure was a recent transplant to Colorado. He found himself attending parties that had legal recreational cannabis but no standard for cleanliness or hospitality.
"The one thing that stood out to me is they had a bong sitting on a table and people were standing in a line to use the bong," he said. "And I was like, 'Why is there not somebody serving these people and cleaning the device?' And it hit me that I needed to create a service that catered towards serving cannabis to people at private parties, events, and weddings."
Mieure launched Top Shelf Budtending in 2014, and has since served roughly 70,000 guests. It's one of many cannabis services that specialize in weddings. Founded the same year in Denver, Irie Weddings & Events is a "budtending" service that provides party guests with joints, canna-cocktails, edibles, and CBD water. There's also The Herbal Chef, a culinary platform working to destigmatize the plant through cannabis-infused catering.
This is a reflection of a growing recreational market in the U.S. Legal cannabis sales in the country were estimated to be around $24 billion in 2021, according to insights from cannabis-data company BDSA. This year, sales are predicted to reach about $28 billion. Around 40 percent of adult consumers say that they enjoy cannabis at every special occasion or celebration they attend.
There's even an event where weed-focused wedding businesses can display their services—the Cannabis Wedding Expo. Started in 2016 in Denver, the Expo brings together budtending companies, cannabis caterers, and CBD beauty brands. "It's sort of like the Willy Wonka and Disneyland of the cannabis industry," said Expo CEO Vanessa Oliver. It now operates in most recreational states as a boutique showcase featuring 25 to 60 exhibitors.
"We have so many new attendees, people that we've dubbed 'canna-curious,'" Oliver said. "They're not really sure where they want to be in the market, but they're just curious, like, 'What is this CBD stuff and how does it work and how do I use it at my wedding?'"
How Cannabis Weddings Work
In most scenarios, the cannabis companies provide the goods like any other wedding vendor. So the florist provides the bouquets, the caterer brings the food, and the cannabis service makes mini joints, infused drinks, edibles, or multi-course meals. But it isn't like an all-you-can-eat buffet; everything is microdosed and monitored.
"You can't just come up and grab what you want from it. You have to have a conversation with us," said Chelsi Katz, one of three owners of Irie Weddings & Events. "And we select a recommendation for them based on what their answers are. So, we're really curating the experience."
This safe environment tends to make newbies more open to consumption. "We've had over 300 first-time consumers," Katz added.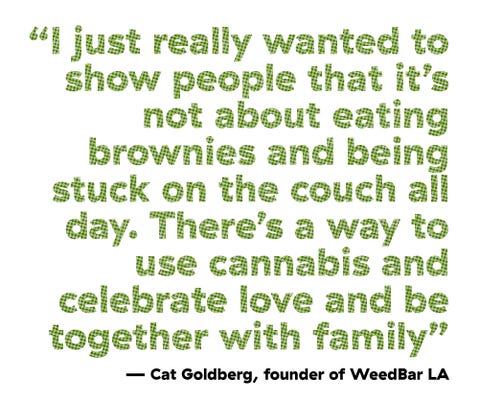 Chris Sayegh, founder of Herbal Chef, is working to destigmatize cannabis by creating safe ways for people to experience the plant. "What I really get excited about is that we do things in such a responsible way," he said. "The cannabis is an accent to the overall experience. The real backbone of everything that we do is amazing food, beverage, and hospitality."
The combination of cannabis and alcohol isn't always safe for everyone. That's why Cat Goldberg, founder of cannabis-events company WeedBar LA, is constantly monitoring people, especially at events where there's also an open bar.
According to Katz, there's actually less risk of overconsumption at events with both alcohol and marijuana because the alcohol and cannabis bartenders are aware of what they both serving and that consumption of both substances is happening.
Why People Are Choosing Cannabis
There are a slew of reasons why couples are making weed a part of their wedding. According to Mieure, it could be an alternative to alcohol, just a fun addition, or a way to say something about who they are.
"Now that cannabis is legal, they can have it be part of their identity," Mieure said. "And, having it be part of their identity, they want to integrate it into their big day."
It can also be cheaper than alcohol. "A little bit goes a long way," Mieure said. "You're probably looking at, I would say, half and sometimes quarter the cost of what it would be to have a fully stocked bar."
"I think weddings provide this very safe terrain, where it's a combination of nostalgia, because you're with these people that you've known for usually quite a long time," Goldberg said. "And now you're adding in something that helps shrink the ego, and there's like a lot of magic that can come out of that."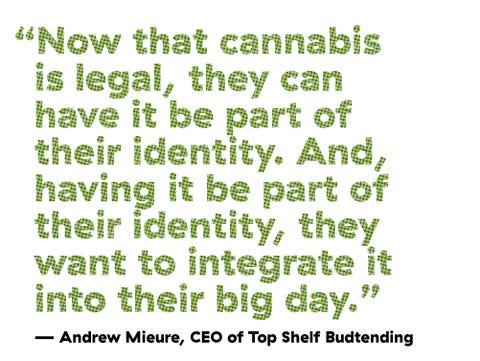 Growing up gay, Jewish, and with severe OCD, cannabis was a blessing for Goldberg, who doesn't drink alcohol. "I always thought I would go to more parties or weddings if there was a weed bar," she said. "I just really wanted to show people that it's not about eating brownies and being stuck on the couch all day. There's a way to use cannabis and celebrate love and be together with family and enjoy it."
Katz has seen a grandmother, mother, and bride all consume cannabis together. It's not uncommon for Goldberg to witness family members taking hits and then proclaiming how much they love each other. "It's just a very different energy than when there's an open bar," Goldberg said. "You can feel the difference at a cannabis wedding. There's just a lot more laughter and use of the word love."
While some couples may want a wedding that screams marijuana, the Joneses worked to avoid stoner cliches on their big day. "We wanted to showcase the fact that you can be a stoner and keep it classy," Jones said. "Be a bride and be a mom and be a husband and be a dad, and still consume and have the best time of your life and have a beautiful wedding."
It was March when the couple got married in Las Vegas, but they waited until April 20, or 420, to officially sign the documents and legalize their marriage in their home state of California.
Allison Arnold
Associate SEO Editor
Allison Arnold is the Associate SEO Editor at Delish, where she covers anything from the best kitchen gadgets to food and culture.
This content is created and maintained by a third party, and imported onto this page to help users provide their email addresses. You may be able to find more information about this and similar content at piano.io