Christine Quinn finally introduces Chelsea Lazkani to the rest of The Oppenheim Group in Selling Sunset Season 5 Episode 4, "Bad B****** Don't Cry." Plus, the duo's luxe Caviar and Couture broker's open finally comes to fruition, bringing plenty of drama and, ironically, tears.
[SPOILER ALERT: Spoilers ahead for Selling Sunset Season 5 Episode 4.]
Chrishell Stause, Christine Quinn, Chelsea Lazkani, Amanza Smith, Vanessa Villela, Davina Potratz, Maya Vander, Emma Hernan, Mary Fitzgerald | Netflix
Heather and Christine's sitdown in episode 4 of 'Selling Sunset' Season 5
"Coming For All Your Coin" ended with Heather and Christine sitting down to talk. Despite Christine's late arrival — she had an allergic reaction, OK? — Heather entertains the conversation.
Their friendship, which hasn't been a thing for some time, comes up Heather attributes their growing apart to Christine's actions not matching up with her words. She cites what Christine told the press about Jason Oppenheim and Chrishell Stause dating before her marriage to Justin Hartley was over, which Christine recalls as "hilarious."
The massive flower arrangement Christine sent to Heather's shower also comes up in the conversation. Allegedly, Christine wanted a subtle bouquet arranged in a heart with the letters "H" and "T" in it. She didn't know the flowers would be "eight feet tall."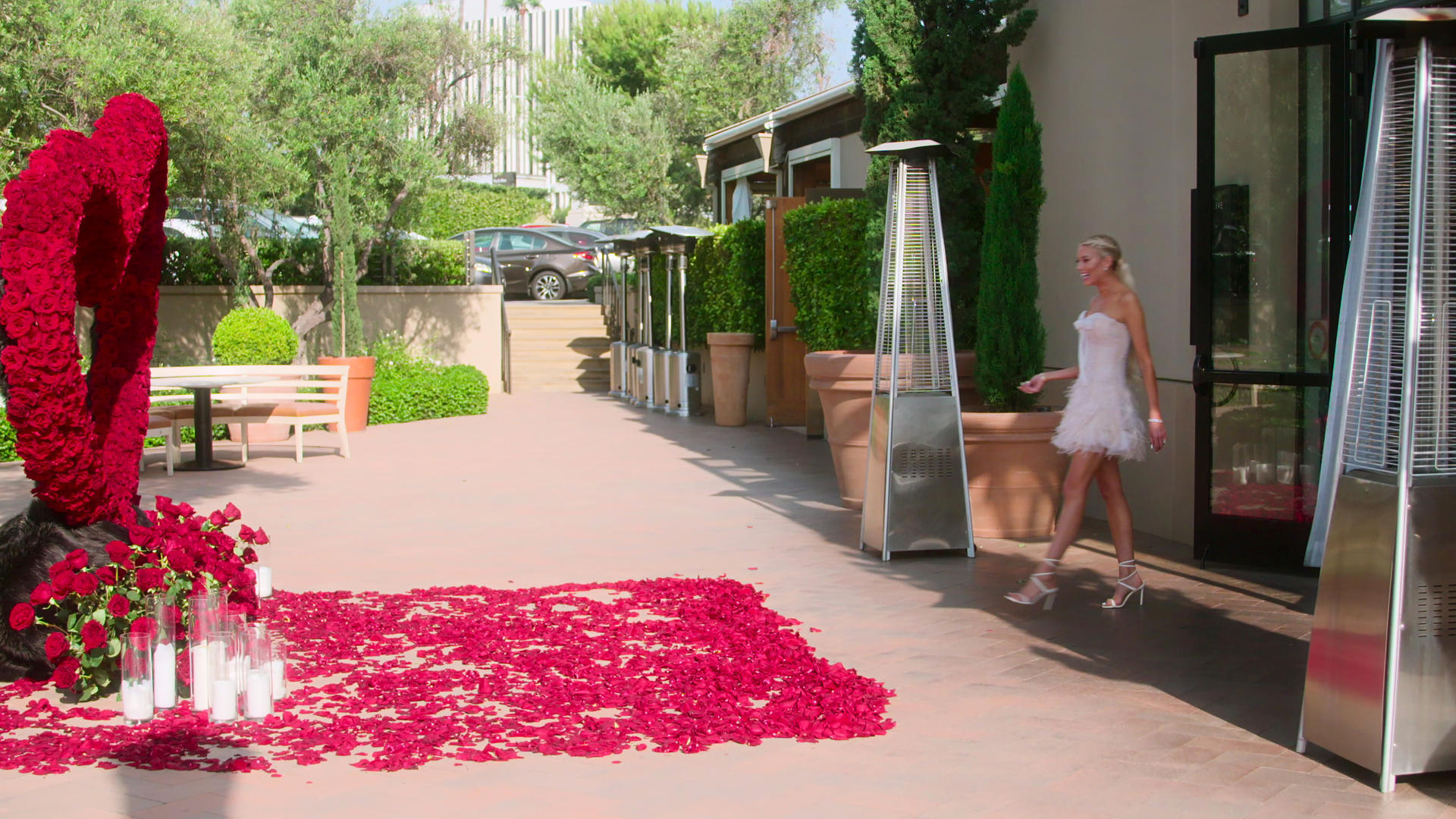 Heather Rae El Moussa | Netflix
At this point, all Heather's looking for is for Christine to take accountability for her actions and apologize. And all Christine wants is to be friends with Heather again.
"You're the only girl I actually care about," she tells her in the episode. "The other b****** I don't give a f*** about." She and Heather leave lunch on amicable terms, but that doesn't last long. 
Chrishell Stause has 'reservations' about Chelsea Lazkani
Embracing her role as managing partner, Mary leads her first team meeting in "Bad B****** Don't Cry." Vanessa Villela is struggling to bring in listings, but Mary throws her a bone in the form of Brett and Jason's dad's house. She'll have to stage it properly, but it could become a solid sale for the struggling realtor. 
During the meeting, Christine appears as bored as the other women run through their listings. But she perks up when the opportunity arises to talk about her new confidant Lazkani. She presents the idea of introducing Chelsea to everyone at her Caviar and Couture broker's open, and Chrishell immediately has "reservations." 
Hesitant about whether or not Chelsea can "actually sell real estate," Chrishell admits her reservations are because Christine is backing the realtor. Later in the episode, Chrishell wonders if Christine simply wants to bring Chelsea on as an ally.
Caviar and couture become crying and critique in 'Selling Sunset' Season 5 Episode 4
Despite their personal feelings about Chrishell, almost everyone from The Oppenheim Group attends Christine and Chelsea's broker's open except for Heather. Chelsea seizes the opportunity to pitch herself to Mary as an agent. 
"I love to speak to people, I love opulence," Chelsea boasts. "I'm really good at getting what I want." 
"Do you play well with others?" is all Mary wants to know. Of course Chelsea does, but she can be blunt like she is when she meets Chrishell later that evening.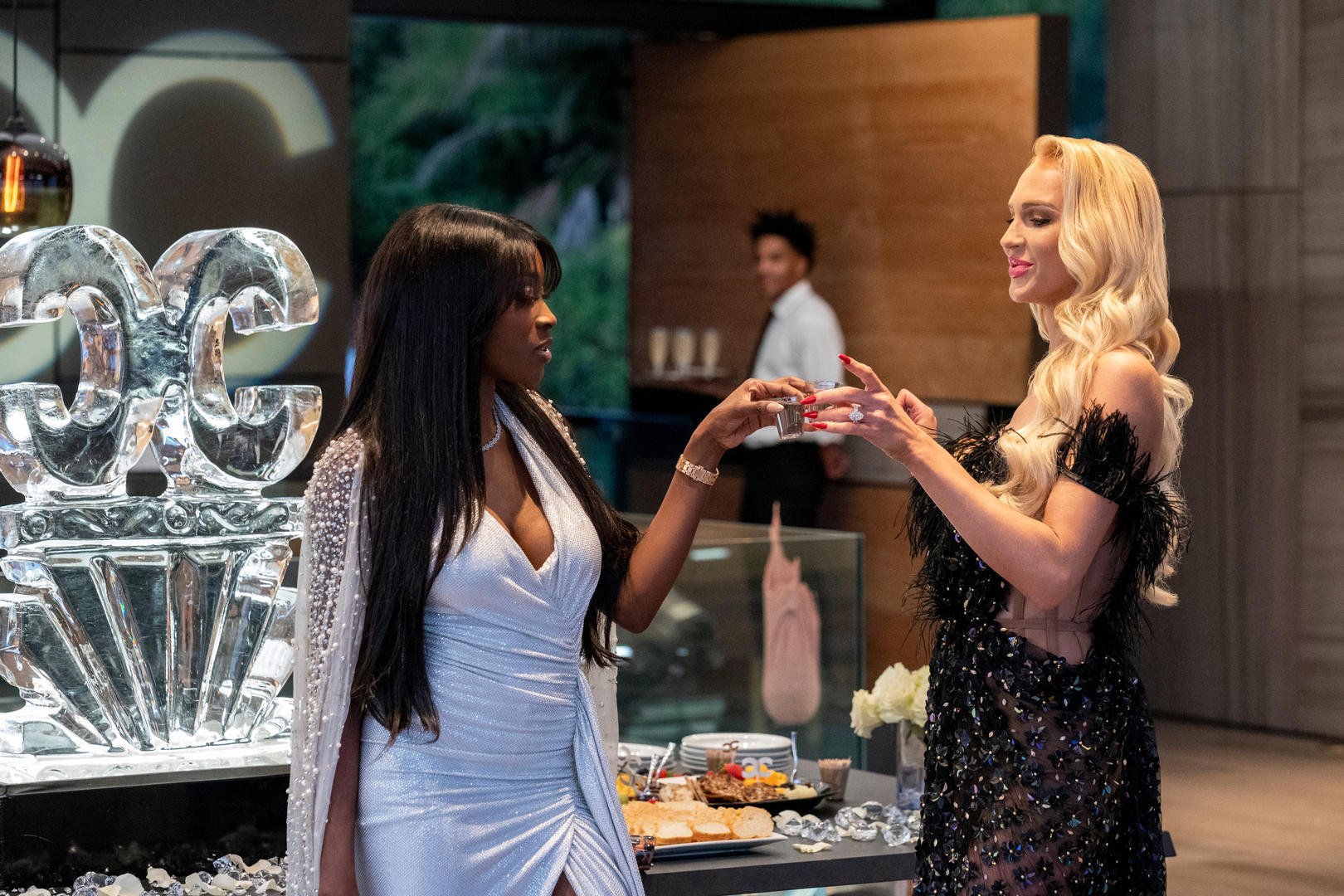 Chelsea Lazkani & Christine Quinn | Netflix
"My first impression of Chrishell is she's beautiful but why's she so scared of me?" Chelsea says to cameras. Chelsea addresses what Chrishell said during the team meeting. Surprisingly, Chrishell appreciates how direct Chelsea is. "I think that's how you get things done in this office," Chrishell says.
All seems to be going well at the Caviar and Couture party until Amanza Smith, one of Christine's only remaining friends at The Oppenheim Group, confronts her about the headlines saying she was "banned" from Heather's wedding. The broker's open ends with Christine in tears, leaving Chelsea with a bad taste in her mouth. Everyone confronting Christine gave the Selling Sunset newcomer "bullying [vibes]." 
Will Chelsea continue to show up for Christine? Find out in the next episode. 
Watch season 5 of Selling Sunset on Netflix. 
RELATED: 'Selling Sunset' Star Christine Quinn Reveals 2 Armed Robbers Tried to Break Into Her Home