Coronation Street spoilers follow.
Coronation Street's Emma Brooker faces a life-changing day next week as she prepares to marry Curtis Delamere.
Emma has made a pledge to keep supporting Curtis (Sam Retford) following the revelations over his Factitious Disorder, but advice from Amy Barlow (Elle Mulvaney) plays on her mind on the big day as she wonders whether she's doing the right thing.
It's also unclear whether Curtis will turn up at all when he's late for the ceremony. Could the day's outcome be taken out of Emma's hands?
Alexandra Mardell, who plays Emma, recently chatted to Digital Spy and other media about what's ahead.
Joseph ScanlonITV
How is Emma feeling now that she knows the truth about Curtis?
"She's devastated. Curtis is her everything – he's the prince that she has been looking for. It's just so typical for Emma that something has gone wrong. It's just such a shame, because she believes this is the one. So she's devastated, but I think she's willing to do anything to try and make it work."
Why did Emma decide to tell Amy the truth this week?
"It's such a big secret and she can't cope with it. Emma's such an honest person. There's that little bit of relief to just share it with one person, who she feels like she can trust. It's just what she needed to keep going, so she confided in her sister."
Even though Amy wasn't supportive, is Emma still keen to go ahead with the wedding?
"Yes, she is. I mean, Amy's a little Tracy so it would probably be a mistake to trust her! But she still wants to trust Curtis anyway, despite what Amy has said. She tries to persuade Amy that it is the right thing to do."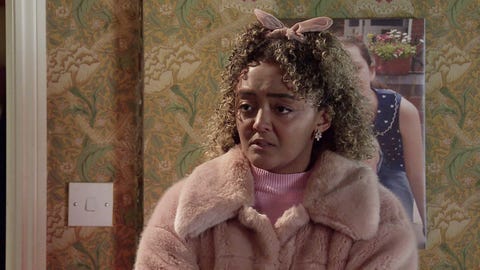 ITV
Curtis has grown close to Steve as well. Is Emma worried about how the family are going to react if they find out the truth about Curtis?
"Definitely. They've all trusted Curtis so much, especially with the support for Oliver's fund. He's really become a part of the family now, which just makes it so much worse.
"Obviously, Steve is going to put Emma and her happiness first. So she knows it's not going to go down well, but I think that's why she wants to keep it under wraps until the wedding is done, with everything signed off. Then Steve would have no choice but to forgive him.
"I think it would be a hard job for Steve, but Emma has got to be his priority. So maybe he could forgive Curtis, because he'd be doing it for Emma."
Amy takes matters out of Emma's hands by choosing to tell Steve. How does Emma react?
"To be honest, I would be fuming, but Emma is so lovely. I think she just understands that Amy has always got her best interests at heart. Amy was only trying to help, so I think Emma can feel a little bit relieved that everybody knows now. There's definitely no hard feelings towards Amy."
How is Emma feeling on the morning of her wedding?
"Terrified, nervous, and wondering whether this is the right thing to do. I think everyone has got those kind of fears when they're doing something so huge, but especially when there have been lies already before they've even tied the knot.
"Emma is definitely nervous, but just hopeful. And she's so in love, and I think that overrides everything."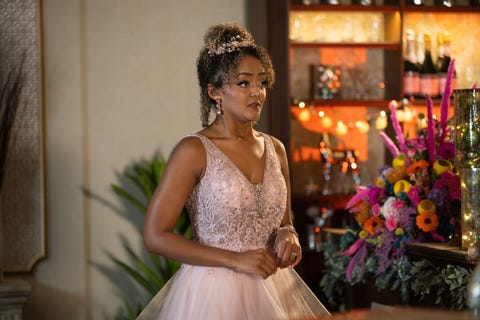 ITV
What goes through Emma's mind when she's waiting at the wedding and it's unclear whether Curtis will turn up?
"Everything is just like a rollercoaster for Emma. She's thinking: 'Should I go ahead with it? Is he going to come? Should I run off?'
"There's definitely doubt for Emma over whether Curtis will turn up, because it's supposed to be the bride that's late, isn't it? So there's already something that has gone wrong."
Would you like to see Emma get her happily-ever-after?
"I would, yes. I don't necessarily know if I think Curtis is right for Emma. But she's really happy with him. And if he believes that Emma can help him and fix him, then yeah, why not? She's had enough heartbreak, so let her try and figure this one out."
Why do you think that Emma is so unlucky in love?
"I don't know, because she just gives everything that she can. Maybe she just expects too much, or is just a bit too full on and falls too quickly for the wrong person. I think she just wants everything to always work, rather than actually thinking: 'Is this person right for me?'"
Out of her other boyfriends, who do you think Emma was most suited to?
"David was definitely a big mistake, there's no doubt about that. It's such a shame actually with Chesney, that was a lovely relationship that they built. But at the end of the day, Gemma and Chesney were meant to be.
"Very similarly again, there was a lot of potential with her and Seb, but there's just always another lovely lady isn't there? So I do actually think ultimately, Curtis is Emma's Prince Charming. There's just quite a big thing she needs to sort out. But at the end of the day, I do think they are a good match."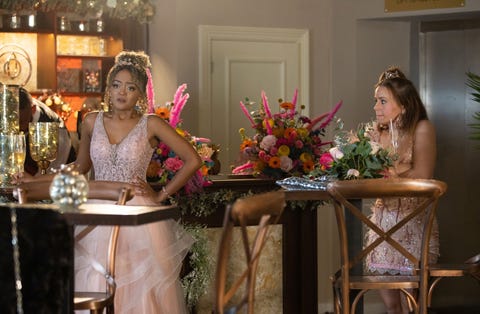 ITV
If Emma was your friend, what advice would you give her?
"Stay single! She needs to focus on herself for a bit. There's that saying that when you're not looking for love, that's when you'll find it. Maybe she just needs to focus on herself and take a step back.
"You never know, there might even be somebody closer to home that she has not even thought about. She needs to just let things settle, focus on herself and then someone might pop along who's actually perfect."
What was it like to film a Corrie Christmas wedding?
"Oh, wow. It was very strange! There is a lot going on at Emma's wedding, so it was full on. It was like being at Disneyland – it gave me a bit of a headache! There was also so much pink – extreme pink! It was crazy.
"It did feel like a big deal, especially around Christmas, so I was really excited. Having to pick a wedding dress for Emma was great."
How has it been to plan your own real-life wedding at the same time as Emma's?
"It's like the best of both worlds because Emma's style and wedding is the complete opposite to anything I would choose. So it's nice to have a look around those things that I would never have myself and just really enjoy them.
"At Emma's wedding, I walked in and I thought it was awful – but it was fabulous for Emma!"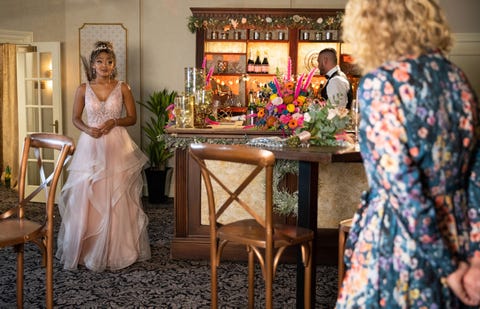 ITV
What did you think of Emma's wedding dress?
"It was the first one that I tried on. I put it on and we thought 'this is very Emma'. We tried a few but nothing compared to it – it's the perfect dress for her.
"I had a lot of input, working with the costume designer Alex. We tried on a few different dresses, but both of us just agreed that this was the one for Emma."
Did you always know where Curtis's story was going?
"Not to the full extent, but I knew there was going to be trouble along the way. It was never going to be easy breezy!
"I don't think it was until about halfway that I knew everything. Then it just made it even more exciting to kind of play against knowing as well. For us, being in on the secret has been exciting."
Coronation Street airs on Mondays, Wednesdays and Fridays from 7.30pm on ITV.
If you've been affected by the issues raised in this story, organisations who can offer support include Samaritans on 116 123 (www.samaritans.org) or Mind on 0300 123 3393 (www.mind.org.uk). Readers in the US are encouraged to visit mentalhealth.gov.

Read more Coronation Street spoilers on our dedicated homepage
This content is created and maintained by a third party, and imported onto this page to help users provide their email addresses. You may be able to find more information about this and similar content at piano.io