Lola Pearce has her wedding dreams shattered in Wednesday's episode of EastEnders (7:30 pm. see our TV Guide for full listings).
Lola Pearce prepares for her wedding day to Jay Brown. The bride-to-be is sure to look radiant, after Kim Fox and Denise Fox arrive to help her get ready.
But as they do her hair and make up, a terminally ill Lola is feeling increasingly unwell. She looks stunning in her wedding dress but she confesses that she's having some worrying symptoms.
Trying reassure Lola, who is panicking about her future, Kim advises the bride-to-be to make the most of every moment she has left.
With Lola unable to ignore how she's feeling, Kim suggests that they go via the hospital on the way to the wedding venue so she can get checked out.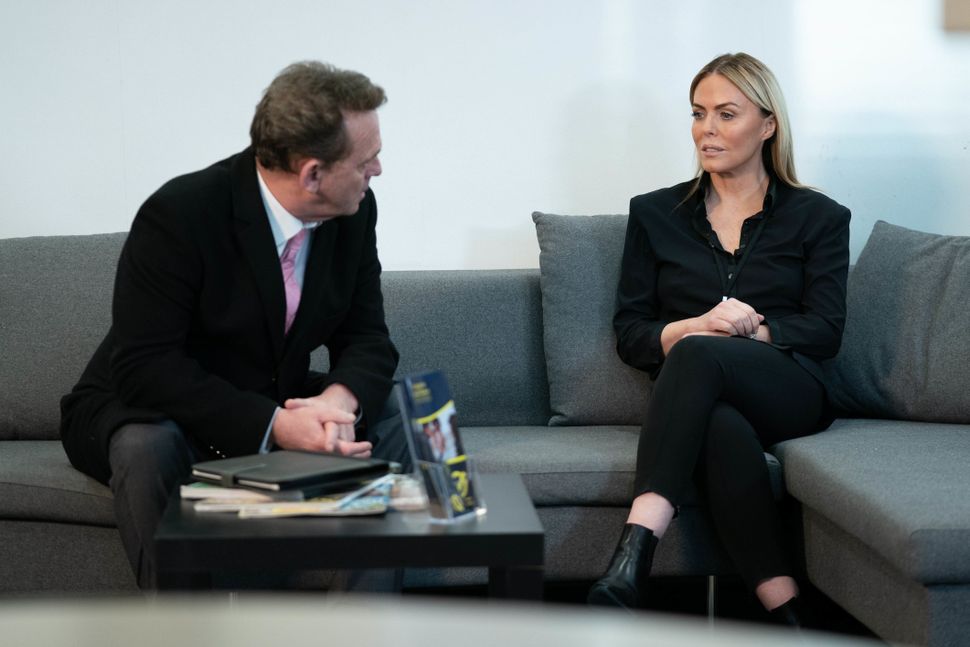 Billy Mitchell finds Lola Pearce's mum Emma Harding. (Image credit: BBC)
Meanwhile, Lola's granddad Billy Mitchell is on a mission before the wedding. Now that he has Lola's long lost mum Emma Harding's contact details, he's determined to track her down in time for Lola's big day.
After heading to Emma's work, he approaches her and reveals that he's the father of her daughter Lola's dad Dan Pearce, who was adopted at birth. After Dan died when Lola was a teenager, she ended up in care.
Unsurprisingly, Emma is stunned by Billy's revelation and even more shocked when he gives her the news that Lola is getting married today. 
Will she agree to go to the wedding?
Jay has found out what Billy's up to and he rushes off to find him, furious at Billy for going behind Lola's back to find her mum.
After his run-in with Billy, a hassled Jay heads to the wedding venue to await his bride, not realising that she's had a medical emergency…
In the hospital, Lola is getting checked out and she tells Kim that she can't marry Jay today…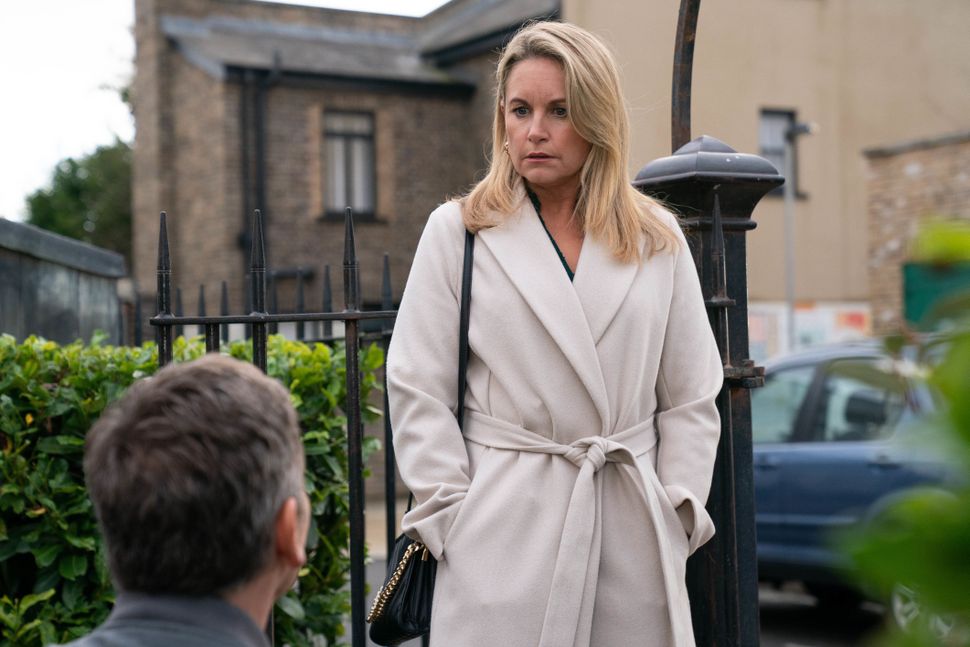 Sam Mitchell is taken aback by Ricky Butcher's proposal! (Image credit: BBC)
Sam Mitchell has stunned her family after insisting that she's going to Germany with Ricky Butcher, despite finding out that her young son Ricky Mitchell is going to be a dad!
Heading over to the Branning household, she tries to explain to Ricky's dad Jack Branning why she needs to leave.
He's furious with Sam for abandoning their son yet again, hitting back that a 12-year-old Ricky Jnr could face criminal charges, as pregnant Lily Slater is underage, too.
With his life imploding, Ricky Jnr is terrified as his dad takes him to the police station for questioning. Sam watches them go and feels a stab of guilt for not being there to offwe him comfort.
King of bad timing, Ricky Butcher is completely oblivious to Sam's troubles! He's so excited to be returning to Germany with his childhood sweetheart that he has a big question to ask her.
After watching her son being taken to the police station, Sam turns round to find Ricky down on one knee holding an engagement ring!
Will Sam say 'yes' to Ricky's proposal?
Also, Sonia Fowler is fearful she'll have to sell Dot's house to pay the inheritance tax bill but will Reiss Colwell come to her rescue?
EastEnders continues on BBC One on Thursday at 7:30 pm.