Thurston County is blooming with flowers every summer, and there are many local flower farms and florists making that happen! Support a local flower farm with a visit to their farm or by buying a bouquet at a farm stand or farmer's market. These neighborhood flower farms support the local economy and are more sustainable than your typical grocery store bouquet. Below are several small-scale family-owned flower farms in Olympia that are growing beautiful flowers.
Cedar Flats Flower Farm
5611 Cedar Flats Road SW, Olympia
509.990.8051
Cedar Flats Flower Farm is a micro-flower farm in Olympia, with flowers taking up about a quarter of an acre on their farm. They strive to grow or source all materials locally and grow a variety of flowers from seed and bulb. They offer u-pick flowers during the late summer months. At their U-pick flower events, customers will be able to pick dahlias and sunflowers. Follow the Cedar Flats Flower Farm on Instagram for u-pick dates.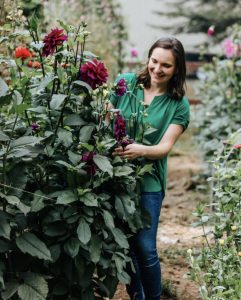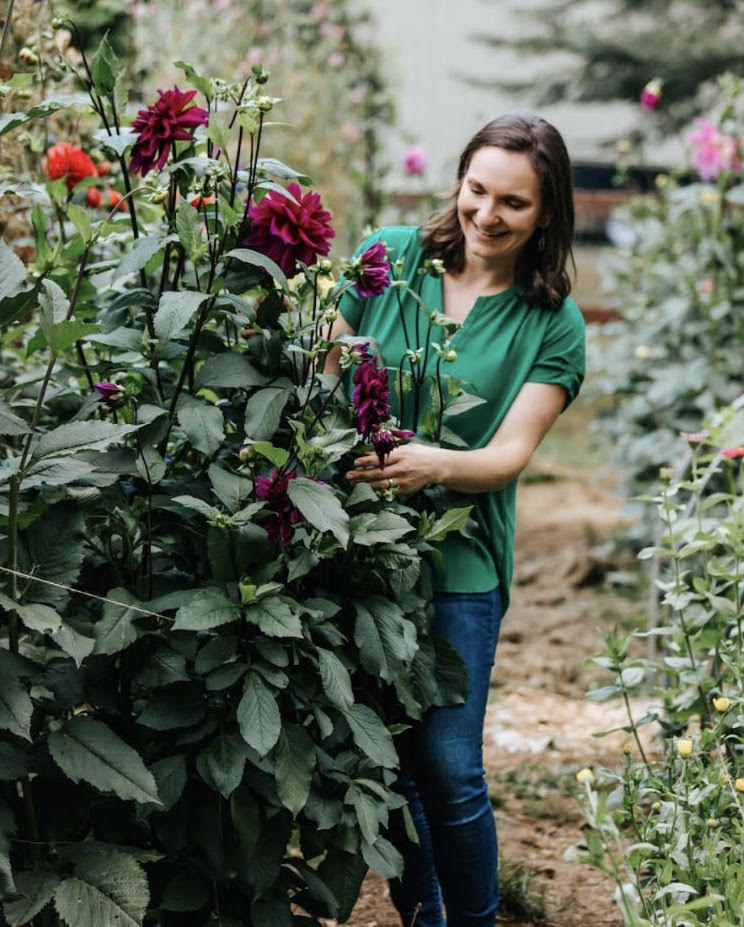 Valerie Gerrits, owner of Cedar Flats Flower Farm, uses sustainable growing practices and works hard to decrease their carbon footprint on their micro-flower farm. Photo courtesy: Valerie Gerrits
If you don't have time to pick your own, Cedar Flats Flower Farm has a self-serve farm stand on their property where you can pick up a bouquet for that special someone. They also offer summer community supported agriculture (CSA) bouquet subscriptions, with different subscription sizes available.
Cedar Flats Flower Farm uses sustainable growing practices and works hard to decrease their carbon footprint. They are always accepting vase donations, and will upcycle wine bottles to create vases for some of their arrangements. When they aren't growing flowers, they grow pumpkins on their farm. Five percent of Cedar Flats Flower Farm profits are donated to the Black Future Co-Op Fund, which supports Black-led solutions that ignite Black generational wealth, health and well-being in Washington state.
Winter Creek Farm
6740 Johnson Point Road, Olympia
971.322.8949
Winter Creek Farm started in 2020, initially operating as a small farmstand to move some of the excess fruit their property provides. The owners, Brooke and Tyler Gustafson, fell in love with growing flowers and now use two acres to grow flowers on their farm. They do not use any chemicals or manufactured fertilizers on their flowers to protect the wetland that also sits on their property.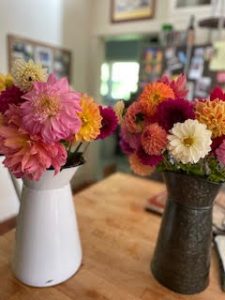 Winter Creek Farm offers bouquet making classes. They can even create a tailored class for you and friends. Photo credit: Brooke Gustafson
"What makes our flower farm unique is that we are moving towards an interactive farm where experiences can be made for and with our customers," said Brooke Gustafson. This means offering classes like seed starting and bouquet making. Check their website and social media for future classes. "We are also willing to set up a class tailored for you!" adds Gustafson. Winter Creek Farm is able to host baby or wedding showers and offer a class for your next special occasion.
To purchase flowers from Winter Creek Farm, visit their farmstand at the end of their driveway. They regularly stock the farmstand during the summer season. Customers can also pre-order flowers for certain holidays, like Mother's Day, and pick up their order at the farmstand. They also have a flower CSA, where customers can preorder a season's worth of flowers for pick up weekly or monthly.
Along with their flower offerings, Winter Creek Farm also grows apples, pears, figs, plums, blueberries and blackberries on their farm. They even offer a CSA for honey from their two beehives.
Evergreen Valley Lavender Farm
Photo credit: Kristina Lotz
9733 Evergreen Valley Road, Olympia
360.754.2002
The Evergreen Valley Lavender Farm, located along the scenic Thurston Bountiful Byway, offers organically-grown lavender. Locally-owned and operated, the farm grows 13 varieties of lavender, a gift shop and on-site distillation. The farm opens each year for the summer season in late June. It is free to visit the farm, however they ask that if you are bringing a large group of eight or more to give a call before visiting so the farm can accommodate your group.
The 13 lavender varieties that they grow include Purple Bouquet, Betty's Blue, Tuckers Early, Sachet and Folgate. They also grow culinary varieties, such as Royal Velvet, Buena Vista and Melissa (white). Evergreen Valley Lavender Farm also sells lavender-infused products, like essential oils and hydrosols, aromatherapy, and other assorted lavender gifts.
Fabian Flower Farm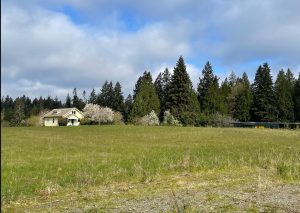 Fabian Flower Farm is rebuilding their new farm. Follow them on social media to stay updated on flowers they will be selling. Photo credit: Haley Fabian
fabianflowerfarm@gmail.com
Fabian Flower Farm offers seasonal flower subscriptions, custom bouquets and event florals. Owners Haley and Jacob Fabian recently purchased a new farm and are documenting and sharing the entire process of rebuilding and starting over at their new property on their Instagram page. They previously operated as a micro-flower farm on Sleater Kinney Road, but have moved to a larger six-acre property on Boston Harbor Road. Follow Fabian Flower Farm on Instagram or drop them an email to learn when they will have flowers available.