I was thrilled when my son and his fiancée were planning their wedding and couldn't have been more excited when I received the save-the-date invitation. Then, a cloud of dread came when I thought about fitting into a formal dress and having to take family photos. And it wasn't the first time I felt this way.
Like many, I've struggled with my weight since my teens and did diets with my mom. Eventually all those years of dieting affected more than just my looks: It undermined my confidence and led to restless nights. The extra pounds weighed me down in more ways than one. I had type 2 diabetes and high blood pressure, and my knees and back were killing me. And as a nurse during the Covid-19 pandemic, I had a front-row seat to how obesity can make you more susceptible to illness.
Before losing weight with Found, Nona was taking medications for type 2 diabetes and high blood pressure. Now, she manages both without them.
Nona Bluestein
I also couldn't sleep. One night a scrolling session led me to Found, a weight care program that combines nutrition, movement, mindfulness, and medication (though not all of Found's programs involve this), with a personal care team of doctors and health coaches, plus community. In that moment, I took a quiz about my medical history, the types of diets I've tried, and other habits to get a personalized assessment. As a nurse, the process satisfied my criteria of what I would want if I met with a physician in person. From there, it helped me determine that my personalized path included prescription medication to curb my appetite. In addition to the medication that was specific to me, I received customized nutritional support, one-on-one coaching, and other recommendations around movement and sleep, as well as management of emotional health and stress.
Coaching began with automated weekly and monthly challenges, where you log your activity—which could involve eating, exercising, or other lifestyle habits. How you complete a challenge determines your next challenge or to-do. At first, I thought, "I'm paying money for a bot?" Then, one day after working 12 hours, I noticed that the challenge was to add something to my daily routine. I was already exhausted, so I responded no to the bot. Immediately I received a text from my coach, Tara. It turns out it was a real person, not a bot. Hearing from her made me feel like there was someone that understood me. Together, we came up with a new challenge, and I realized that—unlike other plans I had tried—Found was flexible.

Take the Found quiz today
From there, Tara and I talked about my lifestyle. I teach nursing as a corporate educator, and I often leave my house Sunday mornings and travel all week. So we tailored my diet to what I can carry with me. She sent me lists of snacks that were prepackaged, nutritionally rich, and didn't need refrigeration, such as jerky that is low in sodium and sugar. I also couldn't have the same routines every day, so that had to be flexible too. I joined a Found community on social media and connected with peers who were on similar paths, which also helped me.
Sidestepping the Pitfalls
It's hard to come to terms with the fact that instant success rarely means long-term success. For about four months, I experienced a steady weight loss until 30 pounds. Then I struggled and plateaued every 10 pounds for weeks at a time. I only weighed myself once a week, so sometimes I felt disappointed.
One day I was sitting in my car feeling depleted when my coach texted to check in. I told her how I was feeling, and she said, "If you were climbing a mountain, wouldn't you want to stop and look at the view once in a while, and say, 'it's so beautiful up here?" It made so much sense to me, so I decided to look at the thousands of pictures on my phone. In some, I was a size 22, in others a size 16, and finally, a size 14. I realized that I'd already made a ton of progress and the view was pretty darn good! You don't get that kind of motivation all by yourself.
Long-Lasting Changes
It has taken me almost a year to lose a little over 80 pounds, and while having the wedding on the horizon kept me going, the affordability and flexibility of Found were key. The plan is accommodating but also involves simple suggestions that challenge you to adopt habits, not strict food plans. Sometimes it's about looking for ways to add more vegetables or probiotics to my diet or learning to put my fork down between bites to have a conversation or think about my day. This type of mindful eating gives me time to eat for energy, not to stuff myself. As a result, I don't finish what I thought I would eat about 90 percent of the time.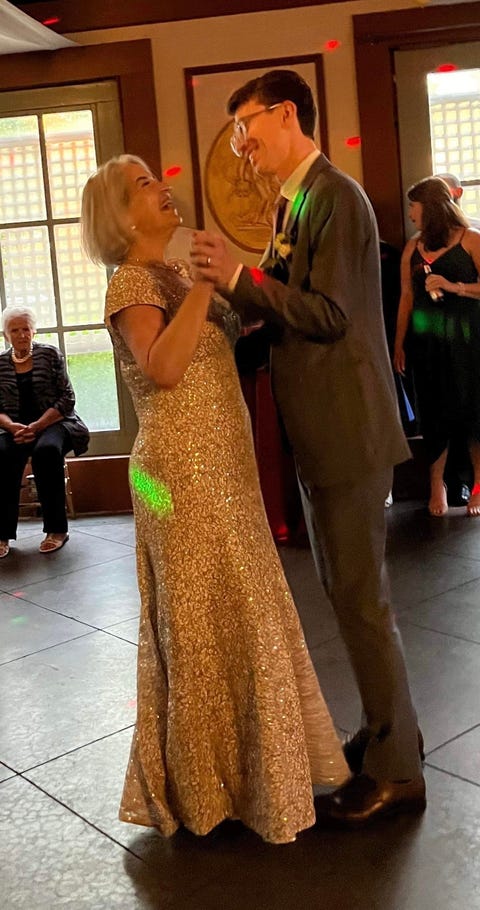 Nona dancing with her son at his wedding.
Nona Bluestein
I also learned that how you metabolize food is impacted by how you sleep, so I no longer use my phone, computer, tablet, or watch TV in bed. Sometimes I use my phone to do a sleep meditation, but I put it on a nightstand with the screen down, so I'm not distracted by the light.
I'm not big into exercise, especially with all the traveling I do, so I keep it to three times per week. That seems more doable than daily workouts. Sometimes I think I'm going to use an elliptical machine for 10 minutes and then my music plays, and I end up doing it for 40 minutes. My coach is fine with whatever I do, as long as I am moving. Now instead of sitting when I teach, I walk around the classroom. I also count my steps and report them as part of my challenges. A big motivator is that I don't want to disappoint my coaches. It's funny how you can develop a bond with a person who sends you emojis and checks in on you every day even though you've never met them in person!
I'm down to 148 pounds and I love sharing photos of my progress on social media and inspiring others. My friend Kathy, who is also a nurse, says, "You better save that wedding dress when you outgrow it because I want to wear it next!" and it makes me feel so good! I feel like I found the real me!
This content is created and maintained by a third party, and imported onto this page to help users provide their email addresses. You may be able to find more information about this and similar content at piano.io