In the past year, at-home weddings have become more in vogue than ever before, thanks to celebrities like Ariana Grande—who got married at her Montecito home last month—and smaller gatherings brought on by the pandemic.
If you, too, would like to follow in the footsteps of a Grammy award-winning pop star—and many other celebrities, like Prince Harry and Meghan Markle, who had a backyard ceremony just days prior to their very public royal nuptials—as well as countless other at-home wedding advocates, House Beautiful is here to help, as we've spoken to a number of brides, wedding planners, and guests who have taken part in at-home weddings, to scope out exactly what you should know prior to pursuing a marital fête at your own abode.
For Stephen Andrew Jones—a realtor based in Columbus, Ohio and Hilton Head, South Carolina—planning an at-home wedding for the first time proved to be a learning experience, and he has plenty of advice to share for others attempting the same.
The biggest takeaway that Jones learned firsthand from helping plan this event is that "paying for the fancy rental bathroom trailers is definitely worth it." Following an issue with an upstairs bathroom that led to water dripping from the kitchen lights right as guests started arriving, the realtor took to his local resources and found a plumber to handle the situation in no time. "Literally as the brides were reading the vows outside in the tent, a plumber was fixing toilet water dripping into the kitchen inside." He adds, "Luckily, no food was being prepared!"
The backyard set-up for an at-home wedding.
Adam Komich
Another bit of advice from Jones regarding this kind of wedding is to have plenty of alcohol at the ready, as the realtor found that people seem to drink more at this kind of affair. "We burned through all the wine—except the case I tucked away for myself as thanks for my hard work!," he proclaims.
Jones also mentions that everything was moved out of the home in time for the wedding, including personal decor, in order to make room for the night-long party. As for the backyard of the property, a tent was set up around the patio, so that, even in the case of rain, the wedding day would go smoothly.
While some couples have opted for an at-home wedding in recent months due to the pandemic, others have been planning to host one for quite some time. Katherine Shell, a client of Atlanta-based wedding planners Candace Frank and Jennifer Gowing of Evermore Weddings and Events, "had always wanted to be married at her childhood home" which is located in Newnan, Georgia's historic district, Frank and Gowing tell House Beautiful.
Although many at-home weddings typically only utilize the backyard as an event space, Shell's wedding incorporated the front lawn as well, with Champagne and hors' d'oeuvres being served here. The backyard, on the other hand, made good use of its century-old Oak Trees that acted as a canopy—a very picturesque one—proving that, sometimes, nature is the best backdrop for an at-home wedding.
Shell and Hughes at the altar, in the bride's backyard.
A. Thomas Photography
And despite the fact that many weddings incorporate a tent as part of the reception, Shell's wedding instead had just about everything else: a dance floor, ceremony chairs, reception tables and chairs, linens, trash cans, and generators (for both lighting purposes and the DJ's music booth). The installation process began the day before the wedding, and a tent was on reserve in case any inclement weather ensued, but, fortunately, there was no need for it, in the end. Better to be safe than sorry!
When it came to logistics involving parking, Shell opted for a combination of guest shuttles and self-parking. Because her house is adjacent to a quiet street, neighbors were notified of the wedding in advance and they all agreed to allow parking along the street. Guests who were staying at local hotels were provided shuttle buses.
As for bathroom usage during the fête, all 150 guests were allowed to use any of the many bathrooms in the home, and, given that the wedding took place during the day, there was not a lot of drinking taking place. If the occasion elicited more than the given amount of restrooms, "we definitely would have brought in rented restroom trailers," say Frank and Gowing.
Of course, following the conclusion of any kind of party is the dreaded clean-up process. Thankfully, each vendor at Shell's wedding was "responsible for cleaning and removing their specific rental items, in order to leave the home and the property in the same condition it was found," so the only component the homeowner was responsible for was removing trash.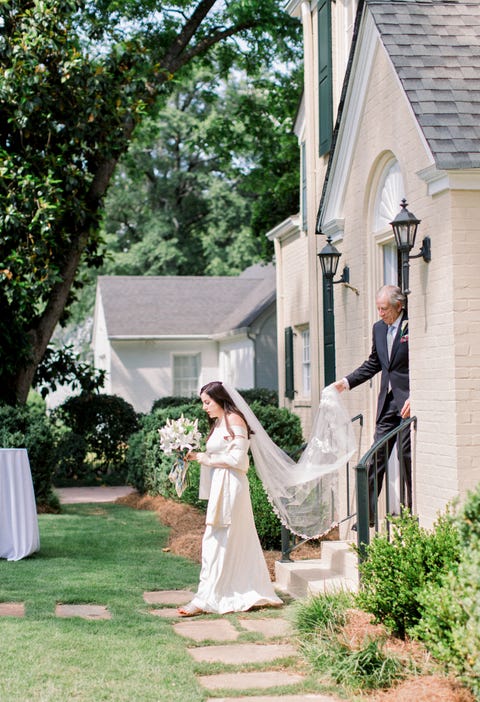 A. Thomas Photography
Best of all, the wedding gave the bride's dad a "good reason to check off a list of improvements that he'd been wanting to do, including a fresh coat of warm paint on the house, newly paved driveway, enhancements to the portico (which served as the location of the food buffets), and lots of beautiful landscaping."
Of course, there is no set way to go about hosting an at-home wedding—or any wedding, for that matter—but an at-home wedding calls for some careful planning. Below, take a look at our list of key takeaways—a good guide for anyone looking to embark on this challenge.
Key Takeaways:
• Hire a wedding planner to make things less stressful for the couple.
• Make home improvements to your abode well in advance of the wedding day (and keep possible delays in mind).
• Have a wide range of drinks at the ready.
• Make sure you have enough restrooms for your guests.
• Make use of all available spaces for the duration of the event.
• Have a tent at the ready in case of inclement weather.
• Provide shuttles for guests who do not live in the area.
• Don't forget bathroom logistics.
• Notify neighbors in advance of the occasion.
• Make sure guests who have to park their cars have the space to do so nearby.
• Make cleanup arrangements with vendors ahead of time.
Follow House Beautiful on Instagram.
Mary Elizabeth Andriotis
Contributing Writer
Mary Elizabeth Andriotis is a home decor and culture writer based in New York.
This content is created and maintained by a third party, and imported onto this page to help users provide their email addresses. You may be able to find more information about this and similar content at piano.io