There's a secret I've kept from my mother that I had intended to take with me to the grave.
That being a wedding to which she was never invited or knew existed. My second wedding, that is.
Don't get me wrong—I love my mom and she was at my first wedding. But I knew her not knowing about my second one was for her own good, just as it was best for her to also not be there for a crucial reason—my dad, whom I also love dearly.
My parents got married very young in their early 20s before having me in 1975 and later became very unhappy. My dad was in the British Army, so he was away a lot, leaving the responsibility of taking care of myself and my younger brother mostly to my mom.
When I was 11, my dad left the army so that I could stay in the school that I was enrolled in at the time and not have to join my dad at his next posting. We thought things at home would become more stable since he would be around more.
But after leaving the military, my dad struggled to hold down a job. It's only looking back now that I realize how poor we actually were and how much of a strain the financial concerns had put on their marriage. There was always an air of tension, uncertainty and unease at home as a child. My mom would cry a lot and I remember her saying things like "Oh, my eyes are just watery again."
Then, following a heart attack before 2003, my dad was reevaluating his life and made a decision to leave my mom while she was on vacation. He moved out the day she returned and they never saw each other again since, dealing with the divorce paperwork only through their lawyers. My mom was understandably very angry at my dad back then and that anger just never went away.
Vic Paterson and Greg at their first wedding, a legal wedding ceremony held at the marriage registry office.
So, when I got engaged in April 2015 to my now husband Greg, I knew straight away that having my parents in the same room, let alone the same city, for our wedding wouldn't be a good idea in any way, shape or form.
Neither myself or my husband are religious. But we liked the idea of having a celebration with a spiritual aspect and read about a handfasting ceremony, which entails having your wrists tied together with a piece of cord, a symbol of being committed to each other.
But we found out that a handfasting ceremony isn't legally recognized as a marriage ceremony. So we came up with the idea of having a legal wedding first and a handfasting ceremony as a second wedding.
We tried to find the prettiest marriage registry office we could for our legal wedding ceremony in late April 2016, which was a quiet affair with just my mom and Greg's parents. Despite it being very low-key, I was surprised by how immensely moving it was. Afterwards, we had afternoon tea at Claridges, a luxury five-star hotel in London.
My mom is very self-conscious and she doesn't find large groups of people easy to navigate, whereas my dad—give him a drink and he's a party animal.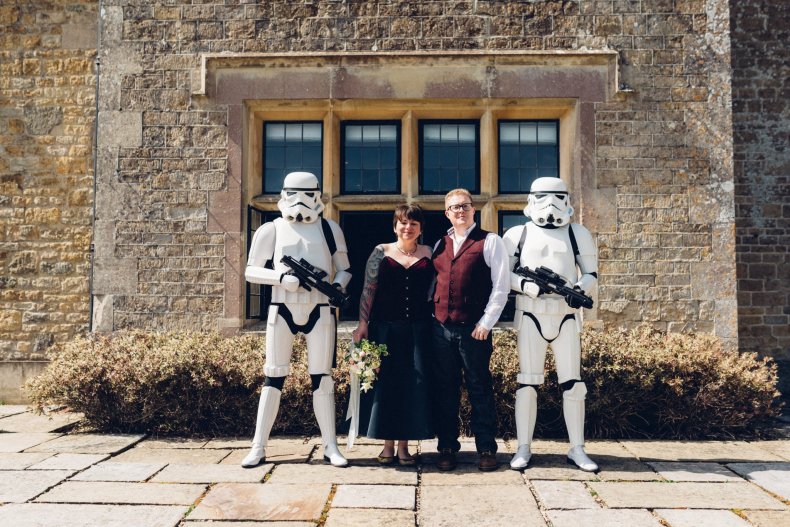 Vic Paterson and her husband Greg pictured at the Star Wars-themed wedding in on May 4, 2016.
My husband is a huge Star Wars fan, and of course May 4 is marked as "Star Wars Day" by fans, in homage to the catchphrase: "May the force be with you." I made a joke one day that if we had our second wedding on May 4, you'll at least never forget our anniversary date and that was what we did. It was my wedding gift to Greg.
So in our minds, it made sense to have my mom at the legal wedding and my dad at the larger "Star Wars" handfasting ceremony, about a week later.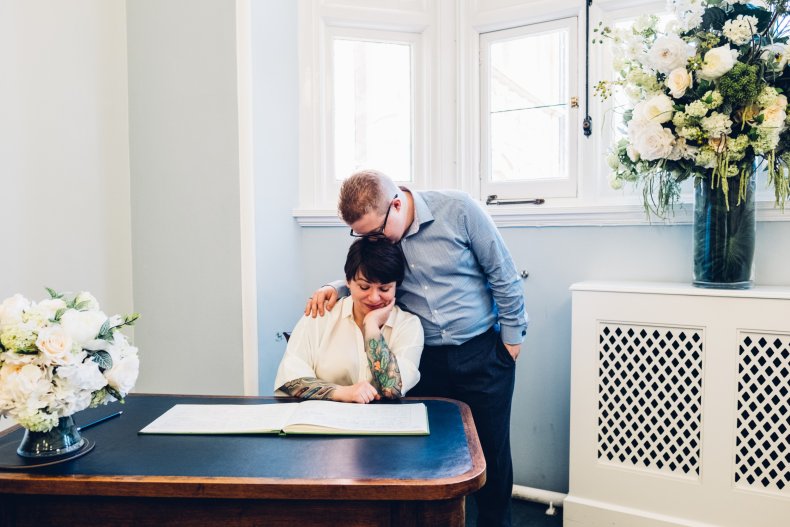 Vic Paterson with her husband Greg.
The celebrant was dressed as a Jedi and we walked down the aisle to music from the Star Wars films. I also hired performers dressed as Stormtroopers. They walked me and Greg down the aisle, instead of my dad, who was at the ceremony and had a great time.
I never told my mother about the second wedding because she would've wanted to see pictures, which would mean she would see that my dad was there. While my mom still gets so angry when my dad gets mentioned in any way, my dad moved on and met another partner.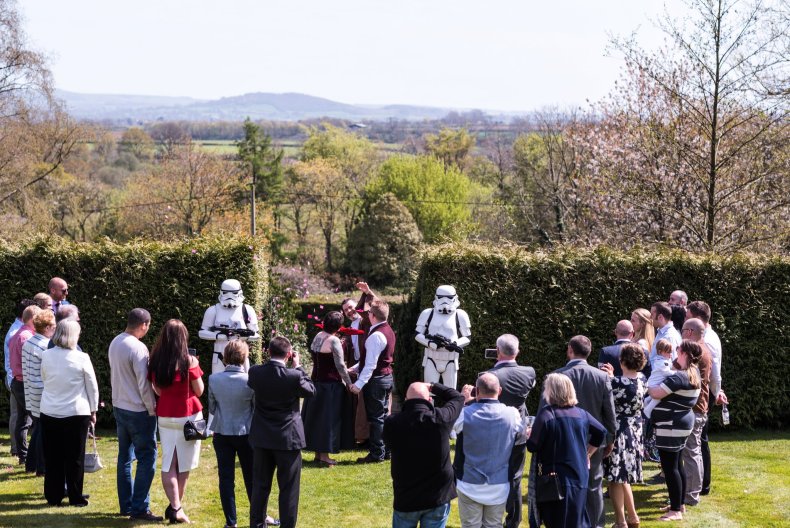 Vic Paterson and her husband Greg at their Star Wars-themed wedding in May 2016.
I love my parents equally and they both have flaws and failings like every human being. But it must have been immensely difficult for my mom because of my dad's stubbornness, I realize that more now in hindsight.
When my dad made a decision, he stuck to it, come hell or high water, regardless of whether it hurt him or it was the wrong decision. And that was one of the main causes of the breakdown of their relationship.
They tried their best but it was an unhappy house and unhappy marriage. And it was absolutely the right decision to have two separate weddings for their sake and mine.
Vic Paterson is a soft tissue therapist soft tissue therapist at state11.co.uk and is based in Lincolnshire, England in the U.K. You can follow her on Instagram @xxx
All views expressed in this article are the author's own.
As told to Soo Kim.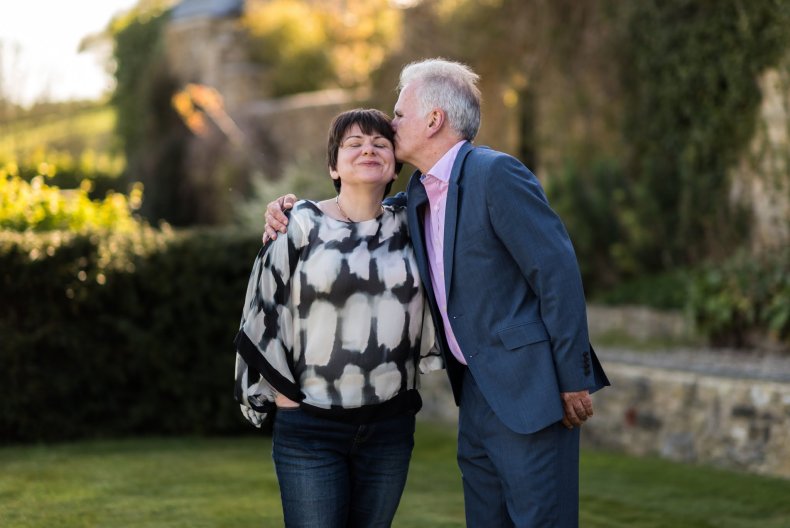 Vic Paterson pictured with her father.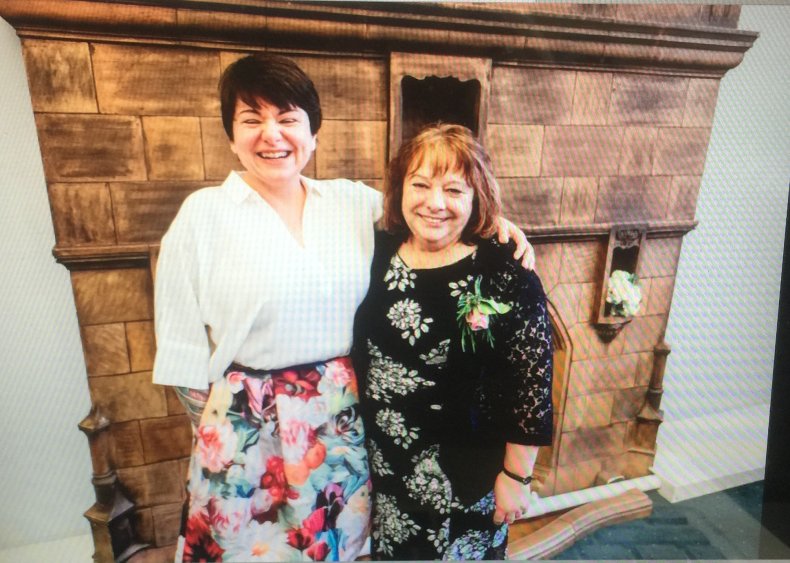 Vic Paterson with her mom at her first wedding.