Lily of the valley (Convallaria majalis) is well known for its delicate bells and beautiful sweet scent, and it's also the late Queen Elizabeth II's favourite flower.
This fast-growing perennial provides excellent ground cover in gardens and quickly spreads to form a fragrant carpet of white or pink nodding, bell-shaped flowers in spring. Set against lush green leaves, lily of the valley also makes a wonderful cut flower for scented, springtime posies, and the plant traditionally features in spring wedding bouquets.
The delicate, lightly arched stems can bear up to 12 bell-shaped flowers – each bell comprises six petals. It can grow up to 20cm in height, and has previously gained the Royal Horticultural Society's award of Garden Merit, which commends the best plants for home gardeners.
You'll find lily of the valley throughout the northern hemisphere in Europe, Asia, and North America. Signifying the return of happiness, the plant is synonymous with the month of May, and it is indeed the birth flower for May.
Lily of the valley is also a very popular scent in perfumes, often found as a base note in floral fragrances, such as Dior Diorissimo, Yardley London's Lily of the Valley, Chloé Eau de Parfum and Penhaligon's Lily of the Valley, to name a few. It's also a popular scent for spring candles, from brands including Jo Malone London, Diptyque, and Bamford.
Lily of the Valley at a glance:
• Botanical name: Convallaria majalis
• Family: Asparagus (Asparagaceae)
• Other names: Conval lily, Lady's tears, May bells, Muguet, Our Lady's tears, Mary's tears.
Lily of the valley meaning
A symbol of purity, joy, love, sincerity, happiness and luck, lily of the valley has much significance beyond the United Kingdom. It's actually the national flower of Finland, and in France, on 1st May for La Fête du Muguet, lily of the valleys are gifted to loved ones. This French custom dates back to the 16th century (inaugurated by Charles IX, King of France, in 1561) – symbolising luck and happiness.
Lily of the valley is mentioned 15 times in the Bible, most often in the Song of Solomon. With strong biblical connections, it's said to have first bloomed where Eve's tears fell as she left the Garden of Eden.
ALEXANDER SOROKOPUDGetty Images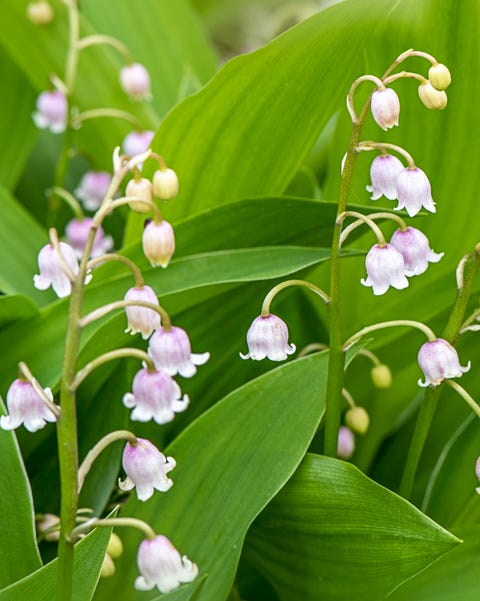 JACKY PARKERGetty Images
Garden type
Lily of the valley makes a good ground cover plant (you'll quickly have a carpet of May bells in no time), making it ideal for woodland gardens (especially for shady and damp areas) and cottage gardens. These perfumed bell flowers would work equally well in a scented garden and cut flower patch. It's also ideal for a low maintenance garden and would be a welcome addition to a shady border or patio pot. It will thrive under a canopy of trees or in the dappled shade under an established shrub.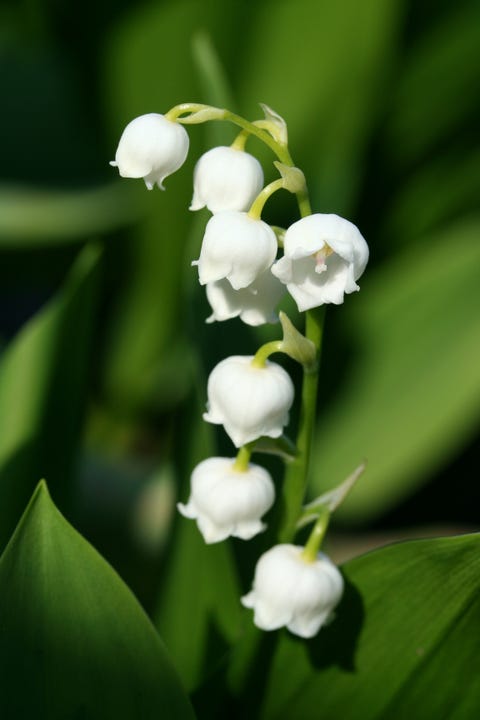 AKIsPaletteGetty Images
When to plant lily of the valley

Lily of the valley requires little maintenance and doesn't need a lot to thrive – just full or partial shade and moist soil. Its flowering season is from May to June, going from pure white, highly fragrant bell-shaped blooms, to deep red berries, both of which add interest to the contrasting dark green stem.
Lily of the valley grows from rhizomes called pips that extend their roots underground, spreading horizontally and creating abundant ground cover, often at speed. It's best grown in a pot indoors before planting out into the garden from May. Equally, you can buy it ready potted in spring from your local garden centre.
In autumn you can divide and replant overcrowded colonies. Make sure to apply a generous mulch of composted leaf mould or chipped bark around the base of the plant. Remember, there are two ways to propagate lily of the valley – by seed sown in containers or trays in a cold frame or greenhouse, or by division in autumn.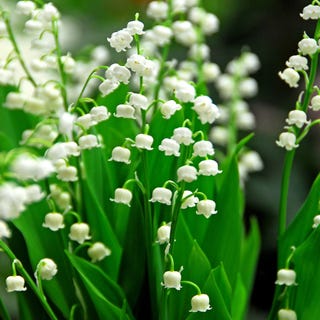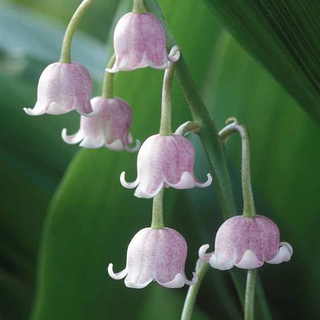 Lily of the Valley (Pink)
thompson-morgan.com
£8.99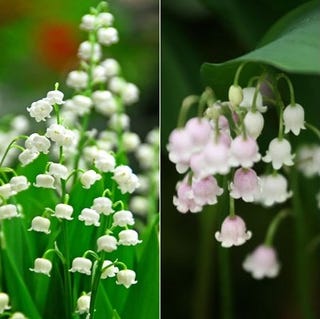 Lily of the valley collection
Is lily of the valley poisonous?
Surprisingly, all parts of this innocent-looking flower are poisonous – the flowers and red berries are toxic if eaten. Lily of the valley contains cardiac glycosides which are gastrointestinal irritants, which could prove harmful or fatal if ingested, so keep away from children and pets. If ingested, the plant can cause abdominal pain, blurred vision, reduced heart rate, vomiting, diarrhea and skin rashes. The plant is safe to handle but it's recommended that you wash hands throughly after touching them.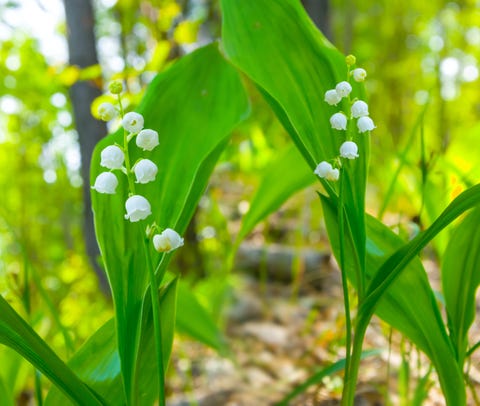 Yuriy_KulikGetty Images
The royal family
Lily of the valley was part of Queen Elizabeth II's coronation bouquet in 1953 and it remained the British monarch's favourite flower, even becoming a regular feature of the floral displays in the gardens at Buckingham Palace, the official London residence and administrative headquarters of the Monarch. The delicate flower was also used in Kate Middleton's wedding flowers in 2011.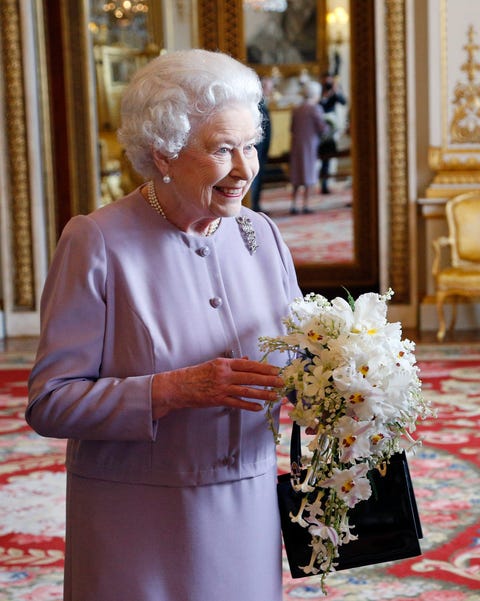 2013: Queen Elizabeth II presented with a replica of the Coronation Bouquet
WPA PoolGetty Images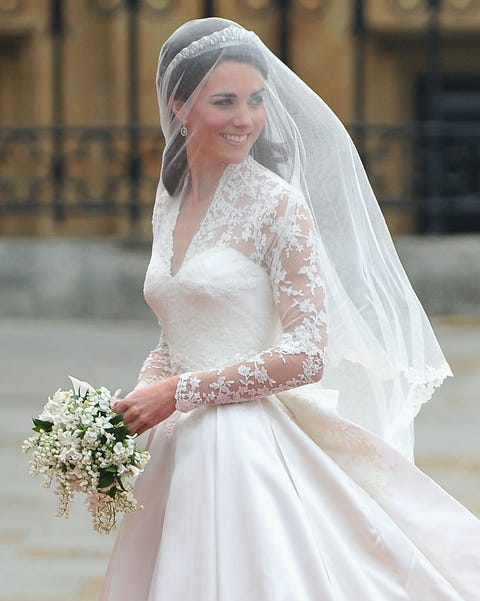 2011: Kate Middleton's wedding bouquet included lily of the valley, sweet William, hyacinth, and myrtle
Pascal Le SegretainGetty Images
Christian Dior
Famously, lily of the valley was French fashion designer Christian Dior's lucky flower, and is the emblem of Dior Couture. He wore it as a good luck charm at his fashion shows – in fact, his florist grew it for him year-round in a greenhouse so he could always wear a sprig in his buttonhole, or have the flower sewn into the hem of clothes.
'It was one of Mr. Dior's favourite flowers,' Cordelia de Castellane, Dior Maison's Creative Director, told WWD. 'He was extremely superstitious, so lily of the valley was his good luck charm.'
As far as traditions go and in keeping with La Fête du Muguet, every 1st May, Dior gifts its employees a sprig of lily of the valley.
Follow House Beautiful on Instagram.
The Garden Edit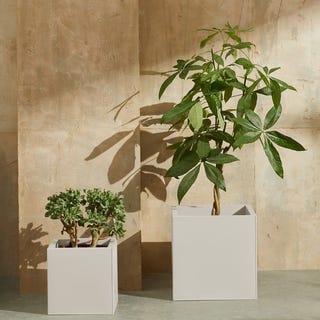 Set of 2 Galvanized Square Planters, Stone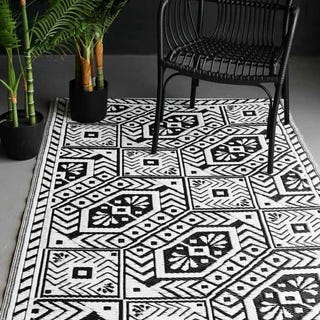 Diamond Print Outdoor Garden Rug
Rockett St George
£52.00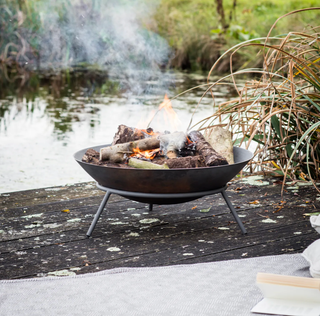 Idbury Fire Pit
gardentrading.co.uk
£120.00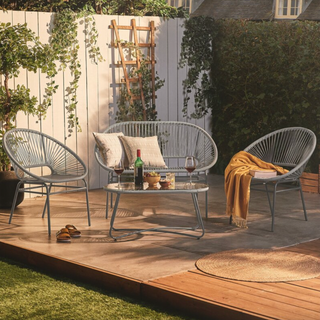 Dakota Fields Margeaux 4-seater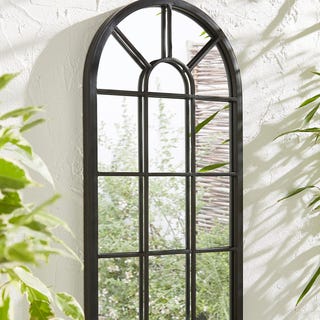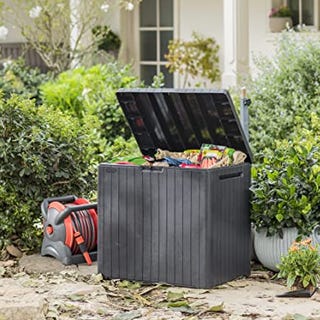 Keter City Outdoor Storage Box Garden Furniture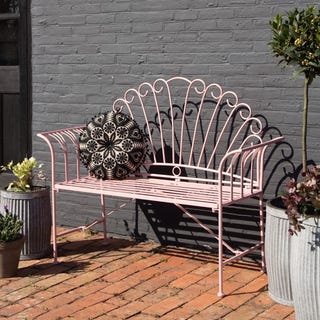 Pretty Pink Metal Garden Bench
Rockett St George
£195.00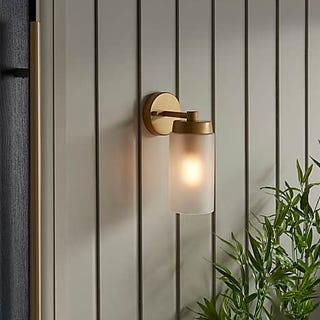 Ellison Gold Effect Outdoor Wall Light