Having worn Alexander McQueen on her wedding day, Kate Middleton has stunned in outfits by the fashion house ever since.
And least week the Duchess of Cambridge wore Alexander McQueen twice in four days as Britain paused to remember its war dead.
Her love affair with the designer dates back at least ten years, having worn a gown by Sarah Burton, creative director at the designer label, for her 2011 royal wedding to Prince William.
Kate Middleton's Remembrance Sunday Alexander McQueen Coat
The Duchess of Cambridge wore a military-inspired Alexander McQueen coat for Remembrance Sunday, on November 14.
Queen Elizabeth II had just pulled out of appearing that morning, leaving Kate to watch the service alongside Sophie, the Countess of Wessex, and Camilla, the Duchess of Cornwall.
Kate previously wore the same coat with a different hat at Remembrance Day in 2018.
Kate Middleton attends the annual Remembrance Sunday service at The Cenotaph, in London, on November 14, 2021, wearing a recycled Alexander McQueen coat.
Max Mumby/Indigo/Getty Images
Kate Middleton at the Imperial War Museum
Kate Middleton wore an Alexander McQueen blouse with a military and naval theme underneath a navy blue Catherine Walker coat during a visit to the Imperial War Museum on Wednesday, November 10.
While there, the Duchess of Cambridge officially opened The Second World War Galleries and The Holocaust Galleries.
Two of her own photos are up at a separate exhibition, Generations: Portraits of Holocaust Survivors.
She also met Holocaust survivors Steve Frank and Yvonne Bernstein.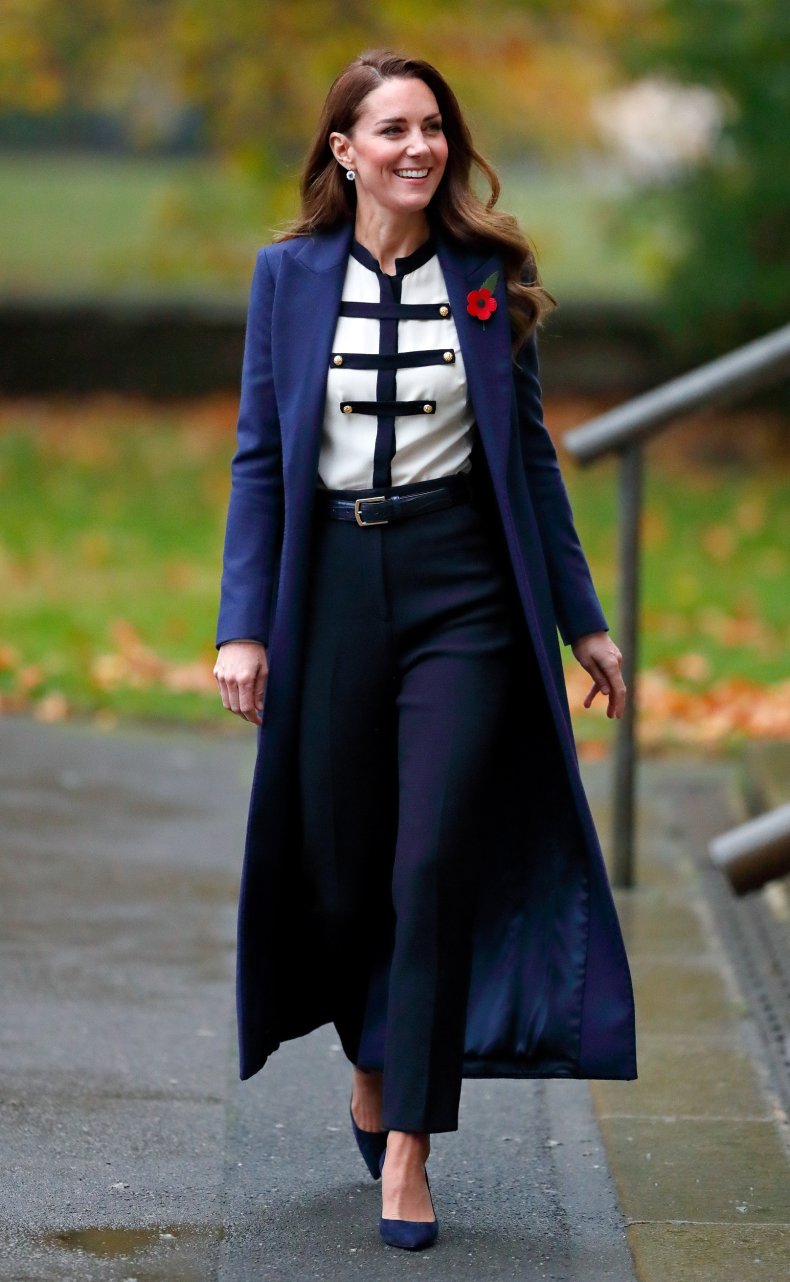 Kate Middleton, pictured at the Imperial War Museum, in London, on November 10, 2021 wears an Alexander McQueen blouse in a military style in keeping with the purpose of her visit.
Max Mumby/Indigo/Getty Images
Kate Middleton's Alexander McQueen BAFTAs Dress
Kate Middleton wore a white and gold Alexander McQueen gown on the red carpet for the BAFTAs in February 2020, weeks before COVID-19 lockdown hit.
The duchess wore a necklace and earrings by Van Cleef & Arpels and had her hair in an updo as she accompanied husband Prince William to the awards ceremony, Britain's answer to the Oscars.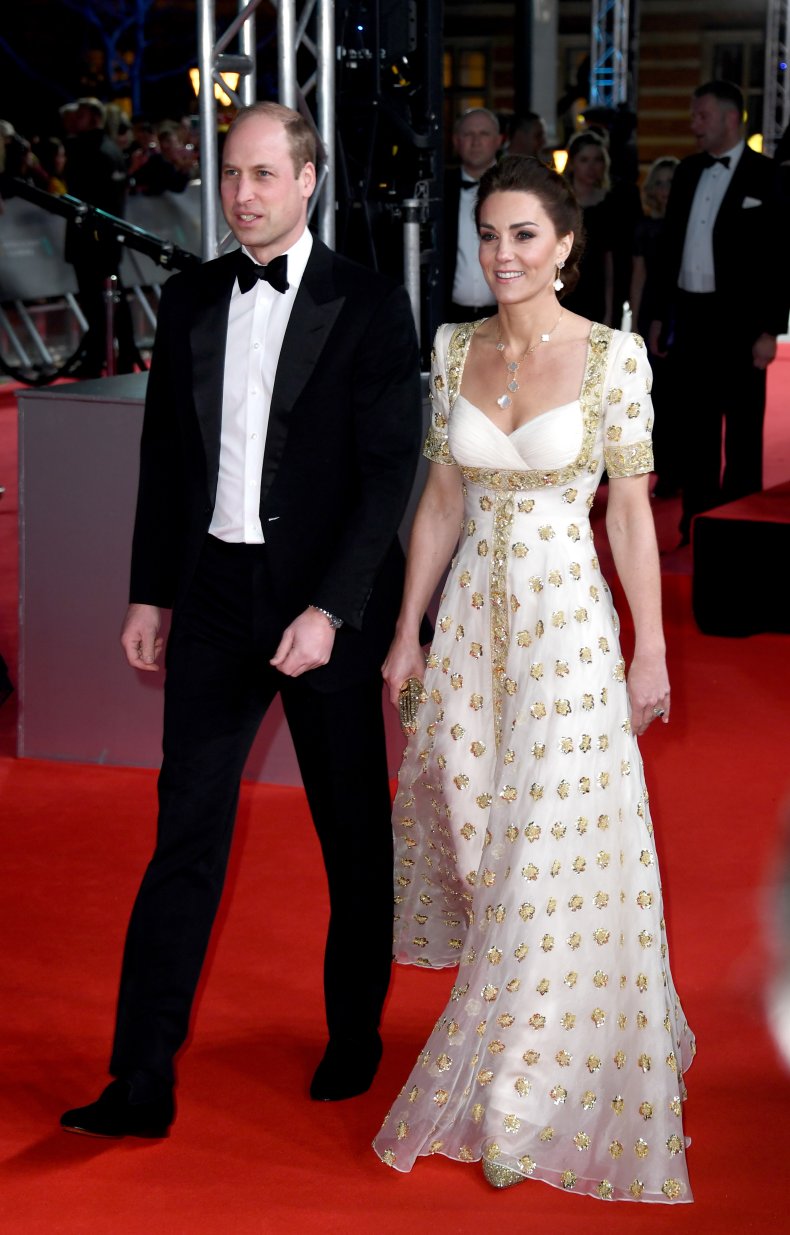 Kate Middleton in an Alexander McQueen gown at the BAFTAs 2020 at the Royal Albert Hall on February 2, 2020 in London, England.
Gareth Cattermole/Getty Images
Kate Middleton Wears Alexander McQueen to Trooping the Color
The duchess wore a light yellow coat dress by Alexander McQueen and a hat by Philip Treacy to Trooping the Color in 2019.
The event is Queen Elizabeth II's annual birthday parade and each year the family step out onto the Buckingham Palace balcony to watch a fly-past.
Kate was photographed with husband Prince William and children Prince George, Princess Charlotte and Prince Louis watching the procession.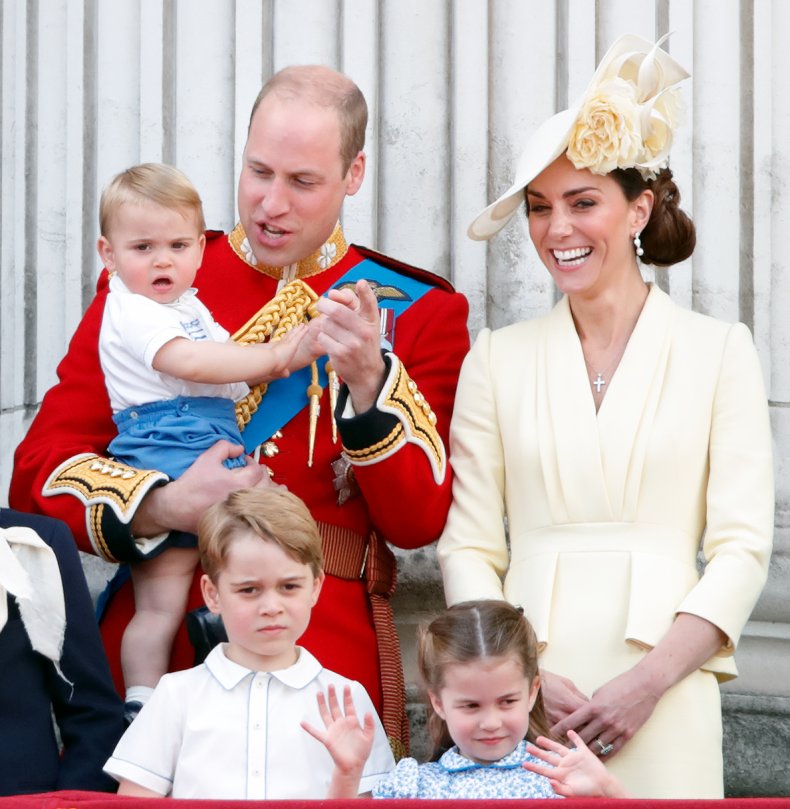 Kate Middleton wears a pale yellow coat dress alongside her family, Prince William, Prince Louis, Prince George and Princess Charlotte on the balcony of Buckingham Palace during Trooping The Colour, the Queen's annual birthday parade, on June 8, 2019 in London, England.
Max Mumby/Indigo/Getty Images
Kate Middleton's Visit to Belgium
Kate wore a coat by Alexander McQueen during a visit to St. Symphorien Military Cemetery in Mons, Belgium, on August 4, 2014.
The duchess and Prince William walked with then Prime Minister David Cameron among war graves 100 years on from the start of the First World War.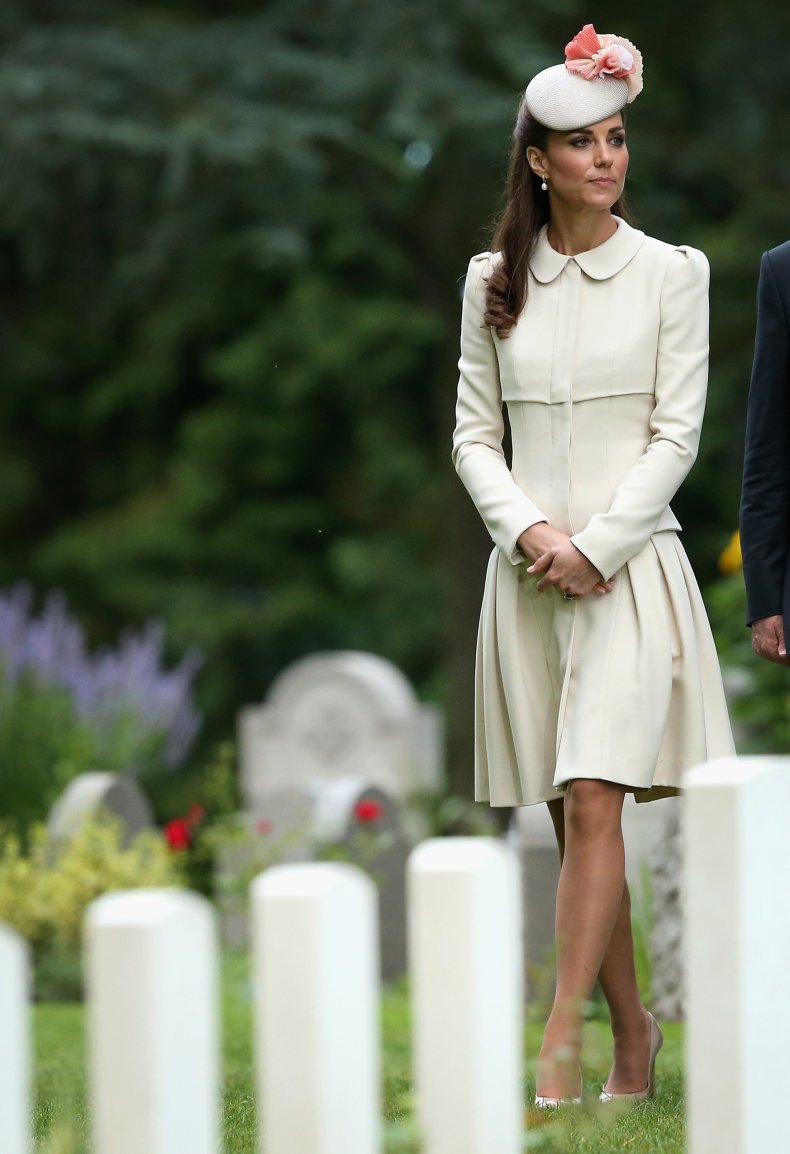 Kate Middleton wears Alexander McQueen to St Symphorien Military Cemetery on August 4, 2014 in Mons, Belgium.
Chris Jackson/Getty Images
Kate Middleton's Wedding Dress
Kate wore a stunning gown by Alexander McQueen's creative director Sarah Burton at Westminster Abbey on April 29, 2011.
The satin gown had a lace bodice and a 106-inch train as she walked down the aisle to meet her prince before a global audience of millions of TV viewers.
At the time, a palace statement read: "Miss Middleton chose British brand Alexander McQueen for the beauty of its craftsmanship and its respect for traditional workmanship and the technical construction of clothing.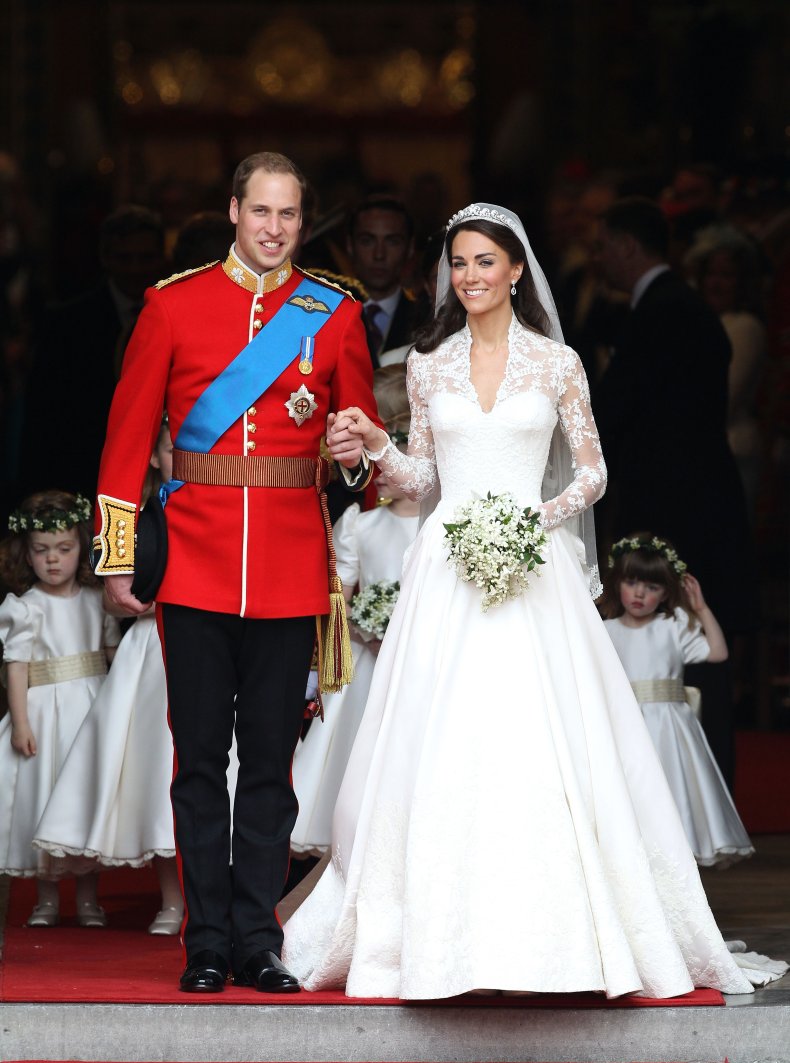 Kate Middleton smiles after marrying Prince William at Westminster Abbey, in London, on April 29, 2011. Her dress was Alexander McQueen.
Chris Jackson/Getty Images
"Miss Middleton wished for her dress to combine tradition and modernity with the artistic vision that characterizes Alexander McQueen's work."
Burton previously told Harper's Bazaar: "Making that dress was no kind of burden at all and it never will be. I loved making the dress, I loved adapting my ideas to suit the person and the occasion, and we put our hearts into it. I respect the intimate nature of that lovely project and I respect the friendships that were forged during it."