A clip from a 1969 interview with King Charles III as a 20-year-old prince discussing the demands faced by his future wife, has gone viral, after Prince Harry recently discussed in his Netflix docuseries royal men's "temptation" to marry someone who would "fit in the mould" as opposed to a person they are "destined to be with."
Charles' interview, his first in-depth one for television, took place in the days before his official investiture as the Prince of Wales. Questioned by British broadcasters Cliff Michelmore and Brian Connell, the prince reflected on the difficulties that choosing a future royal bride presented him, in his unique position of one day inheriting the throne.
Prince Charles and Princess Diana in February 24, 1981, and (inset) Prince Harry and Meghan Markle on their wedding day, May 19, 2018. Harry recently said that there is a "temptation" for royal men to choose suitable brides, rather than ones they're "destined" to be with.
Tim Graham Photo Library via Getty Images/Ben STANSALL – WPA Pool/Getty Images
"Do you have any thoughts about the lady that the Prince of Wales should marry?" Charles was asked. "Should she still be a royal or titled lady?"
"Well, I suppose, you see it's awfully difficult because you've got to remember that when you marry in my position you're going to marry somebody who perhaps one day is going to become queen and you've got to choose somebody very carefully I think who can fulfil this particular role," he answered.
"Because people like you [journalists] perhaps expect quite a lot from somebody like that and it's got to be somebody pretty special. The one advantage about marrying a princess for instance, or somebody from a royal family is that they do know what happens…The only trouble is I sometimes think I'd like to marry somebody […] British"
Charles famously married Lady Diana Spencer, of the British aristocratic Spencer dynasty, in 1981. The couple had two children, Prince William (b.1982) and Prince Harry (b.1984), before separating in 1992 and divorcing in 1996.
In 2005, the prince married his long-term mistress Camilla Parker Bowles.
The clip of Charles' 1969 interview was uploaded to TikTok by user icon_vintage and has been viewed over 800,000 times in 72 hours. It was put together with the famous excerpt from Princess Diana's 1995 BBC Panorama interview, in which she said "there were three of us in this marriage," in reference to the prince's ongoing relationship with Camilla Parker Bowles.
Charles' comments on marriage link to Prince Harry's, which he recently discussed in the first episode of his Harry & Meghan Netflix docuseries. The six episode show focused on the love story between the royal and Meghan. They met in 2016 and married in 2018.
"I think, for so many people in the family, especially obviously the men, there can be a temptation or an urge to marry someone who would fit in the mould as opposed to somebody who you perhaps are destined to be with," he said.
"The difference between making decisions with your head, or your heart."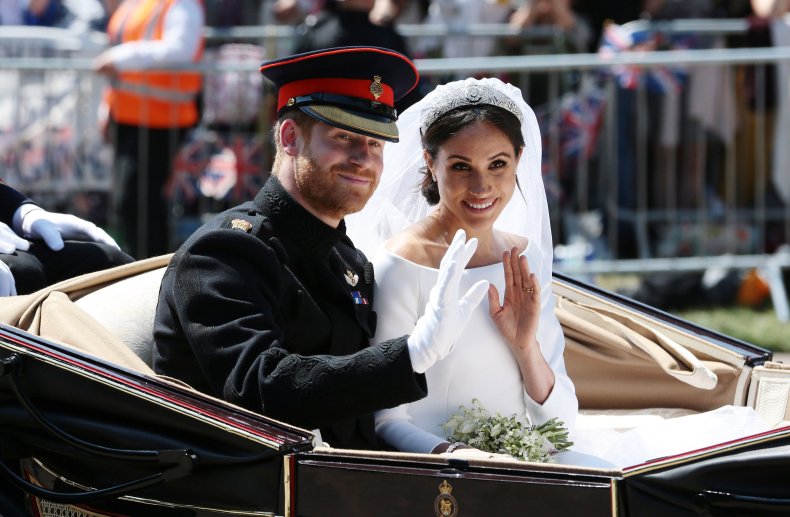 Prince Harry and Meghan Markle photographed on their wedding day, May 19, 2018. He spoke about royal brides in his Netflix show.
Aaron Chown – WPA Pool/Getty Images
The prince was criticized for this statement, as some concluded that he was implying that his marriage was born out of love, while the other marriages in his family were not. Fans of Prince William and Kate Middleton objected to this on social media.
James Crawford-Smith is Newsweek's royal reporter based in London. You can find him on Twitter at @jrcrawfordsmith and read his stories on Newsweek's The Royals Facebook page.
Do you have a question about King Charles III, William and Kate, Meghan and Harry, or their family that you would like our experienced royal correspondents to answer? Email royals@newsweek.com. We'd love to hear from you.