My world has been rocked. Krispy Kreme doughnuts have finally seen and heard party goers and bridal groups everywhere and added wedding and celebration doughnuts to their offering – order online and yes, they can be delivered.
As someone who recently had a tower of doughnuts for my 40th birthday in place of a cake, I could not nod my head more in approval.
For years, people have been opting for doughnut stacks in place of traditional cakes because they are affordable, delicious, fun and easy for people to help themselves to at parties and events.
So, to have an official offering from one of our favourite doughnut brands is worth celebrating… and adding to your wedding planning, if it's your thing.
READ MORE: Krispy Kreme 100,000 doughnut giveaway sparks online fan frenzy
The original glazed KK dozen will set you back just $21.95, and I've seen countless examples of people adding their own extras to a stack of these babies for special events. For $29.95 you could get the strawberry sprinkle dozen, or you could start mixing and matching your own.
But to help take all the drama out, the chain now offers a Wedding Dozen option at $39.95, decorated in wedding white and topped with sugar crystals.
Krispy Kreme's The Wedding Dozen will set you back $39 with a minimum order of three dozen (Supplied)
"Hand-dipped and drizzled in creamy white chocolate truffle and finished with a sprinkle of white pearl sugar, these doughnuts will be a unique and delicious addition to your special day," the website description reads.
The doughnuts are custom-made, and the only catch is that the minimum order is three dozen, making the total cost $119.85, which is still significantly cheaper than wedding cakes across the board. They are online order only, with collection or delivery available. You'll need to organise additional decorations and a display plate, but we're still thorough fans of the option… and by the look of the comments on the chain's social media, so are their customers.
READ MORE: Golden Gaytime X Krispy Kreme is pure joy
"Who needs a wedding cake when KrispyKreme doing wedding donuts," commented one.
"Found my wedding cake," asserted another, with a love heart eyes emoji.
"This is what I'm doing for my wedding in seven weeks," said another, adding drooling emojis.
READ MORE: Krispy Kreme teams up with cult European biscuit spread for epic hybrid
For those looking for a little more colour, there's also the Doughnut Cake Pack that comes in cheaper again at $63.
It includes one classic dozen as well as two dozen of the favourites assorted dozen, meaning you still get three dozen doughnuts, but a lot cheaper and with an array of flavours and colours — perfect for a colourful celebration. Again, the images looks great, but cake stands and decorations are not included.
Krispy Kreme's Doughnut cake pack retails for $63 (Supplied)
The company delivers, and you know you'll be getting a party-starting centrepiece of doughnut joy.
We can't believe it's taken this long, but we'll give a big old 'I do' to the wedding dozen doughnuts.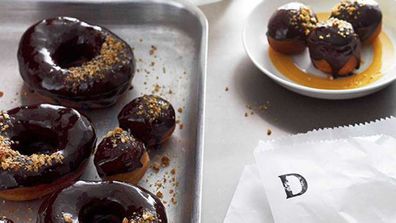 14 donut recipes to put sweetness and light back in your week