By Pat Eby
Special to the Post-Dispatch

Contemporary jeweler and educator Robert Thomas Mullen connected with nature early in life. As a child, he collected stones, shells and rocks on his vacations, recognizing their beauty and husbanding the memories they held.
His jewelry — worked in silver or gold combined with stone, gemstones, shell, fossils, petrified wood and found objects — holds particular interest for people newly aware of the natural world.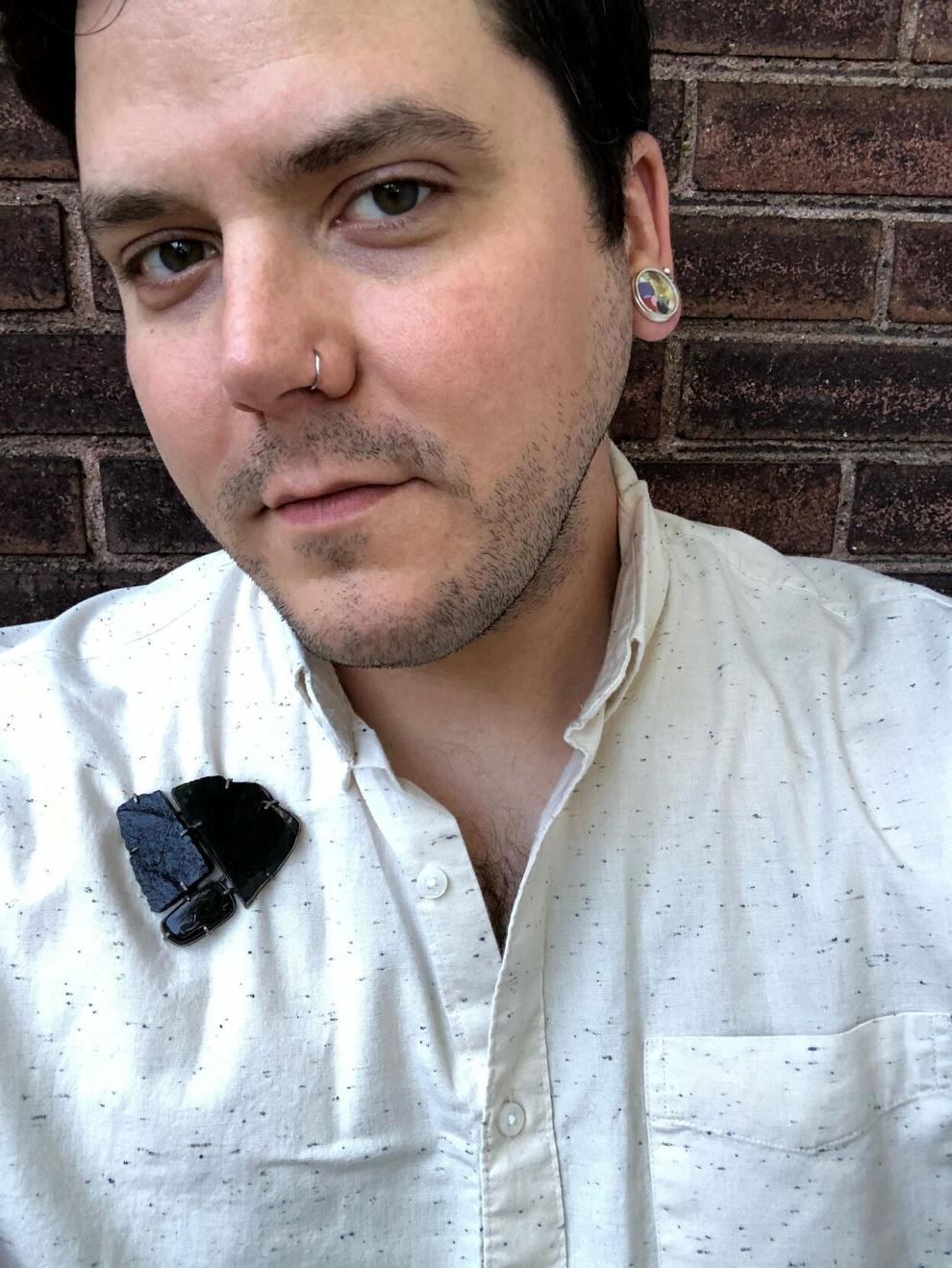 Robert Thomas Mullen
Learn and teach • Mullen earned his bachelor of fine art degree at Southern Illinois University at Edwardsville and master's degree in fine arts in metalsmithing from Edinboro University of Pennsylvania.
He currently works as a registrar at Craft Alliance Gallery where he also teaches. He does workshops and classes nationally as well. His work is sold in galleries and stores across the United States as well as locally at Craft Alliance, Union Studio and Urban Matter.
He produces his work at his home in Dutchtown. He is also a skilled professional photographer who often shoots his work against natural backgrounds, bringing more of nature's inspiration to the fore.
People are also reading…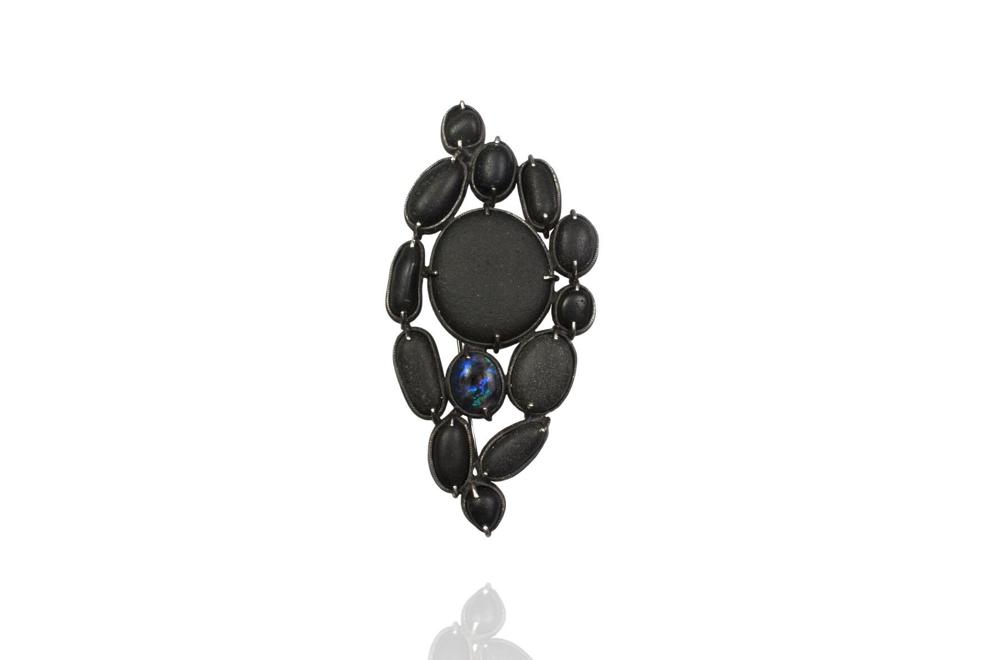 Brooch in found Icelandic rocks, Michigan beach pebble, opal and silver. Photo by Robert Thomas Mullen
The wonder cabinet of RTM • Mullen uses jewelry elements today he may have selected 20 years ago. "I've been collecting pieces since I was about 12," Mullen says. "I have a dresser with each drawer full of stones and things I've selected in my travels and on walks. I don't forget about things. I can go to the right drawer and find the specific piece I'm looking for."
Friends often bring back odd bits from their travels for Mullen, which he uses in his jewelry. He also casts natural elements for some of his pieces.
Writ in wood • One nontraditional material Mullen likes to use is petrified wood from southern Arkansas, which often has inclusions of crystals that form in the mineralized waters as wood turns to stone. "The wood will have glints from crystals growing in it. The ones I really like have copper or iron deposits, which can cause colorations. They can be brilliant, but you still see the wood patterns," he says.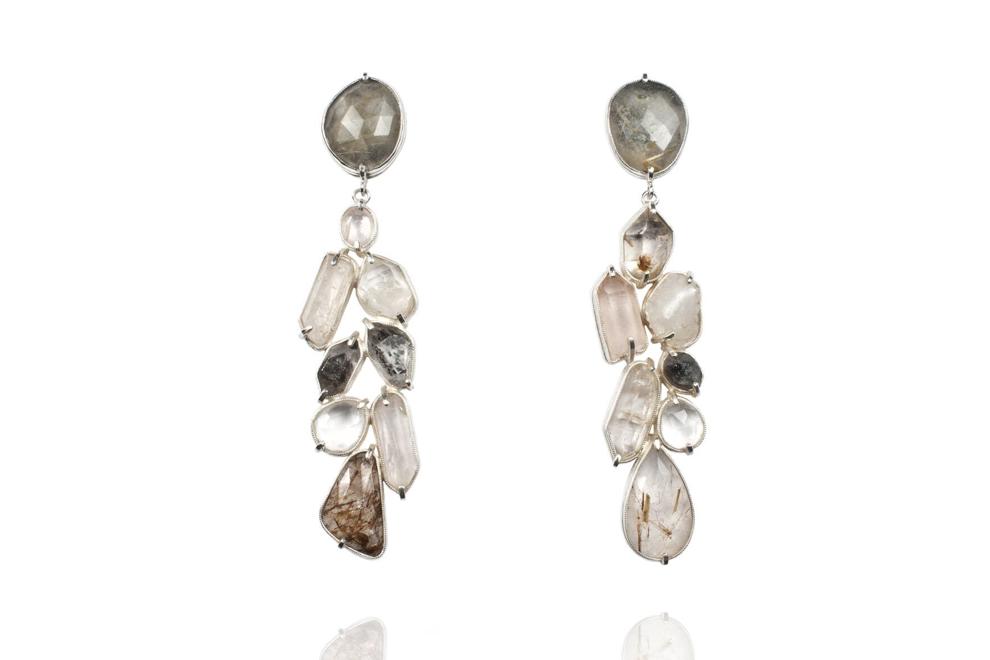 Earrings in rutilated quartz, diamond quartz, rose quartz, rock crystal, lithium crystal, stalactite and silver. Photo by Robert Thomas Mullen
Stone Soul • Mullen doesn't cut stones himself; he buys cut semi-precious gemstones that he pairs in artful asymmetry to create earrings with movement, shape and fire. One dangle earring is not a repeat and reverse of the other in a pair. 
He fabricates a specific setting for each stone in the pieces he makes. He uses bezel wire that makes an open back to keep things lightweight. The open back also allows for more flash in the piece.
Celebrate well • Mullen created a pair of drop earrings with his longtime friend Jessica Douglass of Flowers & Weeds on Cherokee Street to make something special for her wedding. One of the pair of earrings had a yellow crystal; the other was brightly green. They hung from two stones that suggested a butterfly in flight, and form a symbol of hope and growth. "The earrings were perfect for me," Douglass says. "We have been friends since grade school, high school, plus we were both on the swim team."
Mullen and Douglass still interact today through his jewelry. She supplies bright bits of dried flower confetti that he captures under crystals to make his flower mosaic jewelry.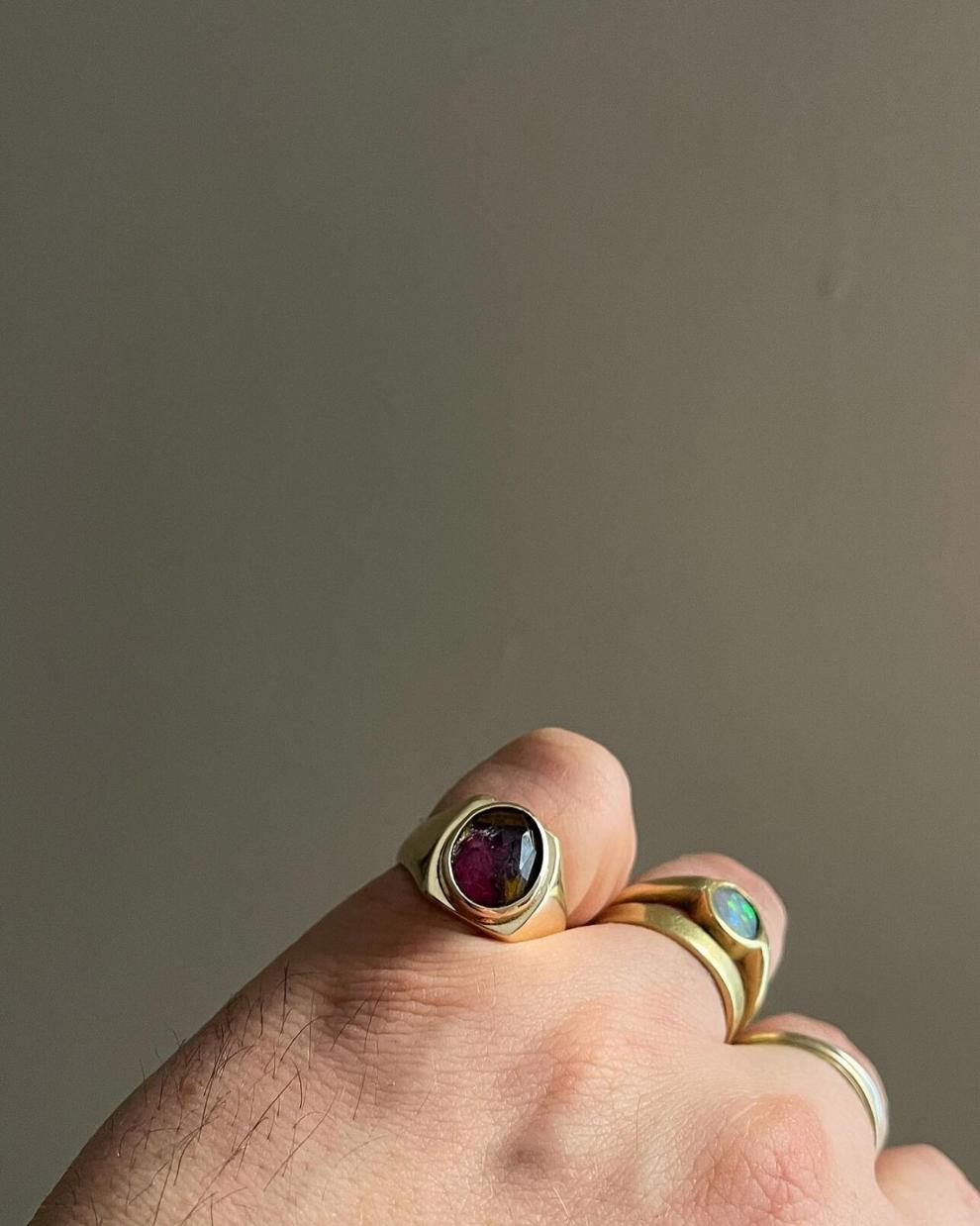 Ring in funerary flowers, rock crystal and gold. Photo by Robert Thomas Mullen
Memento mori • The pandemic also moved Mullen to make new pieces for those who grieved.
"During COVID, I started doing memorial pieces for friends, and later for people whose loved ones have passed away," he says.
"It's like Victorian mourning jewelry, but not as recognizable. The person wearing the jewelry knows, but people seeing the jewelry don't know." He uses dried flowers from the funeral, which are usually muted in tone, to make rings or necklaces for those left behind.
Robert Thomas Mullen Jewelry
Family • Mullen and his partner, Joel Carter, live in a 100-year-old home with a three-legged cat named Dan, and two dogs, Wanda and TJ. They adopted all three from animal rescue organizations. Dan is named after Lieutenant Dan in "Forrest Gump," Wanda after the influential rockabilly singer Wanda Jackson, and TJ after TJ Maxx.
What he makes • Mullen is an artist, metalsmith and jeweler who works primarily in silver and gold, pairing metals in innovative open-back settings with natural materials, rocks, stones and petrified woods.
Where to buy • Locally, you can find Mullen's jewelry at Craft Alliance, Union Studio and Urban Matter. He also sells online through his website, robertthomasmullen.com
How much • Mullen's smaller pieces sell in the $50 to $250 range, while larger pieces with multiple settings and stones can run up to $2,000.
Get local news delivered to your inbox!