The planner behind the weddings on Lifetime's Married at First Sight has opened up about what the process is like behind the scenes.
In a new clip, released exclusively to Newsweek ahead of the season 16 weddings, celebrity event planner Slomique Hawrylo reveals how she has been tasked with planning five weddings over just three days.
Married at First Sight, also known as MAFS, returned to screens at the start of the year for a brand new season, with 10 new singletons signing up to be matched with their new spouses by a panel of experts.
Despite the unusual setup—MAFS contestants don't actually meet their significant others until they're at the altar—the couples do take part in all the usual wedding traditions, such as the big white dress, smart suits and a gorgeous venue.
"Married At First Sight" Season 16's Clint and Gina pictured at their wedding. The show's wedding planner has revealed what the process is like behind the scenes.
Matthew Kahn Photography/Lifetime
This season's couples are Shaquille and Kirsten, Clint and Gina, Christopher and Nicole, Domynique and Mackinley, and Airris and Jasmine, with all of this year's couples being based in Nashville, Tennessee.
In the clip, Hawrylo introduces herself to viewers, before saying: "We are in Nashville, Tennessee, where we are planning five weddings in three days."
Throughout the video, we see clips of a wedding venue being decorated with flowers and cakes, and helpers can be seen putting the finishing touches to make the room look perfect.
Revealing how putting together the MAFS weddings compares to planning more traditional ceremonies, where the bride and groom know who they are marrying, Hawrylo says: "Actually, planning a wedding that's not on television is a lot harder, [there are] a lot of opinions, a lot of thoughts…I'm not able to be as creative."
Hawrylo continues, revealing how the contestants are involved in the planning of their big day—despite not knowing who they are actually marrying.
"Every bride and groom has a lot of say on their wedding, they pretty much tell me [what they want], from cake, to flowers, to design. It's important that I capture the bride and groom," she says.
Explaining why it's so important to tell the bride and grooms' stories, Hawrylo says that it is to ensure that "when they walk down the aisle, [the wedding] is at least familiar to them, even though their spouse is not."
"My secret sauce to putting this together in two weeks is the locals!" Hawrylo adds, praising the vendors in Nashville for helping to show the best of what the city has to offer in the short time they have to plan the weddings.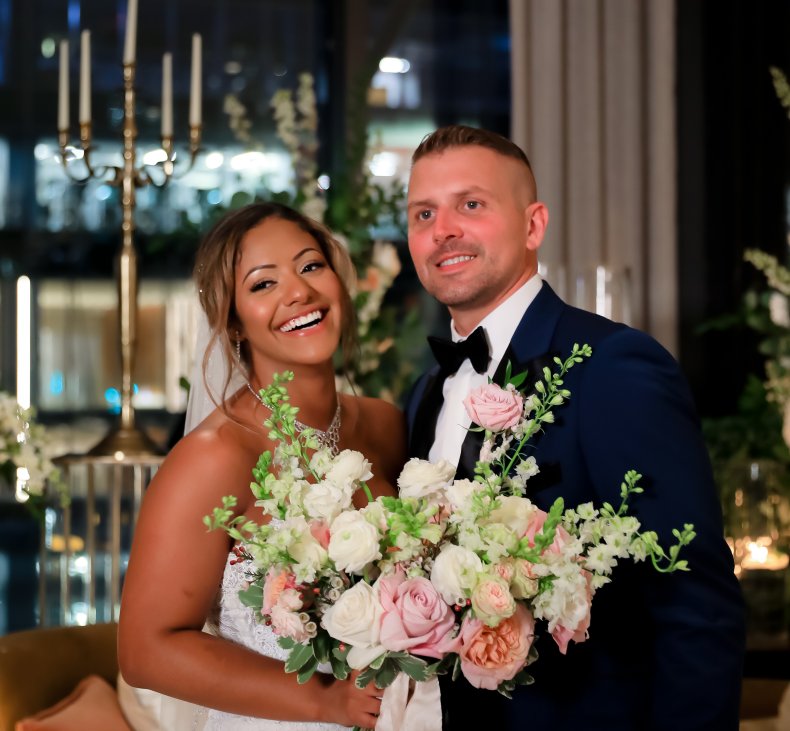 Domynique and Mackinley from "Married At First Sight" Season 16 pictured on their wedding day. The weddings will play out over the next two episodes of the Lifetime show.
Autumn Moultry/Lifetime
The MAFS Season 16 weddings will air over the January 18 and January 25 episodes. Cameras will then continue to follow the contestants as they navigate their new lives together as married couples.
Dr. Pepper Schwartz, Pastor Calvin Roberson, DeVon Franklin and Dr. Pia Holec are this season's matchmakers, but only time will tell whether they have made successful matches.
Married at First Sight, produced by Kinetic Content, airs Wednesdays at 9 p.m. ET on Lifetime.