Since joining the royal family Meghan Markle and Kate Middleton have put their best foot forward in an accessory loved by both. The daring duchesses have both developed a preference for towering high heels but is this a fashion fad or a clever way to ensure they stand a head above the rest among the mass of royal crowds?
When Meghan Markle appeared in the sunken garden at Kensington Palace on the day her engagement was announced, with Prince Harry, she wore a pair of criss-cross nude suede heels by Aquazzura. The Florence-based luxury footwear brand is a firm favorite with Meghan who owns multiple pairs of their most famous designs.
Meghan Markle selected a pair of nude strapped heels by her favorite brand Aquazzura for her engagement photocall at Kensington Palace, November 27, 2017.
Samir Hussein/Samir Hussein/WireImage
Comparisons were drawn, in the press, between the engagement photocall of Harry and Meghan outside at Kensington Palace and that of Prince William and Kate hosted at St James's Palace in 2010. Though the two contrast heavily between the relaxed informality of Harry and Meghan's photocall and the dynastic formality of William and Kate's, there is a strong link between the shoes worn by each then-future royal bride.
The standout sartorial memory from Kate's engagement announcement is the blue Issa London wrap dress which sold out in minutes and initiated what would become known as the "Kate effect." The shoes Kate wore for the occasion though, a pair of black platform pumps by the brand Episode, provide an example of style over comfort in terms of footwear that she would replicate in years to come.
From the outset both Meghan and Kate strode onto the royal stage on 5 inches of leather and steel. Their wedding shoes however, took a more conservative tone, perhaps in the knowledge that they had to walk carefully down the royal aisle.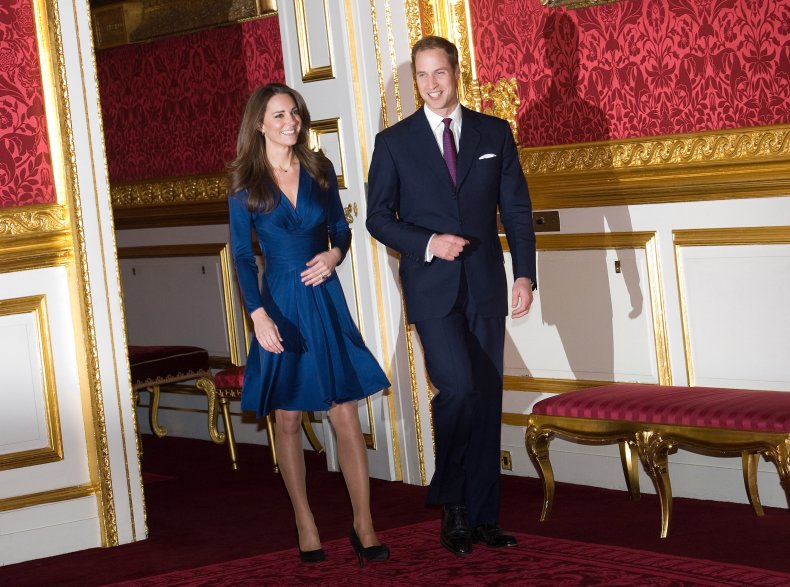 Kate Middleton's Issa London dress stole the headlines at her engagement photocall at St James's Palace but her shoes aided a confident stride onto the worlds stage, November 16, 2010.
Samir Hussein/WireImage
On her wedding day in 2011, Kate wore a pair of Alexander McQueen heels made with white satin uppers overlaid with lace to match the bride's Grace Kelly-inspired dress by Sarah Burton for Alexander McQueen. It has not always been the case that royal brides acquire their wedding shoes from the same house as their dress but Kate's break with this tradition was replicated by Meghan at her 2018 Windsor Castle wedding ceremony.
To accompany her classical wedding dress, Meghan's shoes were also made by the French fashion house Givenchy. A statement from the palace at the time said Meghan's heels were: "based on a Givenchy refined pointed couture design made of a silk duchess satin."
As the sisters-in-law embarked on their life as working members of the royal family and wider public figures, they displayed a growing fondness for ever higher heels.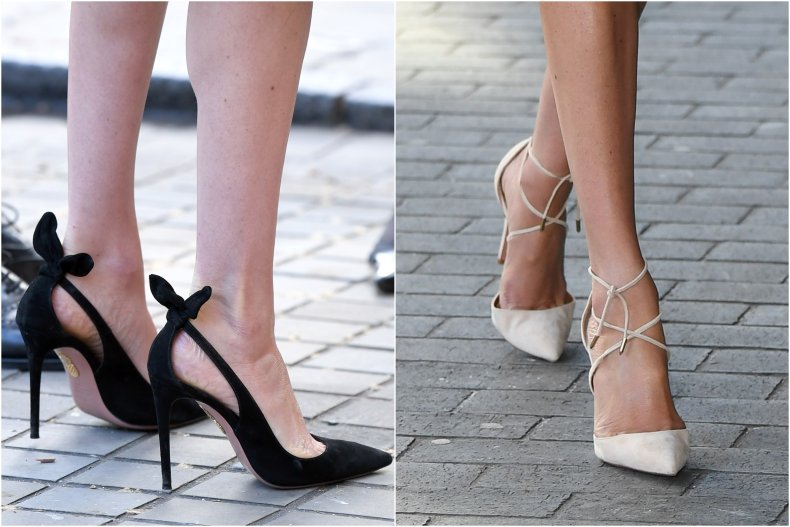 Meghan Markle's go-to shoe is the Aquazzura "Deneuve" style with iconic bow details (L), worn on a Commonwealth Day youth event at Canada House, March 11, 2019. Another favored style by Aquazzura (R) was chosen for her engagement photocall at Kensington Palace. Worn again on a visit to The National Theatre, January 30, 2019.
Karwai Tang/WireImage/Karwai Tang/WireImage
At her first solo engagement as a member of the royal family, in September 2018, Meghan attended the opening of the Oceania exhibition at London's Royal Academy wearing a pair of black Aquazzura "Deneuve" pumps. This style has become synonymous with the duchess as she has since worn it on many different occasions. The iconic bow detailing on the back of the heel elegantly draws attention without detracting from the impact of the overall outfit. Meghan also wears this style in nude suede, navy blue and a variation in a flat style.
If Aquazzura is Meghan's go-to brand for her trademark high heels then Jimmy Choo is the alternative for Kate.
Like Meghan, Kate has a preferred style from the British-based shoe brand and that's the "Romy," a closed-toe classic pump in various colors and materials. Kate has worn the style on numerous occasions including to Harry and Meghan's wedding and to the christening of Princess Charlotte.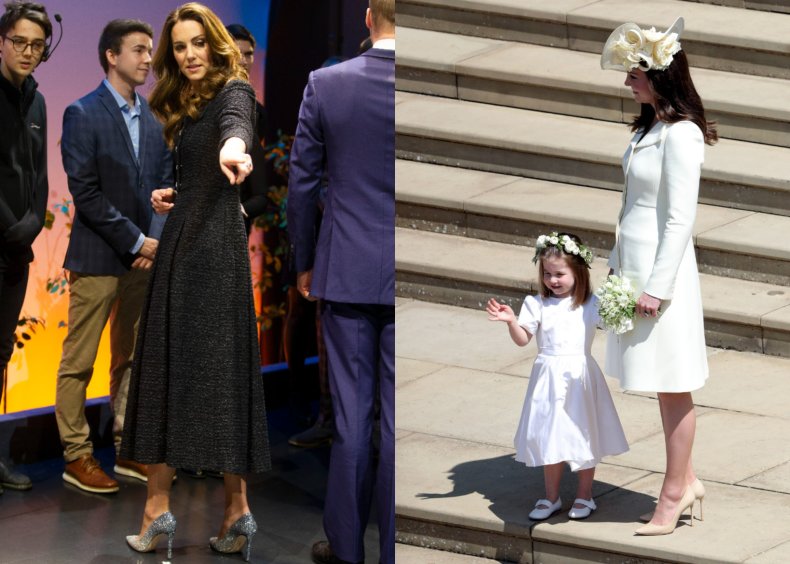 Kate Middleton's favoured shoe designer is Jimmy Choo with the "Romy" style featuring many times over in her wardrobe. A silver glitter style was worn to a charity performance of "Dear Evan Hansen" (L), February 25, 2020. A pair of Jimmy Choo's "Romy" style in nude leather were also worn to the wedding of Prince Harry and Meghan Markle, May 19, 2018.
Ian Vogler/WPA Pool/Getty Images/Andrew Matthews/WPA Pool/Getty Images
Though not always comfortable on long royal visits, gala evenings or official ceremonies, Meghan and Kate's choice of high heels set them a head above the rest, helping them to stand out in a crowd.
As Queen Elizabeth II said, "I have to be seen to be believed" and it's a lesson learned by her granddaughters-in-law too.
For more royal news and commentary check out Newsweek's The Royal Report podcast: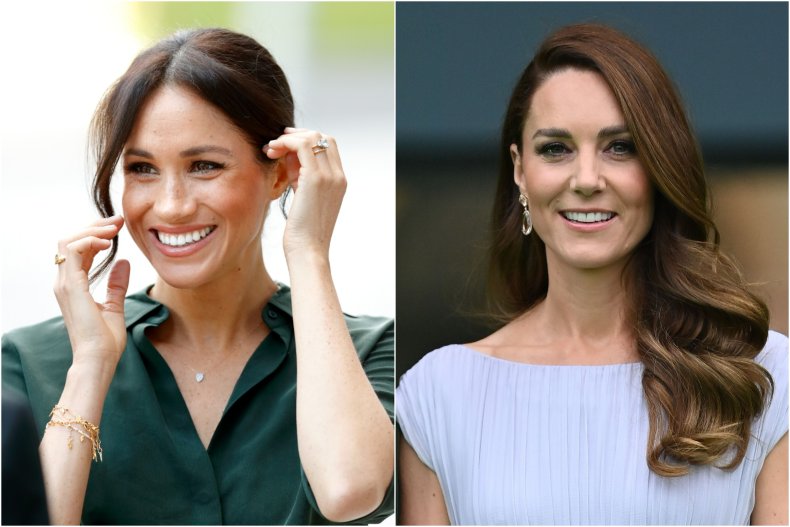 Both Meghan Markle (L) and Kate Middleton (R) have developed a love for towering high heels over the course of their married lives but is this a fashion fad or a clever way to ensure they stand a head above the rest among the mass of royal crowds?
Max Mumby/Indigo/Getty Images/Samir Hussein/WireImage