Belly up to your Big Day bar.
Delivering the latest in style, inspiration, helpful tips and tricks, and everything else you need to know to plan the perfect Philly wedding.
If you're getting hitched, chances are you'll need something to toast. Some folks go the way of signature cocktails, while others have a bar cart roll into their soiree. Still others (you, perhaps?) make the whole wedding about the bar by saying "I do" at their favorite watering hole. Among the choices that get us in the spirit are these Philly beer gardens, breweries or distilleries. Take a look at the venues that made our list, then check out our wedding vendor directory to round out the rest of your Big Day team. And if we missed your top spot, email kschott@phillymag.com with the details.
Dock Street Brewing Co.
West Philly and Point Breeze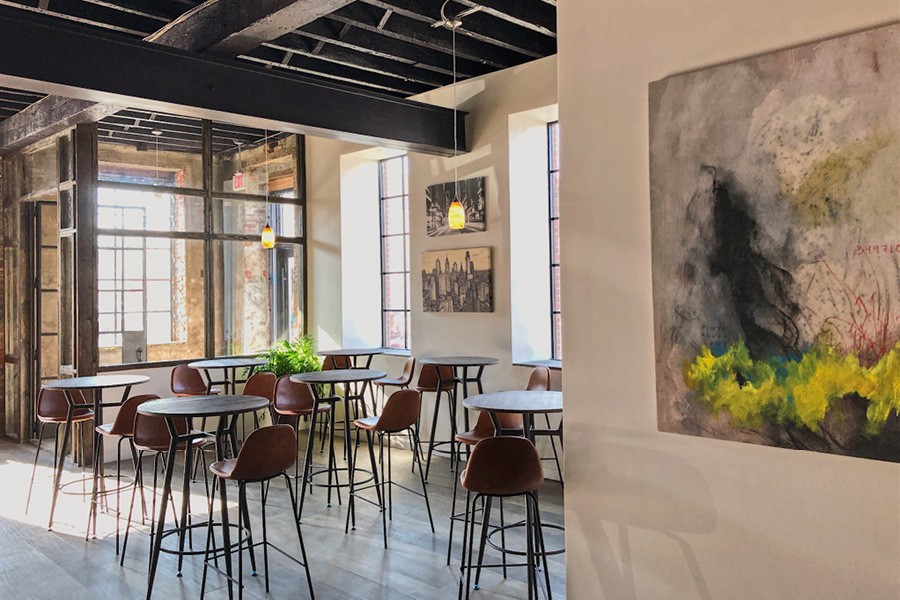 Dock Street Brewing is great because of all the options — from food to beer to the spaces — that are ideal for a modern reception. The West Philly location (in what used to be a firehouse) is known for its wood-fired pies and large selection of brews. Dock Street West can seat up to 85 people. Dock Street South, meanwhile, opened in August 2019 and has 10,500 square feet for small and large functions of up to 150 — for weddings, proposals (in fact, quite a few have taken place here), rehearsal dinners, engagement parties, farewell brunches, and more. Pricing varies; 701 South 50th Street; 2118 Washington Avenue.
Evil Genius Beer Company
Fishtown
The name is pretty self-explanatory: Evil Genius offers a variety of beers, including IPAs, porters, and shandys. The food isn't half bad either — the spot is known for its quick bites. The business is tops for a smaller reception, with enough room for 80 guests. Evil Genius also recently got a fresh coat of exterior paint, and its hues are now red and white. Pricing varies; 1727 North Front Street.
Fette Sau
Fishtown
Next door to German beer garden Frankford Hall you'll find Fette Sau — and some solid barbecue. The casual, cozy outpost offers communal tables for groups of up to 120 to savor a lip-smacking selection of smoked meats, mac and cheese, cornbread and other stick-to-your-ribs favorites. Capitalize on the vibe with American whiskey and live bluegrass tunes; the spot's event planners can help guide you to the best choices for your Big Day. Pricing varies; 1208 Frankford Avenue.
Frankford Hall
Fishtown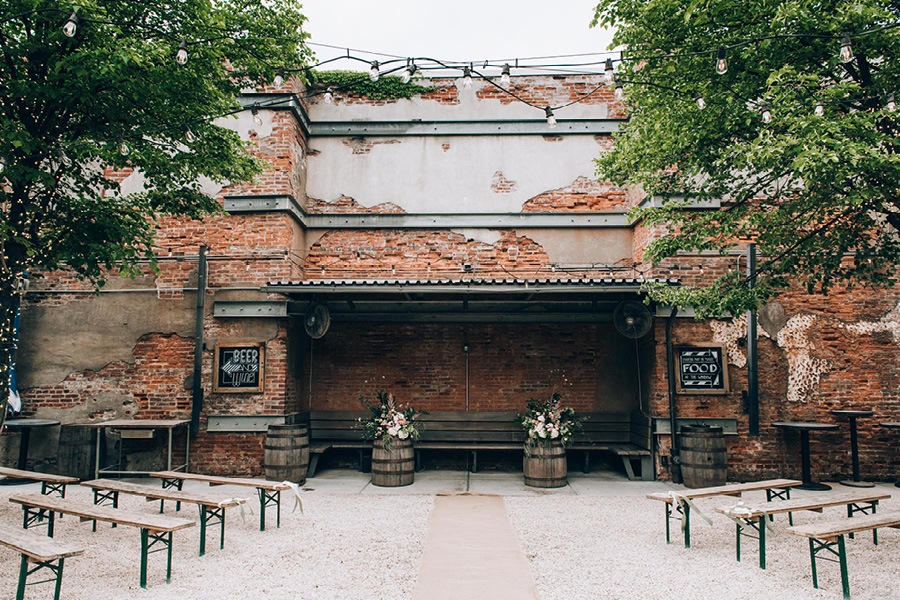 Frankford Hall is your place for a nontraditional soiree. This German beer garden, set in an industrial space in the heart of Fishtown, can fit up to 200 people for a large gathering and 20 for an intimate occasion. Indoor and outdoor seating allows for a free-flowing aesthetic — guests can easily move from dining and drinking to dancing to playing ping-pong. Event planners can customize your food and beverage packages, and wedding cakes can be concocted by the pastry chefs. As for the tunes? The venue can help with selecting a DJ or live band. Pricing varies; 1210 Frankford Avenue.
Independence Beer Garden
Old City
Independence Beer Garden is the Schulson Collective's take on an outdoorsy reception. With various locations on the property ranging in seating size from 20 to 150 guests, the space provides plenty of choices for couples to craft the perfect reception. The location has a casual, fun, city atmosphere — not to mention games to keep your crew in good spirits even when they're not throwing back a cold one. Pricing varies; 100 South Independence Mall West.
Manayunk Brewing Company
Manayunk
Manayunk Brewing Company is the perfect choice for every wedding from traditional to experimental. Weddings are hosted at The River Club — the rehabbed loft space of the former woolen mill. The space acts as a unique backdrop for your 175 seated guests. (There are various other areas as well for more intimate gatherings.) But it's not just about the drinks: You can dine on everything from sushi to pizza — something for everyone. Prices vary; 4120 Main Street.
Editor's Note: Manayunk Brewing Company temporarily closed following severe flooding from Hurricane Ida. Follow its Instagram page for updates.
New Liberty Distillery
Kensington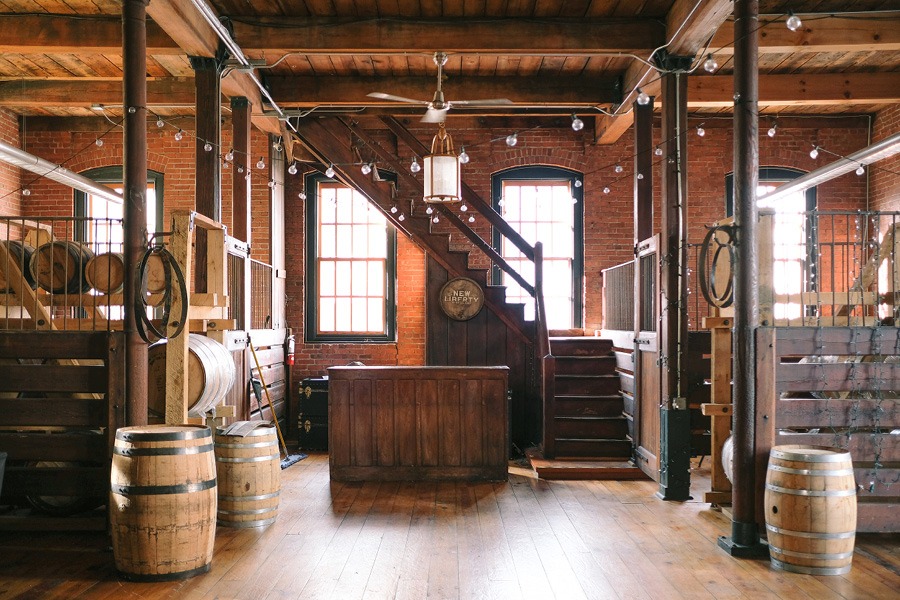 New Liberty Distillery is a multi-floor facility in a turn of the 19th century restored carriage house. With room for up to 80 reception-style inside (30 to 40 seated) and more than 100 reception-style (50 seated) in the outside courtyard, it's the perfect venue for a small or midsize wedding. New Liberty features a barrel aging room, a tasting room with a full bar and a gift and bottle shop. Pricing varies; 1431 North Cadwallader Street.
Philadelphia Brewing Co.
Kensington
The 40,000-square-foot building was previously the Weisbrod & Hess brewery from 1885 to 1939. Today, it continues to pay homage to its past not only as a brewery but also in the tasting room, which once served as the stable for the W&H delivery horses. That same room can hold 150 people for rehearsal dinners and laid-back "I do's." The Plume room and patio are better suited for smaller occasions. Pricing varies; 2440 Frankford Avenue.
Philadelphia Distilling
Northern Liberties
Established in 2005, Philadelphia Distilling is the first craft distillery to be opened in Pennsylvania since before Prohibition. It's historic, it's big, and it's a prime spot for your wedding. The industrial venue sets the scene with sophisticated, upscale decor and ceiling-height windows. The main cocktail bar and lounge can accommodate up to 150 people for a cocktail-style reception and 75 people for a sit-down menu with enough space for a dance floor and entertainment. Bonus: All outside vendors are welcome, and custom cocktails are available. Pricing varies; 25 East Allen Street.
Yards Brewing Company
Northern Liberties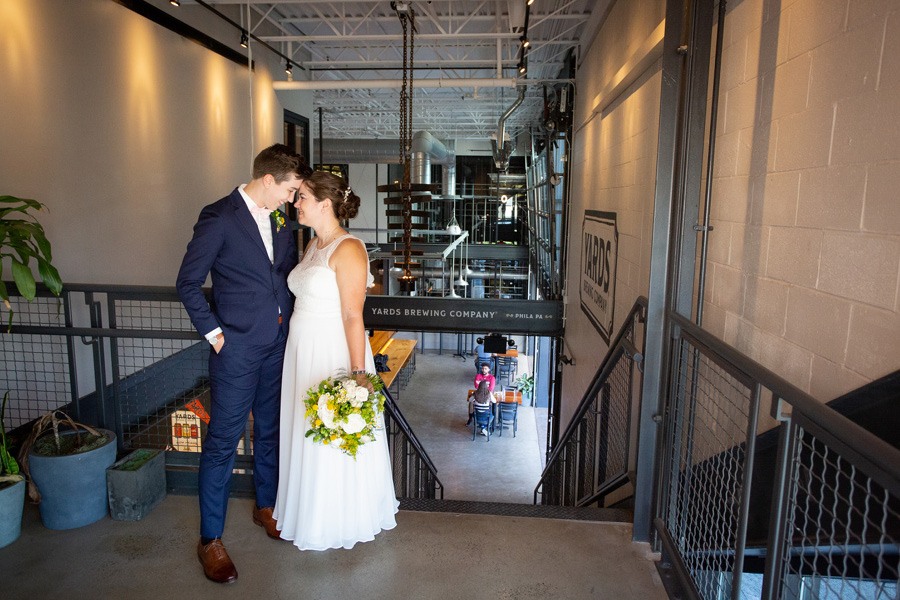 Want a reception space with a little more room to move around? Look no further than Yards Brewing. Yards is home to a wide-ranging brewery, restaurant and bar. The location also features an outdoor seating area and retail shop. Yards can host a 120-person seated reception, and 200-person standing reception.Your guests will munch on classic bar treats like nachos and wings and can even enjoy a mini root beer float station. Pricing ranges from $80 to $110 per person; 500 Spring Garden Street.
In need of more great Philly-area resources for your wedding day? Browse more of our Local Wedding Guides here.
Get more great content from Philadelphia Wedding:
FACEBOOK | INSTAGRAM | NEWSLETTER | PINTEREST