January 20, 2023 – 12:53 GMT
Nichola Murphy

Ageless Pierce Brosnan posed with his gorgeous bride Keely Shaye Smith in a romantic lace wedding dress in unearthed wedding photos from 2001 – look.

Pierce Brosnan has barely aged a day since he married Keely Shaye Smith in 2001 – just look at his unearthed wedding photos for proof.
The James Bond actor and the journalist and filmmaker haven't shared many photos of their big day, the ones they have posted are seriously stunning. To mark their 21st anniversary in 2022, Pierce shared a throwback photo of himself looking suave in a black suit with a cream waistcoat and a blue silk tie, finished with his thick dark hair slicked back – a look that wouldn't be out of place as his 007 character.
WATCH: Pierce Brosnan teams up with 21-year-old son for important cause
Loading the player…
He had his arms around his gorgeous bride Keely, who wore a Princess Kate-esque dress with long lace sleeves and pearl drop earrings, fastening her dark hair in a half-up style to secure her long veil.
"Happy Anniversary my love @keelyshayebrosnan. We danced that night and still dance the dance today. I could do it all again," he wrote.
The couple got married in 2001
Keely also shared another image from the day, showing her walking down the aisle alongside her late father, sharing a better look at the scalloped lace of her bridal gown.
The couple met on 8 April 1994 and got married on 4 August 2001 at Ballintubber Abbey in his native Ireland. On their 20th wedding anniversary, Kelly shared a snap of herself wearing a tiara with her husband, writing: "Still the one! Happy 20th wedding anniversary @piercebrosnanofficial Thank you for the gift of your love and friendship. The world is more beautiful with you in it! 4-8-94 / 8-4-2001." Together they share two sons; Dylan and Paris.
READ: Lisa Marie Presley's four divorces: Why she split from Michael Jackson, Nicolas Cage & more
Keely's wedding dress is giving us Kate Middleton vibes
This was the film star's second marriage as back in 1980, he tied the knot with Cassandra Harris. The couple had a son together, Sean, who is also an actor just like his father. Pierce also adopted Cassandra's children, Charlotte and Chris, when their father, Dermot Harris sadly died in 1986.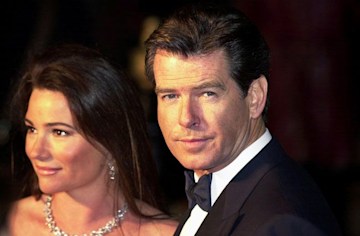 Pierce and Keely first met in 1994
Heartbreakingly, Pierce lost both Cassandra and Charlotte to ovarian cancer. Cassandra passed away in 1991 and Charlotte lost her life to the same disease in 2013.
DISCOVER: Pierce Brosnan's wife Keely melts hearts with gorgeous new family photos to mark special occasion
Planning your wedding? Sign up to HELLO!'s Bride Guide newsletter for expert advice, budget help, wedding inspiration and real life stories delivered straight to your inbox.