Looks like Prince Harry and Meghan Markle might attend Brooklyn Beckham's upcoming wedding to Nicola Peltz—which is going to be packed with celebs. The Sun reports that there's speculation the Sussexes will be at the event, especially since David and Victoria Beckham attended their royal wedding back in 2018.
Samir HusseinGetty Images
Brooklyn and Nicola's wedding is apparently going down on April 9 at the Peltz family's "oceanfront mansion in Palm Beach, Florida," which, um, sounds incredible! And obviously the Sussexes currently live in California, so a quick trip to Florida in support of Brooklyn and Nicola's big day should be no bigs.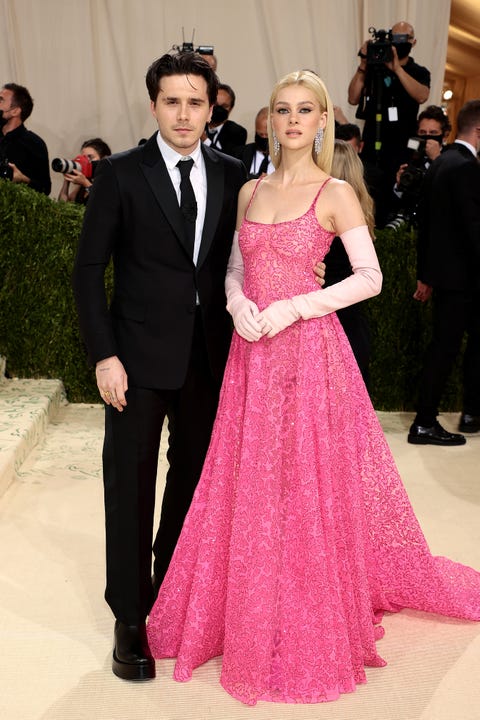 Dimitrios KambourisGetty Images
Though, unfortunately, it looks like there's already some (frankly ridiculous) backlash to these potential plans due Harry and Meghan not attending Prince Philip's recent memorial in England. For which they had a good and completely understandable reason, by the way: lack of proper security. The Sussexes no longer get police protection in England like other high-profile members of the royal family, forcing Harry to petition the government to grant his family a proper level of security.
And for those wondering why the Sussexes might feel comfortable potentially flying to Florida, their security issues are a specific problem in England, where Meghan in particular has faced a huge amount of harassment and racist bullying.
Harry's legal team explained it best, saying "the UK will always be Prince Harry's home and a country he wants his wife and children to be safe in.…With the lack of police protection comes too great a personal risk. The Duke and Duchess of Sussex personally fund a private security team for their family, yet that security cannot replicate the necessary police protection needed whilst in the UK. In the absence of such protection, Prince Harry and his family are unable to return to his home."
Mehera Bonner
Mehera Bonner is a news writer who focuses on celebrities and royals.
This content is created and maintained by a third party, and imported onto this page to help users provide their email addresses. You may be able to find more information about this and similar content at piano.io