Princess Diana's niece, Lady Kitty Spencer, has posted a touching anniversary video including previously unreleased scenes from her opulent Italian wedding celebrations in 2021 to financier Michael Lewis.
Spencer and Lewis married at the Villa Aldobrandini, which is set on a hill overlooking Rome, in July last year, with the bride wearing a number of extravagant gowns by Italian design duo Dolce & Gabbana.
Lady Kitty Spencer (inset) with the Villa Aldobrandini in the background. She posted a rare video showing her extravagant Italian nuptials to mark her first wedding anniversary to financier Michael Lewis.
Ernesto Ruscio/GC Images/Gareth Cattermole/Getty Images
Spencer is a first cousin of Prince William and Prince Harry, though despite attending both of their royal weddings, they were not seen attending her 2021 ceremony.
At the time of the wedding, some reports focused on the absence of the bride's father, Princess Diana's brother, Earl Spencer. The bride was walked down the aisle by her brothers, Viscount Althorp and Samuel Aitken, during an outdoor ceremony attended by the couple's close friends and family.
The video from the Spencer and Lewis wedding, which was posted on Monday to Instagram, shows a number of scenes from the extravagant nuptials, including shots of Spencer wearing an Elizabethan-inspired wedding dress by Dolce & Gabbana.
On the day after the event, the designer's Twitter account posted the announcement:
"@kitty.spencer chose to wear Dolce&Gabbana on the most important day of her life. For this unique event #DolceGabbana created a number of exclusive hand made gowns, each celebrating the beauty of the bride, the passion for #altamoda and the absolute joy of the occasion."
The socialite was signed as a global brand ambassador for Dolce & Gabbana in February 2021 and told Tatler at the time that she was "truly honoured," adding that "Domenico and Stefano celebrate life's wonders: family, joy, beauty, colour and love."
"Working with them is always a new experience, a unique opportunity to rediscover Italian culture, art, savoir-faire and lifestyle. When I wear their pieces I feel their passion and I feel like the best version of myself."
Design partners Domenico Dolce and Stefano Gabbana, who were once romantically linked, have a history of working with young socialites with aristocratic backgrounds and using titled models in their runway shows.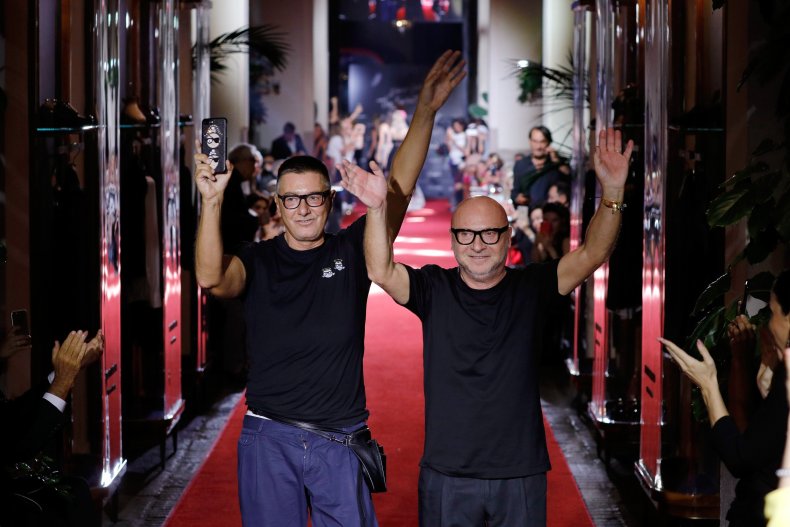 Stefano Gabbana (L) and Domenico Dolce (R) photographed at a fashion presentation on September 23, 2017. The bride wore a number of extravagant gowns by the duo.
Andreas Rentz/Getty Images
As well as lavish gowns, Spencer's anniversary video focused on some intimate parts of her wedding day, including the exchanging of vows, the couple's guests enjoying an evening reception and a spectacular fireworks display over Rome as they embraced.
A touching scene in the video shows the bride's mother, Victoria Aitken, watching her daughter walk down the aisle on the arm of her two sons.
Earlier this year, Spencer's wedding was compared to that of Kourtney Kardashian and Travis Barker, who had a celebration hosted for them by Dolce & Gabbana in Portofino.
Kardashian wore a dramatic white lace design with an intricately embroidered veil showing a depiction of the Virgin Mary.
Newsweek approached representatives of Lady Kitty Spencer for comment.
For more royal news and commentary check out Newsweek's The Royal Report podcast: