Queen Elizabeth II has died today at the age of 96. She was born in 1926, the same year the very first SLR film camera, the Ermanox Reflect, was introduced to the market and found herself in front of one type of camera or another for most of her life.
Her Majesty would go on to be one of the most photographed women of the 20th century and carry on well into the 21st century before her passing on Thursday. PetaPixel takes a photographic look at Britain's longest-ever serving monarch.
The Queen died peacefully at Balmoral this afternoon.
The King and The Queen Consort will remain at Balmoral this evening and will return to London tomorrow. pic.twitter.com/VfxpXro22W
— The Royal Family (@RoyalFamily) September 8, 2022
Queen Elizabeth served in the Auxiliary Territorial Service during the Second World War training as a driver and mechanic when she was still a teenager.
Princess Elizabeth in the Auxiliary Territorial Service | Imperial War Museums
After she unexpectedly became heir apparent due to her Uncle Edward's abdication, she married Prince Phillip of Greece and Denmark in 1947.
Sterling Henry Nahum was the man tasked with capturing the future Queen's wedding photos and had to reshoot the pictures because Elizabeth's bouquet was misplaced on the big day, meaning there were no professional photos of her holding the flowers.
The newlyweds had their honeymoon to change into their wedding regalia to pose for a second set of wedding photos. The photo below was taken on the actual wedding day, with no bouquet present.
Sir Cecil Beaton was the photographer tasked with capturing Queen Elizabeth's coronation on June 2, 1953. After attending the ceremony with 2,000 other guests, Beaton planned the official portrait sitting.
In a truly incredible portrait, he captured the new Queen wearing a replica of Queen Vicotria's imperial state crown. She is holding a scepter with a cross in her right hand, balanced by an orb in her left.
The photo has an incredible depth to it and careful darkroom work was done to ensure a magical balance of shadows and highlights.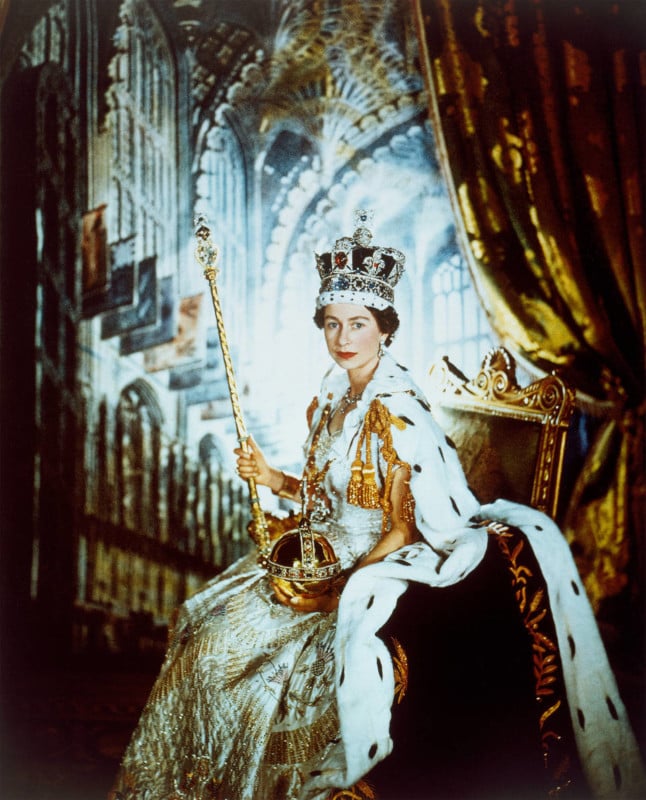 Official Coronation Portrait by Cecil Beaton | V&A Museum
Queen Elizabeth II and Prince Philip. Coronation portrait | Library and Archives Canada
Perhaps no other photographer was as synonymous with the Queen as Beaton. In fact, his photos shaped the monarchy's public image in the mid-20th century. Beaton would often pick flowers from his own garden and arrange them as a photo backdrop for his royal sitters.
After Elizabeth gave birth to Prince Charles, it was Beaton who was asked to photograph the heir to the throne. But his style changed dramatically over the years; gone were the floral backdrops and in came white backgrounds with photos that focused on the sitter.
His 1967 photos of Queen Elizabeth were simple, using the white backdrop to contrast the Queen's dark overcoat.
The Queen photographed by Cecil Beaton❤
📷1968. pic.twitter.com/oomNDQVXsT
— abby🌻 (@The_Cambridgess) October 24, 2021
It was Lord Snowdon, who was married to the Queen's sister Princess Margaret, who took over as the Royal Family's go-to photographer. Snowdon shunned Beaton's bulky, large-format cameras in favor of the new, lightweight bodies.
This approach, combined with his genuine intimacy with the family, allowed him to capture far more candid, spontaneous photos.
"By the time that Snowdon began photographing the royals, they were very used to sitting for photographs," Susanna Brown, the V&A's Curator of Photographs, explains. "They cannot help but perform for the camera; they've been so well trained."
Queen Elizabeth II was said to be a keen photographer herself and was known to take photo albums with her occasionally on her travels. Over the years, she was seen using Leica cameras and used a Super 8 video camera to record film.
Queen Elizabeth in 1953

Elizabeth with Winston Chuchill in 1955
Queen Elizabeth in Australia, 1954
Postage stamp with Queen Elizabeth and Prince Philip
Queen Elizabeth in 1970
Queen Elizabeth with Nazir Ahmed
Queen Elizabeth with President Reagan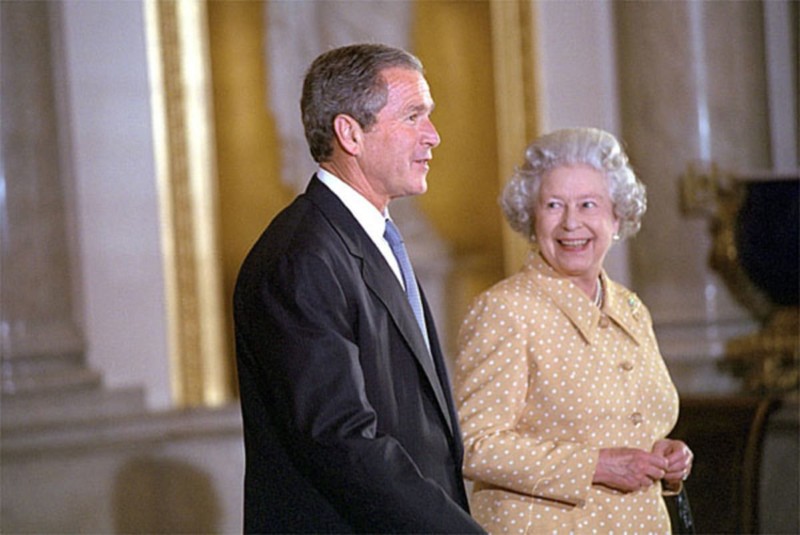 Queen Elizabeth with President Bush

Queen Elizabeth with Vladimir Putin
Queen Elizabeth II in 1959
Royal photographer Henry Dallal shot the Queen's 96th birthday portrait who described his subject as, "very nice, very friendly, and very pleasant."
"But at some point, my focus becomes 'take a good picture.' My focus becomes, 'What do I do to get the best photograph possible?' In terms of the lighting, the composition, and also, the biggest challenge, is to make sure the four-legged friends are also smiling at the same time and looking at you. But you never have to tell the Queen to smile," he told You magazine.
Queen Elizabeth II was not only remarkable for her longevity but also that her reign came during the photography era, which meant she was the first ever monarch to have her life completely documented through the lens.
Image credits: All photos via Wikimedia Commons.