The bridal fashion industry is changing fast. Where, just a few years ago, buying a wedding dress tended to involve trying on big gowns in traditional boutiques, there is now more choice than ever for brides, not just in the style of dress they can choose from, but in the process they can undertake to find one.
Perhaps one of the most major changes that has taken place is how many more mid-range designer labels have moved into bridal, offering more affordable and more modern options for those who don't want a traditional wedding gown. The latest of these labels to step into the market? Influencer-loved Scandi brand, Rotate Birger Christensen.
"Launching bridal is something we've dreamt of since our very first collection," says co-founder, Thora Valdimars. "After the past two years, this just felt like the right moment to do it – big weddings are coming back, and we all need occasions to celebrate."
Courtesy of Rotate
Although the brand has dabbled in bridal with finale dresses in catwalk shows, this is Rotate's first full bridal collection and, for it, the designers wanted to keep things fun and modern, embracing everything that the Rotate customer already loves about the brand.
"We were inspired by the sexy, bold and daring attitude of Rotate," co-founder Jeanette Madsen explains. "We took some of our iconic shapes and thought about how to make them into a wedding dress. This was very much our starting point."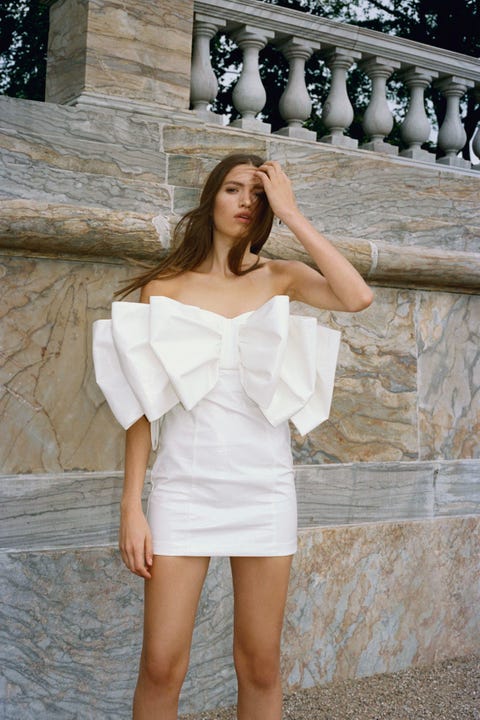 Courtesy of Rotate
Although they wanted to embrace something sexy and modern, they did stick to one of the most traditional bridal rules.
"We wanted Rotate Wedding to share that element of boldness, but the one rule we stuck to was the colour white," Valdimars says. "Everything is white and cream, which is the cardinal rule of bridalwear. However, we kept the material choice more daring and fun than you would normally see in bridal. We love going for unconventional materials and playing with expectations when it comes to fit, silhouette and material, from sequins to patent PU."
The team also kept things affordable – "We don't think a wedding dress should break the bank." Prices start at under £200.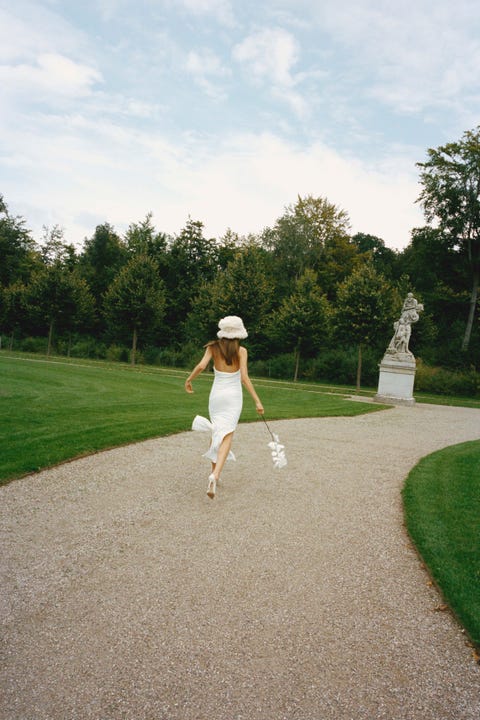 Courtesy of Rotate
Most importantly though, the designers wanted to make the process easy for customers, playing into this new approach to shopping for a wedding dress.
"Less and less people now go to bridal boutiques with friends to try on dresses – today, it is more about scanning your favourite online fashion destinations for that chic white dress you can see yourself wearing on your big day," Madsen says. "Bridal fashion doesn't need to be stuffy and expensive, you can find something that fits your needs online."
Although this was certainly a trend pre-pandemic, the forced smaller and even virtual weddings over the past couple of years have encouraged people to embrace online bridal shopping, while many brides also opted for more relaxed and less traditional gowns.
"The pandemic has pushed people not to plan so much, and to go with the flow," adds Valdimars. "With weddings, it has made things a bit more low-key, focussing on having a good time with friends and family, taking some of that stuffiness away."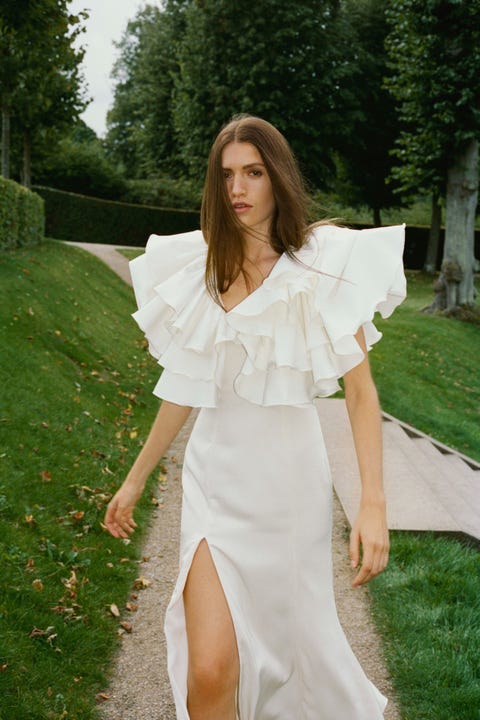 Courtesy of Rotate
"It also means brides can take their dress a bit less seriously, which is a good thing. You need to feel comfortable and your best on the big day, so you should wear whatever makes you feel beautiful, sexy and confident, no matter what it is."
If you are getting married and don't even know where to start, Valdimars advises: "Think back to the last time you felt amazing in a dress, and then think about why that dress made you feel great."
"Just do you," adds Madsen. "Don't feel pressured to wear a big gown if you're not a big gown kind of girl. Try on some different things to see what works for you and what makes you feel the most special and beautiful. Don't be afraid to break the rules. Rules are there to be broken."
The Rotate Wedding collection is available to shop now.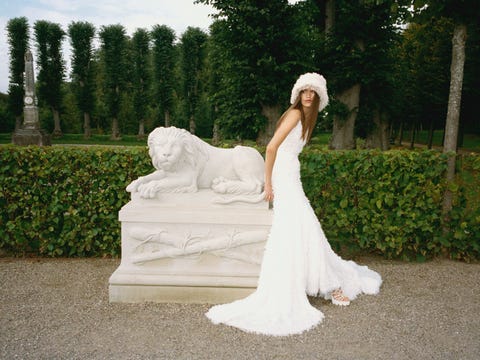 Courtesy of Rotate
This content is created and maintained by a third party, and imported onto this page to help users provide their email addresses. You may be able to find more information about this and similar content at piano.io