January 23, 2023 – 10:56 GMT
Nichola Murphy

Sarah, Duchess of York looked sombre in a designer black dress for Lisa Marie Presley's funeral, which she had previously worn to Ellie Goulding's 2019 wedding.

Sarah Ferguson stepped out in a particularly poignant outfit for her late friend Lisa Marie Presley's funeral in Memphis, Tennessee on Sunday.
Lisa Marie passed away on 12 January after suffering a cardiac arrest in Los Angeles. She is survived by her mother Priscilla and her three daughters: Riley and twins Finley and Harper, 14.
WATCH: Inside the life of the late Lisa Marie Presley
Loading the player…
As she paid her respects to Elvis Presley's daughter, whom she affectionately nicknamed "Sissy", the Duchess of York was pictured looking sombre in a black Dolce and Gabbana coat dress that fell to her knees.
Covered with a lace print, the dress featured a fitted waist, long sleeves and embellished buttons, and she kept warm by layering it over sheer black tights which were visible as she stood at a podium to deliver a moving speech.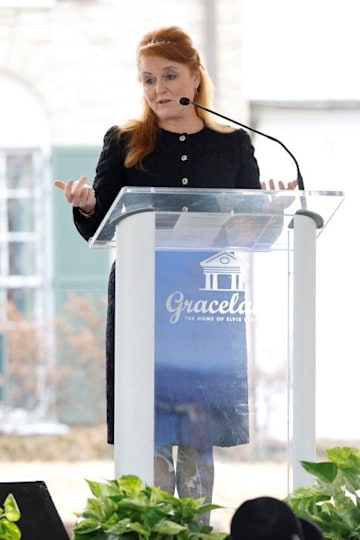 Sarah Ferguson wore a black Dolce and Gabbana coat dress to Lisa's funeral
Fans may have noticed that her funereal black ensemble looked familiar, as she had worn it to another high-profile event four years earlier. Her appearance in August 2019 was a much happier occasion, though, as it marked Ellie Goulding's wedding day with Caspar Jopling.
SHOP NOW: 16 winter wedding guest outfits for 2023
Sarah joined her daughters Princess Beatrice and Princess Eugenie at York Minster, where she was spotted wearing her designer black coat dress with matching lace heels and a black and white feathered headpiece. Dressing for the warm sunny weather, Sarah ditched tights in favour of bare legs, while Eugenie opted for florals in a blue midi dress peppered with pink and blue flowers, and Beatrice chose a metallic green frock from The Vampire's Wife.
The royal wore the same frock at Ellie Goulding's wedding in 2019
The bride also appeared to pay tribute to her royal wedding guests on her big day with the first of her five beautiful bridal outfits.
Ellie arrived at the Cathedral in her bespoke Chloé long-sleeved gown, designed by Natacha Ramsay-Levi, which was embellished with white glass beads and featured a silk radzimir petticoat.
She told Vogue that it was based on elements from Princess Anne and Princess Grace of Monaco's "timeless" wedding dresses, but it was also hand-embroidered with White Roses of York – a subtle nod to the royal House of York.
TRENDING: Sarah Ferguson's half-sister pictured yawning in hilarious royal wedding photo
Planning your wedding? Sign up to HELLO!'s Bride Guide newsletter for expert advice, budget help, wedding inspiration and real life stories delivered straight to your inbox.