FRANKLIN COUNTY – This spring, summer and fall, Vermont's hills are draped in lace, covered in cake and bathed in roses as a record number of couples say "I do."
After years of canceled events due to the COVID-19 pandemic, venues, caterers and florists are booking into next year and beyond because of the wedding rush.
Florists are burning the midnight oil creating lush bouquets and corsages, boutonnieres and garlands for arbors, and some venues – like Jenny's Barn – are having to turn people away.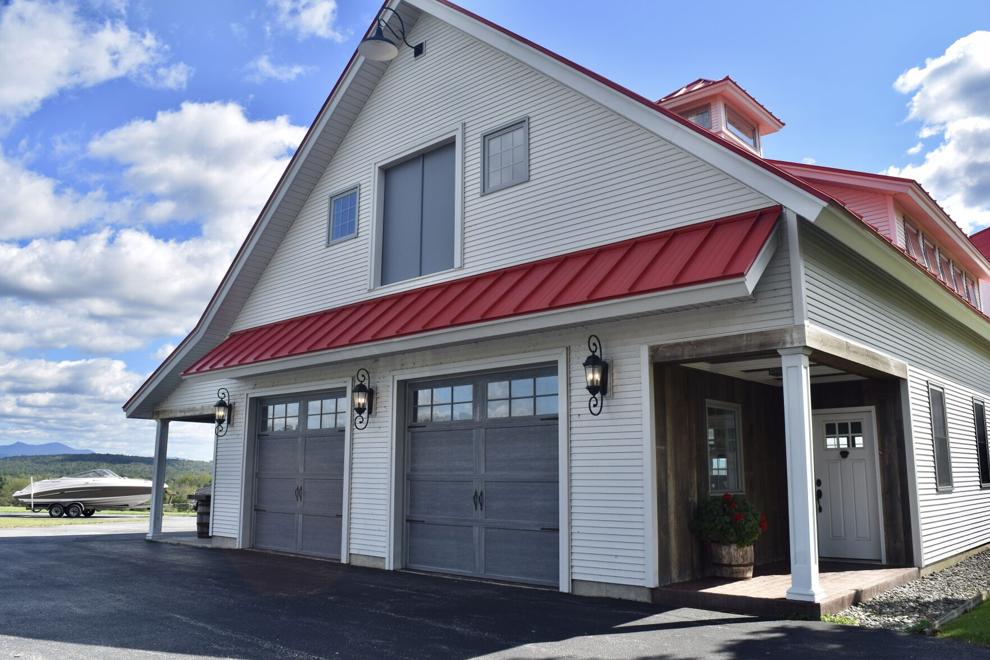 Jenny's Barn. (Kate Barcellos)
"My barn is completely booked [through next year]," said Jenny Bessette, owner of Flowers by Debbie in Swanton and Jenny's Barn venue in Franklin.
Susan LeClair, owner of Susan LeClair Catering LLC in St. Albans, has cooked for 26 weddings so far in 2022.
"I'm really tired," she said.
Local hairstylists are also booked out. Whitney Benzing, hairstylist at Modern Touch salon in Enosburg, said she's had to stop taking wedding appointments.
"I've already got three booked for next year," she said.
Wildwood Salon owner Alice Reighley said she does an average of five wedding hair-dos every Saturday that she works. She did about 25 hairstyles for weddings in August alone.
"I could've easily filled October, but I needed to slow down because I've been doing wedding hair since May," Reighley said. "My shoulders are tired."
About 2.5 million weddings are expected in 2022, according to The Wedding Report, a wedding market research firm. That's the highest volume of weddings since 1984.
Between 2009 and 2019 about 2.1 million weddings happened each year, according to the Centers for Disease Control and Prevention. Many blame the uptick on the pandemic, during which many couples got engaged, and which caused both brides and business owners to cancel their events left and right.
"People are catching up with getting married this year [after they postponed], but the people hoping to schedule for just this year, they can't," said Brenda Elwood, owner of B's Flowers in Enosburg. "Everywhere is full."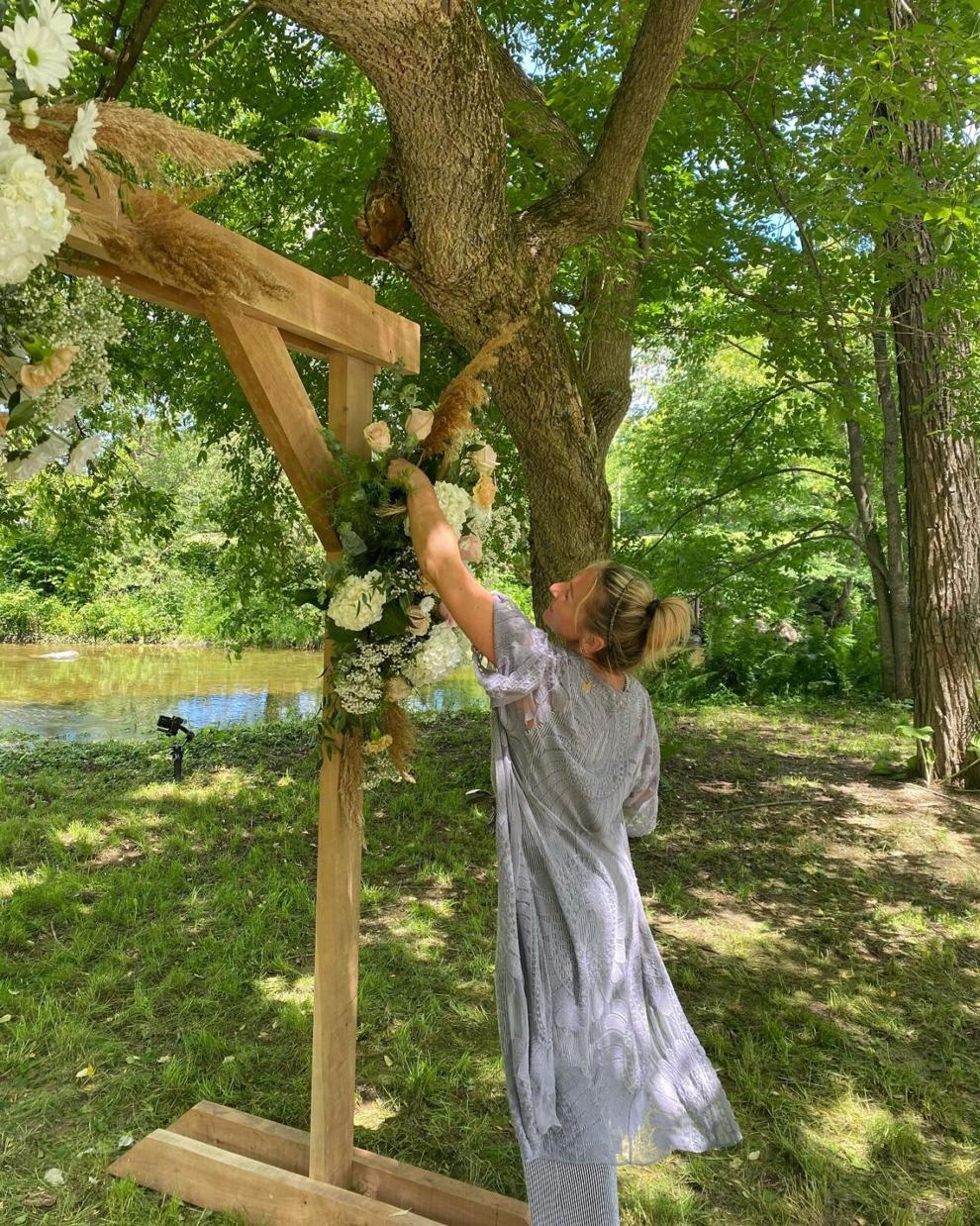 Blooming business
After years of canceled events and flower shortages, florists everywhere find themselves treading orders this year. Wedding season is usually busy, but florists are also tasked with birthdays, celebrations and funerals throughout the year.
The heavily-packed 2022 season had two years of delayed weddings piled onto a single year's schedule, and Bessette, Elwood and Christina "Poppy" Ritchie-Larivee, owner of Poppy's Rail Trail Flowers and Boutique, found their calendars filling up quickly.
This upcoming weekend is Ritchie-Larivee's first free weekend since June. She's already done 12-15 weddings this season and still has more to go. So does Elwood and Bessette.
"I'm just a one-man show in the small town of Enosburg," Elwood said. "Eighteen weddings – that's big for me."
"I hate to use the word 'insane,'" Bessette said. "But we're working crazy hours this season … We don't turn anybody away [for flowers]."
A recent wedding for Elwood included nine bridesmaids' bouquets, 16 boutonnieres and several table centerpieces. She said the brides who postponed the events warned her that they'd be back.
"The first year of COVID-19 we had around 9 cancellations," Ritchie-Larivee said.
As far as design trends for this year, old school-romantic and bohemian bouquets are popular. Elwood said Calla lilies and classic roses are still in, while Ritchie-Larivee said big, wild flowers in earthy palettes like sand and green are best sellers.
The hungriest season yet
In addition to running the family restaurant, Joyce Fitzgerald, owner of Mill River Brewing, said has about 45 events booked for catering this year.
In anticipation of the rush of bookings she predicted for this summer, Mill River purchased more equipment, including another smoker, hot boxes and chafing dishes. Mill River's barbecue is already renowned, and the Fitzgeralds – when they're not smoking brisket, ribs, pork or brewing beer – spend every weekend serving it to newlyweds and their guests.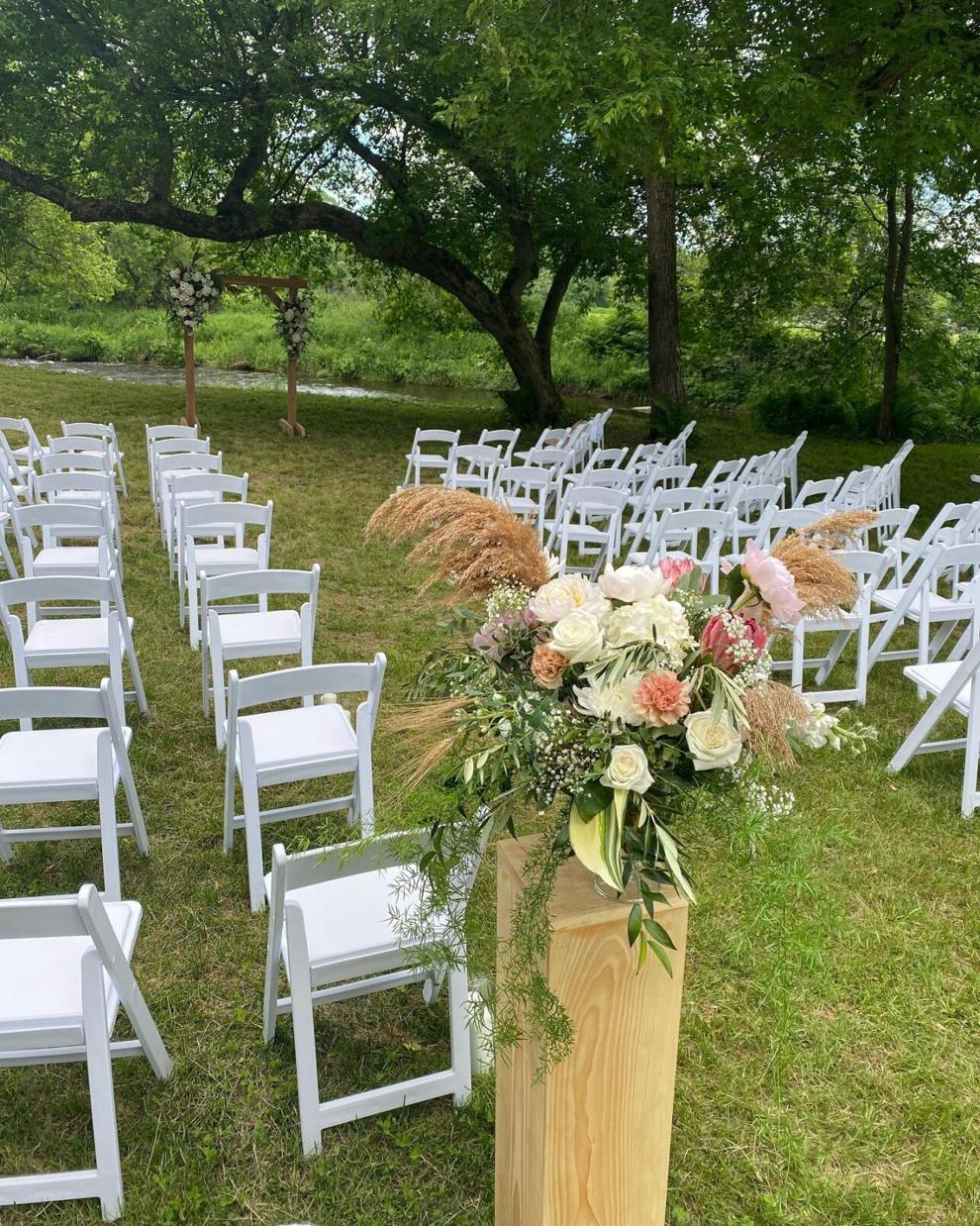 "The COVID-19 weddings finally caught up," she said of the rush.
LeClair purchased her catering business in 2015 and last year acquired larger commercial space at 22 Stebbins Street in St. Albans. While COVID-19 shuttered her business for five months, she became part of the Everybody Eats program, for which she concocts 165 meals per week consisting of homestyle favorites like lasagna and lobster mac and cheese.
LeClair also developed her own meals-to-go program, which helped her financially when COVID-19 shut down her typical catering events.
In 2021, she catered 15 weddings, and this year almost hit her limit of 30. She catered her largest wedding yet last weekend, which had a guest list of 275. She's already booked 19 weddings for next year.
"I've had the busiest summer that I've had since I've opened, and I'm still doing events," LeClair said. "There are families in town who, I've done each of their kids' weddings already and I've only been open seven years."
At weddings, she serves Vermont-grown meats and charcuterie, finger foods, fresh salads and her "make me fat" potatoes loaded with sour cream, butter and cheese.
No room at the altar
From the first weekend in May to the last weekend in October, Jenny's Barn in Franklin is reserved for weddings. One hundred and fifty people can fit inside the barn, and people are booking over a year in advance now, owner Jenny Bessette said.
"People are planning earlier and earlier," she said. "They want to get married but there are no dates available."
Other common venues for weddings in the area include Vermont Swiss and Bloom in Enosburg, Maquam Barn and Winery in Milton and Jay Peak Resort.
Enosburg's Dairy Center and the Abbey River Rapids Pavilion are also frequently booked. On Wednesday, the wedding managers of both were away catering events and unable to comment for this article.
But there is still hope for couples: the St. Albans Museum is open for bookings, and President Janet Bailey said there are only two booked so far this season.
The museum's event space, called the Bliss Room, can host weddings and receptions and has space for 150 people. The rental cost is $1,500 for a weekend, Bailey said.