In November 2017, Serena Williams married the love of her life, Alexis Ohanian, in a star-studded ceremony in New Orleans. During the wedding, reception, and other traditions, Serena wore a total of three dresses. Interestingly, Serena's first dress was touted as one of the most valuable wedding dresses worn by a celebrity.
Apart from her main dress, she also wore two other dresses, and those were also pretty expensive. Notably, Serena and Ohanian first met in 2015 and got engaged eighteen months later, at the end of 2016.
ADVERTISEMENT
Article continues below this ad
Serena Williams' wedding dress cost a 7-figure sum
It is worth noting that Serena and Ohanian tied the knot on the 16th of November, the birth date of Ohanian's late mother. During the wedding ceremony, Serena wore a custom-designed wedding dress by Sarah Burton from Alexander McQueen. According to reports, the first wedding dress was worth around $3.5 million.
To choose her dress, she took the help of her good friend and the managing editor of Vogue, Anna Wintour. After her suggestion, Serena flew to London to choose her design and immediately fell in love with the dress.
Speaking about her spectacular dress, Serena said, "I loved the idea of doing a really spectacular ball gown, and it has turned out to be such an incredibly special piece. Thanks Anna. Thanks Sarah. I felt like a princess and superwoman all at once."
During the reception dinner, Serena wore two dresses. At first, she wore a white Versace gown adorned with beading and feathers. According to reports, this dress almost took around 1500 hours of hard work. After the reception dinner, Serena, the tennis superstar, changed into a white Versace party dress with a beaded bodice and a short feathered skirt.
It is worth noting that there were many celebrities present at the wedding, including Meghan Markle, Eva Longoria, Beyoncé, Jay Z, Kim Kardashian, Ciara, Kris Jenner, and many others.
Serena married Ohanian two months after giving birth to daughter Olympia
ADVERTISEMENT
Article continues below this ad
In 2015, Serena and Ohanian met for the very first time in a hotel in Rome. Incidentally, both of them were staying in the same hotel at that time; Serena was playing at the Rome Masters and Ohanian was there on a business trip.
Watch This Story: Serena Williams once refused to spend $695 for daughter Olympia over a bizarre reason
A year later, Ohanian proposed to Serena at the same hotel where he met her for the first time. In September 2017, Serena gave birth to their daughter Olympia. Incredibly, Serena played the Australian Open while carrying Olympia and even won the tournament, defeating her sister Venus in the final.
ADVERTISEMENT
Article continues below this ad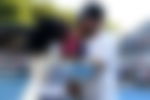 AUCKLAND, NEW ZEALAND: Alexis Olympia, daughter of Serena Williams and husband Alexis Ohanian congratulate Serena Williams after she won her final match against Jessica Pegula of USA at ASB Tennis Centre in Auckland, New Zealand. (Photo by Hannah Peters/Getty Images)
Just two months after giving birth, Serena married Ohanian, and since then, they have been inseparable. As for Olympia, she is now four years old and will soon turn five.