When discussing our own wardrobe and style essentials, Coveteur staffers found their feelings could often be summed up with the phrase, "it's literally the best … white t-shirt, pair of jeans, drugstore find, etc." So, in our new series, fittingly titled Literally the Best, we're asking industry insiders to reveal the style essentials they turn to over and over again and simply can't live without.
When it comes to nuptial style, few are better informed than Alexandra Macon. Not only is she the founder of Over the Moon, a one-stop shop for all your bridal needs, Macon also covers weddings for Vogue where she previously served as a managing editor. Since she has essentially turned attending weddings into a career (and is married herself), the editor-turned-founder knows everything from what to wear to attend a wedding to how to select the best engagement ring. When it comes to the former, she's managed to achieve the ultimate desire: finding pieces you can wear both inside and out of nuptial celebrations. Here, Macon curates a list for us of all of her wedding guest essentials we guarantee you'll wear more than once.
How would you describe your wedding style? What sort of things do you gravitate towards?
"I gravitate towards styles that feel feminine and special. I always look for dresses that take into account the desired attire indicated on the invitation and honor the importance of what is a very special occasion. I avoid wearing black, white, and red, and instead typically opt for light blues, sea greens, and metallics."
Whether it's style or fit or sustainability, what are the things you look for when purchasing a piece of clothing or an accessory?
"I look for pieces that are timeless and that can be worn again and hopefully passed down one day. With this in mind, I think about styletest, fit, and sustainability a lot and try to choose pieces that are well-made and classically beautiful—dresses and accessories that I'll turn to again and again."
Shop Macon's Essentials:
Olya Dress
"The OTM x Brock Collection Olya Dress is a piece that I turn to again and again. I love all three colorways (Archival Blue, Violet Jacquard, and Blue and White Striped Taffeta) and find this dress well-suited for events that call for a spring dress, cocktail parties, and black-ties. It's also literally the best bridal event dress or wedding guest dress. It pulls you in at all the right places, and the exaggerated princess sleeve makes it clear you're ready for a party."
Brock Collection
Venus Dress
"If there's an athletic activity on your wedding weekend itinerary, the Venus dress by Marysia is the ultimate sporty bridal look. The brand's signature scalloped edge and the fit-and-flare shape looks great whether you're serving up aces on the court or sipping a drink in a folding chair."
Marysia
Alexandra Skirt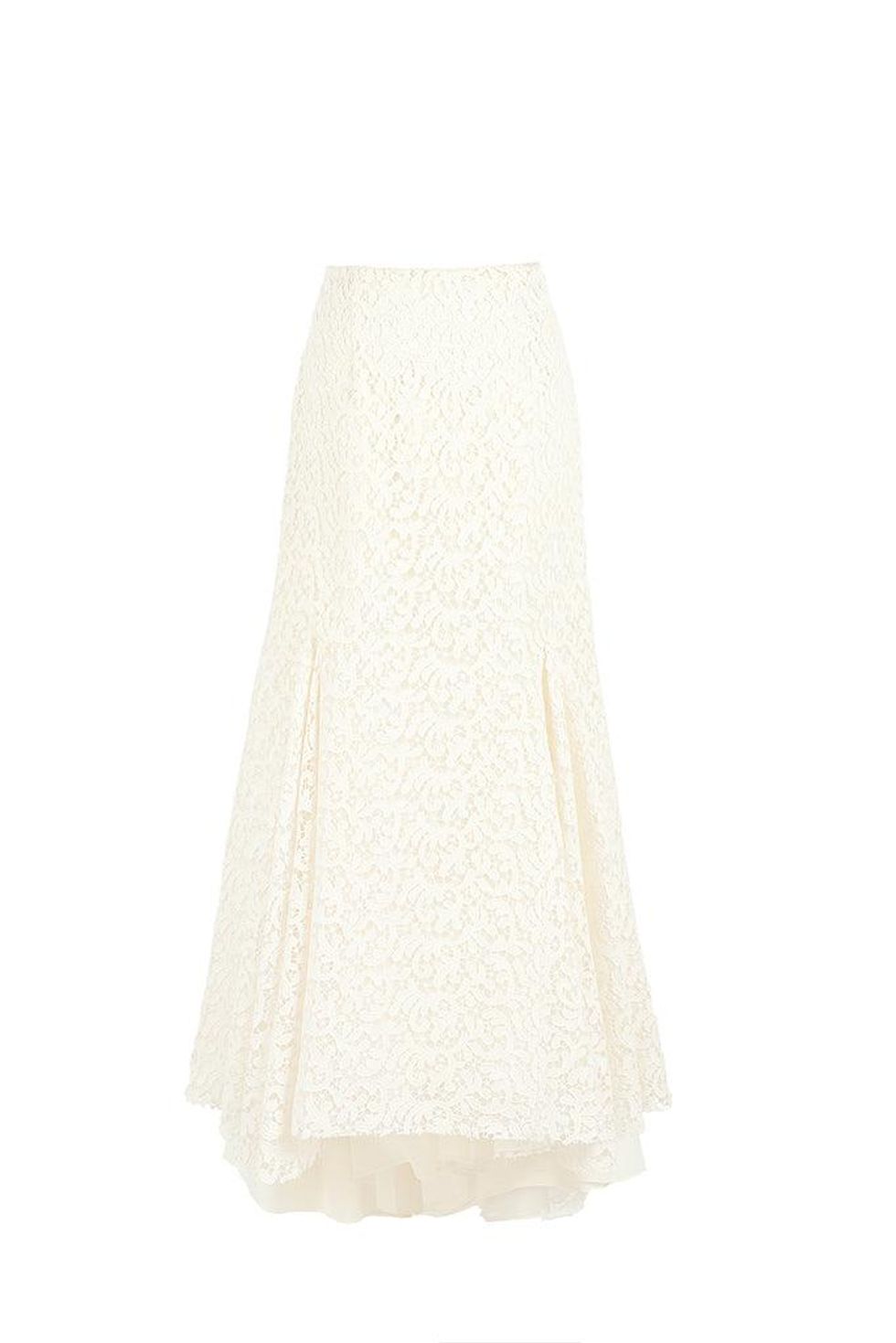 "The OTM x Brock Collection skirt is a favorite of mine for wedding weekend events if you're the bride. The lace is heavy, but also intricate, and with a short train in the back, the vibe is very romantic. It's a piece that's well-suited for a bridesmaids' luncheon or rehearsal dinner."
Brock Collection
Devon Shirred Dress
"The Devon Shirred Dress in light pink or white taffeta has a silhouette that I've always loved. It's been a go-to of mine for years."
Brock Collection
Say My Name Sweater
"The 'Say My Name' sweater by Lingua Franca is the perfect addition to your wedding weekend wardrobe. Personalize it with your new last name or your maiden if you want to make it crystal clear to everyone that you're keeping your own! It's a sweet shower gift and something that can be worn again and again."
Lingua Franca
Alexandra Earrings
"Marlo Laz' Alexandra earrings are my absolute favorite. The aquamarine color is eye-catching, and the encircling diamonds set in 14 yellow gold make for an overall look that's completely dazzling."
Marlo Laz
Wethersfield Dress
"I love this OTM x Cara Cara exclusive that we did in blue toile. It's called the Wethersfield Dress, and the fit is phenomenal. You can style the sleeves off-the-shoulder, which looks relaxed in the best way possible, and the back has smocking, which is very bump friendly if you need it to be."
Cara Cara
The Pouch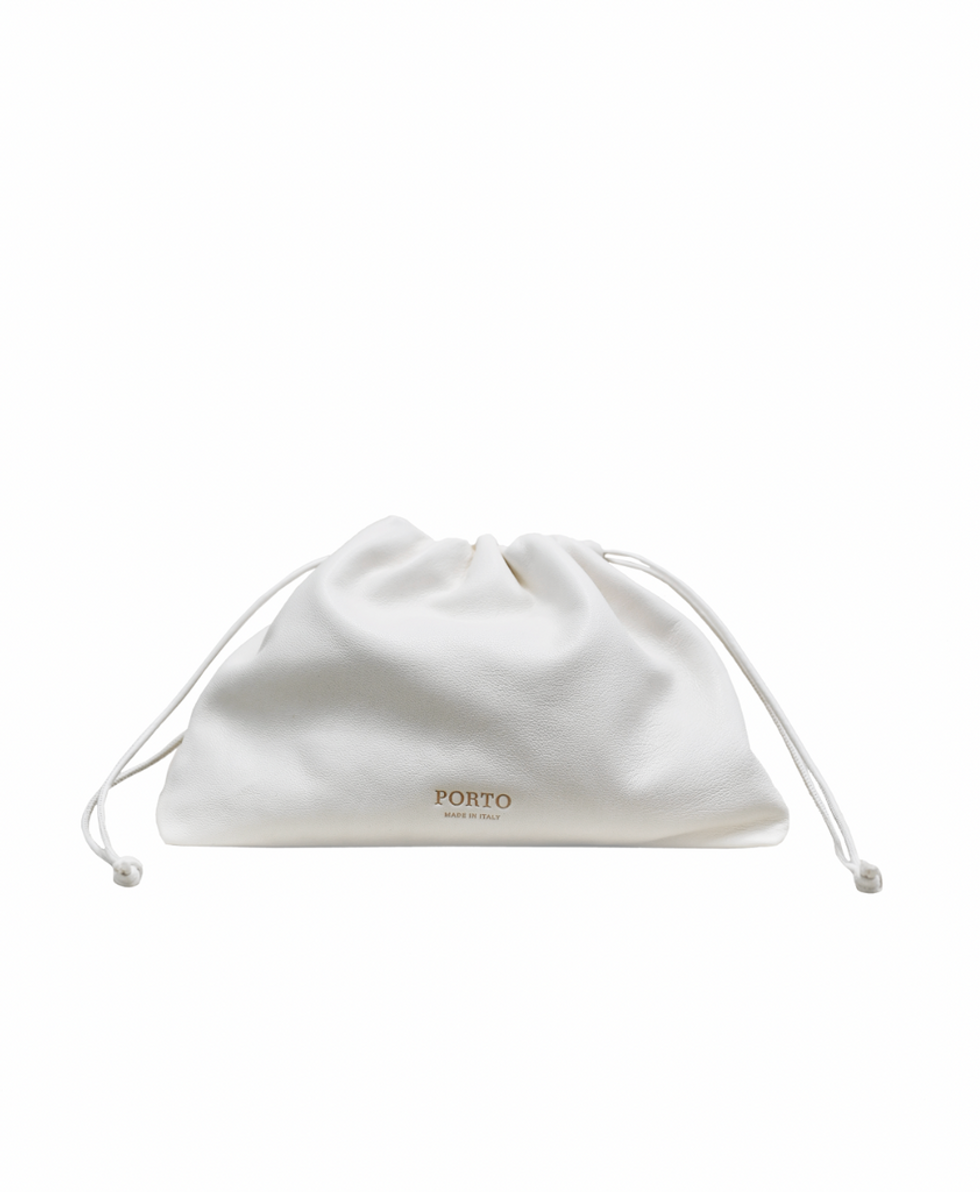 "The Porto pouch is hands down the best bridal bag. Our OTM styling clients love its shape, and we see it sell again and again."
Porto
Monogrammed Boat & Tote
"A monogrammed Boat & Tote is such a fun carryall. You can upload your wedding crest and have it embroidered on the bag, making it a fun, utilitarian catchall tote as you move from final fittings to tastings, trials, and try-ons in the week leading up to the wedding and then you can use it as a big carry-on when you embark on your honeymoon afterwards."
Over The Moon
Floral Corset Dress
"This Markarian dress is made for weddings and can work as either a bridal look for parties leading up to the main event or a 'best dressed guest' look. The Edward blue floral color and corseted silhouette are sophisticated and super-flattering."
Markarian
Chinoiserie Petite Vine Earrings
"[These] Nicola Bathie earrings are a statement, price-point-friendly, something blue that can be worn well beyond the wedding weekend."
Nicola Bathie
Riley Sheehey x Refine: The Headband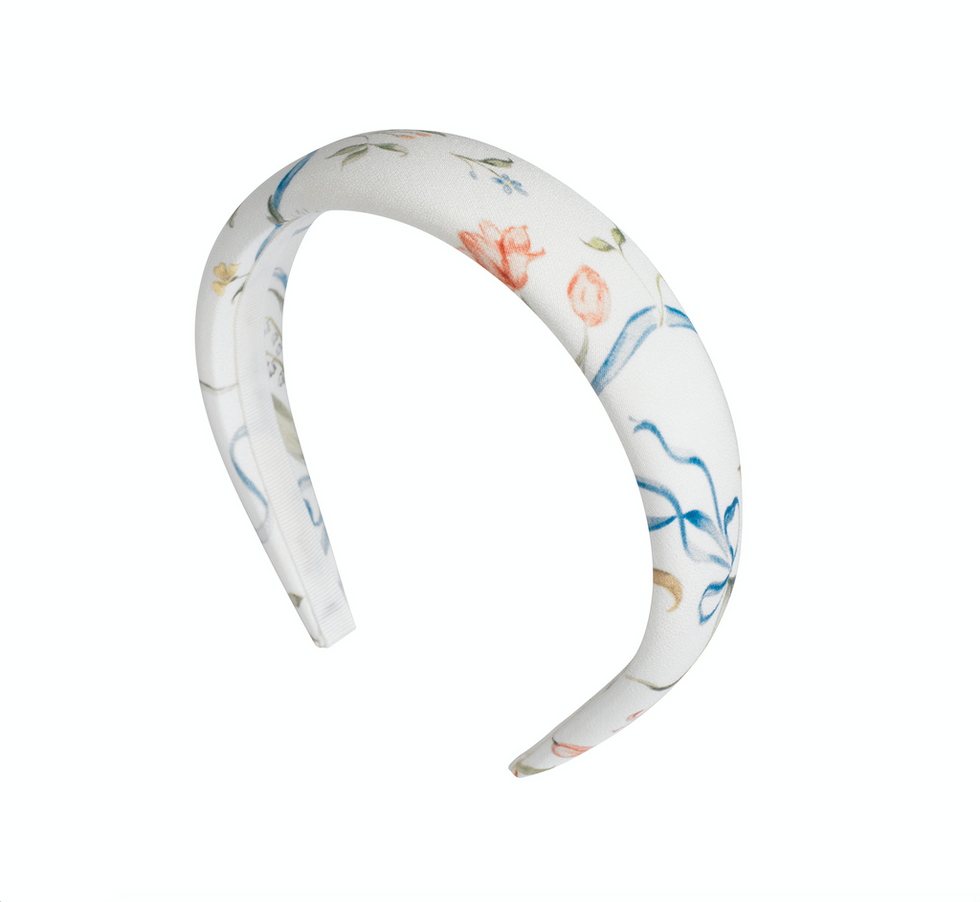 "This headband is handmade using Italian silk crepe with original botanical illustrations by illustrator Riley Sheehey, making for a special piece that feels timeless and elegant, and worthy of the wedding weekend."
Refine