If one is looking to revisit a time when oversized hair, shoulder pads and upbeat music were the perfect mix for falling in love, the UTEP Dinner Theatre's rendition of "The Wedding Singer"' is the perfect musical to watch.
Based on the 1998 Adam Sandler hit movie, "The Wedding Singer" (1998), the musical takes place in the '80s, where wedding singer Robbie Hart lives his best life playing music along with his bandmates until his girlfriend leaves him at the altar. A heartbroken Robbie wanders miserably through wedding gigs until he meets Julia, a sweet waitress who makes him realize love is still alive. However, with Julia set to marry Wall Street shark Glenn Gulia, Robbie sets off to win the waitress' heart with the help of friends and his guitar.
Director and costume designer Jaime Barba transports the audience back to 1985 New Jersey with a neon lit stage that illuminates what later becomes a city, club, Robbie's room and even a Vegas themed White House press room. Although the stage is small, compared to other productions seen at the theater like "Titanic," it is suitable for what the play is trying to tell.
"I think that most people who grew up during the '80s love everything '80s. The music, the fashion, the hairstyles," said Barba in a UTEP Dinner Theatre statement. "I think audiences will love revisiting that time period and I hope to deliver that all wrapped up in a tight, professional and fun show."
Barba stays true to his word with costume designs that add more than just pattern to the characters' personalities as they navigate a material world. The costumes tell us what and who to expect, even before the actors deliver their lines. From oversized blazers to a variety of hairspray wigs, the actors are able to freely add humor and unique personality to the characters. The most impressive designs arrive in the final scenes, when the stage comes alive with love as 14 '80s-inspired wedding dresses sway across the floor to the beat and splendor of neon lights.
Through humorous melodies like "Move That Thang" and romantic songs like "Grow Old With You," The Wedding Singer will leave viewers wanting to hear more. This comes with the help from El Paso's own talent. Robbie, played by UTEP senior John Levick, is as funny and charming as Sandler's movie character, delivering the punchline just on cue each time. Supporting characters played by Derrick Cintron, Fernando Romero, Lauren Urribarri and Bryant Webb only add to the romantic humor of the show with witty remarks, heartfelt voice and rhythmic dance moves. The show would not be complete without the memorable performance of Morgan Baily, a Coronado High School senior whose portrayal of Julia and voice are fit for a Broadway level performance. Her acting and young personality is not only a resemblance of Drew Barrymore's character, but what UTEP could only hope would be an excellent addition to the fine arts department.
The cast followed choreographer Josey Pickett's breakout moves in true '80s style as they revisited snake-like sways and moonwalks.
"The '80s was the era where music videos were born. This brought us so many iconic dance moments that have become a huge part of pop culture," Pickett said in a UTEP Dinner Theatre statement Jan. 26. "It has been a blast bringing some of this iconic choreography to the storytelling of The Wedding Singer. I hope audiences feel the urge to get up and dance with us."
Although the show encountered minor set malfunctions, like fallen props, wobbly dance stages and stuck backgrounds, the cast and theater team recovered with clever and smooth improvisation. The dinner performance can be enjoyed with a three-course dinner one hour before the show begins.
The dinner includes a Caesar salad, barbeque brisket of beef, baked potato, green beans almondine, snowflake dinner Rolls, coffee, iced tea, and red velvet wedding cake.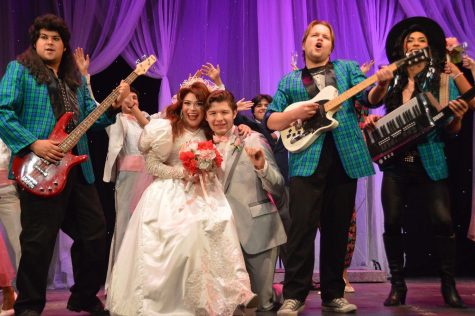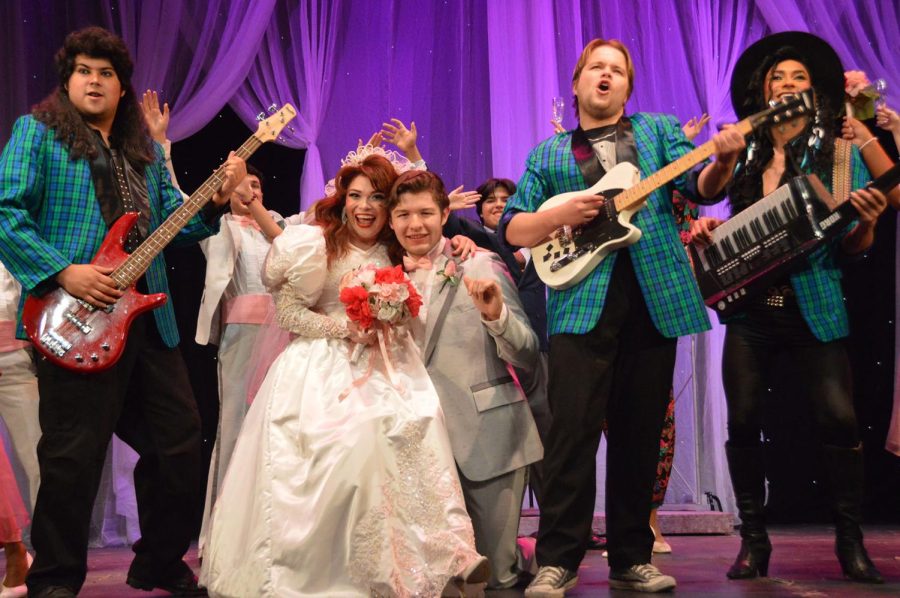 The UTEP Dinner Theatre will host "The Wedding Singer" from Jan. 28-Feb. 13 at the Dinner Theater, inside Union Bldg. West, Room 207. Photos courtesy of UTEP's Dinner Theatre.
Tickets are available until Feb. 13 at the UTEP Ticket Center and online at ticketmaster.com. Prices range from $22.50 to $51.50 plus fees, and students can use their valid UTEP ID to receive a student discount.
Whether it's to revisit a beloved Sandler classic or enjoy local art, UTEP Dinner Theatre's "The Wedding Singer" will leave audiences craving a 'grow old with you' kind of love.
Anahy Diaz may be reached at [email protected]; @by_anahydiaz on Twitter.