Preparations are in full swing as the Olympian gymnast Simone Biles's big day closes in. Turns out the bride-to-be is going to try her wedding dress again over the weekend. But before that, she stopped by a beautician's parlor, as revealed by Biles herself in her latest Snapchat story.
The Olympian gymnast is all set to tie the knot with her beau, NFL player Jonathan Owens, in 2023. While they have kept the wedding date a secret, Biles's little updates prove that it's just around the corner. Simone Biles's recent Snapchat updates denoted what her next step was in terms of her wedding preparations.
Simone Biles shares another wedding update
ADVERTISEMENT
Article continues below this ad
Recently, Simone Biles posted a story on her Snapchat to keep her fans up to date with her wedding preps. Biles got her nails done to go with her plans for the weekend. Seems like the video for the story was shot in the car as soon as she got out of the nail artist's studio.
NEW YORK, NEW YORK – SEPTEMBER 13: Simone Biles attends The 2021 Met Gala Celebrating In America: A Lexicon Of Fashion at Metropolitan Museum of Art on September 13, 2021 in New York City. (Photo by Theo Wargo/Getty Images)
Biles further elaborated on why she got her nails done and what her plans are for this weekend. "So I just got my nails done, and it is because this weekend I'll go try on my wedding dresses." Suddenly feeling how real everything is, with the arrival of her wedding dresses, Biles added, "How crazy is that? Like they're here"
DIVE DEEPER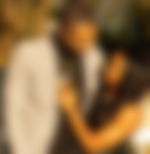 Biles had finalized her wedding dress, not long after she got engaged to Owens. While the final outfit design will be revealed on the big day, Biles teased her fans, with photos of the other dresses she had tried on in the past.
Simone teases her fans with pictures of wedding dresses
Back in March 2022, Simone Biles shared a glimpse of the day she was out looking for her perfect wedding dress. Sharing a photo of herself in a white halter neck dress covered with feather-like features, Biles added the caption, "On bride duty 👰🏾." Ultimately, the gymnast had found her dream dress at designer Galia Lahav's store in LA.
ADVERTISEMENT
Article continues below this ad
Joining Biles, Lahav too shared a bunch of photos of the bride-to-be trying out different white gowns. However, she specified in the caption of her post that none of the gowns in the photo was the "chosen one". What kind of gown Biles might have finalized was left to the viewer's imagination.
ADVERTISEMENT
Article continues below this ad
Watch This Story | Simone Biles Shows Off Her Support For Jonathan Owens In A Customized Outfit
With the speed at which the preparations are going and the jitters that the bride-to-be is feeling, it's safe to say it won't be long before the big day arrives.