When Rachael Brady walked into her bridal shower at Antonelli Event Center in Irwin this spring, she was blown away by what her mother planned for her.
Rachael's mother, Maria Bernardo Brady, created a "treasured wedding table" for her shower that featured her mother's and grandmother's dresses and family wedding keepsakes like photos, letters, and newspaper articles.
"It was such a nice surprise, and it was just gorgeous," Rachael says. "And it really exceeded my expectations. … Our guests really enjoyed it, and it was something really meaningful."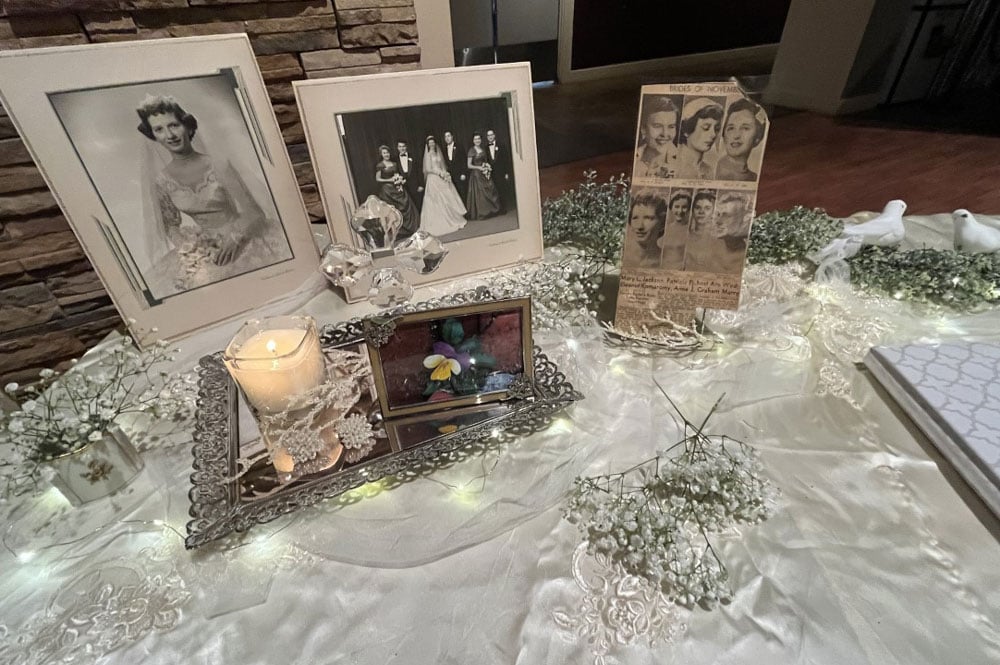 Maria spent the weeks leading up to the shower gathering family mementos, news clippings and photos for the table to include her late mother, Dorothy, Rachael's beloved grandmother, in the bride-to-be's special day. While honoring deceased loved ones with photos or mementos is common at weddings, Maria says many of the guests hadn't seen a display like her's at a shower before.
"Planning her shower was amazing," Maria says. "It was one of the happiest days of my life. My mom and her were super close, as my mom was with me. …
"I'm very adamant about having experiences at events. So, when I was thinking about Rachel's shower, I wanted something that would be memorable. I think it was a great honor to my mom, who was such an integral part of raising [Rachael]."
In addition to the table, Maria used the back of her mother's gown to create bridal clutches, handkerchiefs, and a ring bearer pillow for Rachael's wedding, which will be carried by Rachael and her fiancé John's son, William. Rachael also plans to wear her grandmother's veil, which her mother and aunts wore for their weddings.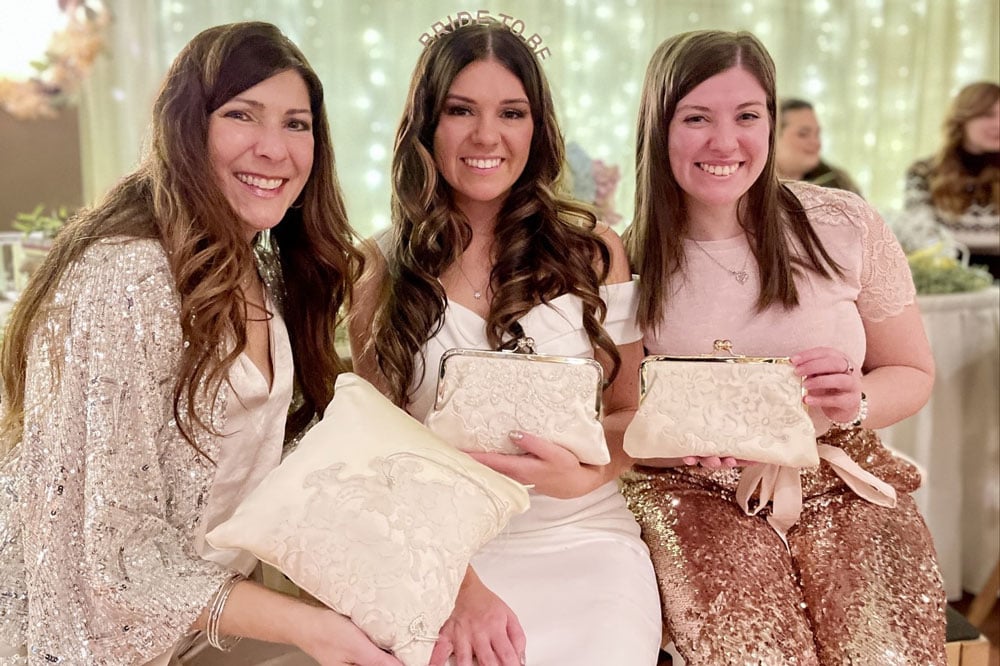 "It was so super special, to have that combination of two generations there," Maria says. "And even more so because she had no idea I was doing this for her."
While she was looking for things to display on the table, Maria had a surprise of her own.
"The day before the shower when I was gathering things, I found a note that my mom wrote about [my] wedding," Maria says. "My mother wrote about how beautiful everything was and that people were still talking about it. I had never seen it before, and it was so weird that I randomly found it."
"It shows that love transcends time and space," she adds. "[Our family members are] always with us."
Although her grandmother wasn't there in person, Rachael feels like she was with them that day, too. Her grandmother's favorite flower, a violet, began blooming in her yard just a few days prior to the event, and Maria snapped a photo to display on the table.
"Purple's my favorite color, and yellow was my grandma's favorite," Rachael says. "So it was just another little detail that just … affirmed that she was there with us."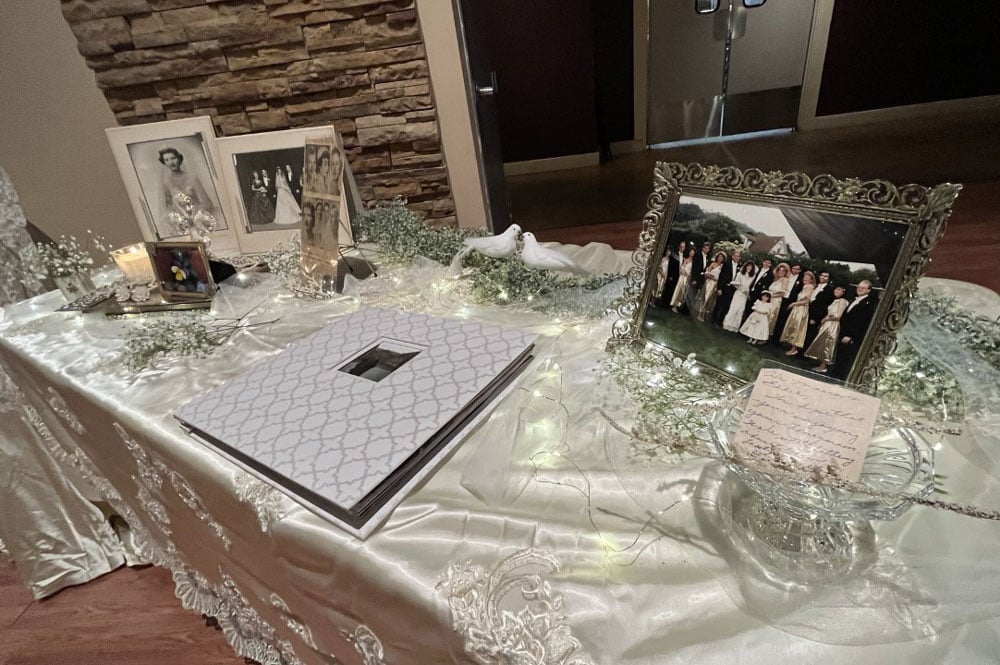 Maria says the shower was one of her best "Mom days" ever, and hearing Rachael say the shower was perfect made all of her hard work worth it. She looks forward to welcoming John into their family.
"As the mother-in-law to be, I'm so excited," she says. "[John] is an awesome young man. If I could've hand-picked someone, he's it. He's an awesome dad and a great human being."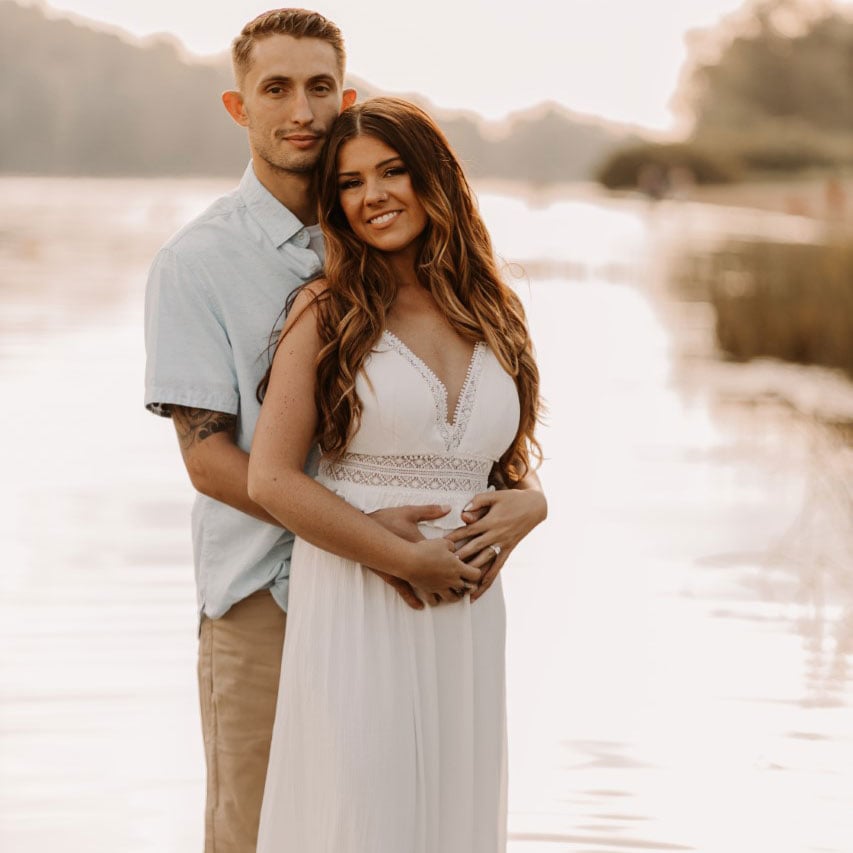 John proposed to Rachael under the northern lights while they were vacationing in Iceland on Jan. 11, 2016, exactly one year after her grandmother passed. The couple will be married in St. Augustine, Florida, this spring.
"I feel like I'm to the point where everything is coming together," Rachael says, "and I'm just excited to experience the day."