If you find yourself looking for ways to be more sustainable, you're not alone. Especially when it comes to weddings. From using local suppliers to preventing food waste, there are a whole host of ways you can reduce the environmental impact of your big day without spending a fortune. And so it's not surprising that the number of brides considering second hand wedding dresses is also on the rise.
According to Lyst, searches for pre-owned and vintage wedding gowns increased 103% in 2021. Not only is buying (or renting) secondhand good for the planet, it's another way to help save some extra ££ on your wedding. Plus, you'll find yourself with a truly unique piece that nobody else has.
To celebrate Secondhand September we caught up with bride Pip Jolley, who opted for a vintage gown for her big day. Here, Pip tells us about how she found her dream dress, along with the way she cleverly upcycled it (with the help of clothing alteration and repair specialists, The Seam) to make it look and feel more personalised.
What was the vision for your wedding?
The theme for the wedding was Romeo and Juliet (Baz Luhrman's version) and Studio 54/Miami Vice. It was the perfect blend of me and my partner's vibes. We really wanted to incorporate sustainability into our big day because it's very important to us. All the bridesmaids wore vintage dresses, or secondhand, sample sale dresses. For the groomsmen, we ended up going to a factory that sells rolls of leftover fabric from the fashion industry and found some amazing fabric that really fit the brief.
This content is imported from Instagram. You may be able to find the same content in another format, or you may be able to find more information, at their web site.
As for the guests, they were all dressed very flamboyantly. The Studio 54/Miami Vice wedding theme was already something of a dress code, so wearing a sustainable outfit was encouraged but it wasn't a strict rule as I didn't want to make it inaccessible for people. The only rule was no black outfits!
Why did you choose to shop for a secondhand wedding dress?
I kind of had this vision of what I wanted and it just wasn't a modern wedding dress. I only wear vintage and sustainable fashion anyway, so I knew the wedding dress was going to be something vintage. And I really love 70s fashion.
People can also spend a lot of money on wedding dresses. And, for me, it's just something I wasn't going to wear for that long so I knew I didn't necessarily want to spend a lot of money and, in that sense, vintage felt like the way to go for that.
Tell us about the original dress
I'd describe it as a cult '70s bridal dress. It's really fitted at the top, with a big skirt, little train, huge sleeves, and an amazing neckline. It's also covered in lace, it was beautiful. It was my dream dress. The dress was a total bargain too, it cost £100.
This content is imported from Instagram. You may be able to find the same content in another format, or you may be able to find more information, at their web site.
I didn't really care about the condition, because I knew it would only be worn for an hour. There were a few stains on it but nothing the dry cleaner couldn't get out.
What happened when the dress arrived?
On the dress listing, it said the bust was 36 inches. And I was like "Oh my god, that's amazing" because with a lot of vintage, especially from the '70s, the sizing is tiny. I'm a very average size 10/12, and all the dresses I was finding before were too small but this was perfect. But when it arrived, the bust was 32 inches.
I tried it on, and it fit nicely around the neck and waist. The length was also good, as I'm quite tall and I designed a collection with a sustainable shoe brand so I wanted to be able to see the shoes in it. It was just so perfect. Apart from the fact that the bust was too small.
I just didn't know what to do.
I FaceTimed my mum, and my best friend. I showed them that it was done up at the neck and at the waist and they both said, separately, "It actually looks really good with the back open like that." I have a full-back piece tattoo, so they kind of reassured me it wasn't the end of the world and suggested it was something I could probably have altered.
How did you upcycle your wedding dress?
The Seam approached me and put me in touch with an amazing seamstress called Sarah Hollebon who specialises in bridal and eveningwear. Originally, we talked about taking fabric from the train to fill the rest of the back but it would obviously mean losing the train. I took my best friend with me and she was like "we've actually had this other great idea, can you tell us if it's possible?" And Sarah just worked with us on that and made it happen, which was amazing.
The Seam
Sarah from The Seam removed the zip and shaped the back so that it looks like a big keyhole from the waist up to the neck. And she put a dart in one side so that it didn't gape you know, because I was saying everyone has one bust bigger than the other so it just fit perfectly. She just made it just look like it was meant to be like that.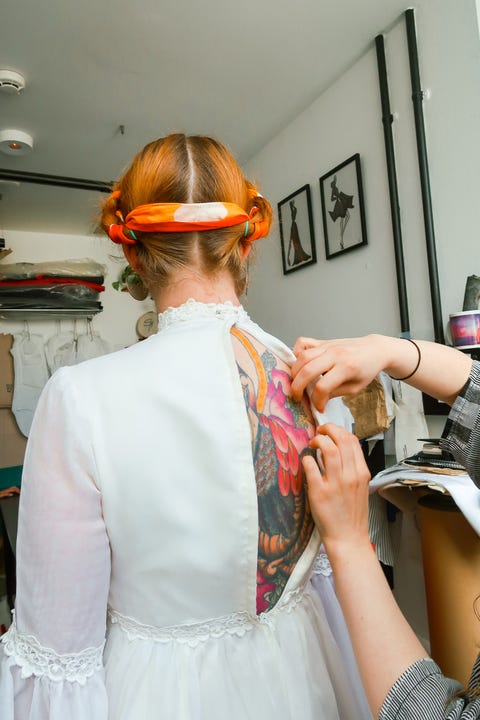 The Seam
What advice would you give brides shopping for a secondhand wedding dress?
I would say have saved searches on platforms like eBay, Depop, Etsy, Vesitaire, and Vinted. Always be looking and try to think outside the box. Be open and always try things on to see the potential that a vintage piece can have.
Sometimes charity and vintage shops have almost 'joke' wedding dresses. A lot of the time though, they can be altered to look very current. For example, those big poofy like '80s look is very 'in' if you make it into a mini.
And obviously now what I've learned is not to necessarily get something just because it's the right size. You can have it altered. I think it's very important that you don't alter yourself to fit a wedding dress. There's so much pressure to lose weight for your wedding day. And it's like, actually, no, you don't need to do anything like that. You just want to look and feel great. And having a dress altered to fit your body will make you feel great.
As told to Natasha Harding. Some parts of this interview have been edited for clarity.
Wedding imagery courtesy of Joanna Bongard (@joannabongardphoto)
Prices for alterations from The Seam start at £12 and you can book in easily online. Simply add in your postcode and you'll be matched to your nearest maker.
Follow Natasha on Instagram.
Natasha Harding
Natasha Harding is Fashion Editor (Digital & Print) at Cosmopolitan & Women's Health UK.