Wedding Inspiration
Hosted in Osterville, the small-but-stunning wedding incorporated both Indian and American customs.
Delivering the latest in style, inspiration, helpful tips and tricks, and everything else you need to know to plan the perfect New England wedding.
December 19, 2020
Private Residence
Osterville, Massachusetts
THE STORY
Make no mistake: When Purvi Patel signed up at a new CrossFit gym in 2016, she was not looking for love. But, as fate would have it, that's exactly what she found when she met Gregg Martino, who was a coach there at the time. "I just really wasn't in the mindset for that. But he slid into my DMs on Facebook, and we [started] chatting back and forth," the Bay State native says. "Eventually, after five months of dating here and there, I finally was convinced that he was my person."
For their nuptials in 2020, Purvi and Gregg—who is currently serving active duty in the Air Force—initially planned a destination wedding in Charleston, strategically choosing a December date they felt would work for Gregg's constantly changing schedule. And then COVID hit. While they knew that picking a new time to tie the knot would be difficult for Gregg, they weren't sure that hosting a soiree in South Carolina would be feasible either. After months of deliberation, the pair ultimately decided to cancel their Charleston gathering, choosing to marry on their original wedding date at a venue closer to home instead. "We thought, 'We've got to just do something really small," Purvi recalls.
With that in mind, the couple rented a house in Osterville for the occasion, planning a two-ceremony celebration that honored both American traditions and Purvi's Indian roots, On the guest list? Just the pair's parents and siblings, all of whom joined Purvi and Gregg for a three-day stay at the rental property. "It was like a big slumber party, and there's no other time that we'd be able to get all of those people under one roof," Purvi says. "At a normal wedding, there's a million distractions and you're doing a million things. This was actual quality time. Having everybody together for the weekend was really, really special."
THE DETAILS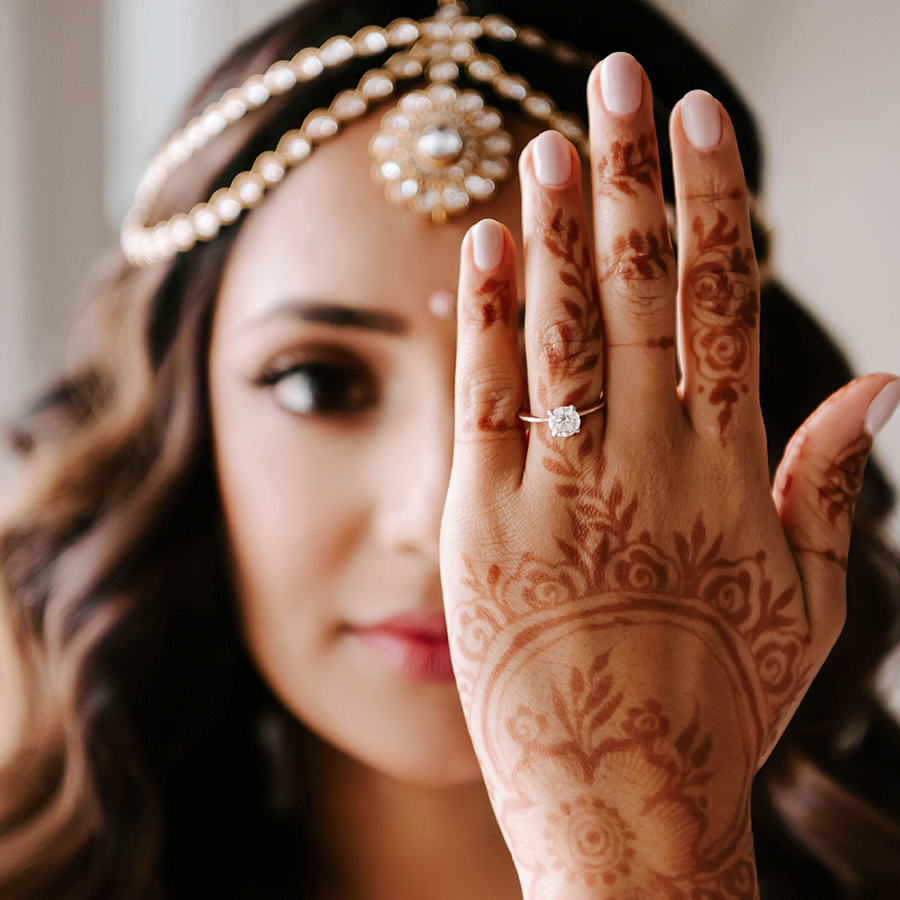 Along with her mother, sister, best friend, and soon-to-be mother-in-law, Purvi had traditional henna
applied to her hands the night before the wedding.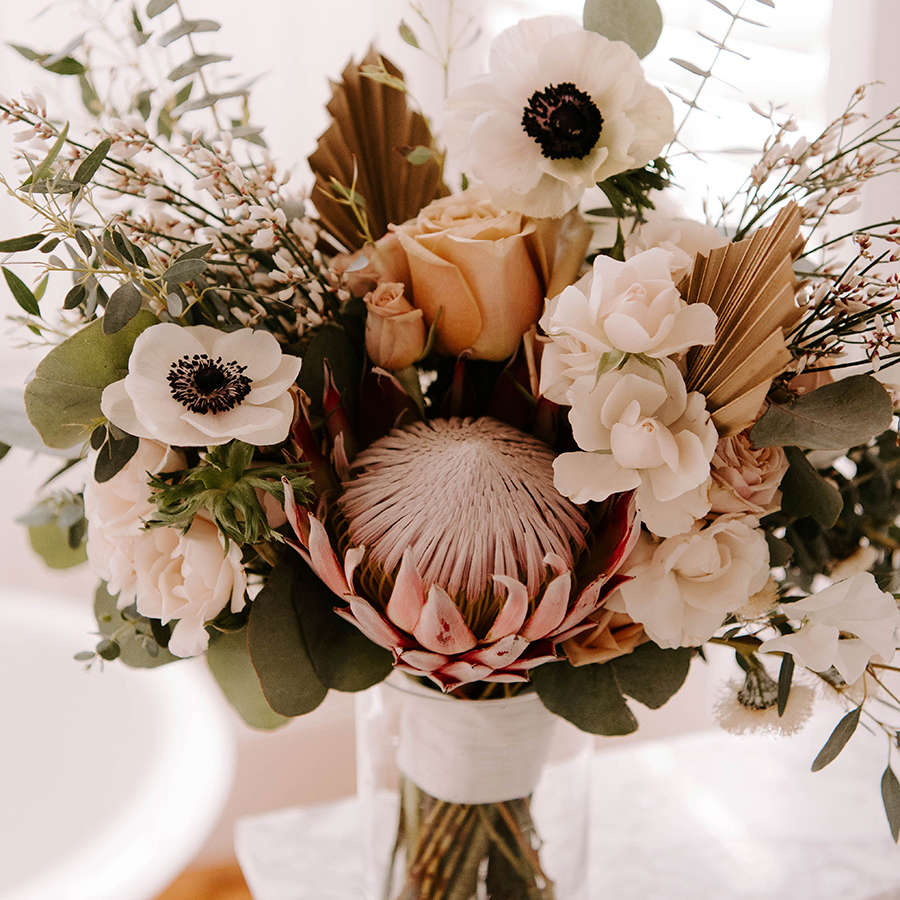 Calling on greenery and blooms including pampas grass, eucalyptus, protea, and anemone, Forêt Flowers & Styling crafted a range of stunning floral arrangements for Purvi and Gregg's special day. "I was so obsessed with them," the bride says.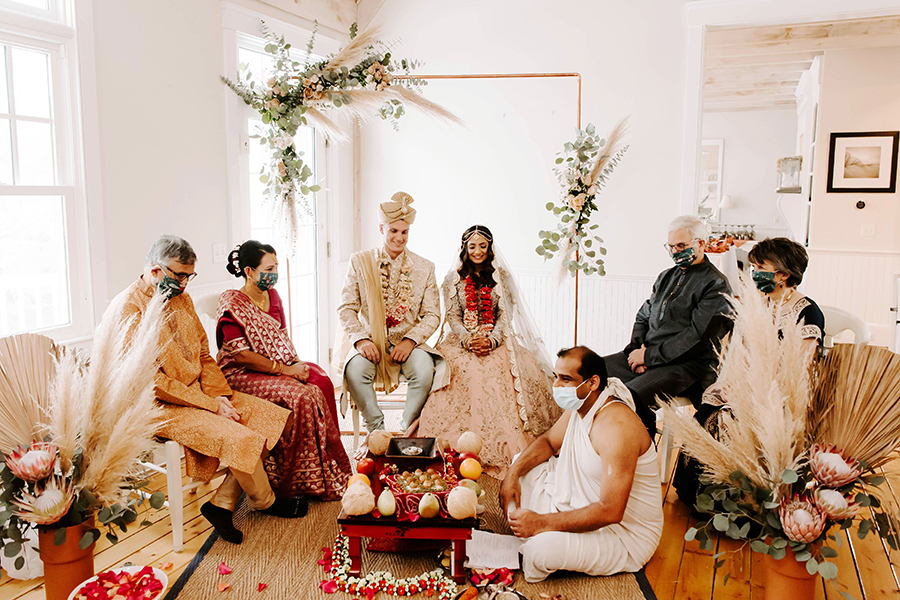 While Hindu wedding ceremonies can last for three hours or more, Purvi and Gregg shortened their ceremony to just 60 minutes. "We picked the rituals that were meaningful to us," the bride explains.
Per tradition, the bride and groom exchanged flower garlands called jaimalas before the other marriage rituals commenced. "The ceremony is carried on with a lot of teasing and fun on the part of the family and friends. It symbolizes their love and respect for each other," Purvi says. "A common standing joke is that the [person] who gives in first and garlands [their partner] will always listen to [him or her] throughout their married life."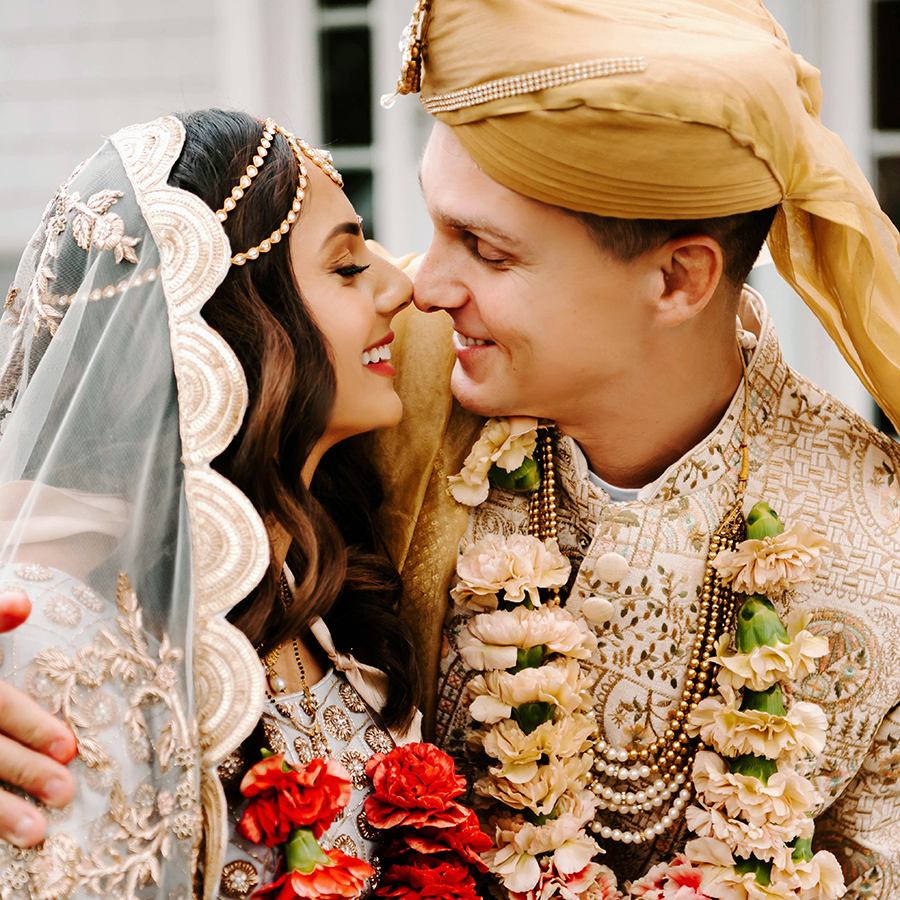 The couple's garb was custom-made in India, with Purvi commissioning a specialty shop overseas to design her dress. "Literally, the entire process was done through WhatsApp. I said, 'These are the things and colors I like," and [the shop] sent me a sketch and asked for 13 or 15 measurements," the bride says. "The dress showed up two weeks before the wedding—and it fit perfectly."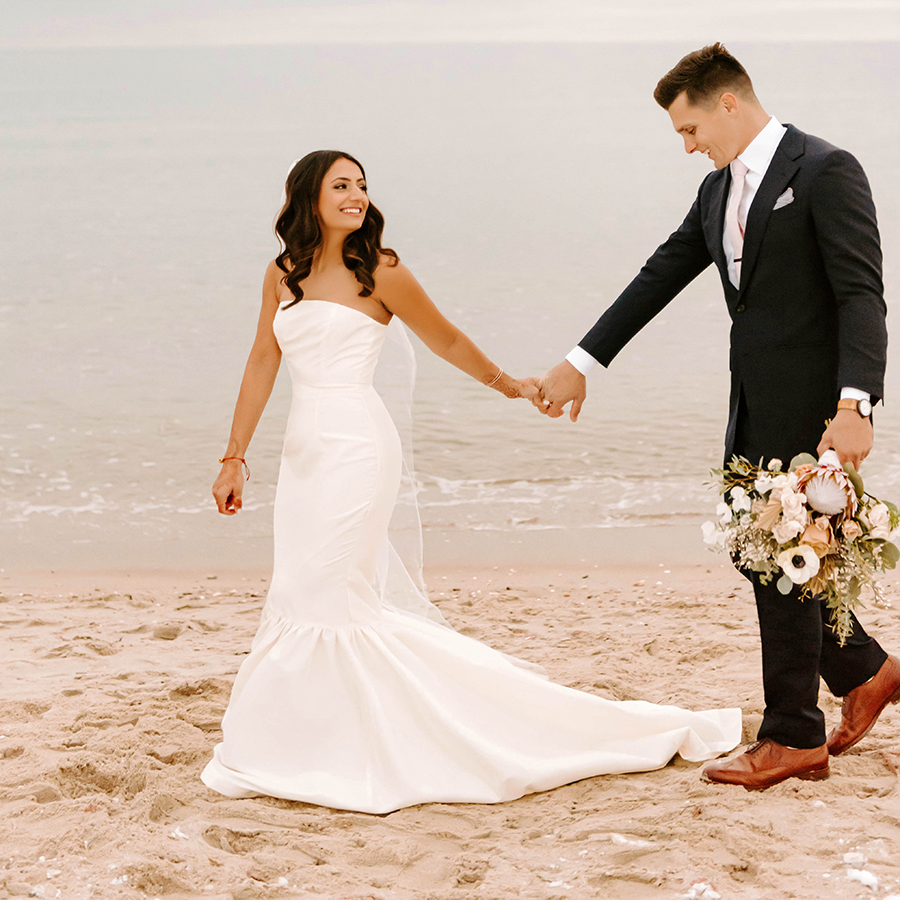 After the conclusion of the Hindu ceremony, Purvi and Gregg prepped for their American nuptials, kicking off the festivities
with a first look on a nearby beach.
With Gregg's best friend Kyle serving as officiant, the couple's second wedding ceremony of the day lasted just 15 minutes. "We said our own vows, which was really important to us," Purvi says. "You could just feel the warmth in the room, and everybody
was in tears. It was just a beautiful moment."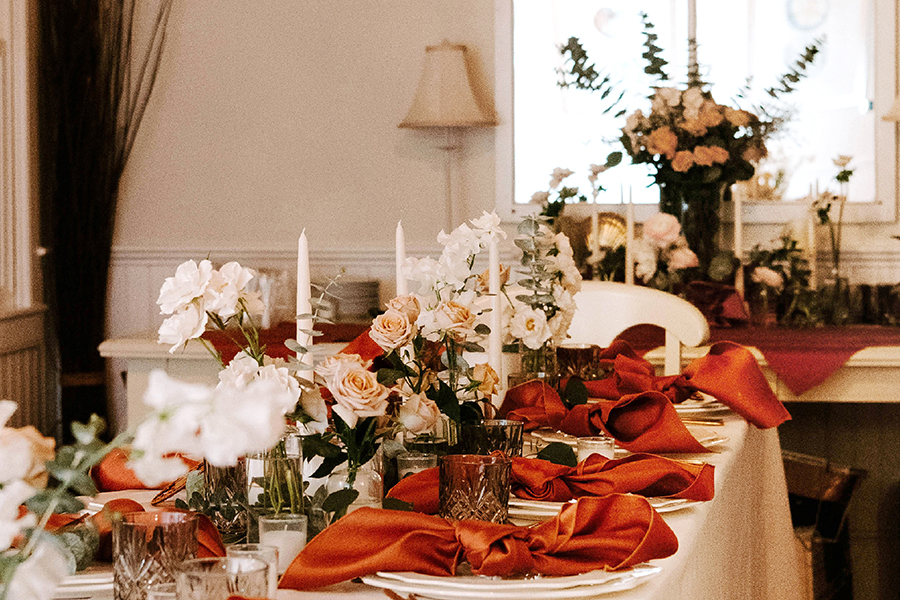 After the second ceremony, the bride and groom rejoined their families for a celebratory meal. Their cuisine of choice? Indian takeout from Punjab Palace in Allston. "Gregg's family is Italian, and his parents had made a family recipe the night before," Purvi says. "So we had Italian one night, and then Indian food for the wedding."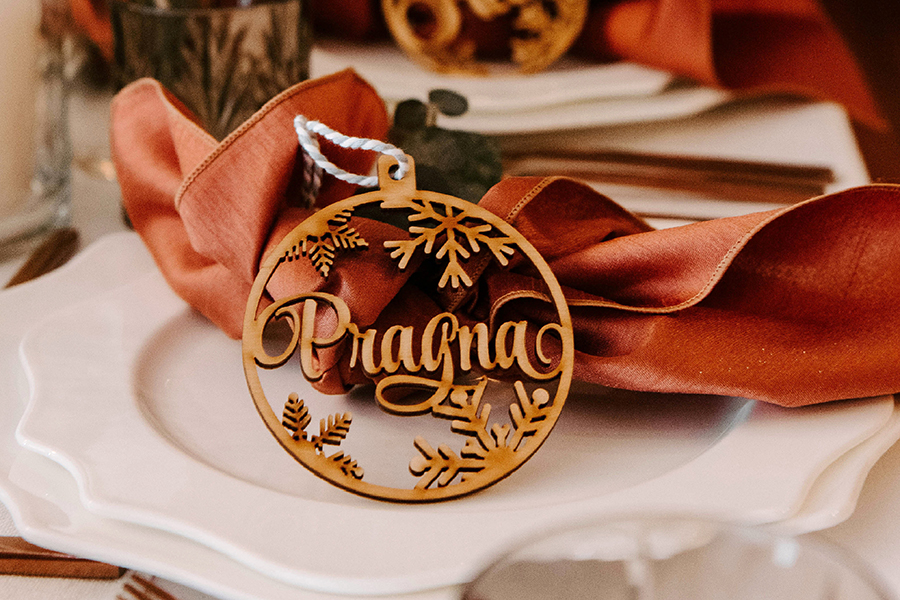 Dressed up with bud vases, candles, and rust-colored linens, the dinner table also featured these custom ornaments from Etsy, which doubled as place cards and wedding favors. "It was kind of a nod to the holiday," Purvi says, noting the wedding's near-Christmas date.
THE FILE
Bride's Dress Asos
Cake Flour
Flowers Forêt Flowers & Styling
Groom's Suit Suitsupply
Hair Maricruz Hairstyles
Makeup Glamour Cosmetics
Photographer Lee Asher Photography
Rentals Peak Event Services
Traditional Indian Attire Aynaa World
Videographer P. Taufiq Photography
Getting married? Start and end your wedding planning journey with Boston Weddings' guide to the best wedding vendors in the city.