Maria Iglezi and Nicholas Taglianetti planned for an October wedding because it is Maria's favorite month, but they never intended it to happen on Halloween.
"I mean, I love Halloween. I really do, but it was the only date that was available for the photographer that I wanted in October because I desperately wanted to get married in October," Maria says of their 2021 wedding. "It just kind of panned out that way and originally, the venue we wanted also was available that day because nobody else wants to get married on Halloween."
To celebrate: a candy bar was set up for the children at the wedding.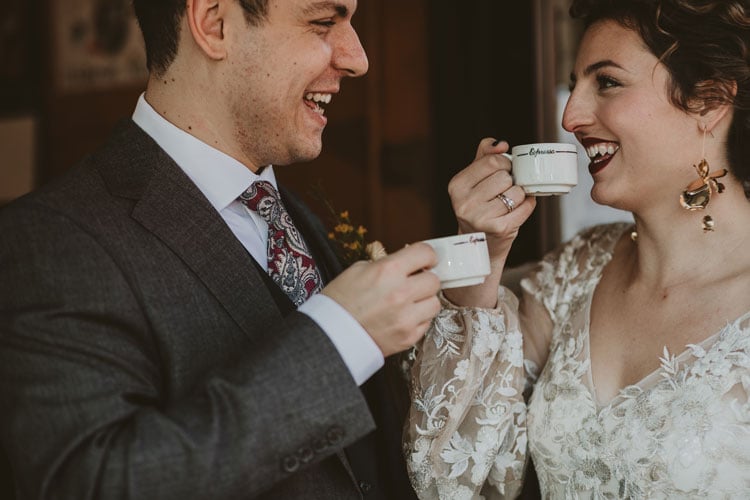 The couple met in September 2015 during a college scavenger hunt; Nicholas was a transfer student to the University of Pittsburgh and Maria was in charge of the hunt. Later that year, their first date was at Butterjoint in Oakland. The two got engaged on the anniversary of their first date.
While planning their wedding, Maria says she was concerned with getting the colors she wanted.
"I was a little bit intimidated by the whole wedding industry because as soon as you slap the word bridal on it, it becomes really white and expensive, but I'm an artist so I have a deep appreciation of color," she says.
Maria wanted to use colors beyond warm neutrals, deciding on a palette that included orange, mustard and deep greens to balance between cool and warm tones.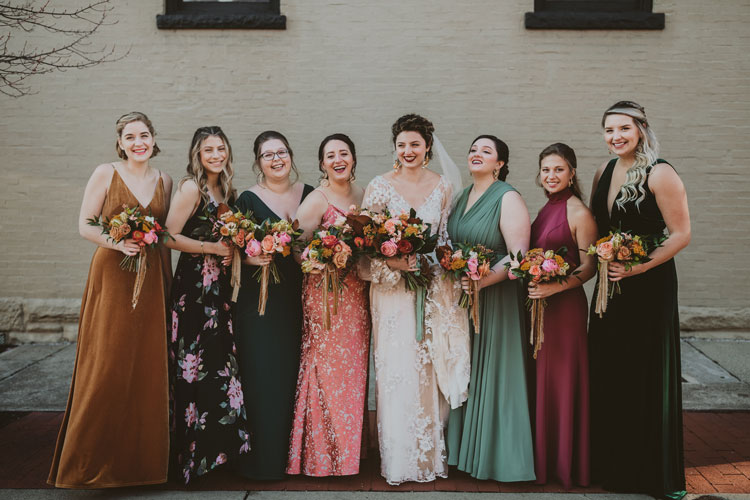 Each of her bridesmaids wore a different color and style of dress while she wore a custom dress by Rebecca Schoneveld with a train and long sleeves fit for fall weather.
The wedding was held at Saint Aidan Parish in Wexford and the reception was held at the bride's childhood home, also in Wexford. The coronavirus pandemic prevented the couple from having a large wedding, but this worked out in favor of Maria's dream wedding.
Maria had wanted to have her reception at her parent's house even before the pandemic, but her mother was hesitant because of the workload.
"I just didn't want to have a reception in a big ballroom," Maria says. "It kind of wasn't my style, but it felt like for a large-scale wedding that was the only option."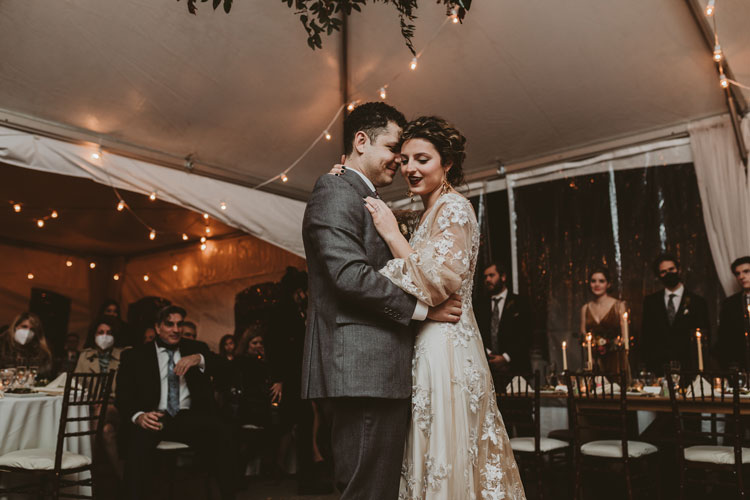 When venues shut down during the pandemic, the options narrowed, and her mother agreed to hold the reception at her house. They set up a tent in the backyard and used the garage for the cookie table.
The size of the wedding meant fewer centerpieces, allowing Maria to get creative with the flowers. Her florist, The Blue Daisy Floral Designs, crafted a floral chandelier with fairy lights.
Maria says she is glad she was able to have her special day in the house she grew up in.
"Honestly, COVID didn't ruin our wedding — it kind of gave us the wedding that we wanted in a way," she says. "It was smaller but not too small. It was more intimate. It was more personal and meaningful for us."
8/10

PHOTOS BY HOT METAL STUDIO