Image Source: Getty / Jamie Grill
With an increasing interest from consumers in sustainability, it's time to consider more mindful approaches to wedding-dress shopping, and buying secondhand is a no-brainer option. Celebrity stylist Micaela Erlanger, a recent bride herself, wore predominantly vintage looks for her April nuptials in Miami, emphasizing the sentimental value of her decision. "The looks can be more special when you know you are wearing something unique and has a back story of its own," she tells POPSUGAR. She also has years of experience styling clients like Lupita Nyong'o and Meryl Streep, plus styling wedding outfits for brides including Amanda Hearst.
Likewise, full-service wedding stylist Gabrielle Hurwitz has spent four years advising brides on their wardrobes and knows just how many women are willing to resell their used wedding gowns and accoutrements, oftentimes in near-perfect condition. Whether it's because they don't have space to store the dress or because they've had a change of heart and never went through with the wedding, there are lots of reasons top-quality bridal gowns are sold as "used." In other words, you can really luck out when you source a wedding look preowned — and you can buy it for a fraction of the price.
Of course, there are plenty of details to keep in mind when thrifting a wedding dress, so Erlanger and Hurwitz share their best advice ahead.
If you're suspicious of potential scammers or you don't know where to shop, this guide to buying a preowned wedding dress is bound to help you out.
Where to Buy a Used Wedding Dress
There are many vintage resale sites that stock bridal, including The RealReal, Shrimpton Couture, Happy Isles, Timeless Vixen, Gossamer, 1stDibs, and even Poshmark. There are also various bridal Facebook groups where dresses are resold. Sites like Still White and Once Wed are a few platforms specifically catered toward helping brides resell their dresses.
Erlanger also notes that following her wedding, she received inquiries via Instagram DMs from brides wondering whether she'd be interested in reselling or renting her pieces. "I don't think it's terribly uncommon to reach out to someone whose style you admire," she says. As for in-person boutiques, Hurwitz names Glamour Closet (with locations in NY, San Francisco, LA, and Chicago), The Find Bridal in Miami, and Maison Sully in LA.
How Much Do Used Wedding Dresses Cost?
There is a wide range in pricing for preowned wedding dresses, depending on various details like designer, retail value, and complexity and quality/condition of the garment. Alterations will also decrease a dress's retail value, Hurwitz notes. For example, a Vera Wang wedding gown sold on The RealReal for $995 with slight discoloration, missing embellishments, and a split seam noted in the description. Meanwhile, the starting price for Vera Wang's Haute Bridal collection is near $3K.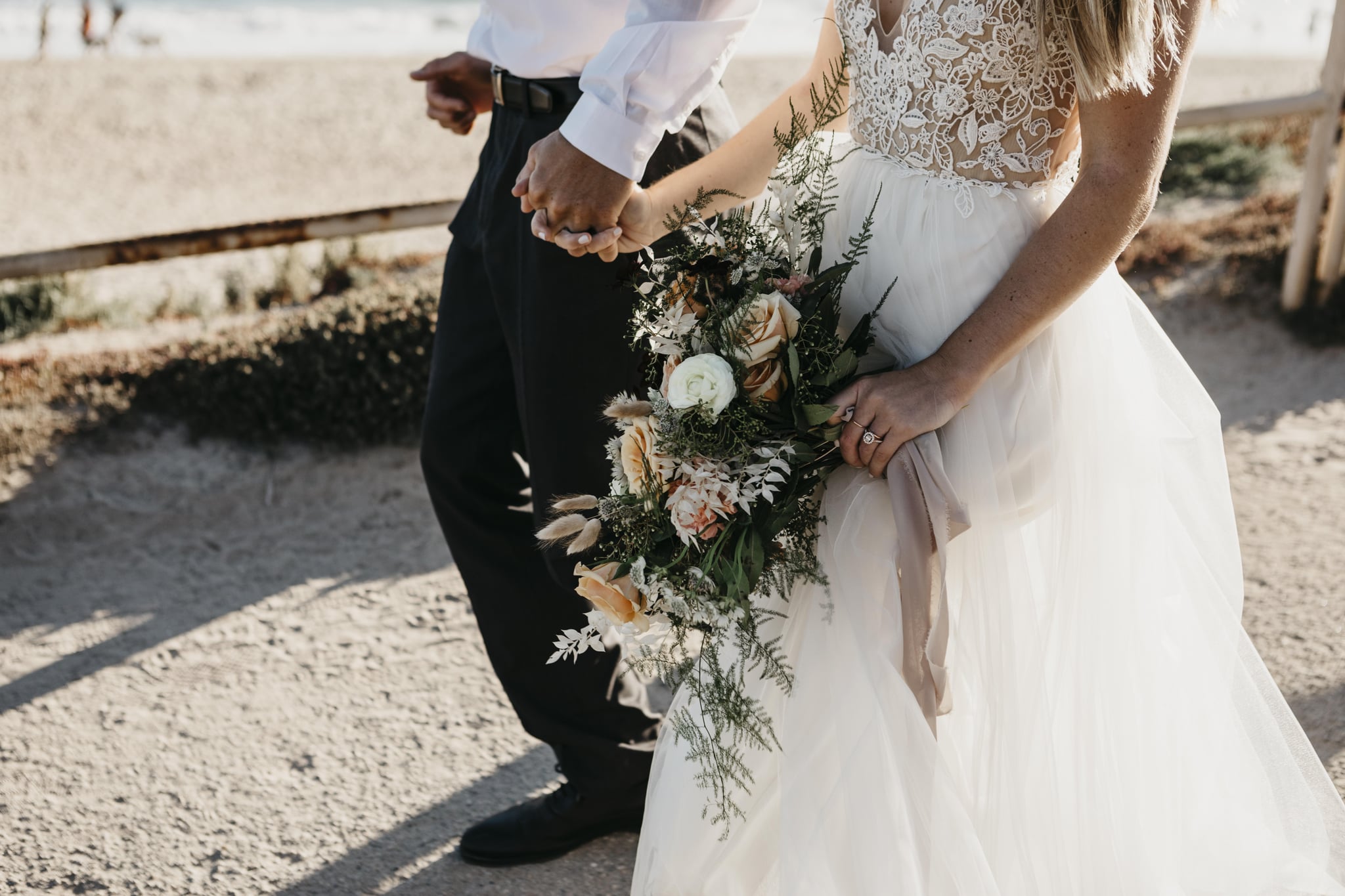 Image Source: Getty / Westend61
Benefits of Buying a Used Wedding Dress
The sustainability factor is a major benefit of buying a gown preowned; by doing so, you're extending the life of a garment and adding to the circular fashion economy.
It's also a benefit for someone working within a tighter budget, since the dress may be more affordable than buying new. For the sentimental type, you might also enjoy the story behind the journey of your dress — especially if you're purchasing the look from someone you know, such as a dear friend or family member.
Questions to Ask Before Buying a Used Wedding Dress
There are risks that come with purchasing a preowned wedding dress, but the good news is you can protect yourself from scams or dissatisfaction by asking questions. When working with a reputable resale company, you should feel at ease knowing the garment has been verified. These are the straightforward questions you should start by asking the seller.
What is the brand of the dress? If not immediately discernible, you should research the designer of the dress you want to make sure you're getting a fair retail price for it.
Has the dress been altered? Even if you wear the same dress size as the previous bride, an already-tailored dress has been tweaked to fit that person's body, which is not identical to your own. And prealtered gowns can be difficult to alter again. Make sure to send all details to your personal tailor to ensure the garment can still be adjusted to your liking.
What are the measurements of the dress? Don't rely on the size tag, especially if you're buying a dress that has been altered. Make sure to specify that you'd like the postalteration measurements of the garment.
When was the dress worn? You'll want to learn the history of your dress, including the date of the previous wedding, so you can gauge what condition it's in. If you're superstitious, you also may want to ask whether the bride who wore it last is still happily married.
Has the dress been cleaned and preserved? Depending on where the wedding took place, the dress might have suffered "invisible stains" that can only be removed by a professional cleaner. If the wedding was held outdoors or on the beach, there are probably additional markings to be removed that you should be aware of. You should also find out where the dress has been stored for safekeeping (i.e., in a garment bag, in a smoke-free environment, in a house with pets, etc.).
Is the dress returnable? Most preowned wedding dresses cannot be returned, so if you're purchasing it online and it doesn't fit, you'll be out of luck. If the dress can be returned, settle who will be paying for shipping costs well in advance so you aren't caught off guard with surprise mailing fees.
Are additional photos available? Don't be afraid to ask for detail shots and extra angles of the dress if you're purchasing it online. Never settle for reposted shots from the designer's website of the original garment on the model before it was worn. You can also ask for videos of the dress to understand texture and movement, or set up a Zoom call with the current owner of the dress if you can't visit in person.
Can you share a receipt? Ask for a receipt from the original purchase to make sure you're not being scammed with a knockoff, as far as the designer or label of the dress goes. This will also help you to compare the original retail value to your own purchasing price. For example, if a dress was discounted at the time of original purchase, your own price should be even lower.
Do you have references? There is nothing wrong with wanting to verify the legitimacy of the seller. If you're not buying a preowned dress from a reputable shop or online resource, you'll want to make sure the seller has experience in clothing resale.
Are there additional accessories available? Check to see if you're getting an all-inclusive deal. There are often sashes, veils, brooches, and other embellishments that come with a bridal look, which may or may not be available to you.