Calling all brides, grooms and bridal parties! It's a banner year for weddings with a record number—2.5 million!—happening in 2022 for the first time since 1984. With so many couples getting hitched two years after the wedding industry initially took a hit thanks to the pandemic, there's more interest than ever before in the ever-changing trends that brides and grooms everywhere have been loving.
From the traditions, we choose to keep—throwing the garter and tossing the bouquet? soooo last year!—to the most popular colors and themes for bridesmaids' dresses and beyond, wedding trends are shifting with the times. As in, things are getting more and more specific.
Brides don't just choose red bridesmaid gowns; they choose a specific shade. Themes are getting the specificity treatment, too. A sci-fi wedding isn't pigeon-holed enough—we need Jurassic Park or Star Wars themed!
20 Best Wedding Trends of 2022
With the help of wedding website Zola's The First Look Report for 2022, we're looking at some of the top wedding trends to expect in 2022. As always, the prices listed may fluctuate over time.
1. Lush and moody earth tones
Light, bright and airy is so 2021; keep it moody, dark and vibey in 2022.
ETSY
Lush and moody earth tones are totally in for 2022. Think neutrals—like previous years—only darker and more dramatic. This year, green and blue are expected to be the top two shades, but more than ever before, one-third of couples are getting truly specific with their hues: sage, olive, hunter, emerald and eucalyptus for greens and navy, dusty blue, turquoise and teal for blues.
Buy the Dark and Moody Wedding Invitation Suite at Etsy for $13.49.
2. Colorful glassware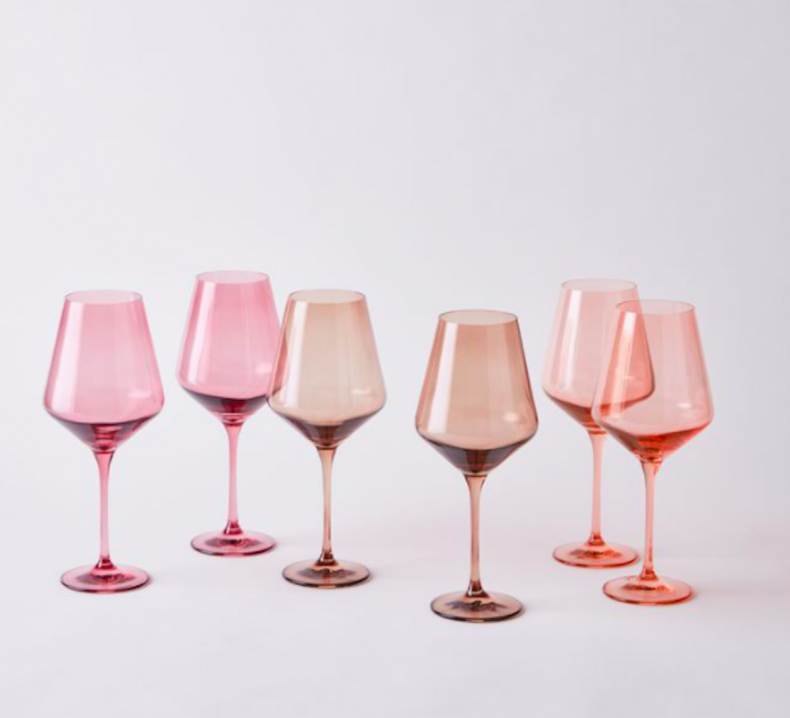 A la The Home Edit, it's all about hitting every color of the rainbow when it comes to the wedding registry.
FOOD52
Registries have trends, too, you know, and in 2022, you may notice a whole lot of vibrant, colorful glass when perusing your bestie's MyRegistry.com profile. Gone are the days of boring, clear stemware. Estelle Glass is leading the way as one of the top brands added to wedding registries, and with collections that span the whole rainbow, it's not hard to see why.
Buy Estelle Hand-Blown Colored Wine Glasses (Set of 6) at Food52 for $175.
3. Blowing past the budget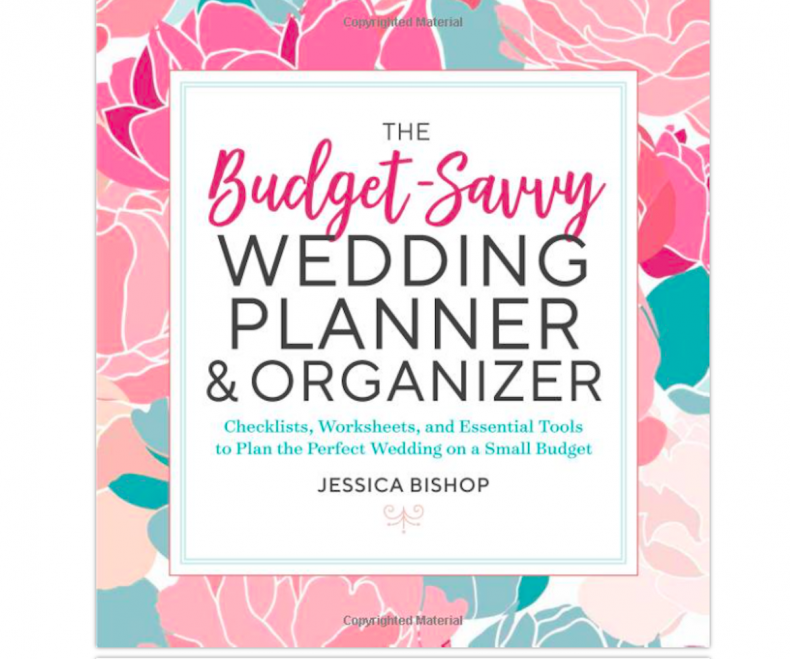 Budgeting for a wedding isn't exactly a walk in the park; if you're tying the knot soon, use all the budgeting tools at your disposal.
AMAZON
Yeah, we know this is a weird "trend," but it's really happening—and pretty often at that. While most couples will budget anywhere from $10,000 to $100,000 for their Big Day, two-thirds of couples are blowing well past that and spending more than what they budgeted for. The main reason? Well, the budget was unrealistic in the first place. Halfway through the wedding planning process, couples have realized how much dough it truly takes.
To not end up like these other couples who had to extend their budgets, try The Knot's Free Wedding Budgeter. If a physical planner is more your style, there are plenty of wedding budget planners out there, too.
Buy The Budget-Savvy Wedding Planner and Organizer at Amazon for $9.69.
4. Specific shades of red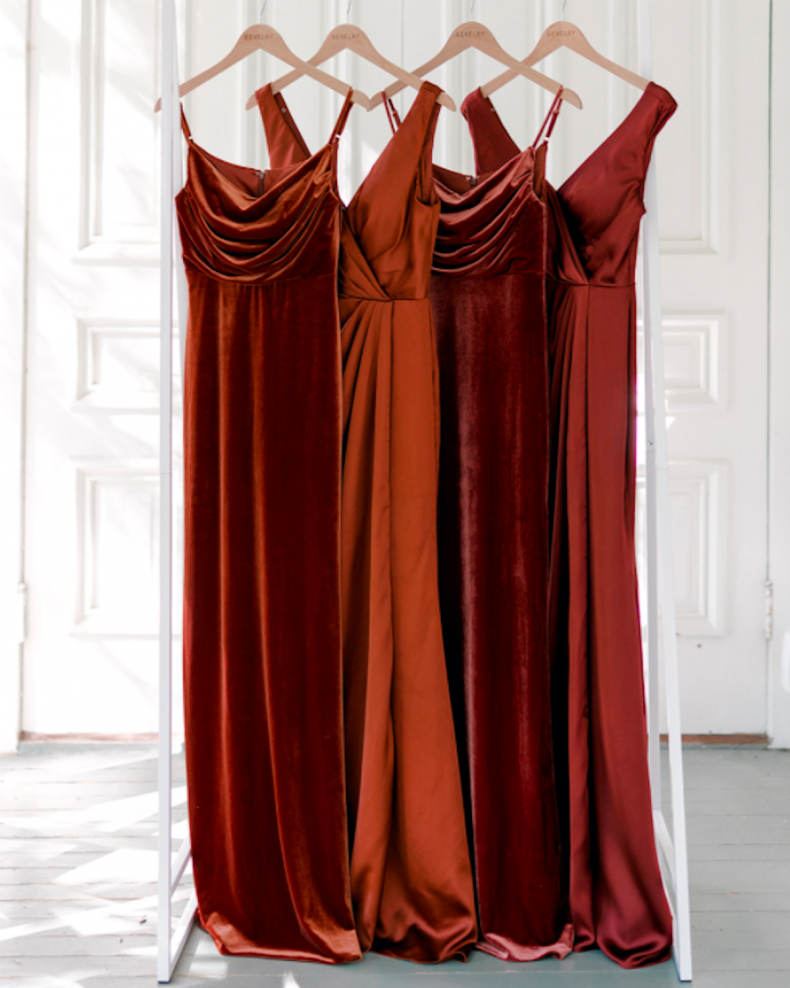 Red is out; burgundy, cabernet, chianti, maroon, oxblood, sangria and wine are in.
REVELRY
"Red" may be the name of the collective Swifties' favorite Taylor Swift album, but when it comes to wedding trends, brides—and grooms!—are getting much more specific than that. Think burgundy, cabernet, chianti, maroon, oxblood, sangria and wine.
Buy the Skye Satin Dress at ShopRevelry.com for $189.
5. Wedding hashtags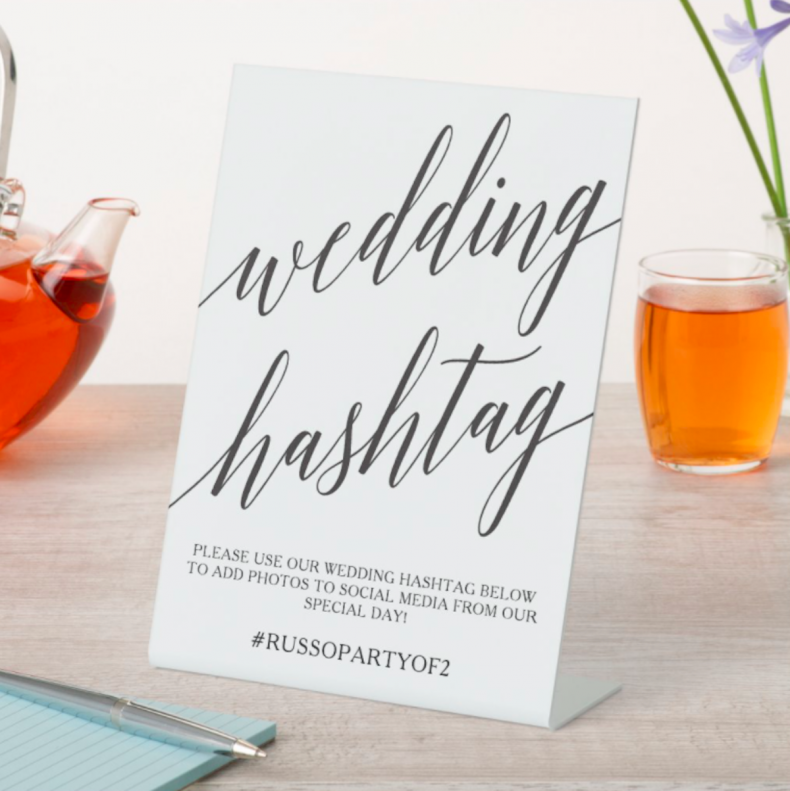 Did #PeterPopTheQuestion? or do you want your guests to #LetsGetReadyToRussell?!
ZAZZLE
It's always been a bit of controversy in today's technological age—you either love it or you hate it—but wedding hashtags are still reigning supreme, with 44 percent of couples choosing a 'tag for their big day, according to Zola. We're not going to be the judge of whether your wedding hashtag is puny-funny or lame, but it certainly is a convenient way to collect all the night's photos from various social media platforms.
Buy the Modern Calligraphy Wedding Hashtag Share the Love Pedestal Sign at Zazzle for $14.47.
6. Colorful cookware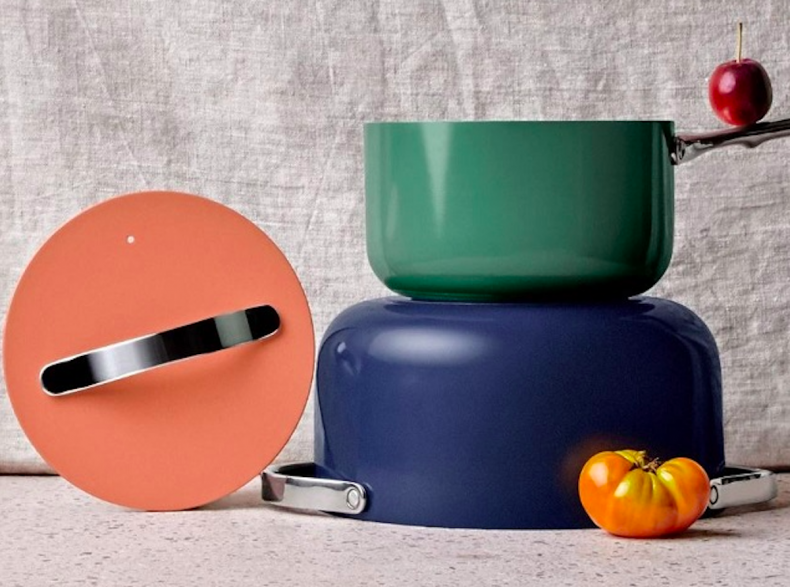 This year's color trend is transcending to the registry, too, with Caraway Home one of the most added registry brands.
CARAWAY HOME
Another registry trend you'll be seeing a lot in 2022 is colorful cookware—namely, from the brand Caraway Home. Also a top-added wedding registry brand, couples love the departure from monotone neutrals—especially in the kitchen—and are getting hype about color.
Buy the Caraway Home Non-Stick Cookware Set at Zola from $95.
7. Metallic hues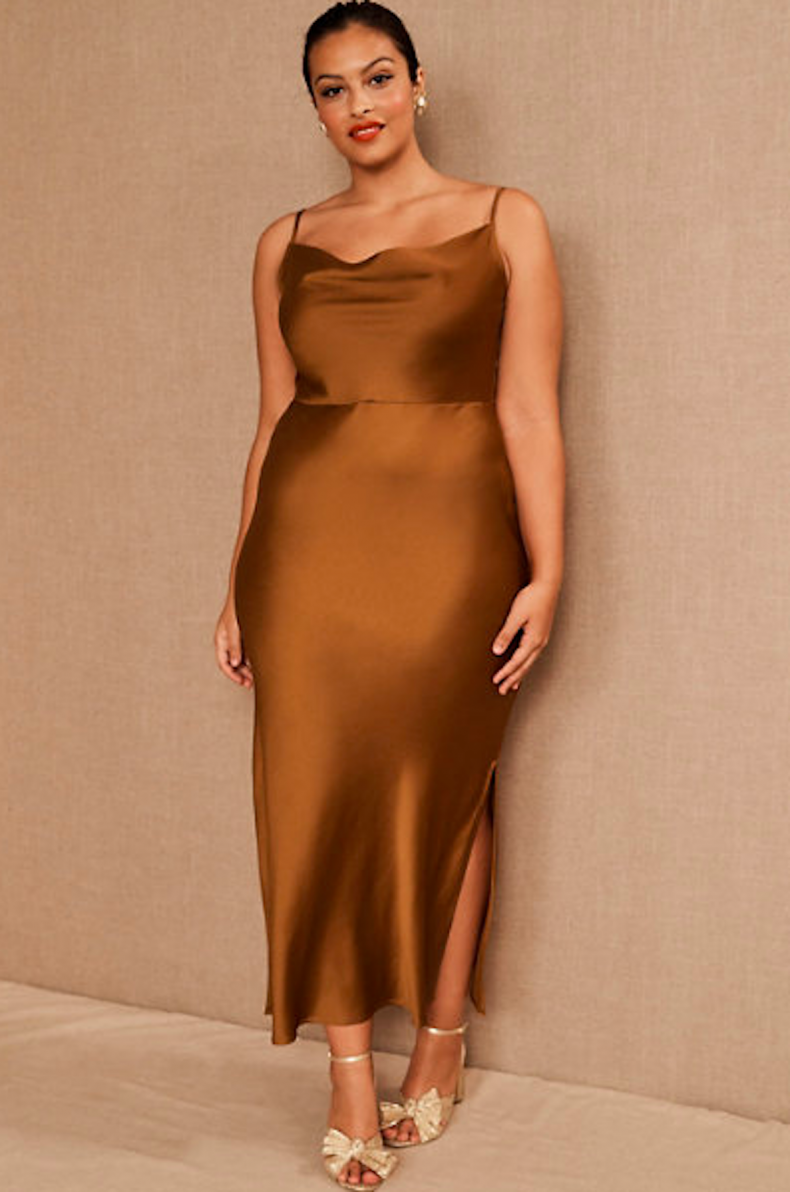 The metallics trend just got deeper, with couples opting for specific shades like champagne, copper, gold, rose gold, silver and bronze.
BHLDN
Remember: It's all about the specificity! Sure, metallics are still having a standout moment when it comes to bridal party colors, but in 2022, it'll get even more particular. Think: champagne, copper, gold, rose gold, silver and of course, bronze.
Buy the Cali Satin Charmeuse Midi Dress at BHLDN for $189.
8.
Vintage and retro vibes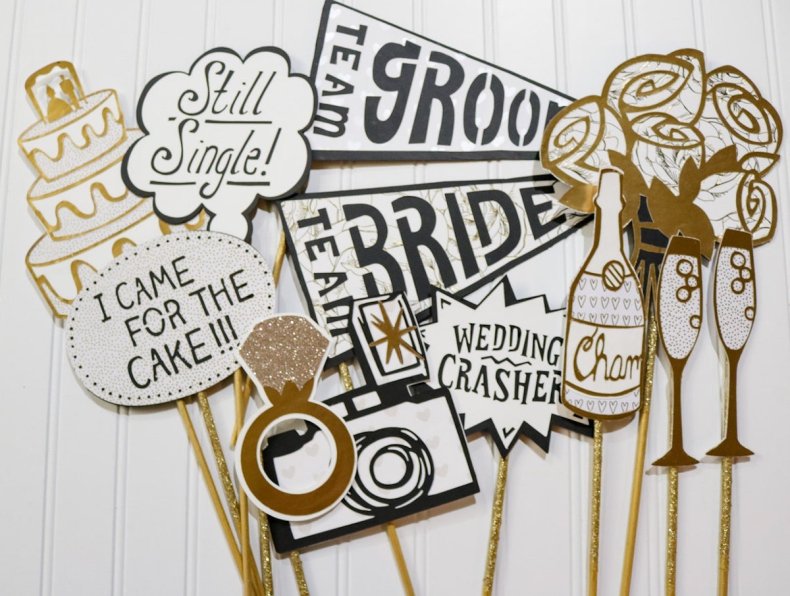 Keep it hip and modern with a photo booth but keep the vintage vibes going with some old-glam props.
ETSY
So 2022, but make it vintage glam. Nowadays, we're seeing a lot of throwback vibes—vintage and retro themes—in the way of old-timey photo booth props, disco ball decorations and even old-Hollywood-glam-inspired makeup. Some couples are fully dedicating their reception—and ceremony!—to one specific era—whether that's the retro feel of the 70s or hardcore 80s vibes a la the arcade. And, of course, the 1920s Gatsby flapper inspiration will never go out of style. Even still, you don't have to commit to just one decade. Plenty of couples incorporate fun elements of their favorite historical moments but subtly to make it feel more modern.

Buy the Black, White and Glam Wedding Photo Booth Props at Etsy for $38.
9. Leather jacket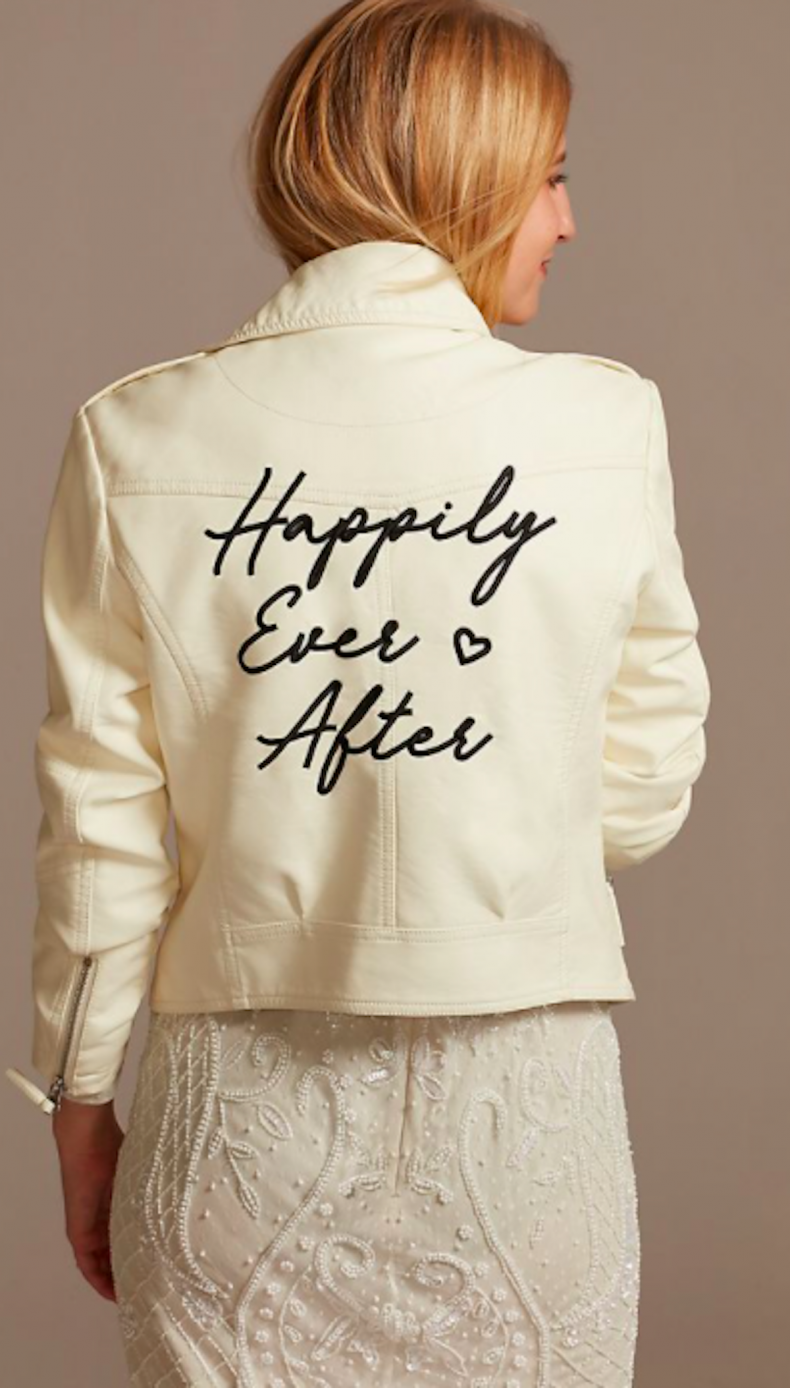 Say goodbye to bridal denim and hello to the leather jacket.
DAVID'S BRIDAL
It's time for the embroidered "Mrs." denim jacket to step aside. The leather jacket is having its moment, and brides are here for it! The perfect fit for the edgier bride, any leather jacket—whether it's white or black, embroidered or painted—will make a statement in any end-of-the-night or even first-look pics. Plus, you can wear it on your honeymoon!
Buy the Happily Ever After Vegan Leather Moto Jacket at David's Bridal for $69.95.
10. Statement veils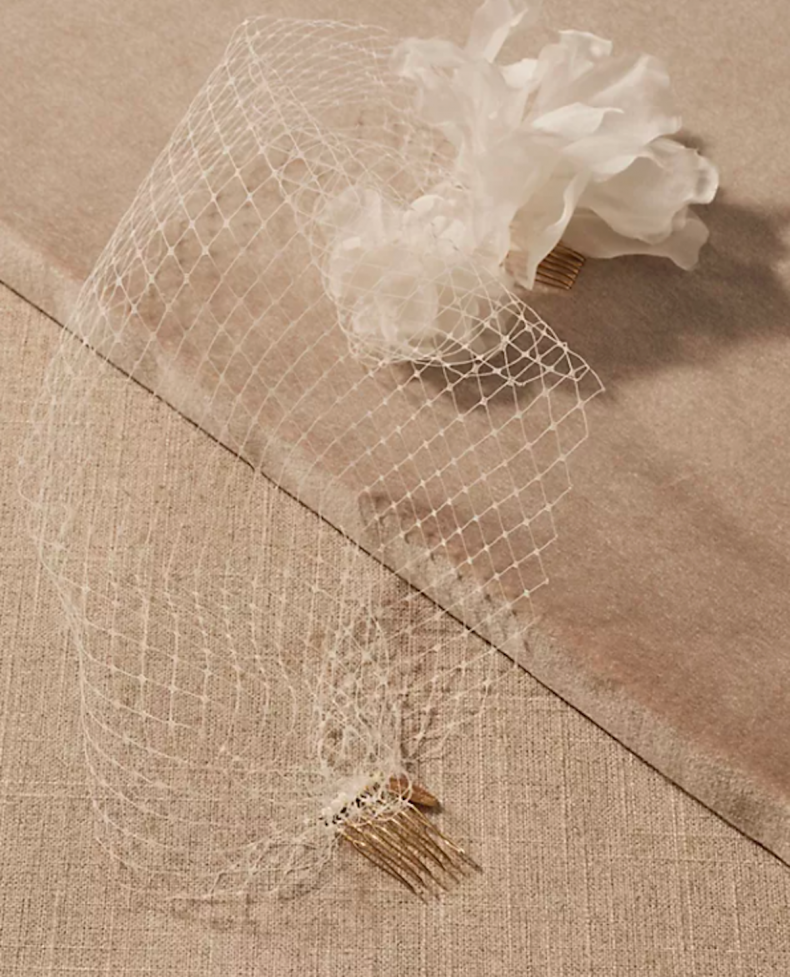 Brides only wear their veil for a short amount of time—might as well make it fun!
ANTHROPOLOGIE
Veils are one of the traditions that brides certainly want to hold onto. While things like wearing a garter or tossing a bouquet behind their back are fading, brides-to-be are still loving the idea of wearing a veil. (Just think of the breathtaking photos of you and your partner together under the veil as the wind breezes by. Add that to your photographer's Shot List!) But it's not just veils that are sweeping the wedding industry. Statement veils are also having a moment. From vintage-feeling birdcage veils (like the one pictured above) to cascading trains embroidered with pearls, many Mmes. are having their #VeilMoment in 2022.
Buy the Twigs and Honey Nikita Birdcage Veil at Anthropologie for $105.
11. Unplugged ceremonies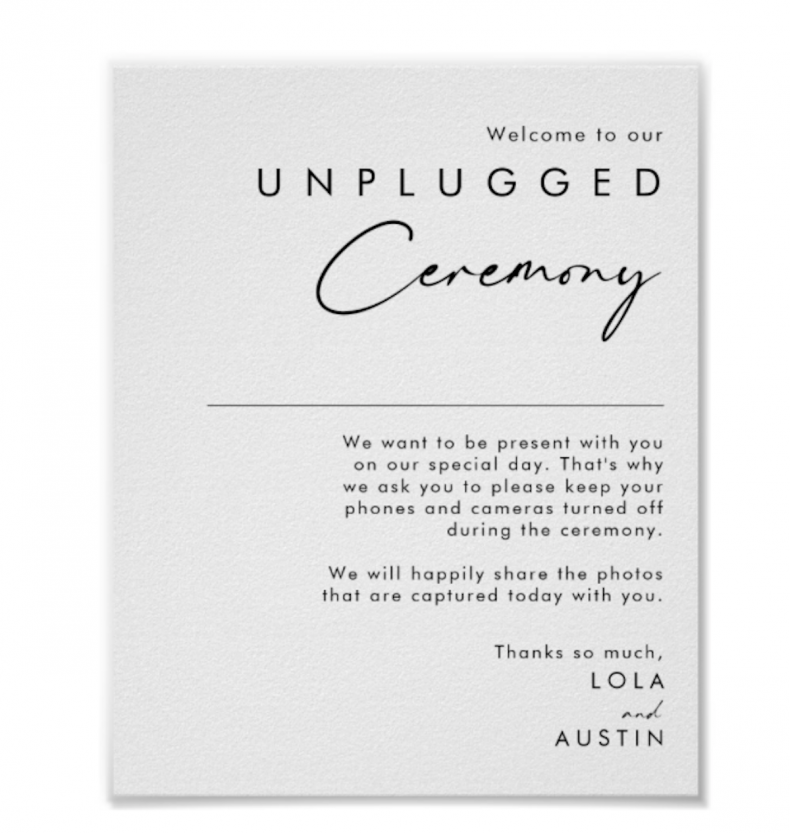 Encourage your guests to remain present and unplugged with a polite little sign.
ZAZZLE
No Wi-Fi is required. Unplugged ceremonies have been a thing for a while now, and with society spending the past two years almost exclusively on Zoom, soon-to-be-married couples still want their guests to put their phones away. In fact, 40 percent of couples tying the knot still ask guests to completely disconnect while bearing witness.
Buy a Modern Minimalist Unplugged Ceremony Sign at Zazzle for $8.55.
12. 'Romantic, classic, earthy and rustic' themes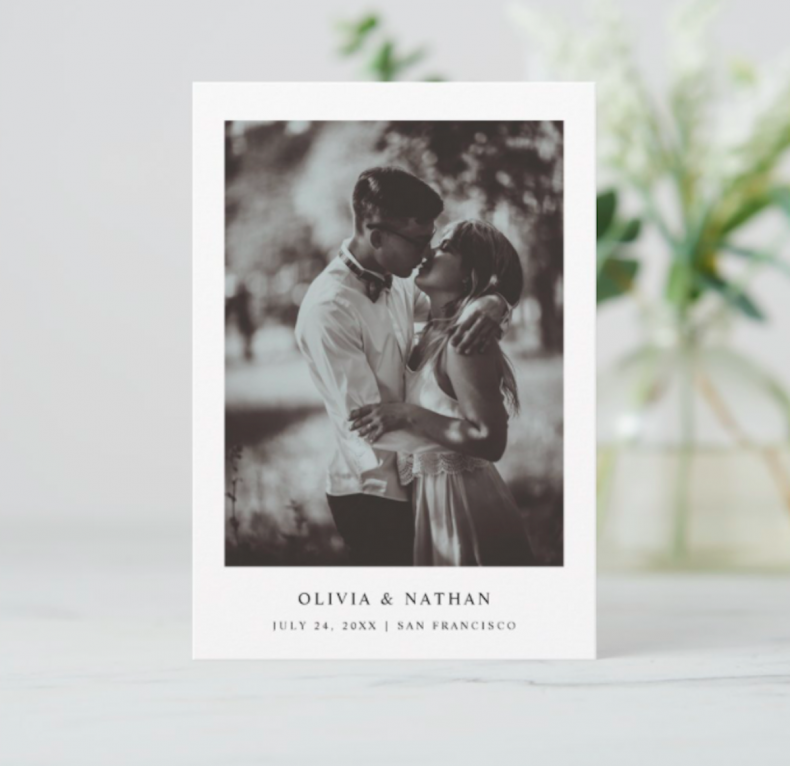 Couples want weddings that fit the following categories: "romantic," "classic," "earthy," and "rustic."
ZAZZLE
These terms could mean just about anything, but according to Zola's report, "romantic," "classic," "earthy," and "rustic" are the buzziest theme words for couples in 2022. All in all? You can sum up these four themes into one bigger one: timeless. Think "garden party" surrounded by florals, blush hues and delicate details that feel enduring—they'll stand the test of time.
Buy Simple Elegant Wedding Save the Date Cards at Zazzle for $2.31 each.
13. Elements from nature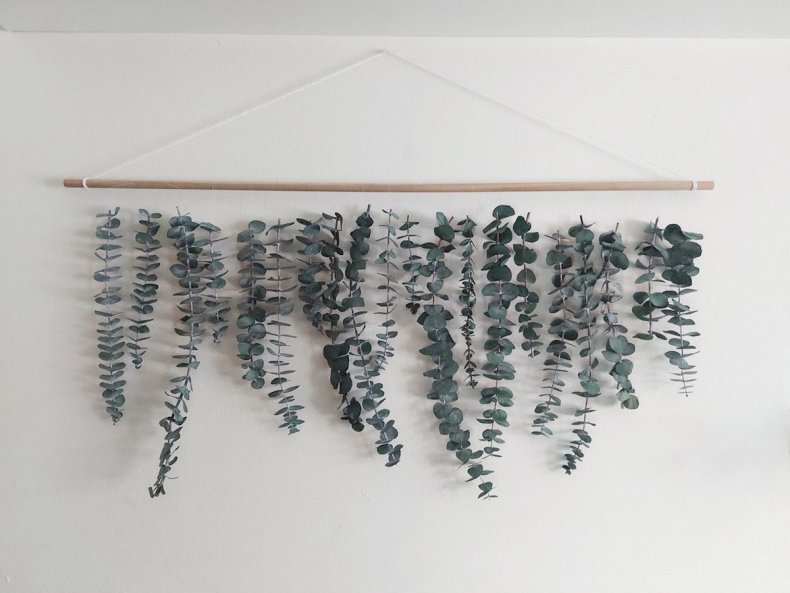 Incorporate elements from nature whenever you can—whether florals, wood elements or greenery.
ETSY
What's the easiest way to add dynamic design elements to your wedding without spending an arm and a leg? You can borrow them from nature! That could mean incorporating natural elements like wood slices on the tables to a dried eucalyptus hanging above the dais. Think Bella's wedding decor style from Breaking Dawn: Part 1—only less expensive.
Buy the Eucalyptus Wall Hanging at Etsy for $48.
14. Micro-themes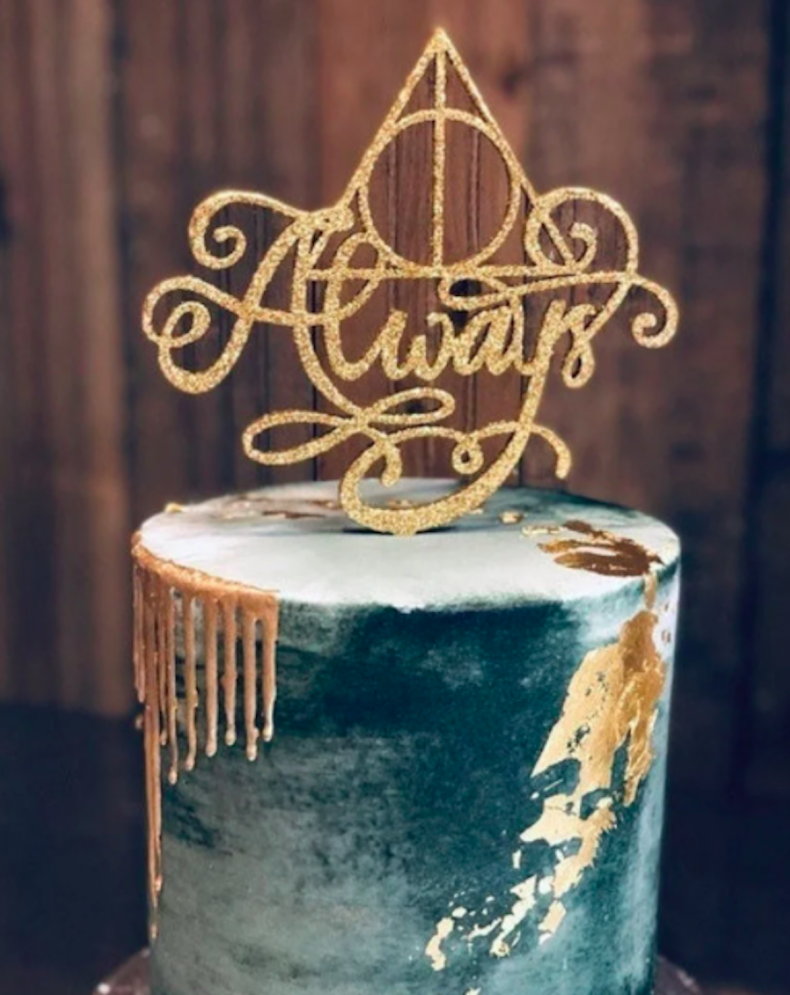 Because Snape loved Lily—always.
ETSY
A micro-theme could be anything niche, such as a wedding based on a specific movie, book or hobby. A "Sci-Fi" themed wedding is much too general. No—it's full-out Harry Potter, Star Wars or Marvel weddings. Other big micro-themes? Zola calls out Alice in Wonderland, Jurassic Park, The Wizard of Oz and even Shrek. Hey—whatever floats your boat!
Buy the Harry Potter-inspired Always Cake Topper at Etsy for $7.
15. Glam pajamas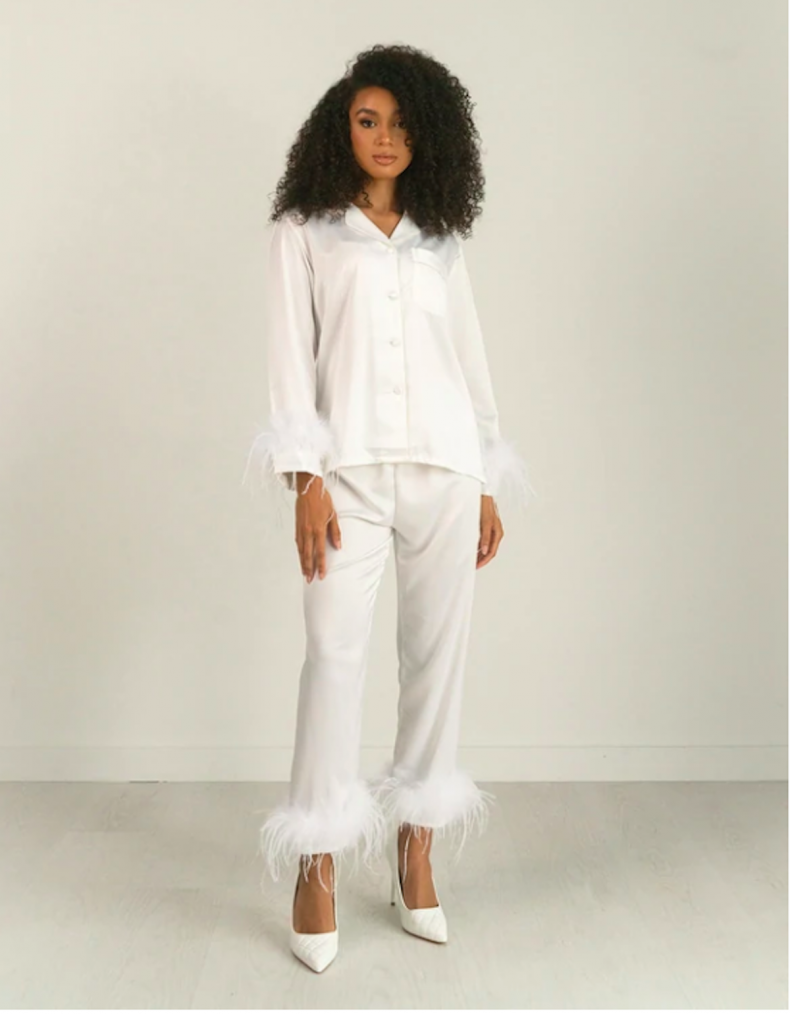 Be ready for your morning-of close-up with the perfect pajamas.
BON VIVIANN
It used to be all about the morning-of, getting-ready robe—and it still is!—but nowadays, brides are going all out and pairing that silk robe with some glam jammies to boot. Can you imagine wearing these stunning silk-and-ostrich-feather PJs while you sip your #WeddingDayMimosa and get your makeup done? What a fairytale!
Buy the Cloud Pajamas at Bon Viviann for $130.
16. Celestial-themed weddings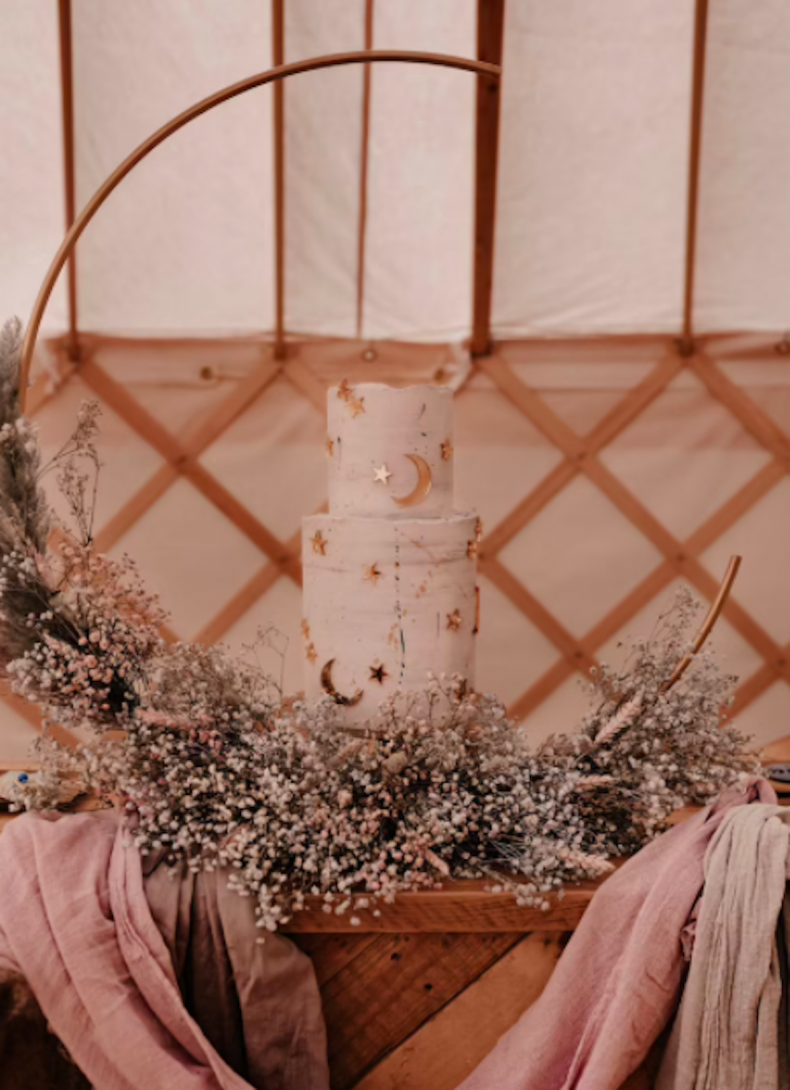 For the couple who is each other's moon and stars.
ETSY
Celestial weddings are right up there with some of the top themes of 2022. But what is a celestial wedding? You're sure to see lots more moon and star decor, "to the moon and back" mantras on signs, lots of shiny gold headpieces and small nods to all things astrological. After all, if the union is written in stars, it makes sense to pay homage to them in decor and theme!
Buy Moon and Star Cake Charms at Etsy for $53.70.
17. Dried florals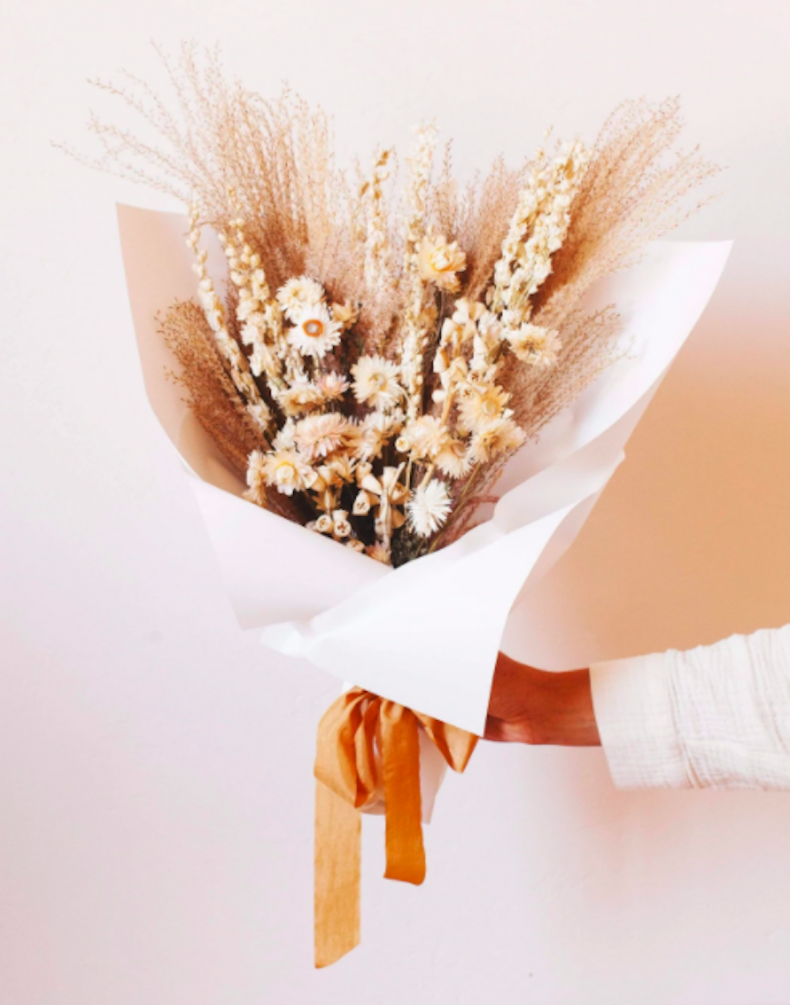 Dried flowers have a way of always looking chic—plus, they last forever!
IDLE WILD FLORAL
Dried florals have been having a moment in weddings lately. First, it started by incorporating them in live bouquets, but brides and grooms have been going totally dried in more recent ceremonies. For one thing, it can be cheaper, and for another, it also lasts a heck of a lot longer. Plus, no preservation techniques are necessary, and dried florals always look good.
Buy a Pampas Garden Bouquet at Idle Florals for $95.
18. QR Codes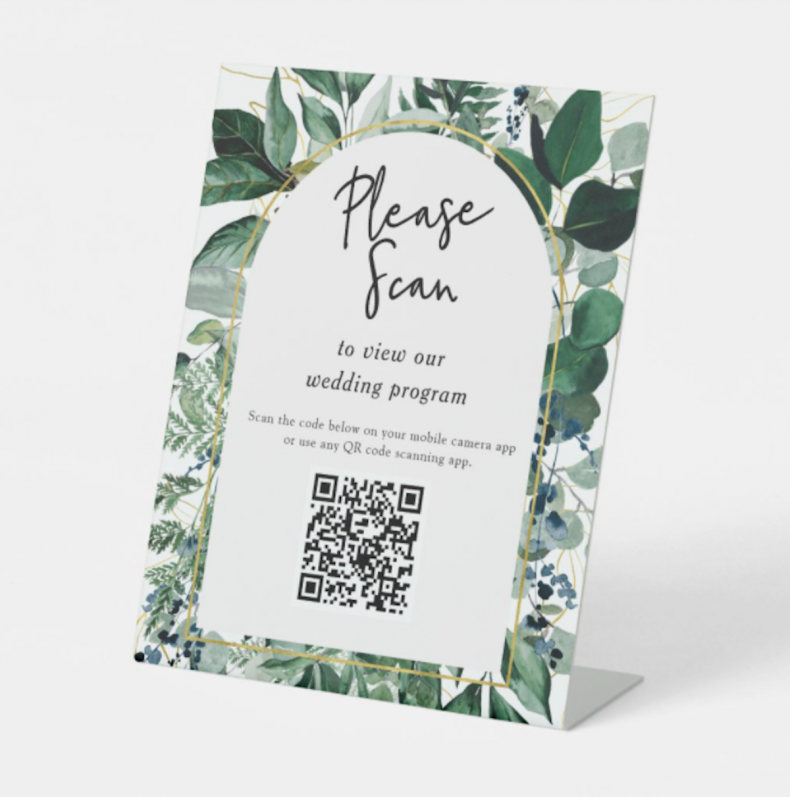 Just like in restaurants, QR codes are making a comeback at weddings since they mean less contact and less printing.
ZAZZLE
Brides and grooms may want mostly unplugged wedding ceremonies, but that doesn't mean they're totally above getting techy. According to Zola, 7 percent of couples are planning to use a QR code somehow. Maybe the dinner menu comes up on a QR code or a timeline, program or even the couples' honeymoon fund!
Buy a QR Code Wedding Program Modern Botanical Greenery Pedestal Sign at Zazzle for $14.47.
19. Preserving the bouquet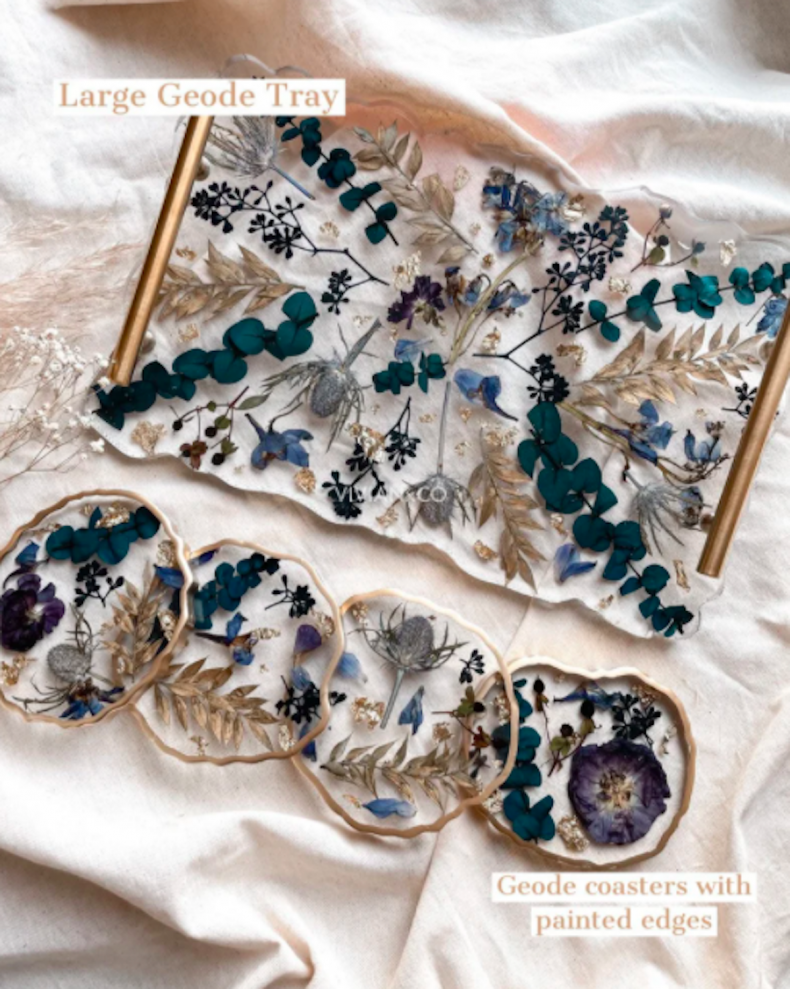 Preserve your wedding day bouquet by turning it into a tray, acrylic keychain or coaster.
ETSY
Save your money preserving your wedding dress. You're never going to wear it again, and if you preserve it in a box, you're never going to open the box, either. Instead, shell out for something you can enjoy daily: a preserved version of your wedding-day bouquet.
Buy Wedding Floral Preservation Geode Tray at Etsy for $100.
20. Online wedding planning
It should come as no shock that online wedding planning is here to stay. In fact, Zola says couples are doing a lot of their wedding planning online—if not exclusively. Using Zola.com, it's easy to book vendors, make a wedding website, create a registry and, of course, get access to plenty of inspiration.
Check out Zola.com for free.
Newsweek may earn a commission from links on this page, but we only recommend products we back. We participate in various affiliate marketing programs, which means we may get paid commissions on editorially chosen products purchased through our links to retailer sites.