TEXARKANA, Texas — Prospective brides, brides-to-be and exhibitors engaged in nuptial pageantry at Texarkana Bridal Fair 2022 held Saturday at the Texarkana Convention Center.
Those thinking of weddings, in fact and in theory, had a chance to examine options and imagine broadly with all the options on display. As the models displayed wedding finery, narrated by air personalities from Townsquare Media, attendees had multitudes of visions to spur their imaginations when contemplating that big day.
The event was put on by Dot's Rentals & Sales.
Besides the striding couples in their wedding finery, several merchants and exhibitors were present, showing additional options for brides-to-be to consider. Of course, one primary contemplation is the wedding cake and associated pastries.
Graham Slam Bakery of downtown Texarkana was present with a gallery of options on display. Emily Graham, owner, is an old hand at wedding confectionery, but this was her very first show of this sort.
"We've never done one of these before," she said. "But considering what we do, coming here just seemed a natural fit. It has been great, got to meet lots of fine folks from other towns, who have never been to downtown Texarkana. I'm certain we will do more shows like this as time goes on."
A few new businesses announced their presence at the fair, as well, such as Bianca Talbert's eclectic outlet, Party Snob.
"Your wedding is a one-of-a-kind affair," Talbert said. "If you are going to set the stage, decorate, do it to a high standard. When designing the look of your event, that's where we come in. You don't want a display or set that looks just thrown together. We bring high standards for such, and give you a chance to be a bit of a snob.
"A lot of our sets are metal," she continued. "My husband, Pete, is a welder and lends his technical skills to many of the works we create for this. We are brand new to the Texarkana scene."

Bianca Talbert showed off her new business, Party Snob, at the Texarkana Bridal Fair. She describes her business as the standard-setter for event-oriented rentals, props and sets. (Staff photo by Junius Stone)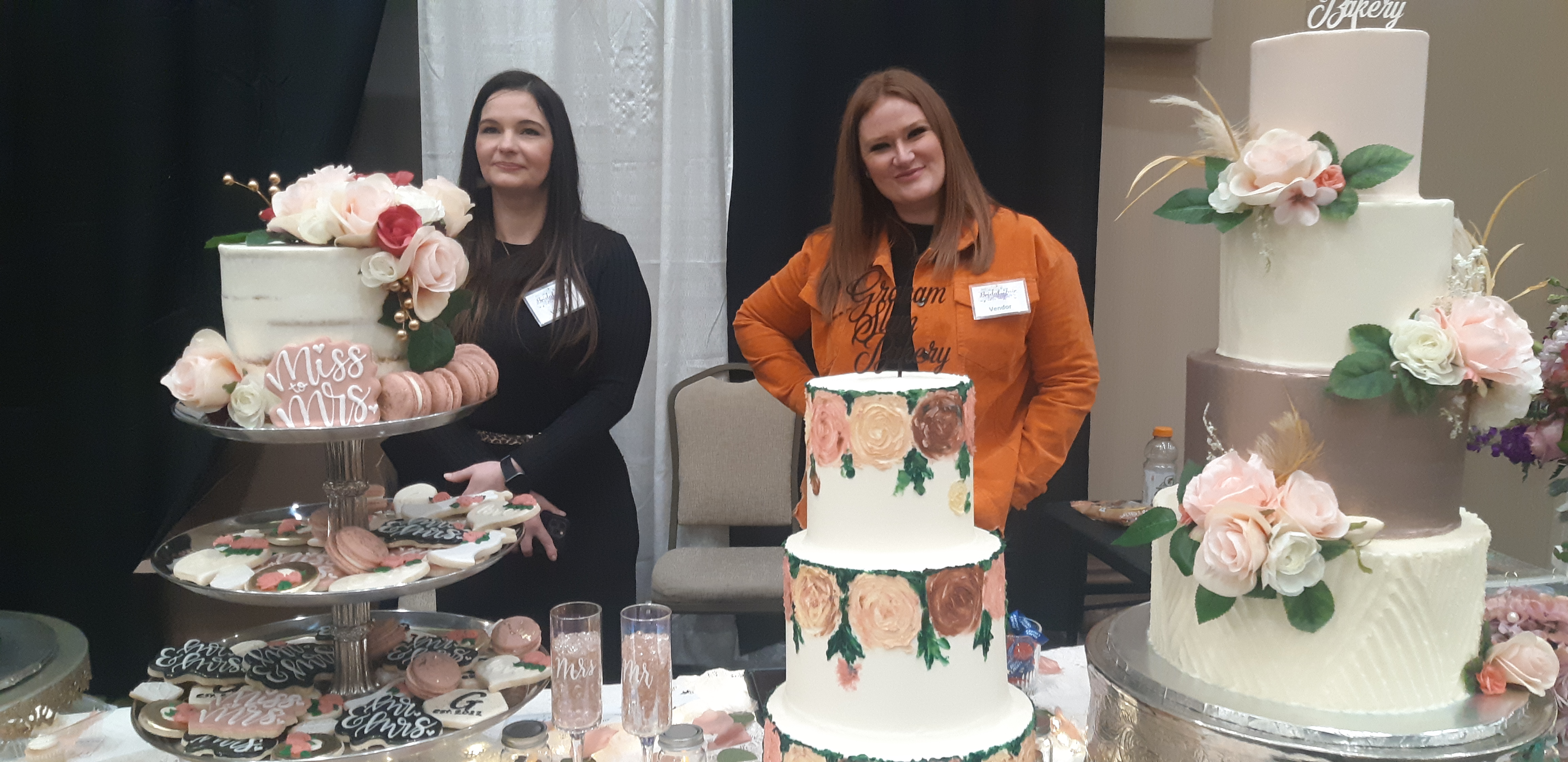 Emily Graham of Graham Slam Bakery of downtown Texarkana, right, displays her wares at the Texarkana Bridal Fair, along with Brittany Quinn. Graham is an old hand at wedding cakes and confections, but Saturday's show was her first of its type. (Staff photo by Junius Stone)