Planning the ultimate wedding weekend may seem daunting—because it is. It takes a team of experts, from planners and producers to talents in design, floral, entertainment, food, fashion, and more, to create a wedding that both speaks to who you are and provides a joyful experience for all of your guests.
That's where this ensemble of experts comes in. We've wrangled some of the best planners, designers, and photographers in the business to give us tips and tricks for celebrating in style. Read on for BAZAAR Bride's ultimate masterclass in organizing your wedding weekend.
How to Plan Like a Pro
Jose Villa; Easton Events
Lynn Easton is famous for her subtly elegant, elevated weddings. As the founder of Easton Events and the co-founder of Easton Porter Group, which is based in Charleston, South Carolina and Charlottesville, Virginia, she's planned hundreds of events. Her background in hospitality informs her high-touch ethos—Easton Events is best known for its attention to detail, world-class service, and layered designs. Easton walked us through the things you didn't know you needed when planning a wedding—until now.
Steaming is the key to making sure everything looks fresh, because nothing arrives wrinkle-free. Make sure there are professionals on hand to steam and press your linens, clothes, ribbons, etc.
Don't assume your venue has sprayed for bugs and pests. For an outdoor ceremony, cocktail hour, or late-night bonfire, arrange that in advance.
Book a bridal attendant who is neither your planner nor your stylist. He or she can be a part of those teams, but you'll need a reliable third party on hand to help keep you on schedule, assist your photographer with your photo list, and be sure that you eat and stay hydrated.
Take care of your vendors. You hired them for a reason; the happier they are, the better your results. Your planner should know this, but it often goes amiss.
Research your local rental and artisan markets to land on the best tabletop you can find. When in doubt, tap our go-to's: Casa de Perrin, Small Masterpiece, The Ark, Theoni, and The Tabletop Co.
Overload on ice—we love monogramming ice cubes for a wow factor. When things heat up on the dance floor, have your servers pass out scented cold towels.
Think of your wedding as your own brand, and use your logo elegantly. It's essential on transportation signage and your program, but too much branding can feel contrived. Strike the balance.
Invest time and energy in ceremony seating; giving your bridal party preferred seating eliminates the need for them to stand at your ceremony, which improves the quality of your photos.
Hide technology and audio equipment. Let's be honest, they're eyesores. Opt for speakers on the ground, wireless microphones, and soundboards that aren't guest-facing.
Invest in the guest experience. Properly organized transportation, speedy check-in and welcome bags upon hotel arrival, menu planning that pleases a wide variety of palettes, amenities everywhere, and a bulletproof rain plan go a long way.
Suggest each groomsman have an extra shirt and tie on hand. Sweat and stains from makeup, food, and more can require a quick change.
Your tasting is as close to the kitchen as your food will ever be. Wait a few minutes before sampling anything that hits the table, as typically, that's how your guests will enjoy it.
Invest in a tailor and a stylist! Your dress being too big, buttons popping off, and bustles being torn are only some of the wardrobe malfunctions their skill sets can solve.
Think about what your officiant is wearing. He or she will be in all of your ceremony shots.
Bookend your event. Your very last impression to your guest is as important as your first.
How to Find the Dress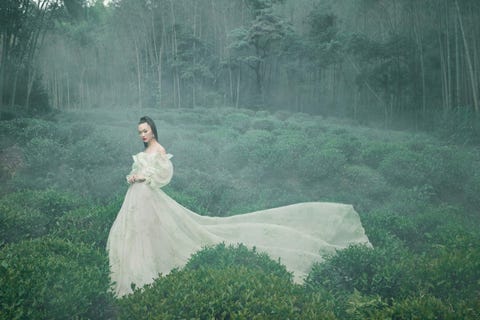 KT Merry
Monique Lhuillier is all about a feminine, glamorous approach to bridal and party dressing. Her pieces have appeared on every major red carpet and walked down dozens of celebrity aisles, including those of Reese Witherspoon, Lauren Conrad, and Britney Speaks—just to name a few. Her brand is celebrating 25 years in business this year, with collections in bridal, ready-to-wear, shoes, handbags, fragrance, lingerie. And she's getting into fine jewelry with the debut of her Bliss Monique Lhuillier engagement ring and wedding band collection in partnership with Kay Jewelers. Ahead, the bridal icon's top tips to finding the dress—or dresses.
Give yourself plenty of time to find the perfect dress; you don't want to be limited by timing. With that said, there is such a thing as too much time; start shopping around 10 months in advance to get a feel for what you love, and plan to place your order approximately 7-8 months before the wedding date.
Choose a gown that has little to do with trends and everything to do with how you feel wearing it. Follow your instincts; women look their best when they feel comfortable and confident.
Be true to your personal style and what looks best on your frame. Keep an open mind; start by trying on all the silhouettes to see what looks best.
Don't be convinced something is unflattering until you try it on; what works and what doesn't might surprise you.
Skip the large entourage when shopping and limit the outside influences. Less is more; ultimately, how you look and feel in your wedding dress is your decision to make.
Don't choose your gown solely based on your destination or venue. Anything goes.
Don't wish for a dress so tight that it looks as though it's been painted on your body. A dress fit too tightly will create creases in the fabric, bubbling at the seams, and be so uncomfortable that you may have a hard time enjoying yourself. Make sure you trust your seamstress to tell you when the fit is perfect.
Color incorporates modernity to your look, but it doesn't have to be bold. Layering soft color creates texture and dimension, like layering soft white over blush or shades of nude.
A custom (or couture) piece is created 100 perfect from scratch; it's a special process and a costly experience. Ask yourself if you're the right fit for custom: Do you have an appreciation for the design process? A specific vision? Most importantly: Are you a visual and decisive person?
When styling for the ceremony, choose understated accessories. Delicate earrings, your beautiful engagement ring, and the perfect shoe are all you need.
How to Wow Your Guests with Design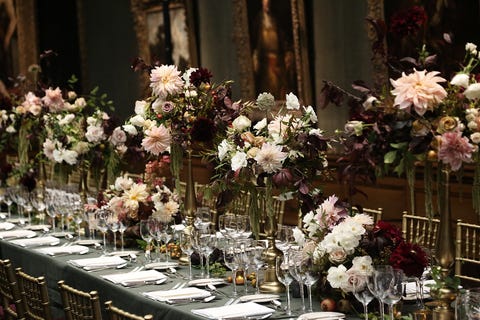 Taylor Putnam
If you haven't heard of Yifat Oren, founder of Oren Co., that's only because she's Hollywood's best-kept secret—until now. Her daring approach to planning, her innate understanding of how to delight a discerning clientele, and her effortless aesthetic have cemented her role as the high-end bride's secret weapon. Her clients have included Natalie Portman, Anne Hathaway, Reese Witherspoon, Amy Adams, Cameron Diaz, Drew Barrymore, Molly Sims, Erin Andrews, and Behati Prinsloo and Adam Levine.
Instagram and Pinterest tend to tout big and loose personal flowers, but a small clutch of blooms is easier to hold and photographs more naturally.
A save the date can be a playful one-off, but the invitation suite should be reflective of your wedding and the artwork as a whole. Stick to a theme and insert cheeky signage only if it belongs.
If a location or a venue doesn't immediately inspire, don't be afraid to choose a blank slate and build out a fantasy world that exists for one night only.
Try your best not to go for the norm; a ceremony in Palm Springs doesn't require palm fronds. Obvious trends—like petal-covered aisles, chalkboard signs, and branded signature cocktails—should be avoided at all costs. Hone in on your aesthetic, then edit, curate, and edit again.
Instead of getting inspired by other weddings, think of environments you feel good in, like your favorite restaurants, hotels, or gardens. Then, consider your favorite artists, interior designers, or architects. Let them inspire you and lead the way to creating your perfect space.
Save money on your favors. Create a gracious, thoughtful, fun experience for your guests. Don't feel compelled to dole out another "thing" wrapped in a bow.
Your planner or designer should offer this but demand a sample, or two. This is when your team puts together a table set up with your table size, chairs, china, glassware, floral design, linens, and design accents exactly as they'll appear on your wedding day. It's the time to make any and all changes and tweaks.
Serve what you love. Asian? Fried chicken? Go for it. Just make sure your venue and caterer do it well.
Save your dollars on the farewell brunch. If you've planned and partied right, you won't want mimosas or eggs benedict—unless it's via room service.
A wedding ceremony should not be a passive experience. Even the most classic weddings can be communal and participatory. Can any of your friends officiate? Sing? Read prose? A meaningful ceremony is what your guests remember most.
Music might be the most important part of your day. Hire your ceremony musicians based on the songs you want to walk down the aisle to, rather than choosing songs based on the instrumentation. And make sure the music isn't too loud during cocktails—it's the time people want to talk, laugh, and discuss the ceremony they just witnessed.
Fact: Nobody wants a prolonged dinner service; make it snappy.
After parties don't have to be wild to be fun. Sometimes people just want to hang out, have a nightcap, listen to a great playlist, and nibble on superb late-night snacks.
Be daring with your tablescapes, but don't jump to communal tables because it's what you're seeing on Pinterest. Be strategic when planning your room and your seating.
Seat guests intimately. A sparse room looks like a sad, empty party.
How to Get the Most Beautiful Wedding Photos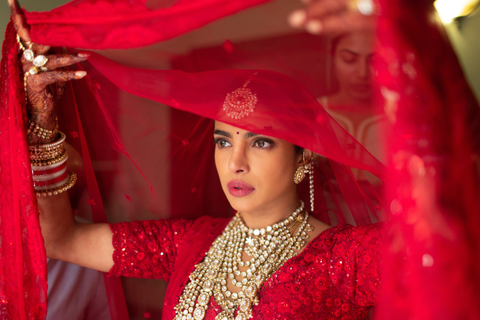 Jose Villa
Jose Villa's signature style has led to countless magazine features and garnered the attention of industry thought-leaders and brides worldwide. His clients include the likes of Nick Jonas and Priyanka Chopra, Samira Wiley and Lauren Morelli, and other couples across the globe.
Before booking, ask the photographers you're considering for a full gallery to review. A portfolio website will show you only so much, and consistency is key. Lighting scenarios differ over the course of a wedding day; you'll want assurance that whoever you book can work with any of them but stick to a mood, look, and feel.
Golden hour is prime time for portraits, so make sure you allot space in your timeline for key shots one to two hours before sunset.
As your wedding day progresses, even unposed shots look messy without a touch-up. Invest in keeping your glam team on hand all night, or at least until post-ceremony portraits.
A photographer's personality matters, as does an even temperament. Ask your planner and other vendors for honest referrals and feedback; they'll let you know whether you're signing on to work with someone who will prove a calming force, even in the most frantic moments.
Those perfectly styled detail shots you've seen on Pinterest and in publications are done either before or after the wedding day, or by a second shooter. If you want it all, don't expect one person to do it all—especially not in one day.
Dreamy floral and tabletop shots don't happen once the sun sets. If you want your tablescape shot in natural light (and you should), let your planner and photographer collaborate on timing a pre-ceremony shot of the reception decor.
Pre-wedding photo sessions are the best way to acclimate to being photographed. Schedule an engagement or rehearsal dinner session. Meeting your photographer the day of feels impersonal, and, as a result, so will the photos.
It's not about posing; between setups is where the magic happens. Trust when your photographer puts you in a specific position. It may feel awkward, but there's a rhyme and reason. Book wisely: Most photographers miss those in-between moments.
Your bridal suite full of friends and family is not the environment for top-notch photos. Clear the room to allow for a few moments alone with your photographer. Nobody takes a good photo in front of an audience.
Be mindful of tense shoulders and hands, which may compensate for attempts to relax your face. And remember to exhale; it goes a long way.
A bride and groom recessing down the aisle will always smile, kiss, or look at one another the moment they pass the last pew. Work with someone who will anticipate moments before they happen.
Trust that your photographer knows how many people they'll need on hand for support—they want as few people in the way of their photos as you do. The bigger the venue and the guest count, the bigger the photo team.
Your photographer will likely ask to arrive earlier than you expect, and it's because they need time for preproduction. Giving your team time to scout, familiarize themselves with your setting, and come up with creative ideas for your portraits will pay off.
How to Throw an Epic Party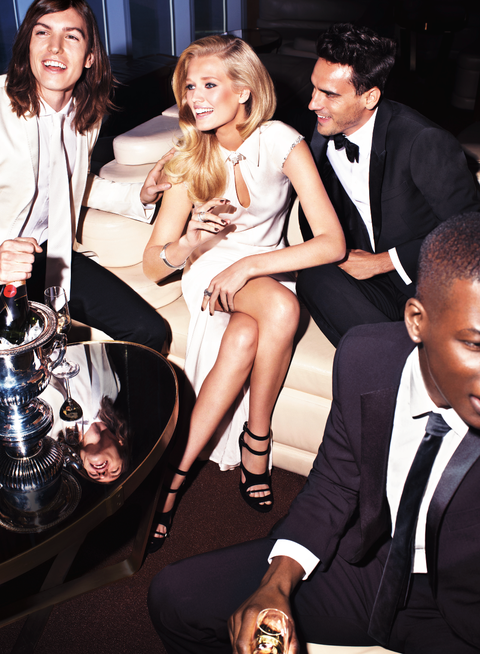 Alexi Lubomirski
With 30 years of experience at the helm of her namesake firm, Marcy Blum Associates, and a degree from the Culinary Institute of America, Marcy Blum prides herself on honing her client's signature style to create original events complete with the ultimate in food, ambiance, design, and service. She's planned the weddings of major names like Kevin Bacon and Kyra Sedgwick, Nate Berkus and Jeremiah Brent, Katie Lee, LeBron James, and many more.
Make parking and coat check as painless as possible. If either of those is a hassle, you've put guests in a bad mood before you begin.
At a more formal party, coats should be butlered by staff, rather than having guests queue up at a coatroom.
If your friends haven't seen each other in forever or are traveling from far-flung locales, a longer time slot for cocktails, canapes, and mingling is fabulous. If your cocktail hour is part of a long wedding weekend (where everyone is close to having enough of each other), a quick sip before dinner is plenty.
Don't have the same hors d'oeuvres on rotation for the whole cocktail hour; send them out in waves so there's always something new to taste.
If you want to serve heartier bites during cocktails, opt for small passed tasting plates; they're a more elegant alternative to stations.
Most hotels consider one bartender per 50 guests and one waiter per 20 seated guests sufficient—it isn't! You'd be best served spending a smidge less on decor (if need be) and having one bartender per 25 and one waiter per 10 seats at minimum.
Start with fun and upbeat cocktail music. Skip the three-piece, generic jazz band and surprise guests with something unexpected, like django gypsy or bluegrass.
Know your audience. I prefer to serve a wonderful meal with good wines, and then kick into dancing afterward, but this may not work for younger guest lists, who prefer dancing straight through.
Family style food service is very popular right now, but consider how it affects your table designs; once decor is considered, there's only so much tabletop real estate available.
The "silent vegetarian" offering (not listed but available upon request) has become more requested of late. Not only should you choose it carefully and taste it beforehand, but make it vegan and gluten free as well so it covers a myriad of food restraints.
If you decide to take on specifically placed seating rather than just assigning tables, start laying out your tables a month earlier than you think you need to.
Once everyone is on the dance floor, do not—under any circumstances—kill the vibe. Skip impromptu performances by burlesque performers or break-dancers, and don't interrupt for toasts or cake. After interruptions, it's almost impossible to get everyone back into the music.
Determine your playlist in advance, whether you're hiring a DJ or a 10-piece band, but be flexible enough to change it based on the mood of your guests. Don't micromanage your music; select an entertainment vendor you trust, then rely on their expertise.
Fun and clever surprises—be it a balloon drop, sparklers in dessert sundaes, or karaoke at the after party—are always a good idea.
The transition into the late-night partying should be smooth. If there's a band at your main event, arrange for a few of those musicians to usher your guests into the next space.
After parties are ubiquitous and not always successful. Plan them as thoughtfully as you do your other events.
Reserve a few special extras—the down and dirty hip-hop, Baileys egg creams, Shake Shack burgers and fries, cookies and milk, costumed dancers, masks, or glow sticks—exclusively for the after party. Pass Champagne pre-ceremony and espresso martinis en route to the after party to keep the mood festive and spirits high.
Dance floors should be small, cozy, and tight. And when music curfews are strict, opt for a silent disco.
Carrie Goldberg
Weddings & Travel Director
Carrie Goldberg is HarpersBAZAAR.com's Weddings & Travel Director.