Inclusive sizing is shown via mannequins at NikeTown London. (JessicaGirvan, Shutterstock)
Estimated read time: 16-17 minutes
ALT LAKE CITY — Stefani Kemp never got to go wedding dress shopping.
She used to picture walking into a wedding dress shop and having an iconic montage of stunning dress after stunning dress until she found the perfect one. But when she was preparing for her wedding five years ago, she knew that was not going to be a reality.
Even in a state with so many wedding dress shops and bridal boutiques, she knew it would be impossible to find a dress above maybe a size 14 or 16 at these stores.
Instead, she found a dress at a thrift store and her mother tailored it to fit.
"I missed out on an entire experience that you only get once in a lifetime," the model and influencer said. "It should not have been that hard. The problem should have been having way too many choices, especially in a world where there are so many different companies that make clothing."
Now, with the rise of inclusive sizing spreading nationwide and because of people like Kemp, a plus-size woman might have a chance of finding a wedding dress, even at a Utah boutique.
According to a widely-cited study from 2016, the average American woman is a size 16, but most retailers start plus-sizing at size 12 or 14. And in high fashion, even sizes 6 to 10 can be considered plus size.
So even though "plus size" means larger than standard sizing, the average American woman has long been outside of these standard sizes. In short, the majority of clothing made for American women doesn't actually fit American women.
But that has been rapidly changing.
"There's been a movement of plus-size women that are making noise and saying we've had enough," said Lindsay Shields, a plus-size woman and founder of Kervology, a Utah-based size-inclusive online clothing store.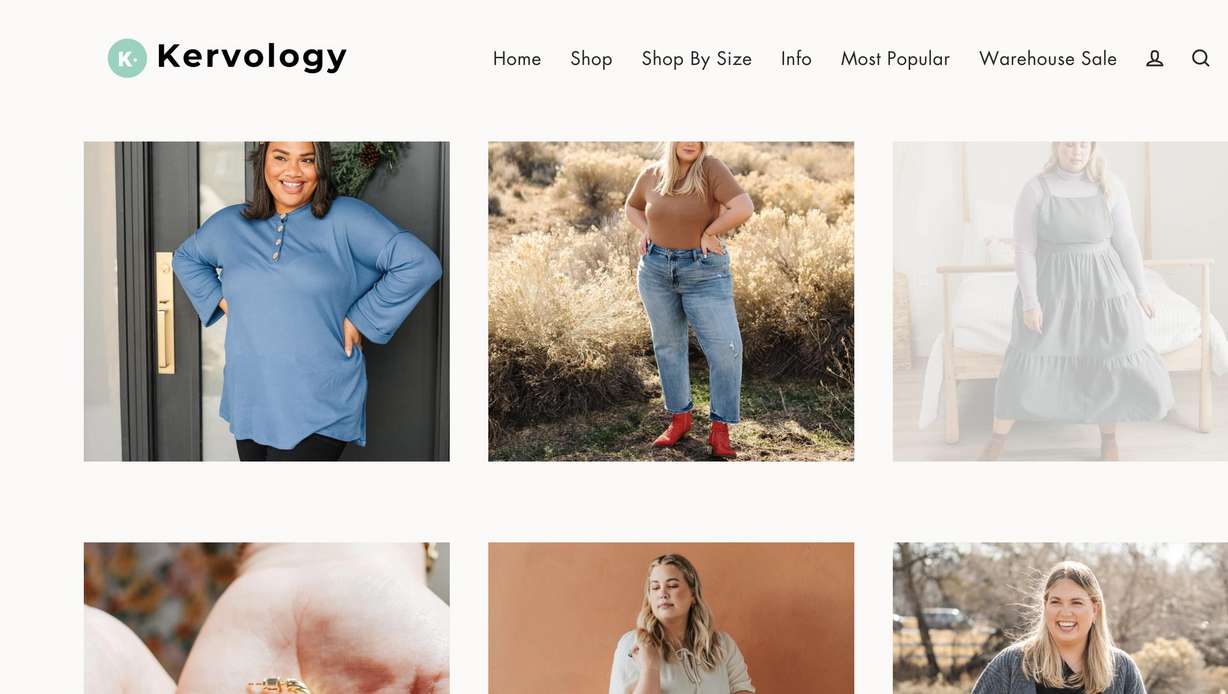 Kervology, a Utah company, offers inclusive sizing for patrons. (Photo: Screenshot)
After decades of not being seen, dissatisfied women have started a nationwide movement against the fashion industry that has resulted in a dramatic increase in options for women like Kemp. More and more retailers, small and large, have begun offering extended sizes.
Some big companies like Target, Walmart, Forever 21, and H&M offer plus-size clothing in plus-size-specific sections both online and in stores, similar to a maternity section. Other companies like Old Navy and Universal Standard offer inclusive sizes and choose not to separate or increase the price based on size.
Although Kemp is excited to see how many local brands and boutiques are stepping up to the plate, she also knows that this inclusivity can't just be a trend. There is so much work left to do, and it has to be a work rooted in love, she said.
Boutique critique
During June 2020, the Black Lives Matter protests around the country rekindled social media discussions about representation and inclusion, including the world of Utah boutiques.
Some of the top Utah boutiques posted support of people of color without including people of color in their campaigns. Some online critics pointed out that the women modeling these products were almost all thin and white and most of the boutiques did not carry above a size XL.
The response from those boutiques that were called out was that it was too difficult to find a diverse group of models in a largely homogenous state. Now, two years later, Kemp said the majority of Utah boutiques have made an effort to widen their range of sizes and representation of models in campaigns. And it's about dang time, she added.
What sparked it?
"There's a demand for it," Davila said. "The majority of us women are considered plus size, but the fashion industry has only focused on straight sizes, which leaves out a huge market. When you look at the numbers, it makes sense."
Beyond clothing
Growing up in Utah, Kemp said she felt an immense pressure to look and be perfect — a task that became more difficult when the only clothes in her size were low quality and generally hideous, featuring cheap rhinestones, shoulders cut out of sleeves, and repellent, busy prints. This kind of clothing remains most of what is offered for plus-size women today.
"I remember literally feeling like a grown woman in my seventh grade pictures because the plus-size clothing was just so tragic," she said.
Kemp started her fashion and travel Instagram account and blog about five years ago when she saw the impacts of the body positive movement on social media.
"I had never heard anyone who looked like me celebrate their body before. Other women like me were heavily invested in diet culture, but these women were really working on loving themselves where they were at," she said.
She wanted to create a safe space for women of all sizes, where they could visit her page and escape from the heaviness of the world and the critical side of social media and find joy.
But Kemp often sees a darker side of social media. She said she regularly receives hateful, unsolicited messages and comments in reaction to her posting about her life.
Most frequently, people will message her and inform her that she is fat, "as if they're doing me a service," she said.
"Fat people existing pisses people off. It's really unfortunate," Kemp continued. "I don't think people really understand that they're not talking to a robot; they're talking to a human. You have no business sharing negative opinions about other people. I already know I'm fat. I live in my body. Thank you for telling me."
But instead of focusing on the negative messages, she holds onto the belief that imperfections are what make life beautiful. She goes against the discrimination and hate and shows the world that people like her can travel and dress well and work hard and enjoy life.
"I wasted so much time thinking that I had to be skinny to be loved," she said. "But we don't say those things about ourselves anymore. We've got so many better things to do. We're going to go make memories in this swimming suit."
Getting it right
Kemp mentioned that through modeling, she has noticed certain local companies like JessaKae, Q.noor and Kervology have really done the work to be as inclusive as possible and are examples of "getting it right."
JessaKae Maddocks, who owns and founded JessaKae with her husband Jordan, grew up watching her plus-size grandmother scour catalogs for pieces that fit because stores didn't carry her size. Often, her grandmother would have to return the clothing because it didn't fit well.
"I remember her wearing about five outfits my entire childhood," Maddocks said.
When Maddocks started getting into the fashion industry, she went to trade shows and realized that, out of the thousands of brands available, the largest sizes she could find were large or extra large.
After she launched JessaKae with traditional sizing, she was inspired by the number of women who commented, wishing they could find the same dresses in their size.
Although she is thin and can easily find her size in stores, she remembered her grandmother and the division and isolation that comes with exclusion. And she made it her personal mission to do her part to change the industry.
I wasted so much time thinking that I had to be skinny to be loved.
–Stefani Kemp
Every retailer and designer spoken to for this article told a similar story: When they decided that they wanted to be inclusive, they quickly ran into major issues.
Most boutiques get their products from wholesale vendors and vendors featured at trade shows that simply do not offer a wide range of sizes. Each of the business owners came to the same conclusion — they would have to start designing their own pieces.
This solution also came with certain issues, like a higher upfront cost, not knowing how much to order, having to stock three times as much product to include all the sizes and the uncertainty about whether the pieces would sell.
Designing dresses for a plus-size body, too, was a "huge learning curve," Maddox explained, because she wanted to accommodate the variety of body types that exist beyond straight, standard sizing. But she didn't let the hard work stop her.
"I heard all the excuses, but they just weren't valid for me," she said. "I spent so many sleepless nights trying to perfect our plus-size designs."
She started with a classic rose maxi dress with inclusive sizing, and it made JessaKae go viral. Just as she suspected, this was what people wanted.
Maddox started offering her products up to size 3X and soon expanded to 4X and 5X. Now she is in the process of adding size 6X.
This year she made an effort to include plus-size models front and center in her campaigns so a wide variety of people could see what the product looks like on someone like them. JessaKae has also made videos featuring plus-size models combatting common stereotypes about plus-size people.
Now, the shop offers more plus-size clothing than straight-size clothing.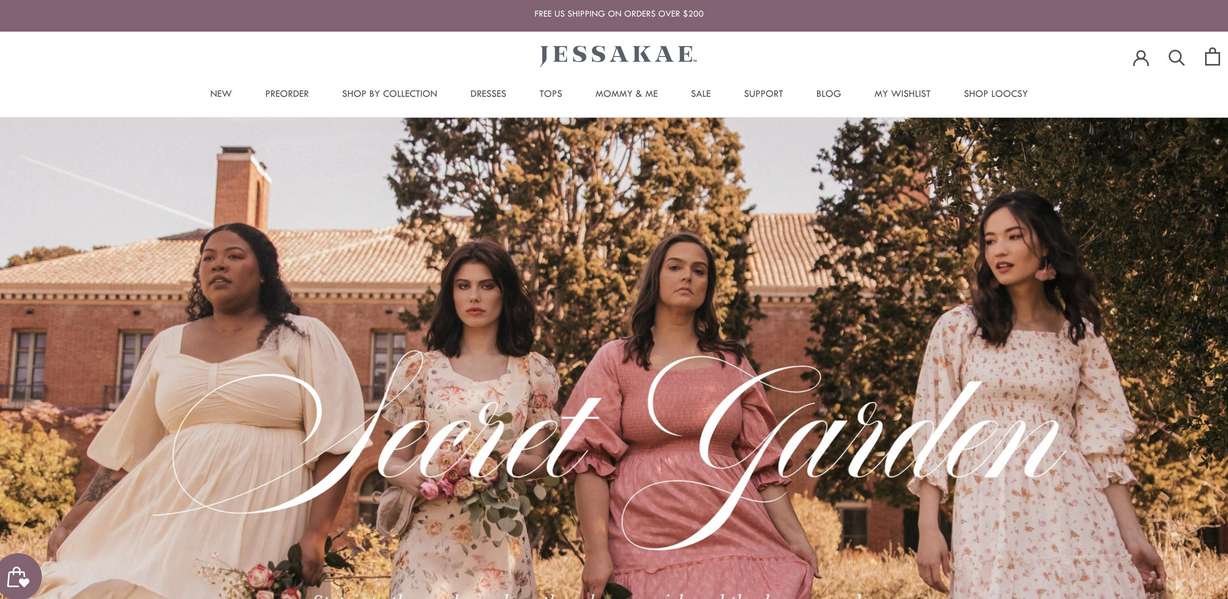 JessaKae, another Utah fashion company, offers sizes up to 6x. (Photo: Screenshot)
"We're selling out so fast. It's a blessing and a curse," said Jordan Maddox, co-owner and JessaKae's husband.
Kemp, who has been prominently featured in JessaKae's recent campaigns, said that the Maddoxes are some of a select few local brands who have been "busting their butts to do the work."
Kemp is not only a model for JessaKae, but she is also a fit consultant. She comes in and tries on the extended sizes and gives honest feedback about fit and quality.
Worthy to model
Erin Burrise, a Filipino and black model and entrepreneur, began modeling in Los Angeles when she was 16 and a size 3. When she got older and her body changed, she didn't think she would be able to get back into that world as a size 16/18.
"I settled for what I could find and wear. A lot of my style changed just because of necessity. It's starting to feel like the situation's getting better now. But it's still sometimes hard," Burrise said.
The models she saw didn't look like her. The plus-size models she saw were mostly white, only marginally bigger than standard size, and still had flat stomachs and perfect proportions.
Erin Burrise, a "Curve model" based in Sacramento, Calif., on Instagram. (Photo: Screenshot)
"We've grown up seeing this kind of body in everything. We know what that looks like," Burrise said. "For most plus-size people, that's not their body. That's not how we look.
"If you are finding different ages and races and body types to model the range of clothes that you have, I guarantee you, you are 100% getting more customers and followers. I'm excited at the opportunity to be representative of those bodies and to see more of a variety," she explained.
Now she's part of an agency and has started modeling for JessaKae, a company she has loved for years. Modeling has helped her accept herself in the body she has right now, more than anything else in her life.
"I never saw myself in this body as being worthy of being able to do this. Maybe if I had big curves, with a big bust and big butt and a flat stomach, I could. But I've learned that in this body, as it is, I could and I can," she said.
Representation beyond size
Taby Davila was scrolling through Instagram and kept seeing what looked like the same model for every local store or boutique: a thin, toned, white, blonde woman. She kept scrolling and scrolling, hoping to see anyone who looked like her, a short, curvy Latina woman. She couldn't find a single one.
Davila started a brick-and-mortar boutique in Utah when she was only 16 and ran it for eight years before closing it down to shift careers. When she decided to go back to her first love — her boutique — she knew from the start that she wanted the shop to be two things: online and inclusive.
When Davila started Shop Taby, she knew right away that she not only wanted models of all sizes, she also wanted to have truly intersectional, diverse representation so other people wouldn't have to experience what she did as they scroll through social media.
Her latest swimsuit campaign includes a model in each size, from XS to 5X.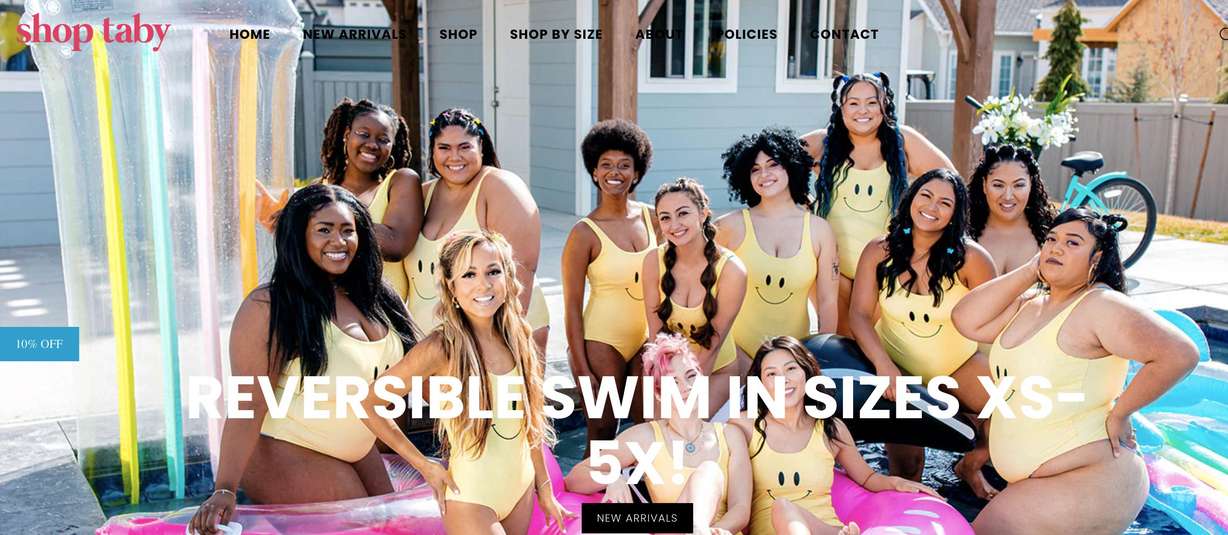 Utah-based online clothier, Shop Taby, boasts all-inclusive sizing, as well. (Photo: Screenshot)
"We've been doing this since day one. It's not just the trendy thing to do. I personally know that representation is important and matters, and not just at a size level," she said.
To get around the lack of diversity within the state, she took on models with little to no experience and even approaches people at grocery stores and movie theaters to see if they would model.
Then, when people of diverse backgrounds saw the representation, they reached out to her to see if they could model because they loved the inclusivity of the brand. Those models in turn recommended their friends.
"Reach out to those communities, and you'll be surprised by what you can find," Davila said. "True representation goes beyond (sizing). Fashion is global. People outside of Utah look different. There are people in Utah who look different who we don't see on social media, but that doesn't mean that they don't exist."
Getting it wrong
Shields, owner at Kervology, said while there has been a sharp increase in availability of plus-size products from vendors, and trade shows have almost 10 times as much plus-size clothing as they did five years ago, "not everyone is doing it right."
"Part of me is like, 'Finally, we can come into your shop and maybe find plus-size clothing,'" she said. "There's another side of me that's like, 'You're just barely starting to see me.'"
Shields explained that some boutique owners will only bring in extended sizes for their best selling items. Some will simply size up a standard item by adding inches without taking into consideration increased bust sizes or arm sizes. And some will slap a 3X label on a 1X product without having someone that size actually try on the product.
And then sometimes they offer extended sizes, but they only offer them online and not in stores, hearkening back to Maddox's grandmother ordering from catalogs and returning almost everything.
Kemp said that women on the larger end of plus sizes experience a lot more of these issues than someone in a size 16 or 18.
"I feel like, being in the 3X to 6X range, so many women just feel like they'll never be able to dress the way they want to dress because companies don't know what they're doing as far as manufacturing," Kemp said.
Sometimes she will show up for a shoot or a consultation and only half of the products are actually the size they say they are.
"There's a piece of you that kind of dies inside, like, 'Not again.' It's 2022. (We) have been here a long time. These places should really be better at making plus sizes. Overall, a lot of boutiques are working on it, but some are really missing the mark."
Customer for life
Davila explained that another big reason for the rise of inclusive sizing is that people have finally recognized an untapped market full of loyal customers.
"I get emails saying that they had never seen this caliber of clothing for a plus-size woman and that we have a customer for life," Davila said.
"More and more women are feeling represented and empowered. It's silly because it's just clothes, but I believe that when we feel good, we are more likely to do good. Everyone benefits: family, community … everyone," she added.
For Lindsay Gardner, Amanda Hart, and Alyson Harper, co-founders at Modest Molly, the loyal customer base is what brings them the most joy. They spoke about the added difficulty of finding modest clothing in plus sizes, something that many Utah women experience.
At Orem-based Modest Molly, vendors are asked to first make a sample. Then the three women try it on their own bodies, take pictures, recut it, make another sample and continue this process until it actually fits plus-size bodies.
They talked about how one woman came in and said that she hadn't worn jeans in 15 years.
We started out wanting to be inclusive. If we had just focused on our small to large clients, we wouldn't be in business right now.
–Amanda Hart, co-owner at Modest Molly
The founders had done the work to find jeans that actually fit curvy women by trying them on their own bodies and requesting sample after sample until it worked. They convinced the customer to just try the jeans on. The woman left with three pair because she felt so confident.
"It's so great to meet somebody new and bring tears to their eyes because they actually feel good about themselves in an outfit," Harper said.
Most of the shop's revenue comes from that loyal customer base, Hart explained.
"That's the reason why we're successful. We started out wanting to be inclusive. If we had just focused on our small to large clients, we wouldn't be in business right now," she said.
And once these customers find high-quality clothing that looks good and fits well, they buy a lot and they keep coming back.
"It's honestly the smartest business move anyone can make because when women like me find a brand that works, they get every color of everything," Kemp said.
She explained that the fashion industry hasn't created quality, luxury pieces for plus-size women because they think that those women will always be trying to lose weight.
"I feel like that's such a cop out," Kemp said. "Plus-size women will always be around. And we're ready to spend our freaking money. We work hard. We want to feel beautiful. We want to dress up as princesses. There's a whole emotion around it. Plus-size people have been waiting forever."
So far to go
Even though more and more retailers are moving toward inclusive sizing, the work is far from over, Kemp explained.
She still will see something that looks cute on the rack but doesn't actually work for the body size it claims to fit. Or if it does fit, it generally sells out faster because the shop didn't order the same amount of product in extended sizing.
"I'm not necessarily happy with how much work has been done," she said. "I should be able to walk into any store with my mother and be able to shop with her."
Hart explained that, even though youth are becoming more accepting of so many differences, "size is one thing where we still haven't reached a place of acceptance."
"I feel like I have seen a little bit of change. More boutiques are offering more inclusive sizing. People have more options. I just hope that continues to happen," Gardner said.
The majority of us women are considered plus size, but the fashion industry has only focused on straight sizes, which leaves out a huge market. When you look at the numbers, it makes sense.
–Taby Davila, owner at Shop Taby
Overall, there's a feeling of wary optimism in the air, and these women are hoping to leave the state more inclusive than they found it.
"One day we'll be able to look back and just think, 'Holy cow, we've come so far.' And that's going to be the day when we can all celebrate," Kemp said.
×
Photos
Jenny Rollins is a freelance journalist based in Utah and a former KSL.com reporter. She has a bachelor's degree from Brigham Young University and a master's degree in journalism from Boston University.
More stories you may be interested in