Your favorite couple is tying the knot on New Year's Eve, and you're invited! Wonderful, until you realize you have no idea what to wear to a New Year's Eve wedding. Well, fear not, because we've compiled a handy guide of the dos and the don'ts of what to wear to a wedding on NYE, plus the outfits you'll want to consider for a celebration of love, as one year ends and a new one begins. 
We won't deny that New Year's Eve has the potential to be, arguably, the most glamorous night of the year. So, when a wedding is thrown into the mix, the pressure to find the perfect amped even more—it can feel daunting to decide what to wear, especially if there's no dress code. Can you wear white? Can you wear black? Are jeans appropriate? All valid questions—and the answers will very much depend on the kind of wedding you're attending. 
Our experts have pulled together to share all of the insights and suggestions you could possibly need to help you navigate this unique wardrobe dilemma, plus a whole host of ideas for what you can wear, too.
A wedding plus New Year's Eve: what can I wear?
While getting dressed for a wedding can be joyous, deciding what to wear to a New Year's Eve wedding might make your mind start to spin a little—in the manner of Cher's rotating wardrobe in Clueless. In part, this is because you're combining two potentially huge occasions, both of which already afford a wealth of wardrobe options, from bright and bold to muted and classic. Reframe this a little and, rather than fretting, you'll see that this actually means there is going to be an ensemble out there for every NYE wedding theme. 
Emily Potts, Senior Stylist at Nasty Gal, reiterates this, "New Year's Eve outfits are usually the height of glamour, add in a wedding and the options are truly endless." In addition to urging us to "pile on the glitz", Emily offers a starting point for styling your outfit to attend NYE nuptials: the top trends to take note of right now. 
"This year we'll see a clash of romantic styles and fun party pieces, with ruffles and the return of the mini dress for that party edge," Potts reveals. "Don't miss out on the opportunity to show off some killer statement heels, too." Need something new to fit this brief? We've got you covered. 
The best brands for a New Year's Eve wedding
Anthropologie—unique, colorful pieces, from $180/£148
Marks & Spencer—classic pieces that never date, from $139/£79
Quiz Clothing—affordable pieces that nail the trends, from $125.99/£89.99
Reformation—sustainable clothing in a modern cut,  from $178/£180
River Island—trend-led pieces in contemporary styles, from $102/£55
5 KEY PIECES TO WEAR TO A NEW YEAR'S EVE WEDDING
1. A SEQUINED DRESS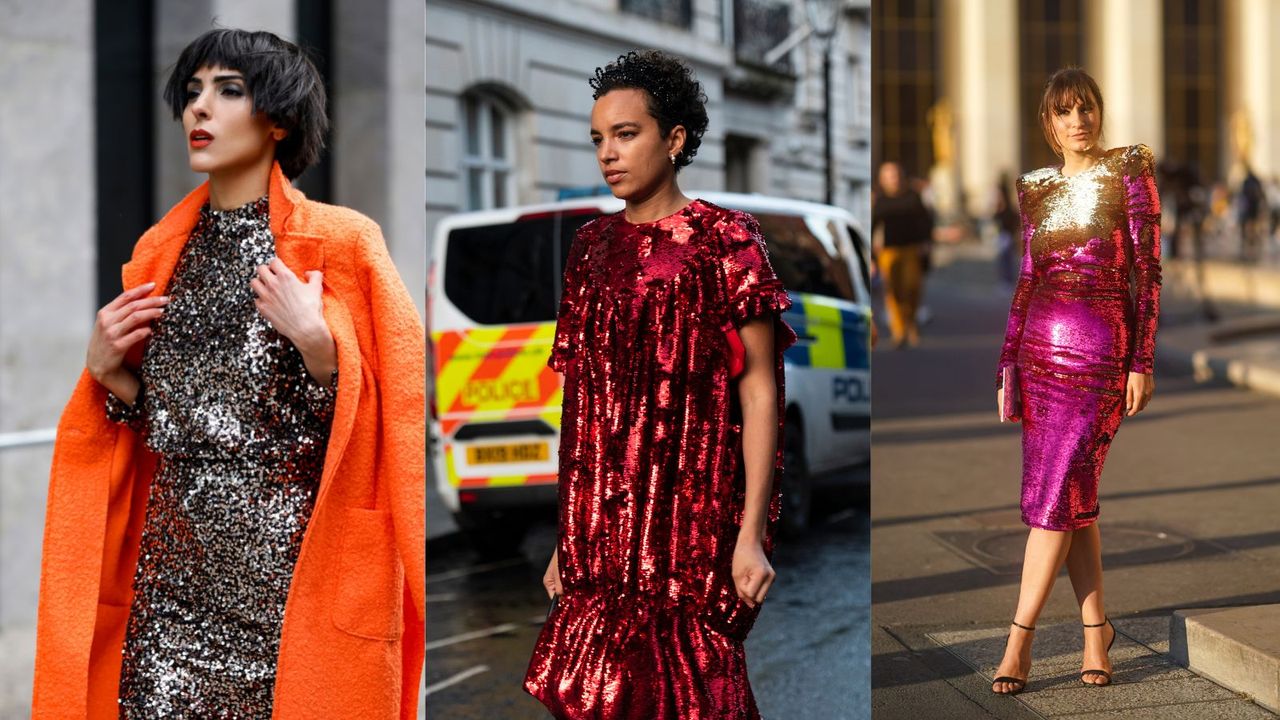 (Image credit: Getty)
Sequins aren't restricted when it comes to what to wear on Christmas Day—they can be worn throughout the year, too, and they're more than apt for a New Year's Eve event. Don't be afraid to go all-out; NYE is one of the most stylish nights of the year so, if you're heading to a chic wedding on 31 December, amp it up with a sequined dress.
And just because you're wearing a boldly finished dress, that doesn't mean you can't accessorize. Stylist Emily Potts encouraged us to style up already glitzy ensembles with, "statement jewelry and opulent textures, such as feathers, satin, and lace." Most of the time, we'd adhere to the 'less is more' way of thinking, but when you're attending a glittering New Year's event, we say go big.
2. A FAUX-FUR COAT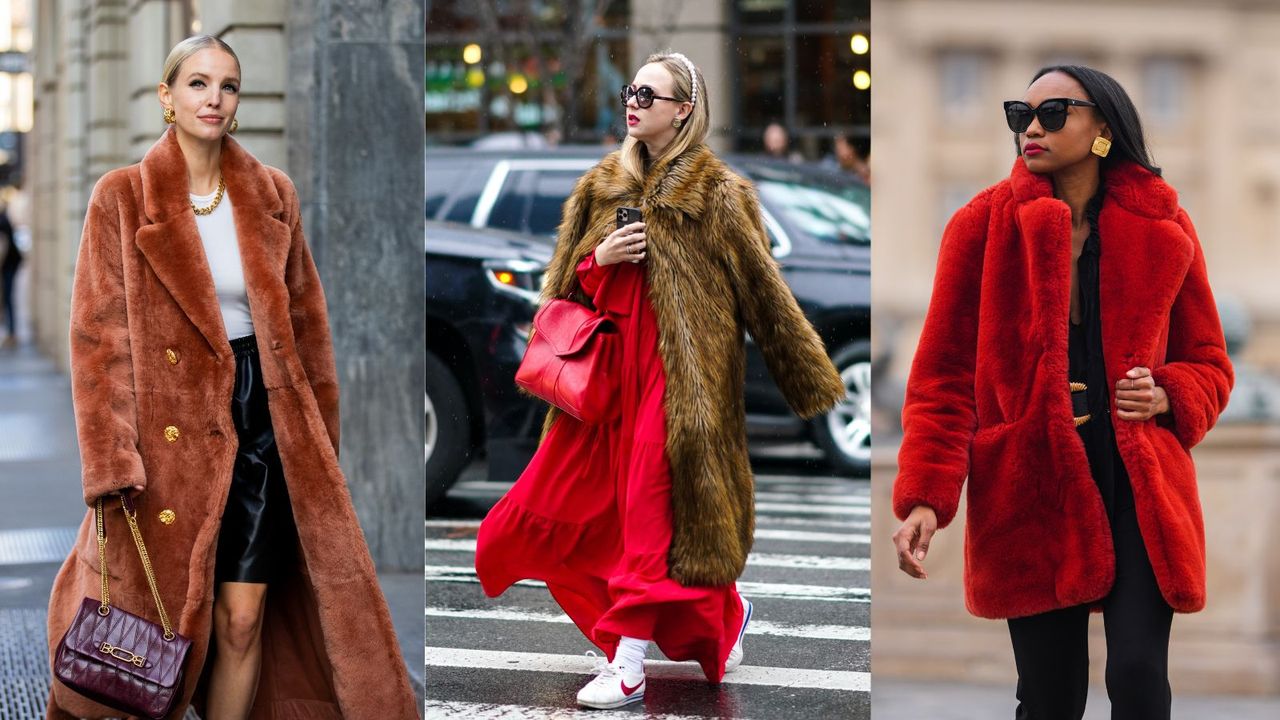 (Image credit: Getty)
It's cold out there—really cold—and if you're flitting from the church to the reception venue, you're going to want to be warm. Keep the cold at bay by wearing the chicest overcoat we could muster—a classic faux-fur number, of course. Timelessly trendy, faux-fur coats remain all the rage and look extremely chic when paired with an over-the-top outfit for a glamorous occasion, such as a wedding on 31 December.
"You can use the colder weather to your advantage by pairing more subtle styles of dress with a statement winter coat," Emily Potts from Nasty Gal told us. "From patterned trenches to feather jackets, a winter wedding is a great opportunity to don attention-grabbing outerwear."
3. A JUMPSUIT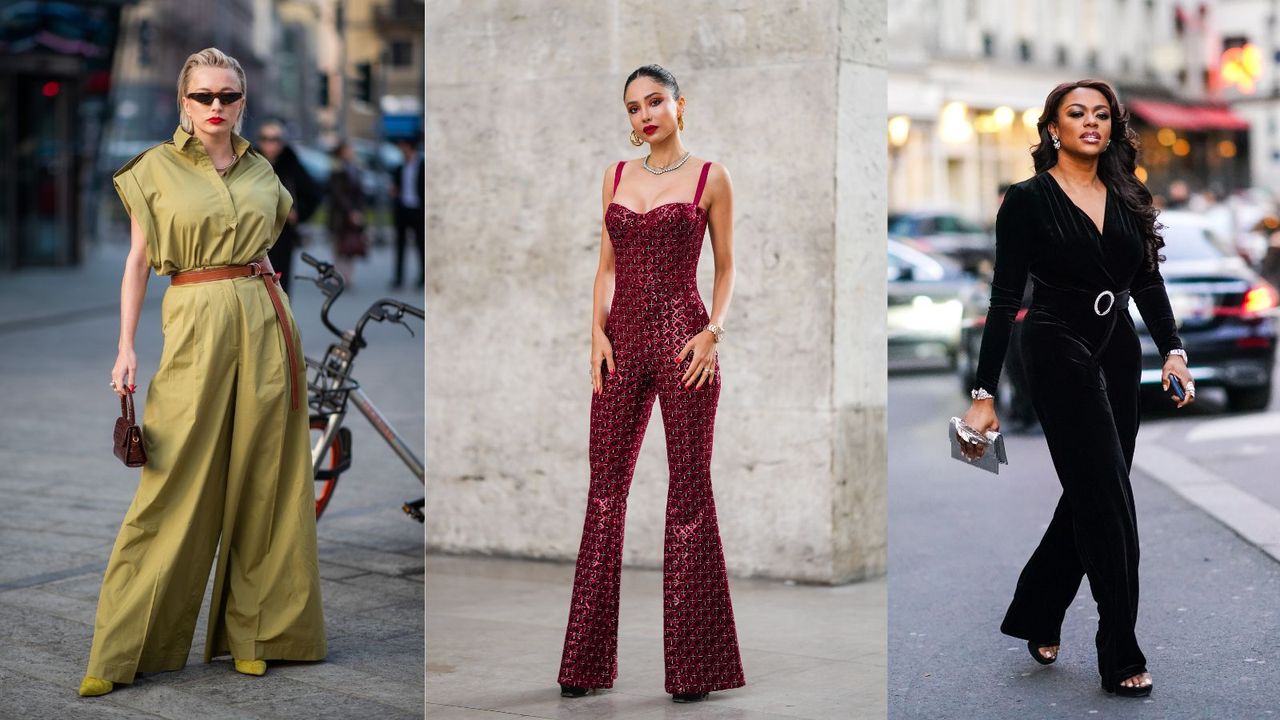 (Image credit: Getty)
When it comes to winter event attire, the humble jumpsuit is often overlooked—but we're here to remind you just how amazing these one-pieces can be. Effortless to style up, the jumpsuit can be thrown on with some classic court heels, a flashy winter coat, and a necklace, and you'll be all set. 
4. A STATEMENT MIDI SKIRT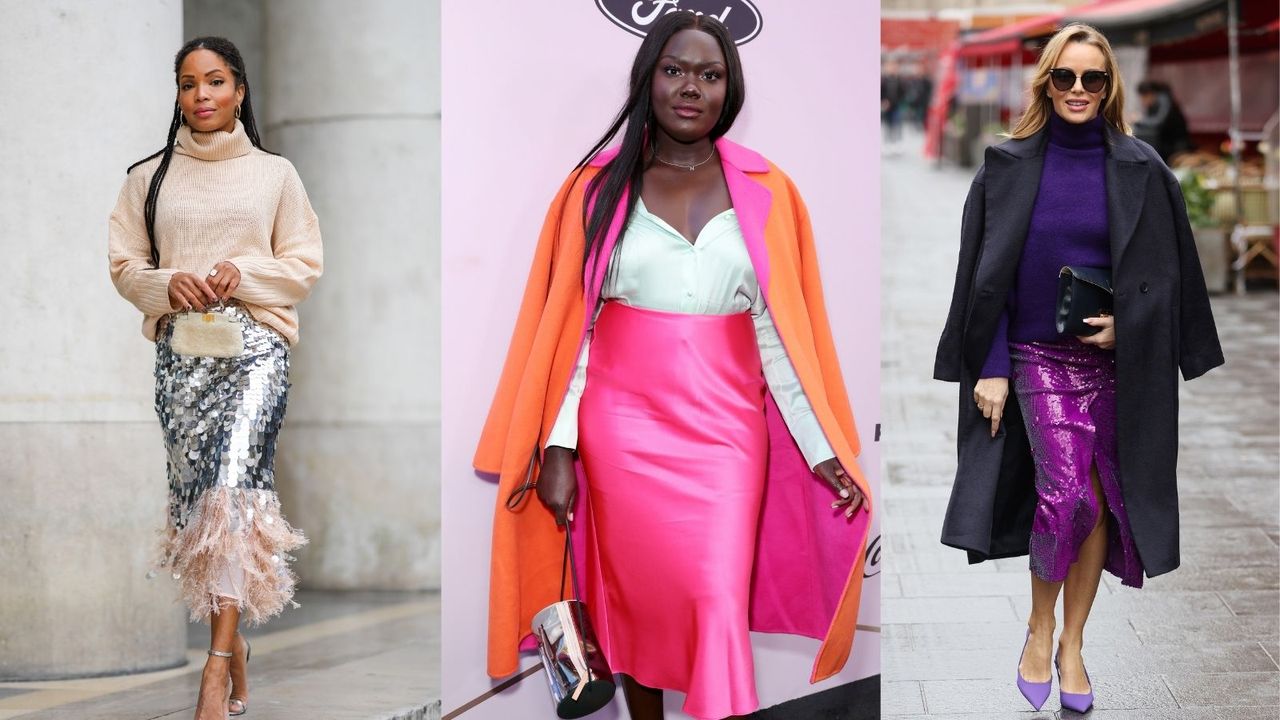 (Image credit: Getty)
If you don't have a midi skirt in your closet already, get one, ASAP. One of the easiest pieces to style, midi skirts can be worn with almost any top, knit, or tee, and pair well with almost any shoes or boots, too. A great all-rounder, they are often underrated when it comes to occasion wear. We suggest styling a satin midi with a plain black fine-knit roll-neck, tights, and heels for a sleek finish, or jazzing one up with a sequin top and borg jacket.
5. STYLISH SHOES OR BOOTS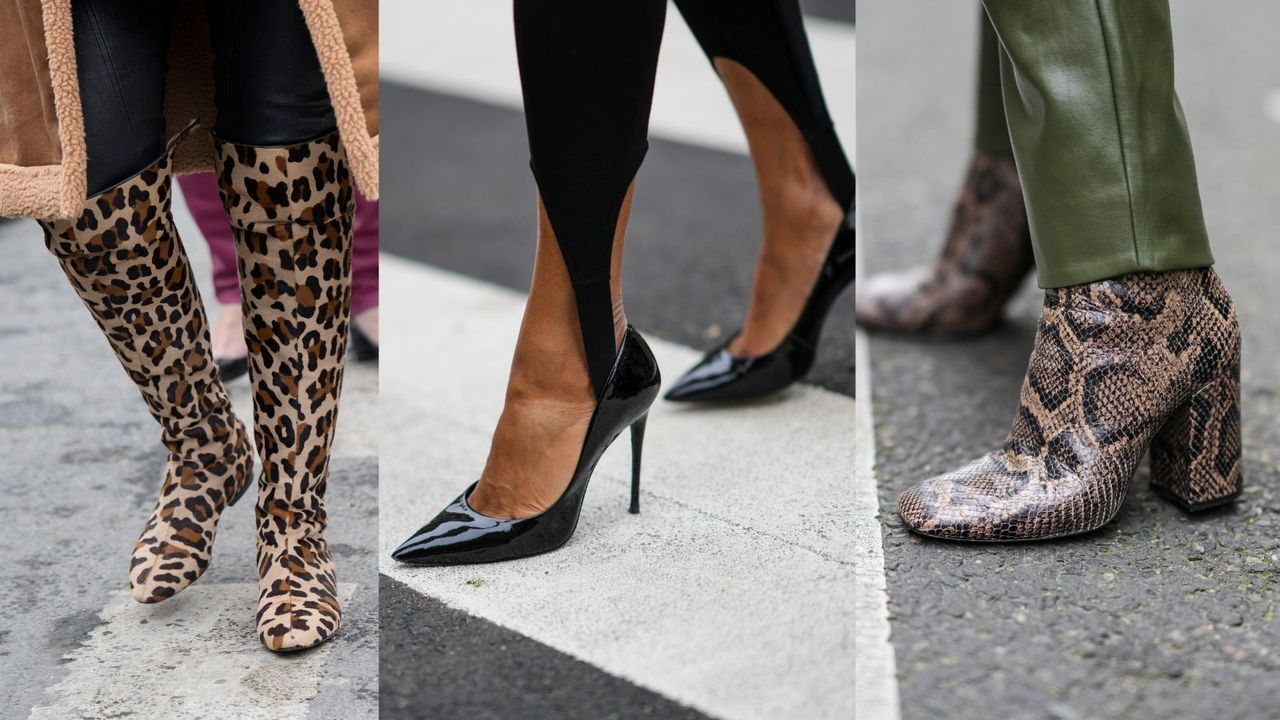 (Image credit: Getty)
Although sandals and sky-high heels are pretty, sophisticated, and, typically, classic wedding-guest attire, they're not the most practical shoes for a winter wedding. With temperatures plummeting and snowflakes potentially getting ready to scatter from the skies, consider boots. They might not be your go-to for glamorous events, but they can actually be apt for winter wedding dressing. 
If you're headed to a countryside location, or one where you'll have to walk through narrow lanes or along city streets between the ceremony and the reception, then a classic flat Chelsea boot might be up your alley. But if you know that you won't have to wander around too much, you might lean towards a court or heeled boot.
NEW YEAR'S EVE WEDDING DRESS CODE—SOME HANDY GUIDELINES
There are so many dos and don'ts when it comes to dressing to attend somebody's wedding. To help you out, we've compiled a list of some handy pointers for when you're planning the perfect ensemble.
CAN YOU WEAR WHITE TO A NEW YEAR'S EVE WEDDING?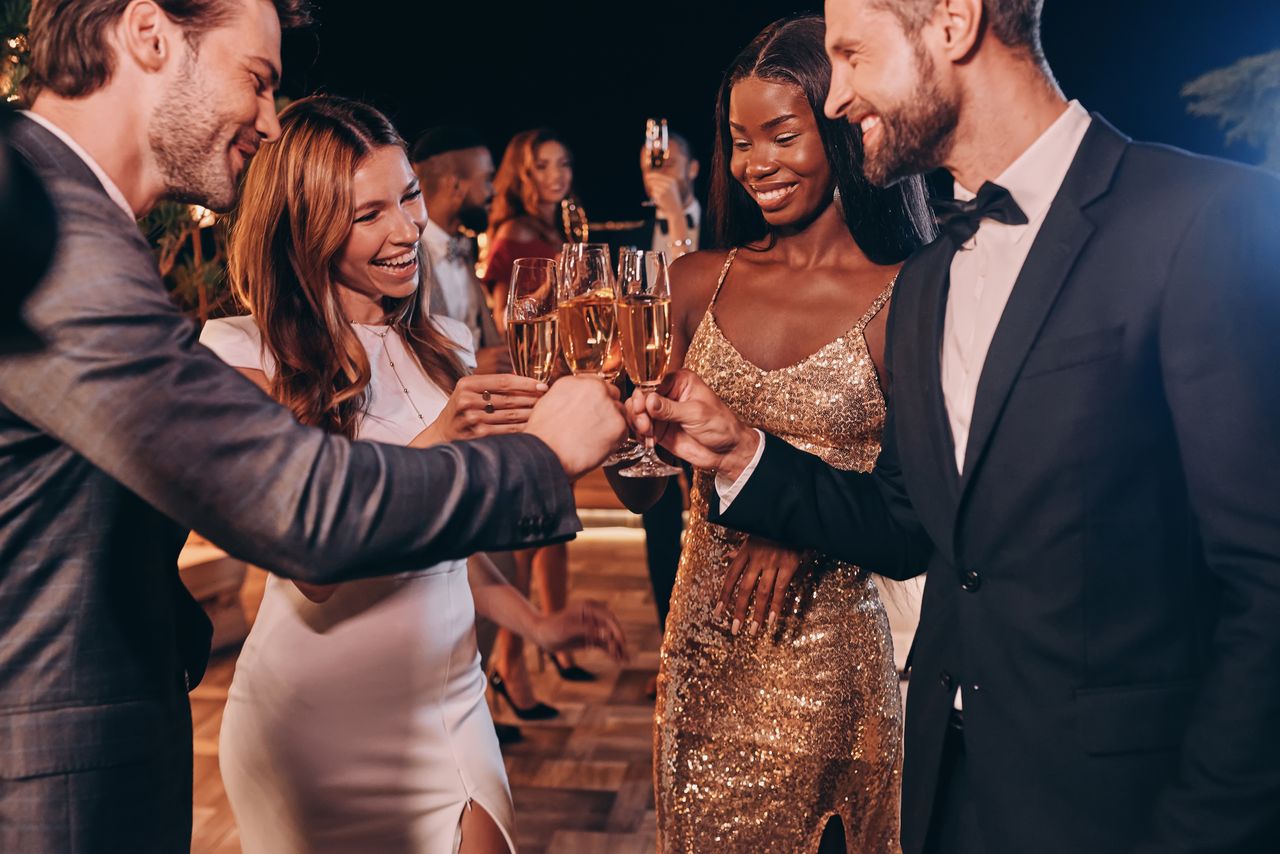 (Image credit: Getty)
The time of year is irrelevant—New Year's Eve or not, wearing white to a wedding is still frowned upon. White remains a color that is reserved for the bride and groom;  unless the dress code explicitly asks guests to wear white, or states that they can do, avoid outfits in this tone at all costs. Silver sequins should be fine though. 
CAN YOU WEAR BLACK TO A NEW YEAR'S EVE WEDDING?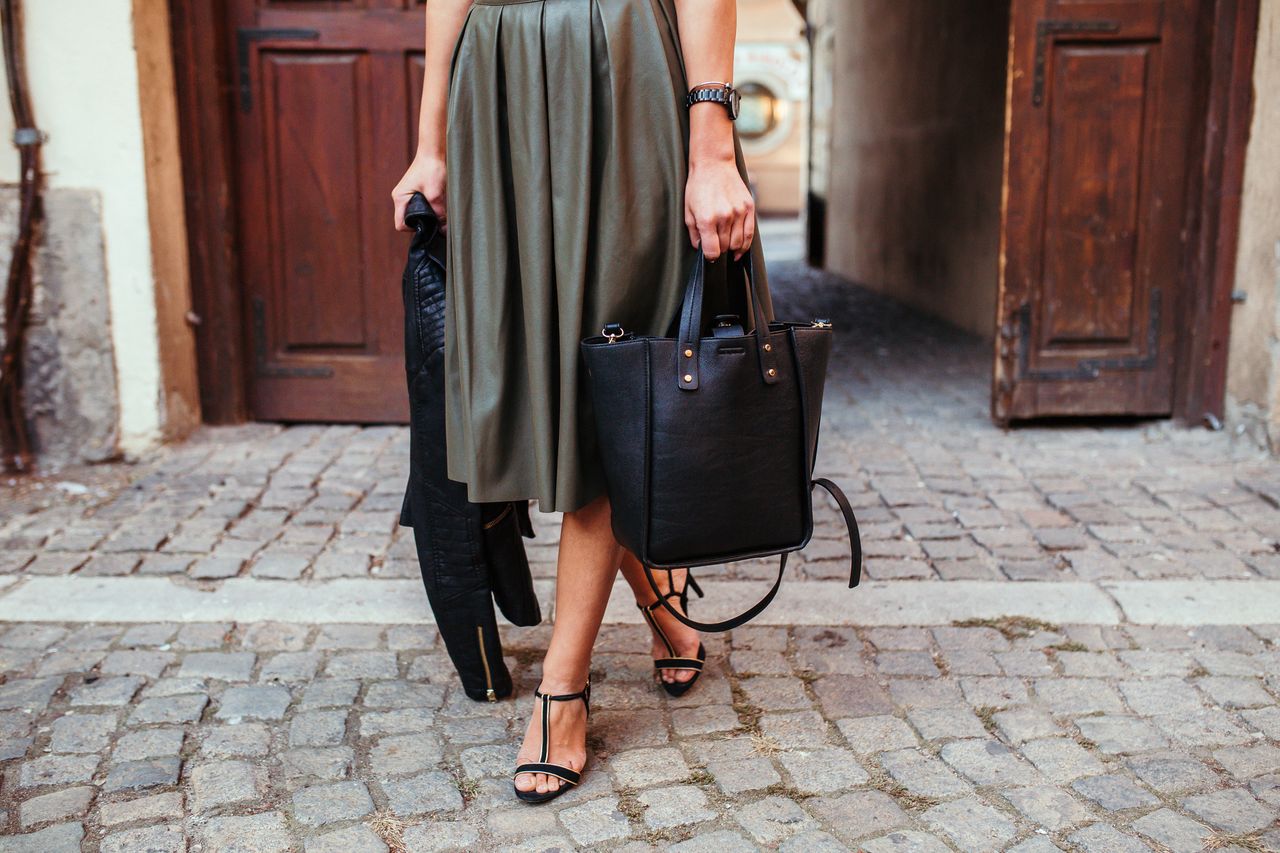 (Image credit: Getty)
An all-black ensemble isn't usually something you'd associate with a wedding; traditionally, if the wedding is happening at any other time of the year (and it wasn't stated on the invite as the dress code) black clothes should be avoided. However, for a New Year's Eve wedding, in the middle of party season—where black is both chic and prevalent—why not? Providing you glam up the black outfit with sequins, jewelry, faux fur, or a pop of color, you should be absolutely fine.
IS IT OK TO WEAR JEANS TO A NEW YEAR'S EVE WEDDING?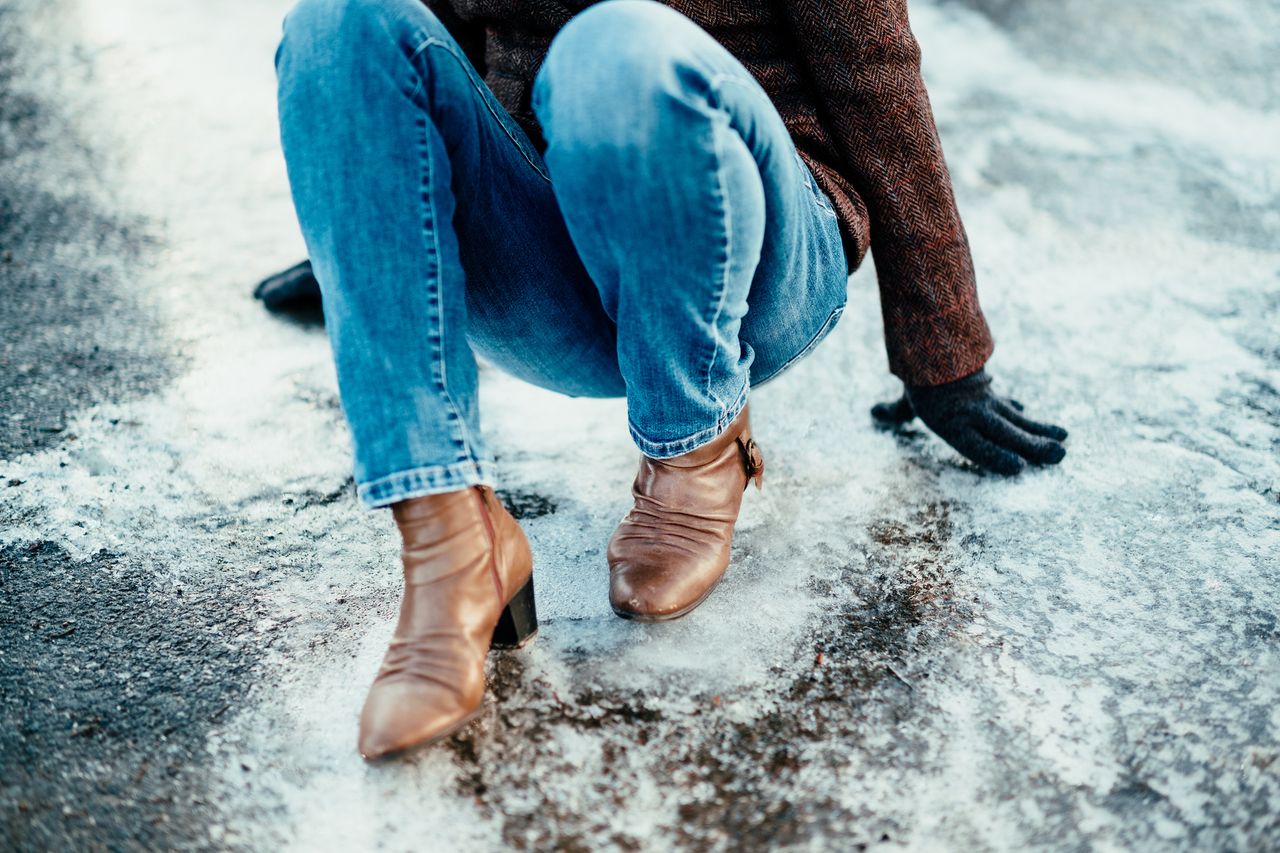 (Image credit: Getty)
New Year's Eve weddings tend to be a tad more formal than spring or summer weddings—which is saying quite a lot, actually. While informal summer dos might enable you to get away with more casual clothes—jeans with a breezy blouse, at a push—NYE is one of the most glitzy nights of the year, so it seems wise to steer clear of casual fabrics or cuts. That being said, if the theme of the wedding allows, black skinny jeans (or faux leather jeans in a dark color) teamed with a sequined top or dressy blouse would likely be ideal.