Over the years of their royal marriages, Kate Middleton and Meghan Markle have developed and curated striking personal aesthetics that at times have intersected.
When Meghan joined the royal family in 2018 with her marriage to Prince Harry, she looked to some of the established royal fashion brands that her sister-in-law Kate patronized for her working royal wardrobe. These included designers such as Erdem, Stella McCartney and Alexander McQueen.
Among this list of designers also features Emilia Wickstead, a firm favorite of Kate's for a number of years and who has also designed some of Meghan's most memorable outfits.
Wickstead was born in New Zealand before moving to London to study at the prestigious Central Saint Martins fashion school that boasts Alexander McQueen, John Galliano and Phoebe Philo among its alumni.
The two royal sisters-in-law have patronized many of the same designers over the years with Emilia Wickstead remaining a favorite of both. Kate (L) photographed July 5, 2012, Meghan (C) March 9, 2020, and Kate (R) June 3, 2022.
Max Mumby/Indigo/Getty Images/Karwai Tang/WireImage/Matt Dunham/WPA Pool/Getty Images
Kate first started wearing Wickstead's designs, which are noted for their simplicity and understated glamour, shortly after her marriage in 2011 with the designer making custom pieces for the royal to wear during Queen Elizabeth II's Diamond Jubilee in 2012.
Meghan, too, adopted Wickstead early in her marriage wearing two of her designs during the South Pacific tour that the royal undertook with Harry just months after her wedding.
That Meghan should patronize the designer came as a surprise to some—after Wickstead gave an interview in May 2018 following the royal wedding claiming that the new Duchess of Sussex's Givenchy Haute Couture wedding dress bore many similarities to one of her designs.
"Her dress is identical to one of our dresses," Wickstead told the Daily Mail.
She then went on to critique Meghan's appearance on the wedding day itself, saying: "If you choose a simple design the fit should be perfect. Her wedding dress was quite loose."
She also commented that the hair styling on the day wasn't to her taste, saying, per the Daily Mail: "I was like, 'Hold the wisps [of her hair] back—it's a Royal Wedding for God's sake.'"
The designer later took back her comments, issuing an official statement on Instagram which in part said: "I am extremely saddened by commentary that has appeared in the press and online over the past few days.
"Her Royal Highness, the Duchess of Sussex looked absolutely beautiful on her wedding day."
She also added that: "I do no think that her wedding dress was a copy of any of our designs."
The apology seems to have calmed any stormy waters that could have arisen between couturier and client, with Meghan wearing the brand many times since then.
Here, Newsweek looks at Meghan and Kate's top Emilia Wickstead fashion moments:
Kate: National Portrait Gallery, April 24, 2013
One of Kate's most noteworthy early commissions from Emilia Wickstead was a bespoke maternity dress in ice blue tailored along the 1960s fashionable line.
The royal was expecting her first child, Prince George, at the time of wearing the dress where she attended an event at London's National Portrait Gallery, of which she is patron.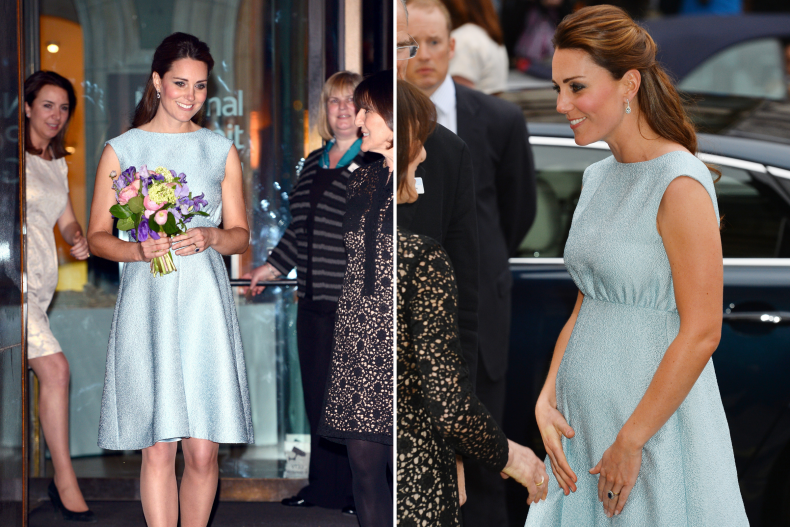 Kate Middleton wore an ice blue dress by Emelia Wickstead to a reception at the National Portrait Gallery, April 24, 2013.
Karwai Tang/WireImage/John Stillwell/WPA Pool/Getty Images
Kate: Bhutan Tour, April 14, 2016
Another notable Wickstead creation worn by Kate was debuted in 2012 and re-worn in 2016 during an official visit to Bhutan with Prince William.
The gold design made from a wool blend textile took the form of one of Kate's fashion fail-safes: the coat dress. The duchess owns many Wickstead coat dresses and re-wears them regularly, as recently as Easter 2022.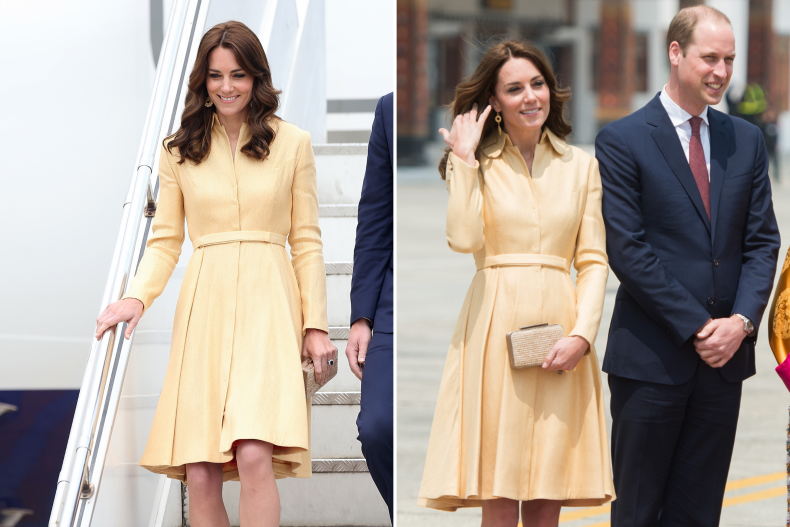 For Kate Middleton and Prince William's arrived in Bhutan the royal chose a gold wool Emilia Wickstead coat dress. April 14, 2016.
Danny Martindale/WireImage/Samir Hussein/WireImage
Meghan: ANZAC Day, April 25, 2018
Meghan Markle's earliest Wickstead outing with Harry took place a month before her May wedding at the royal family's annual ANZAC Day memorial events, staged to honor the lives of Australian, New Zealand and Canadian servicemen and women who have died in combat.
Meghan wore a bespoke black textured crepe ensemble comprising a cropped long sleeved jacket and mid-length matching pencil skirt.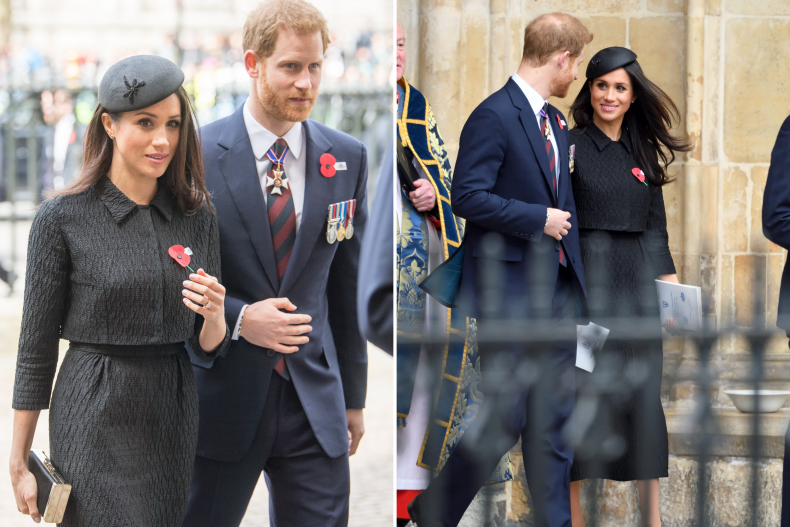 Meghan Markle wore a black crepe ensemble by Emilia Wickstead to the ANZAC Day service at Westminster Abbey, April 25, 2018.
Samir Hussein/WireImage/Karwai Tang/WireImage
Meghan: Dublin, July 10, 2018
Meghan's choice of outfit for reception at the British ambassador's residence in Dublin just two months after her wedding provoked some discussion as it was the first time she had opted to wear a Wickstead dress since the designer's comments about her wedding gown.
The royal wore the label's "cloque" chic black design, which featured a wide shoulder strapped midi dress with matching covered belt.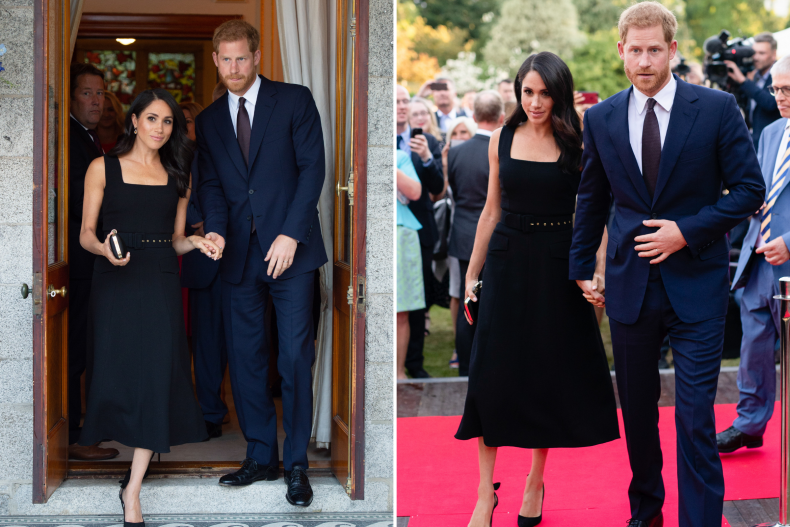 Meghan Markle wore a black Emilia Wickstead evening dress to a reception hosted by the British Ambassador to the Republic of Ireland, Dublin, July 10, 2018.
Pool/Samir Hussein/WireImage/
Meghan: ANZAC Memorial, Australia, October 20, 2018
During her tour of the South Pacific, Meghan wore an elegant black button down shirt dress with white contrasting buttons for the unveiling of an ANZAC memorial in Australia.
The dress was from the label's ready-to-wear collection and was a style known as the "Camila." The duchess paired her look with a black fascinator hat by milliner Philip Treacy.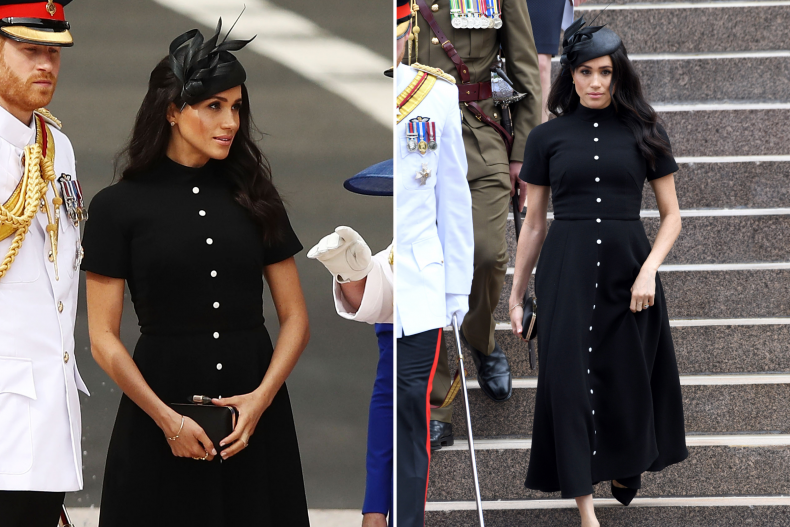 Meghan Markle wore a black button down Emilia Wickstead dress to an ANZAC memorial event in Australia, October 20, 2018.
Ryan Pierse/Getty Images/Ryan Pierse/Getty Images
Meghan: Commonwealth Day Service, March 9, 2020
Meghan's appearance at the 2020 Commonwealth Day service at Westminster Abbey marked an important milestone in her royal story. It was the last official royal engagement she attended alongside Prince Harry as a full-time working royal before moving to the United States.
For the occasion, the duchess made a striking impact in an emerald green mid length dress with asymmetric draped cape detail. Meghan also coordinated with Harry, whose suit jacket featured a silk lining in a matching shade of green.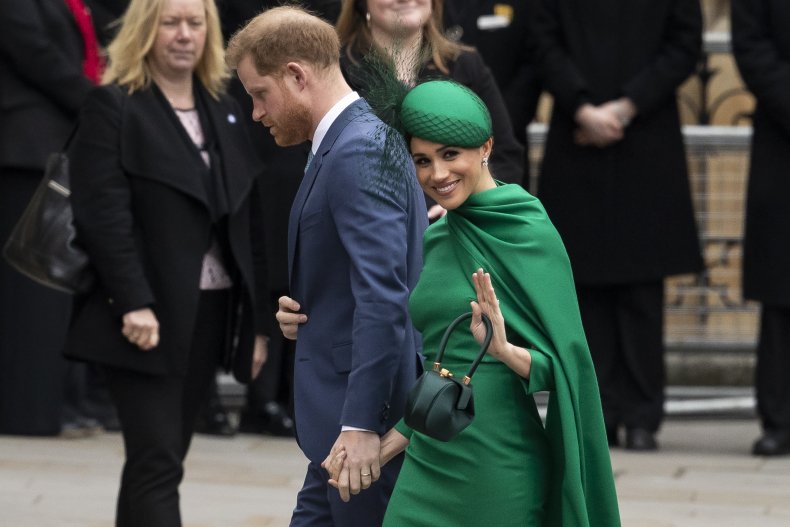 Meghan Markle wore an emerald green day dress made by Emilia Wickstead for her last official engagement as a full-time working member of the royal family. March 9, 2020.
Dan Kitwood/Getty Images
Kate: Wimbledon, July 10, 2021
Some of Kate's most memorable fashion moments have taken place during sports events. In 2021, the royal won the approval of the fashion press by wearing an Emilia Wickstead green dress with flared skirt to the ladies' singles final match at Wimbledon.
The design was a bespoke version of the label's "Denver" dress and was made of a textured crepe with delicate capped sleeves.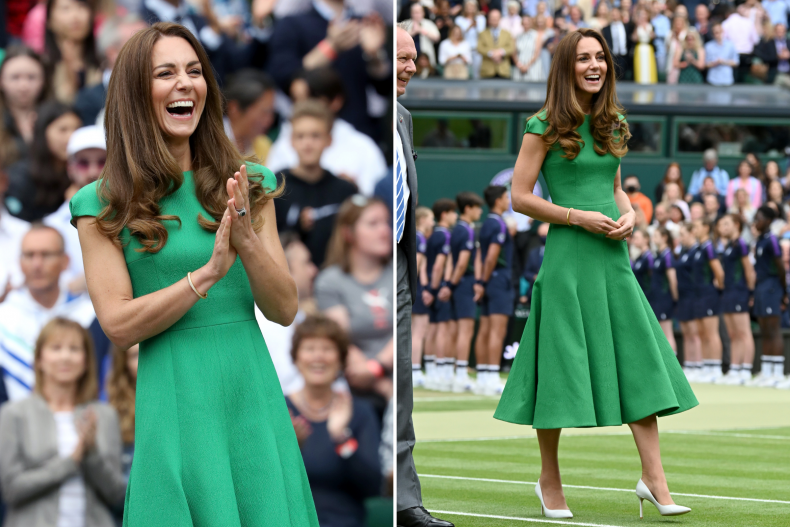 Kate Middleton wore a green Emilia Wickstead day dress for a visit to Wimbledon, July 10, 2021.
Karwai Tang/WireImage
Kate: Platinum Jubilee National Service of Thanksgiving, June 3, 2022
For one of the most important royal events of her marriage so far, the queen's Platinum Jubilee service of thanksgiving, Kate wore a bespoke Emilia Wickstead coat dress in a delicate shade of buttercup yellow.
The dress featured an interesting cross bodice detail that accentuated the waist and bust while the mid length fluted skirt created the illusion of added height.
The royal paired this look with a statement hat by Philip Treacy.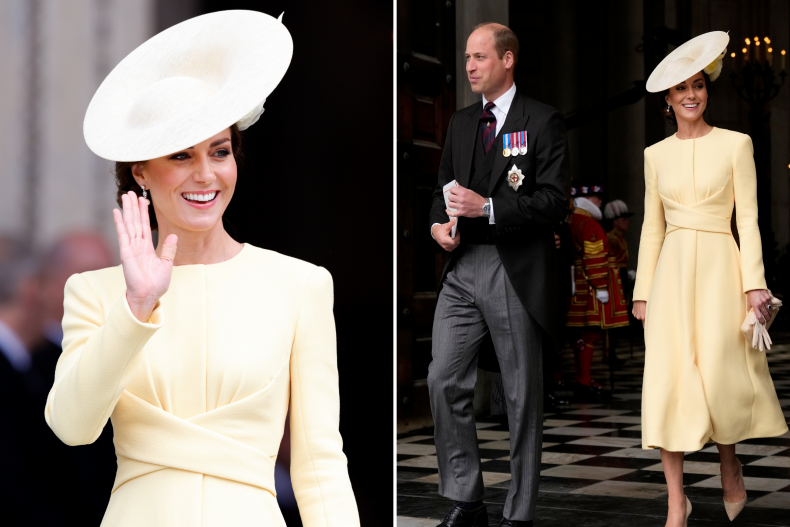 Kate Middleton wore a buttercup yellow Emilia Wickstead coat dress for the national service of thanksgiving during the Platinum Jubilee, June 3, 2022.
Max Mumby/Indigo/Getty Images/Matt Dunham/WPA Pool/Getty Images
For more royal news and commentary check out Newsweek's The Royal Report podcast: