Almost without fail, there's a certain point in the summer when it feels like there's a wedding every weekend. And any seasoned "I do" attendee knows that while there's a lot that goes into planning a wedding, there are a lot of choices that go into attending one, too. And it goes far beyond picking whether you want chicken, fish, or beef. Selecting a wedding gift can be serious business. We tend to want to give something that they'll remember and that they'll actually use as newlyweds. Typically, these presents are more functional than flashy—this is why kitchen supplies tend to be a go-to for guests. Since they'll probably already be getting an air fryer, our team has put together some other timeless gifts that will warrant an equally enthusiastic thank-you note. Keep reading for all of the must-haves that the newlyweds in our lives can expect to find on their gift tables this summer.
Nick Papa, Senior Manager, Brand Partnerships
Orbit Special Walnut Turntable
For the music lovers in my life, I love this modern take on a classic piece that can fit seamlessly in any home. To make this gift truly personal, I'll be gifting it with a record that includes a meaningful song to the newlyweds (I'm thinking either their first dance song or their go-to karaoke tune).
CB2
Perfect Pot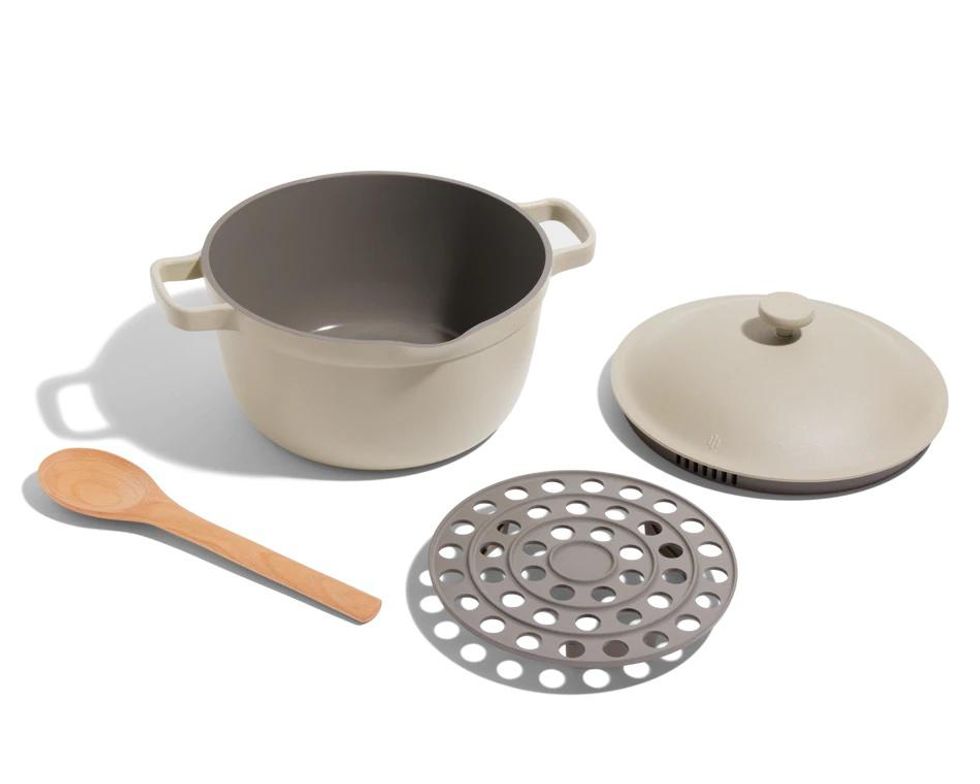 I, personally, love giving a tactical gift that I know will go to good use. The Perfect Pot is just that—chic, functional, and also versatile. It includes a built-in strainer, a roasting and steaming rack, an integrated spoon, and it's a piece that can stay sitting on the stove without being an eyesore.
Our Place
Ceramic Vase
Sumiko Wilson
I am a gift-giver who sometimes strays from the constraints of a wedding registry because I like to give truly unique gifts that the couple may not have thought of on their own. This hand-crafted ceramic vase is perfectly striking on its own, and once it's paired with some fresh blooms, it will brighten up any space.
Jordan McDonald
Tablemates Set
Inevitably one of the most common requests on a wedding registry is new cookware. To give a gift that complements the newlyweds' recently acquired pots and pans, this set of high-quality olive oil and vinegars from the esteemed Flamingo Estate is the perfect finishing touch to their kitchen.
Flamingo Estate
Stainless Steak Knife Set In Olivewood Chest
As a recent newlywed, I have to admit that this gift idea is coming straight from my own wedding registry. The knives are made of super-sleek stainless steel, so rest assured they will pair elegantly with any table setting. Plus, the olivewood chest makes for convenient storage.
Wusthof
The Personalized Anniversary Journal
The wedding day is one of the most memorable moments of someone's life, but it's just the beginning, with each wedding anniversary being a milestone to celebrate and commemorate. For those looking to give a more personalized and thoughtful gift, this anniversary journal is a fun and tactile way for couples to record their journey for years to come (and doubles as the traditional first-anniversary gift of paper).
Uncommon Goods
White Organic Cotton Hooded Bathrobe
There's something inimitably luxe about a crisp, white terrycloth robe. Though I'd usually shy away from gifting something to wear (there's just way too much room for error), you can't miss with matching Tekla bathrobes for the newlyweds. The style is universal, the feel is extra plush, it's guaranteed to be used in heavy rotation, and you can ballpark sizing.
Tekla
Web Decanter
What's really special about this decanter is the couple who made it. Blair and Eli Hansen are the husband and wife team behind Asp & Hand, a line of hand-blown glassware that leans into an abstract aesthetic. Each of their glasses is infused with slight surrealism, from their signature baubles to their bright color schemes, so it's a wedding gift that will want to be shown off on the counter, not hidden in the cupboard. And a decanter is the perfect opportunity to invite yourself over for a wine night, right? On top of all that, sales from their glassware are currently going toward Blair's cancer recovery, so it's a gift with purpose.
Asp & Hand
Retro Style Coffee Maker Machine
It doesn't get more classic than a Smeg Coffee Maker. The sleek design will be a countertop standout and the drip filter will make this gift an instant favorite for coffee-loving couples. I'd gift this with a bag of locally sourced beans, and since I'm from Toronto, I'd specifically pair this gift with a bag of Nile Coffee Club's Diaspora Blend.
Smeg
Monogrammed Ultra-soft Turkish Towel
Sumiko Wilson
A few weeks before I got married, these RH custom bath towels showed up at my door, and to this day, I'm obsessed. They make every bathroom in our house look like ours. While I didn't register for them myself, I tell every bride-to-be to add them to their list now. I'm so glad that someone went "off registry" for us, too. I would have never known what I was missing!
Restoration Hardware
5-Piece Cast Iron Set
In full transparency, my husband is the chef of the family, so I won't be adding a recipe book to personalize this gorgeous set of cast iron pieces—but that would make this gift truly epic. Le Creuset always doubles as decor, too, and any couple would be excited to show off their culinary expertise and host their first dinner party as a duo with this set.
Le Creuset
Mrs. K Ring
I saw this ring on a bride the year I got married and contemplated buying it for myself. It's a great stand-in for an engagement ring if someone is taking an adventurous honeymoon, but it also looks great on a right hand. Anyone looking to gift a sister or best friend with something that's just for the bride might want to consider it. Years later, I still want one!
Alison Lou