Taylor Swift has just released the music video for "I Bet You Think About Me," a collaboration with country star Chris Stapleton from her album "Red (Taylor's Version)" that was released on Friday, November 12th. We were eagerly anticipating the release of this music video as it was co-written and directed by none other than Blake Lively! It was definitely worth the wait – and Blake did an outstanding job!
The music video stars the 31-year-old Grammy-winning singer and 34-year-old Whiplash actor Miles Teller, who plays the role of her ex, and also features a brief cameo from The National's Aaron Dessner. And it has quite a great storyline! The "I Knew You Were Trouble" singer turns up to her ex's wedding wearing an attention-grabbing red dress (but everyone else is wearing white!) and then gradually turns the whole wedding red. Just to make it clear: it's nothing like the infamous red wedding from Game of Thrones. That was an entirely different red wedding altogether!
Many fans have speculated that, just like the iconic song, "All Too Well," this song is also about Taylor's ex-boyfriend, Jake Gyllenhaal. The lyrics, "You grew up in a silver-spoon gated community, glamorous, shiny, bright Beverly Hills," are partly what have led fans to make that connection, although this hasn't been officially confirmed by the "Look What You Made Me Do" singer. We've shamelessly watched the video more times than we want to admit, but one thing that always stood out to us each and every time was the stunning strapless red gown that Taylor was wearing. We would be mad beyond words if someone turned up to our wedding wearing that – even if the rest of the wedding party weren't wearing all white!
The red dress was a one-of-a-kind Nicole + Felicia Couture piece, and it reportedly featured 2,500 handcrafted floral appliqués. Wow! The white wedding dress that also features, which is an exact replica of the red one, was also made by the Taiwan-based design duo, and according to reports, it took the entire atelier "approximately 1200 hours" to complete the dresses for Taylor's video. Wow again! "This project reflects the duality of Taylor's music, a timeless sensibility with a modern twist," designers Nicole and Felicia Chang told Page Six Style.
100+ Gift Ideas For Everyone On Your Holiday List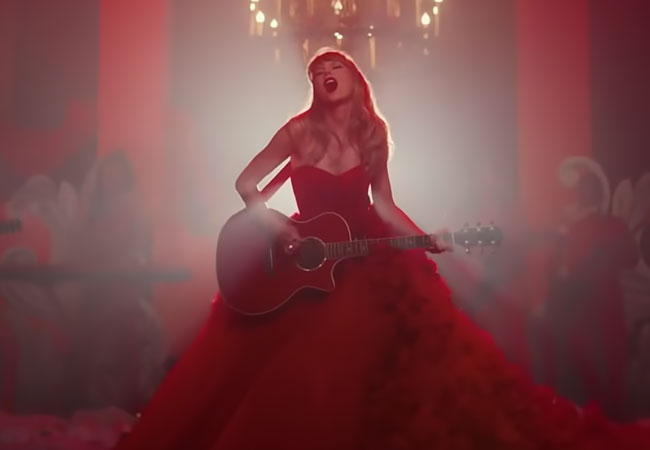 YouTube.com/TaylorSwift
"In order to mimic the natural irregularities of flowers within nature, we created petals in seven different sizes and fabrications," the designers continued, before saying that the "one-of-a-kind" blossoms were made by different seamstresses "to bring a sense of authenticity and naturalness." We had no idea so much thought and detail went into these show-stopping dresses!
Speaking about the mesmerizing red gown, which Taylor transforms into after a Cinderella-esque spin in the white gown, the designers said it: "Embodies the bold and vibrant spirit that Taylor has always had. The essence of this design was about the beauty of transformation and rebirth, the metamorphosis of young flower buds into vivacious blossoms – which parallels the musical journey of Taylor Swift's new album." We couldn't agree more! Now please excuse us while we watch the music video for the billionth time!